This post may contain affiliate links. See my full disclosure. As an Amazon Associate, I earn from qualifying purchases.
Pillowy soft filled sourdough donuts (also known as Bomboloni or Krapfen) are the most amazing weekend morning treat! The dough comes together in a mixer the day before frying and filling.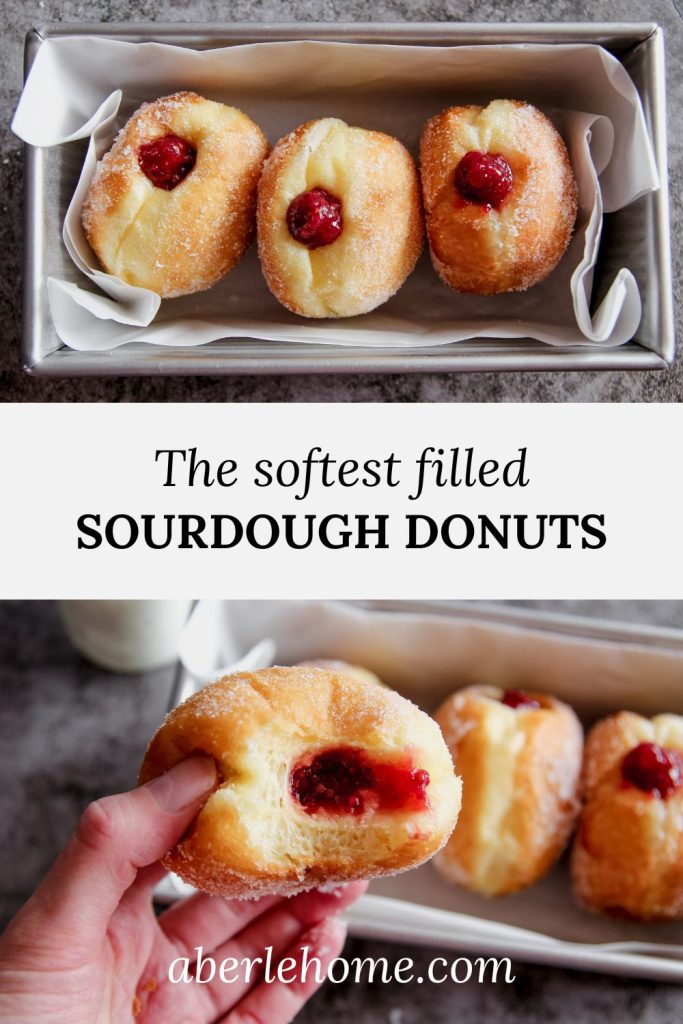 Some of my favorite sourdough recipes are my breakfast ones like Danishes, croissants, English muffins, and bagels.
We live in the mountains a bit far from town, so there are some recipes I'm compelled to develop out of necessity.
Sometimes, a person just needs a good, fresh donut, and donuts are hard to come by up here!
The base for these sourdough donuts is actually a half recipe of my sourdough brioche master recipe.
If you haven't tried it yet, the naturally leavened dough utilizes a tangzhong (cooked flour mixture) for a bread with an amazingly delicate and soft texture…
…which is actually perfect for fried donuts!
This time around, I rolled them in granulated sugar and filled them with my favorite mixed berry jam that isn't overly sweet.
When I sent a picture of the sourdough donuts to my family members, my sister living in Germany messaged that I had made German donuts, called krapfen or berliner.
The Italians have a similar version of the filled donut too (called bombolone) as do other cultures.
You don't have to fill these sourdough donuts with jam or preserves. They are delicious simply rolled in sugar or a cinnamon/sugar mixture.
You could alternately fill them with a vanilla pastry cream (crème pâtissière or crema pasticcera) or chocolate ganache.
I've also tried filling with both jam and pastry cream, and that was delicious.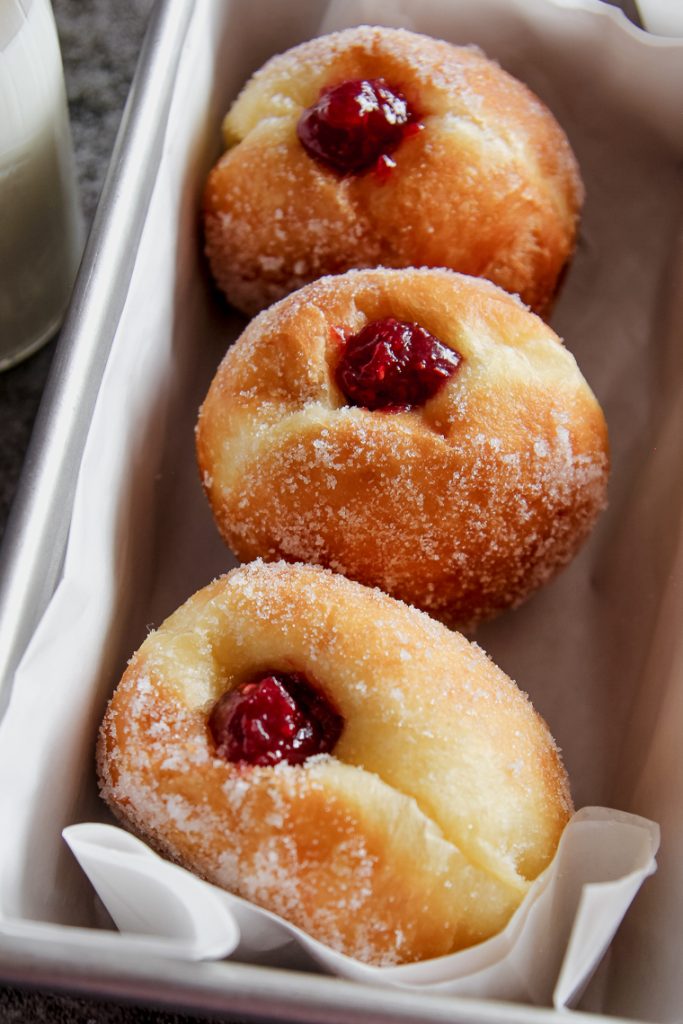 Since the brioche recipe makes enough for 24 donuts, I formed half the recipe into donuts and deep fried them the day after I made the dough. I shaped them around 6am, and was frying them around 10am.
I fried the second half of the dough on day 3. The dough was just fine held an extra day in the fridge, though they did have a barely noticeable "tang" to them. It's a really flexible recipe.
I prefer to make the whole recipe of brioche at once because it's difficult for the mixer to knead half the amount of dough.
You could use half the dough for another purpose altogether, such as burger buns or a loaf of bread.
Filled Sourdough Donuts Baking Schedule
*The strength of your starter and the temperature at which you keep the dough will affect how long each step will take. I bulk fermented and proofed around 80°F (26°C).
Approximate timing:
Prepare and cool tangzhong: 30 minutes
Mix and knead dough: 35 minutes
Warm bulk rise: 4 hours
Cold retard in fridge: overnight (12 hours+)
Shape: 15 minutes
Proof: 3 hours
Fry and fill: 30 minutes
Feed your starter several hours prior to baking the recipe and allow it to peak.
I fed my starter early in the morning and started my dough in the early afternoon on day 1.
You'll want to shape, proof, fry, and fill on day 2.
Recommended Equipment
These are my favorites, but you can use what you have in your kitchen already.
Tips for Making Filled Sourdough Donuts
The keys to a soft and delicate texture are using a strong sourdough starter, kneading the dough long enough until it gets to the windowpane stage (without adding extra flour), and rising and proofing the dough sufficiently. Use the dough as your guide to know when to move on to the next step.
The temperature of the oil is a huge key to nailing this recipe. You want the donuts to cook through sufficiently by the time they brown on the outside. Use a candy thermometer to know when your oil is between 350°F and 370°F and wait to fry if your oil isn't quite at the right temperature.
Any large bubbles that appear on the sides of the donuts during frying can be pricked with a pairing knife. To avoid this, insure that you've shaped the donuts tightly and proofed them sufficiently.
If your donuts are frying up flat, this is in indication that you've proofed too long. They should still be delicious!
Why are my sourdough donuts oily?
The perfect fried donut will not taste oily when you bit into it.
Common problems that could cause an oily layer on the outside of your donuts include frying at a temperature that is too low, under-proofing the donuts, or failing to drain them on paper towels directly after frying.
How to Make Filled Sourdough Donuts – Step by Step
Step 1 – Feed Starter and Prepare Tangzhong
Don't forget to feed your starter a few hours before you're ready to make your brioche dough. You want to use it as it reaches its peak.
If you wait until it collapses again, your donuts will end up tasting a bit sour, and in my opinion, that isn't as desirable.
The tangzhong sounds fancy, but it is quick to prepare. You simply stir the flour and milk in a small saucepan over medium heat until it thickens.
It will resemble the texture of mashed potatoes.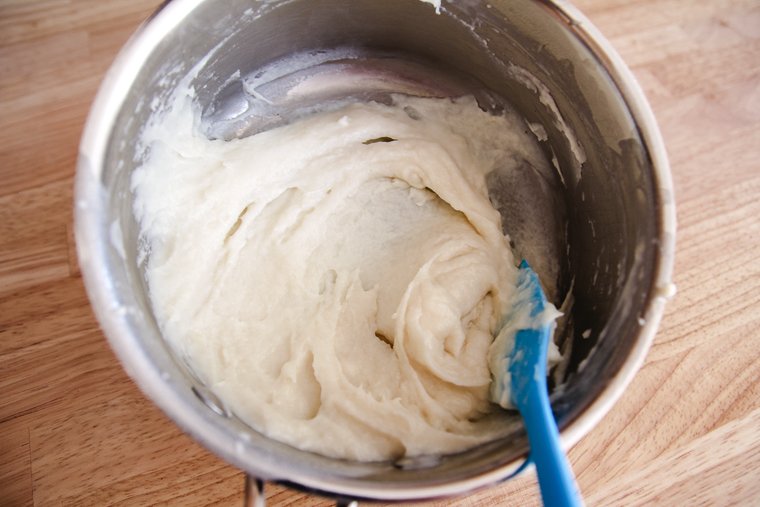 It needs to cool completely before it can be added to the dough so it doesn't melt the butter in the dough.
I like to help it along by spreading it flat on a dinner plate, covering it with plastic wrap, and sticking it in the fridge.
Step 2 – Mix and Knead Brioche Dough
Once your starter is ripe and your tangzhong has cooled, you can mix your dough! A mixer fitted with a dough hook is essential for this recipe.
If you use a Bosch mixer like I do, make sure to use the dough hook extender for this amount of dough.
The goal is to develop some strength in the dough before the butter is added. This takes about 8 minutes of mixing on low speed.
After that, half of the cold butter chunks can be added in. Continue mixing until you don't see any more butter.
Add in the remaining butter chunks, and mix again. At this point, the dough will be cohesive, but it will stick to the sides of the mixing bowl.
It will be sticky to the touch and tear when you pull it.
Continue to knead on low speed even if it looks like nothing is changing. Resist the temptation to add additional flour.
After about 20 more minutes of mixing, the dough will look shiny and cling to itself instead of sticking to the bowl of the mixer.
Pull it with damp fingers, and it should stretch into a dramatic windowpane. This is how you know you've developed enough strength. Keep going if the dough hasn't yet reached this point.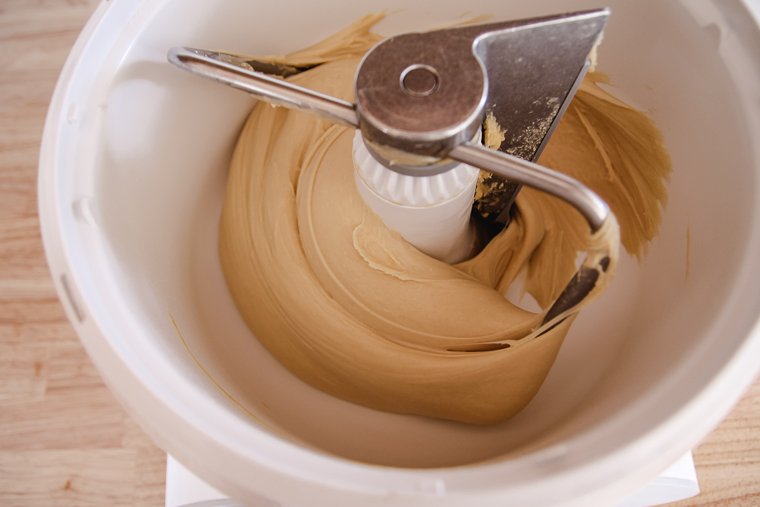 Step 3 – Bulk Rise Dough and Refrigerate Overnight
Form the dough into a tidy ball (moisten your hands to prevent sticking) and place it in a large bowl. Cover it with plastic wrap to prevent it from drying out.
Since this dough is enriched with eggs, sugar, and butter, it will take its time to rise.
Keeping it in a warm spot like a foldable dough proofer or a turned off oven or microwave with the light on will help keep the process moving along.
Place an ambient thermometer with your dough and aim for 78°-80°F. Turn off the light for a while if the temp climbs too high.
After the dough increases by 1/3 (this will take 3-4 hours), place it in the fridge overnight.
Step 4 – Shape and Proof Sourdough Donuts
The next day, line two half sheet pans with squares of parchment paper and dust the papers with flour. (Note that the photos below don't show the dusting of flour.)
Turn out your cold dough on a lightly floured surface.
Divide the dough in half (again, half the dough recipe will yield 12 donuts). Divide one half into 12 even pieces (you can use your scale here for accuracy).
Degass each piece with the palm of your hand so you won't have funny air pockets in your donuts.
Form each piece into a tight ball by scooting it in a circular motion with your hand on the countertop. Lightly dust your hands with flour as needed. (You'll be shaping the same way you would shape buns or dinner rolls… here's a video if you need a demonstration).
Set the balls on the prepared parchment squares.
Cover the pans with plastic wrap, and place them in a warm place until the donuts have risen and relaxed outward and pass the "poke" test.
This means the dough will bounce back only slightly when poked with a damp finger.
Step 5 – Fry and Fill Sourdough Donuts
When your donuts are almost done proofing, add oil to a heavy-bottomed pot over medium heat and clip on a candy thermometer so you can continuously monitor the temperature.
Line a cooling rack with a double layer of paper towels, and prepare a bowl or plate with sugar for rolling the hot donuts.
Once the oil temperate is in the range of 350°-370°F, you are ready to begin frying.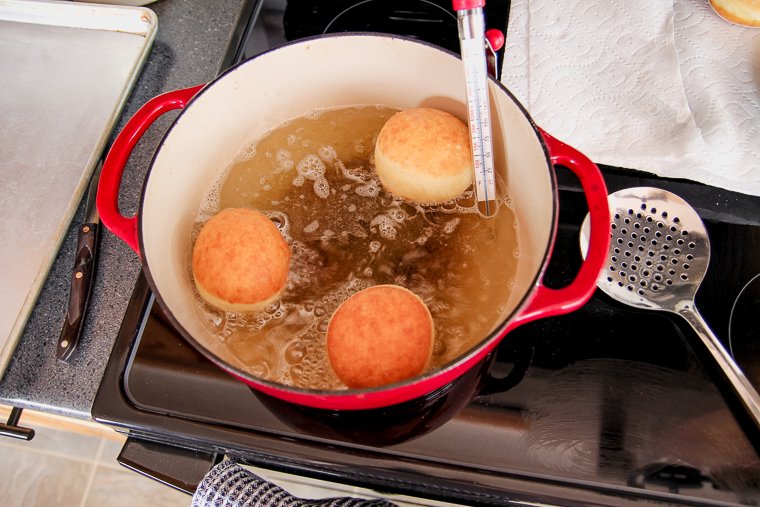 The parchment paper will help you to transfer the donuts to the frying pot, and they should release and drop into the pot top-side down.
Fry up to 4 at a time, flipping once, until both sides of the donuts are golden brown.
Remove them with a spider strainer spoon to the rack you've prepared so any excess oil can drain off.
As soon as they are cool enough to handle, dip them in sugar to coat and set them aside.
Finish frying the remaining donuts. Give your oil time to heat or cool between frying if the temperature isn't right.
You can fill the donuts as soon as you've finished frying.
Place your filling in a piping bag. You can use a large round tip inside, or simply use the bag with the tip cut off.
Use a small knife you pierce the side of the sourdough donut until you reach the center. Give the knife a twist to make a hole.
Then insert your piping bag and squeeze gently until you've extruded the desired amount of filling. Aim for a tablespoon or two depending on your preferences.
The donuts are amazing eaten right away while the exterior is slightly crisp! They will soften after an hour or so, which is equally delicious.
But I will say, they are best eaten the same day.
If you make this recipe and love it, I would be so grateful if you would come back to leave a star rating and a comment. Your feedback is very appreciated!

Follow me on Instagram @aberlehome and tag me on your photo to show me what you made!