This post may contain affiliate links. See my full disclosure. As an Amazon Associate, I earn from qualifying purchases.
These sourdough croissants require simple ingredients and only two lamination folds after locking in the butter block. They are akin to what you would find at a bakery but with all the benefits of sourdough with a long fermentation.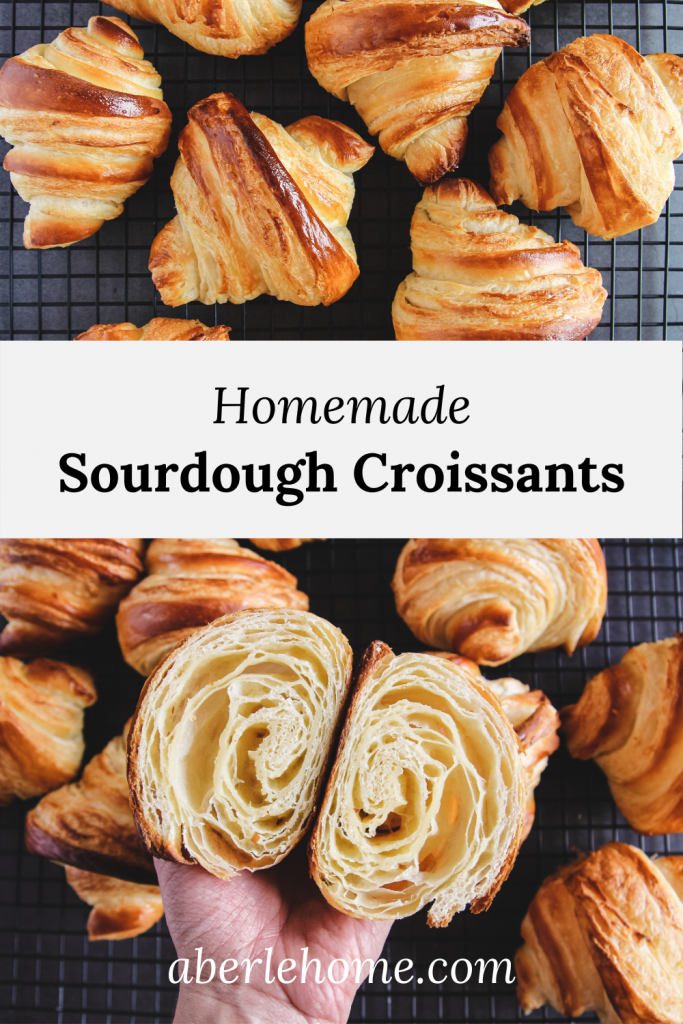 If you've been around here long, you know that I love using my sourdough starter for many applications like bagels, english muffins, and pizza crust.
I also love baking pastries with my sourdough starter!
Shortly after developing my Sourdough Danish Pastries, I was determined to work out a sourdough croissant recipe that gave consistent results.
The croissants use no commercial yeast, just sourdough starter. They are flavorful, but not sour, and well worth the time spent on the dough.
What is a croissant?
Croissant dough is laminated which means it is thinly layered with butter. This is done in a process of rolling and folding the dough after locking in a butter block that you form first. Lamination creates those amazing flaky layers and light texture.
I do this layering with only two folds: a book fold and a letter fold. I will show you step-by-step how this process works. The trick is managing the temperature of your dough and butter to get the best layers.
The dough is then cut and shaped. The croissants are brushed with an egg wash after proofing to make them deeply golden and shiny out of the oven.
Does using sourdough starter make the process more difficult?
The process of mixing and laminating the dough is similar whether you use commercial yeast or sourdough starter.
The only difference is a the long ferment time in between making and laminating the dough (though many yeasted croissant recipes also call for an overnight rise).
I don't mind this extra time, though. I mix my dough on day one, allow it to ferment at room temperature for 4 hours, and then pop it in the fridge. The next day, I'm ready to continue the process when it fits in my schedule.
You can also hold the dough in the fridge for an extra day before or after lamination. The croissants generally end up with a more open interior and a slightly more sour flavor this way.
Do I have to use unsalted butter?
Definitely use unsalted butter. Salted butter will pull moisture from the dough, making the layers less defined.
High quality butter with a higher fat content, like Kerry Gold, will give you the best result, but even a store brand unsalted butter will do the trick.
Sourdough Croissants Baking Schedule
*The strength of your starter, the temperature in your home, and other factors will affect how long each step in the recipe will take.
Approximate timing:
Mix and warm ferment: 4 hours, 10 minutes
Cold ferment: 12 hours
Creating butter block and laminating dough: 1 hour, 50 minutes (including chilling time)
Shape and proof: 2 hours+
Egg wash and bake: 30 minutes
Feed your starter several hours prior to baking the recipe and allow it to peak.

Start the dough on day 1, leaving about 4 hours of time for fermenting at room temperature. Refrigerate until the next day. Finish croissants anytime on day 2, remembering to leave extra time for proofing just in case.
Tips for Making Sourdough Croissants
When laminating your croissant dough, you want your butter the same consistency as your dough. Your dough should be chilled. Your butter should be cold as well but still very pliable. Wrap and chill your dough when necessary during lamination if your butter and dough become too soft.
If you attempt to roll your dough when it is too cold, your butter will crack beneath the surface of the dough when you roll it. Allow the dough to sit at room temperature for 10-20 minutes before rolling to allow the butter to become pliable again.
Make sure you allow enough time for the croissants to proof before baking. They should "jiggle" if you scoot the baking tray.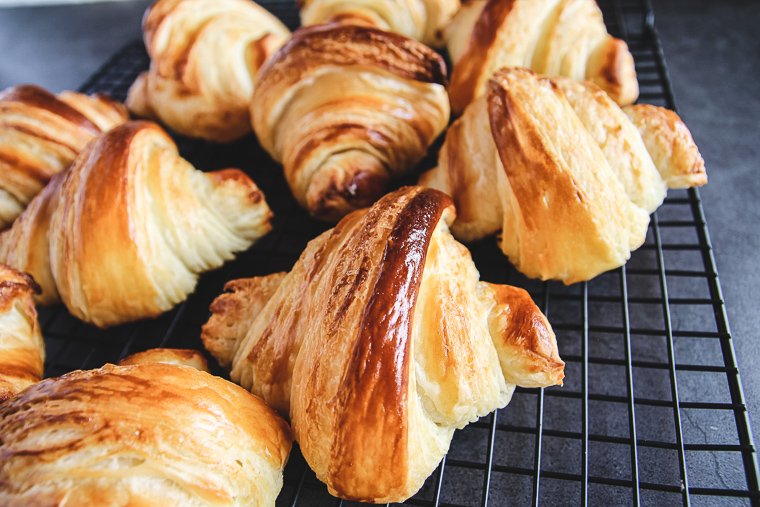 Recommended Equipment
Large lidded bowl
Measuring spoons
Danish dough whisk or spoon
Plastic wrap
Rolling Pin
Measuring tape
Rolling Pin
Cooling rack
How to Make Sourdough Croissants
Step 1 – Make and Ferment Sourdough Croissant Dough
Add your starter, sugar, kosher salt, melted butter, milk, and flour to a large bowl. The ingredients are listed by weight in grams for consistency.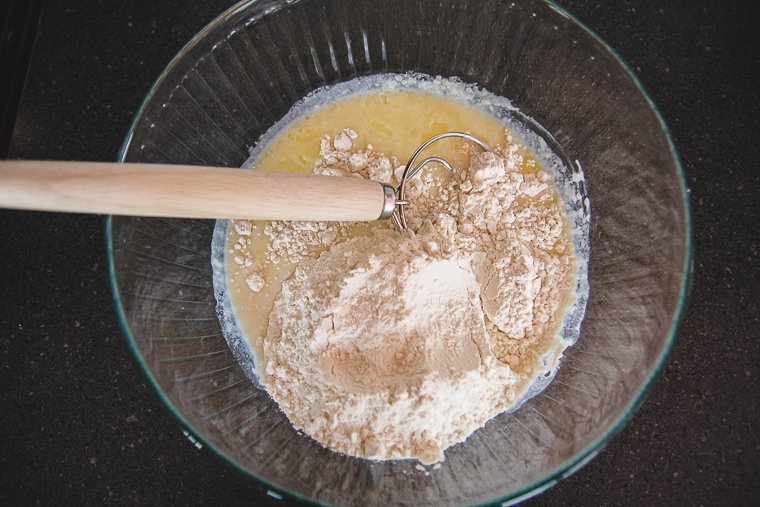 Stir until a shaggy dough forms. I like to use my Danish dough whisk whenever I'm mixing a dough.
Remove dough to a clean countertop. Knead the dough for a few minutes until it becomes smooth. It should be less sticky once you are done kneading.
Since the kneading goes quickly, I usually don't use my mixer for this recipe.
Form the dough into a ball. Place the ball in a lidded bowl and prop the lid on the top so air can escape without the dough drying out. You could also place plastic wrap over your bowl if you don't have a lid.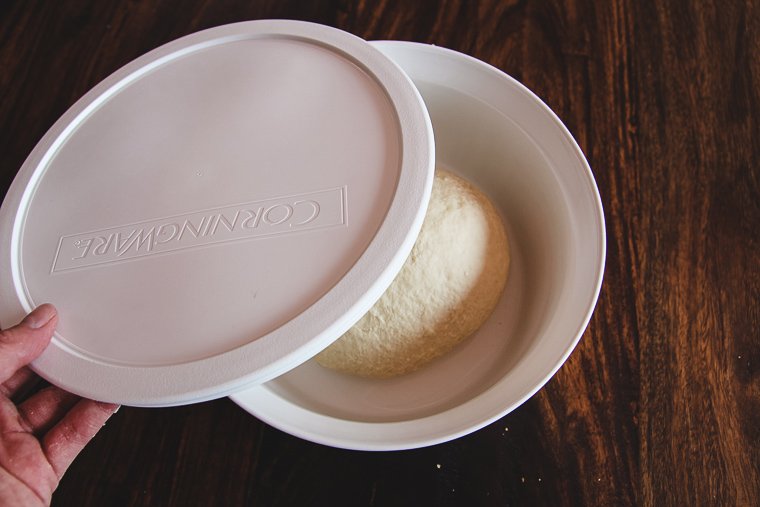 Leave the dough in a warm place to ferment for 4 hours. I usually use my oven with the light turned on for a warm place to ferment.
Then place the lid on tightly and transfer to the refrigerator overnight.
Step 2 – Make Butter Block
The next day, you are ready to laminate the dough. The first step is to make the butter block.
Place your cold butter on a sheet of parchment paper and sprinkle with the flour.
Loosely cover the butter with the edges of the parchment paper. Beat your butter with your rolling pin until it begins to flatten. If it won't budge, let it sit for a few minutes to warm slightly and try again.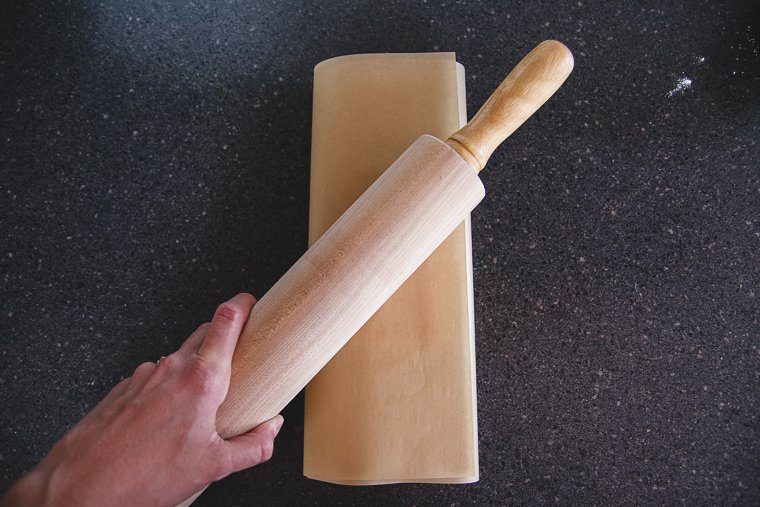 Next, make a rectangular pouch out of your parchment paper that measures 6 x 8 inches. I crease the the sides to 6 inches first.
Then I fold the top down and the bottom up, adjusting it to 8 inches as I measure it.
Now flip the whole pouch over so the folds stay closed.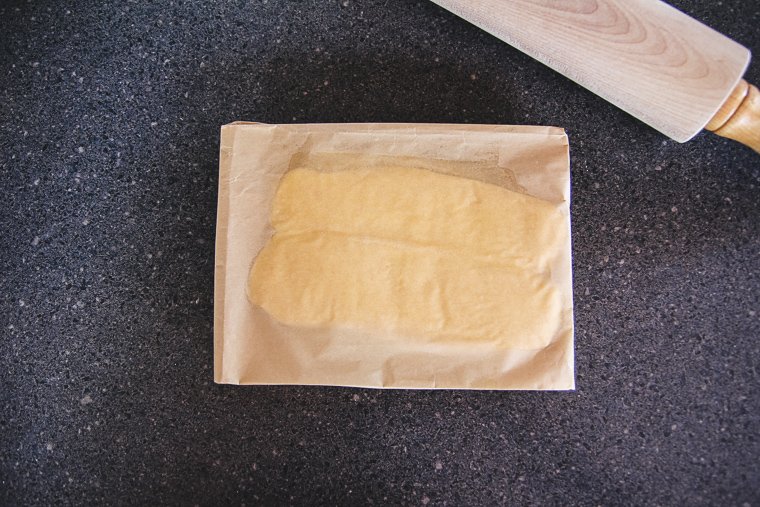 Use your rolling pin and your fingers to press the butter evenly into the pouch, making sure it fills the corners as well.
Now check your butter. If it's melty on the edges, place it in the refrigerator for a few minutes to chill. If it's still cold, but very pliable when you bend the package, you are ready for the next step.
Step 3 – Lock in Butter Block
Remove your chilled dough from the fridge. Place it on a lightly floured surface and press it into the shape of a rectangle. Pinch the corners to help shape them.
The more accurate you are at these beginning stages of lamination, the easier your dough will come together. Take your time and enjoy yourself!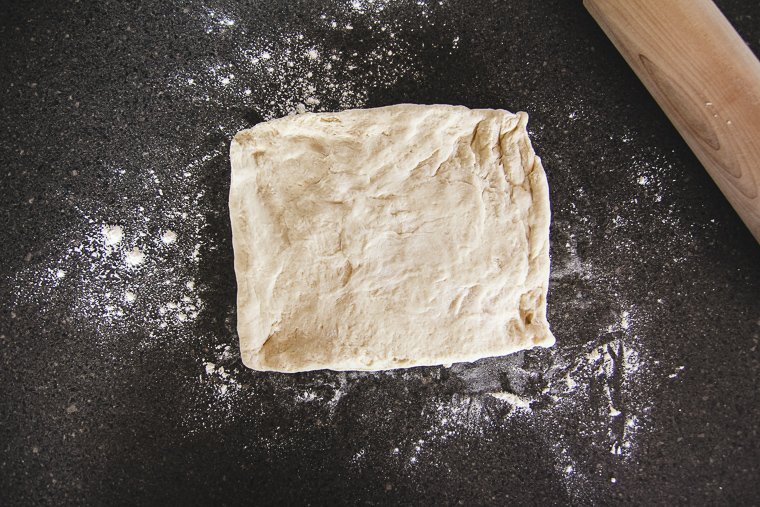 Roll the dough to a 13 x 9-inch rectangle. Unwrap your butter block and place it in the center of your dough with a short side facing you.
Fold the short ends of the rectangle over the butter until they meet in the middle.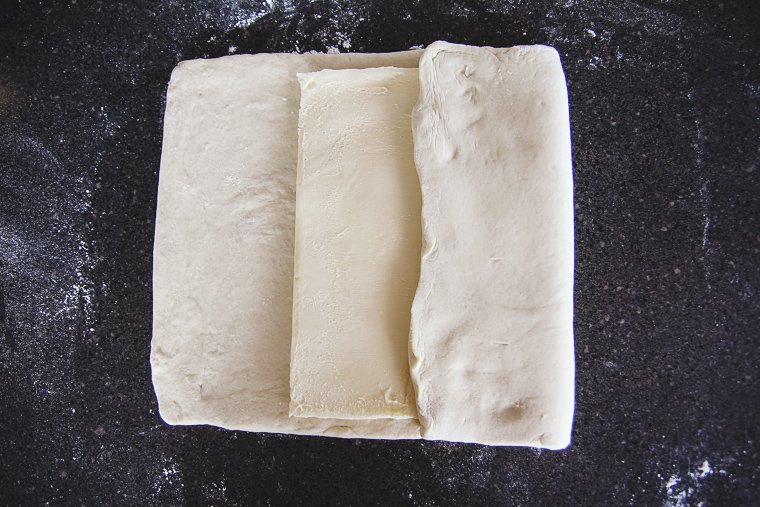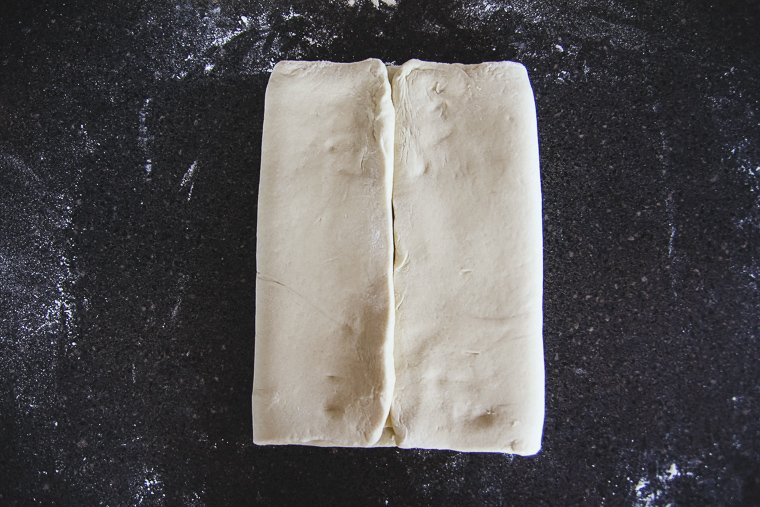 Use a pastry brush to brush away any loose flour. Pinch the center seam and the top and bottom edges closed so the butter is completely encased in dough.
Step 4 – First Lamination Fold (Book Fold)
Now we're going to do our first lamination fold. This is called a book fold. Turn your dough so the center seam is parallel to you.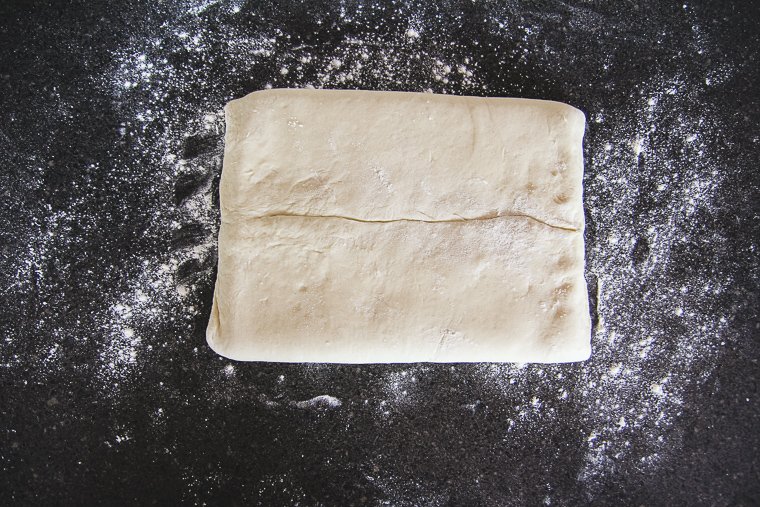 Begin to lengthen the dough by gently pounding it with your rolling pin. Focus on keeping the corners and edges straight, and check often to make sure the dough isn't sticking to your counter. Dust underneath with more flour when needed.
I always pound the dough to get most of the length. This keeps my rectangle more shapely and helps my dough to shrink back less.
Now finish rolling the dough to a 24 x 10-inch rectangle. Work gently, pushing the dough outward. I work on the length first, and then finish the width.
Continue to brush away loose flour as you go. Fold in both edges to meet in the middle.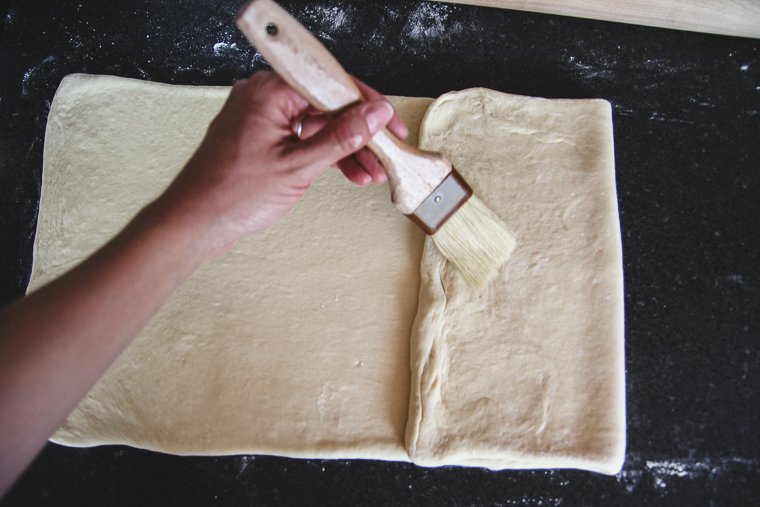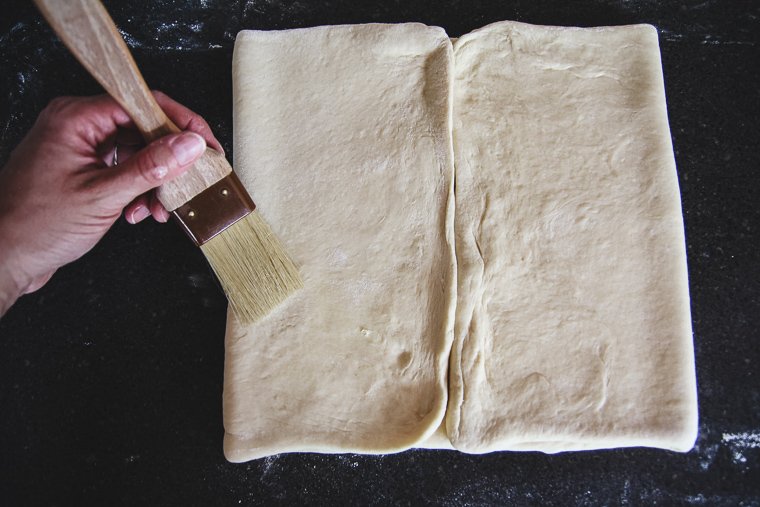 Then close your new folded ends together like you're closing a book.
Here is a side view so you can see the layers: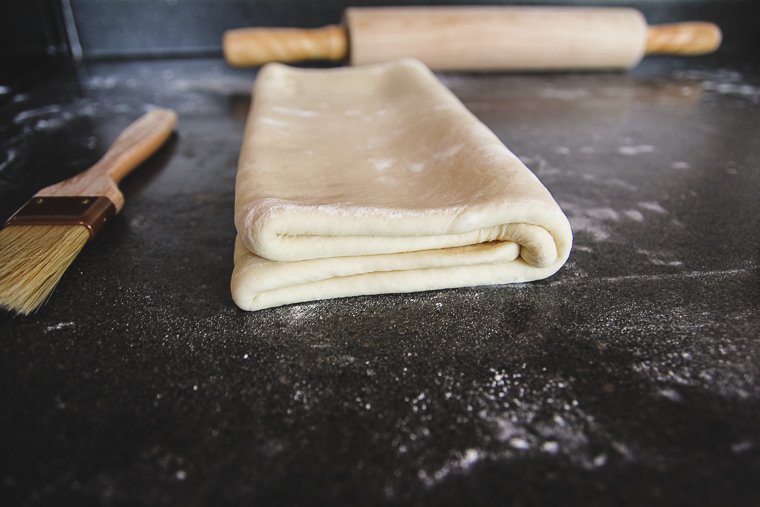 Wrap your book in plastic wrap and refrigerate for 20 minutes. This will keep the butter and dough from getting too warm and will allow the dough to relax for easier rolling during the final fold.
Step 5 – Second Lamination Fold (Letter Fold)
Place your book on your counter with the folded side facing you. Roll to a 24 x 10-inch rectangle again, pounding the dough first, then rolling.
Still focus on keeping the edges and corners straight, and watch that your dough isn't sticking to your counter underneath.
Now fold your dough in thirds as if you're folding a letter, brushing away loose flour as you go.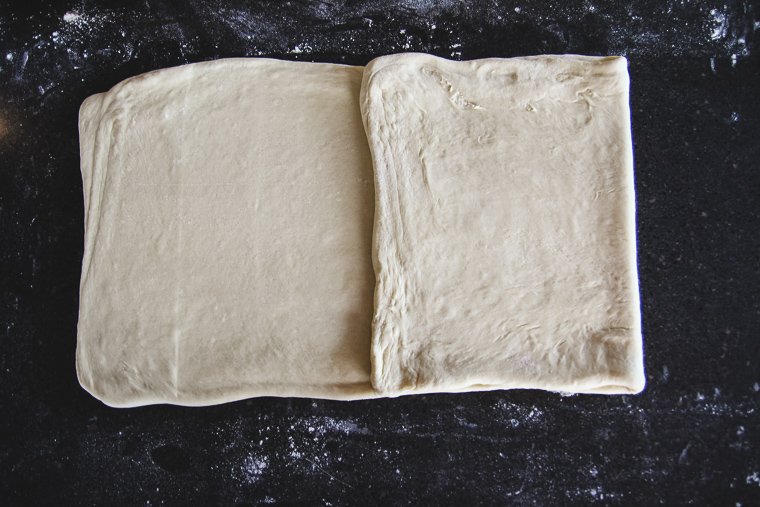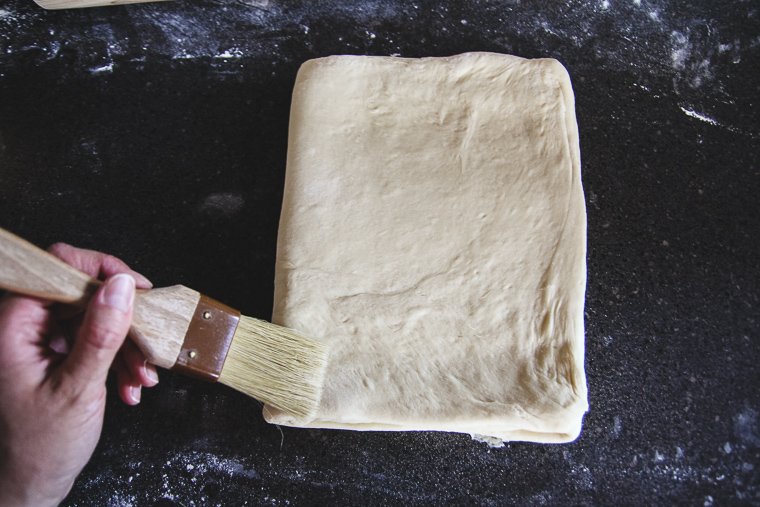 Here is the side view after the letter fold:
Wrap your dough in plastic and chill again. This time for at least 1 hour.
Step 6 – Cutting and Shaping Sourdough Croissants
When you're ready to shape your croissants, pull your dough out of the fridge and allow it to rest for 20 minutes to warm up a little.
Set your dough on your counter with the fold facing you. Roll to an 18 x 11.5-inch rectangle.
Use a pizza cutter to trim the edges of the rectangle. This will expose the layers so they rise properly during baking.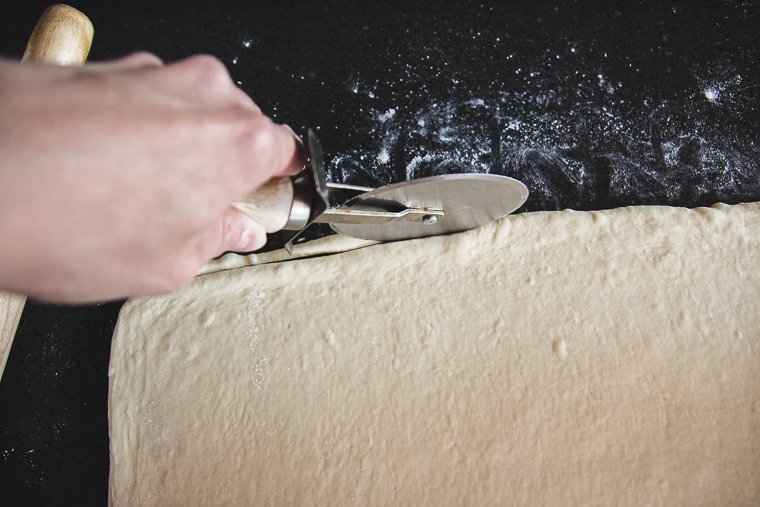 Now use your pizza cutter to cut the dough into 5 even rectangles (measure for accuracy). Cut each rectangle in half crosswise to create 10 triangles.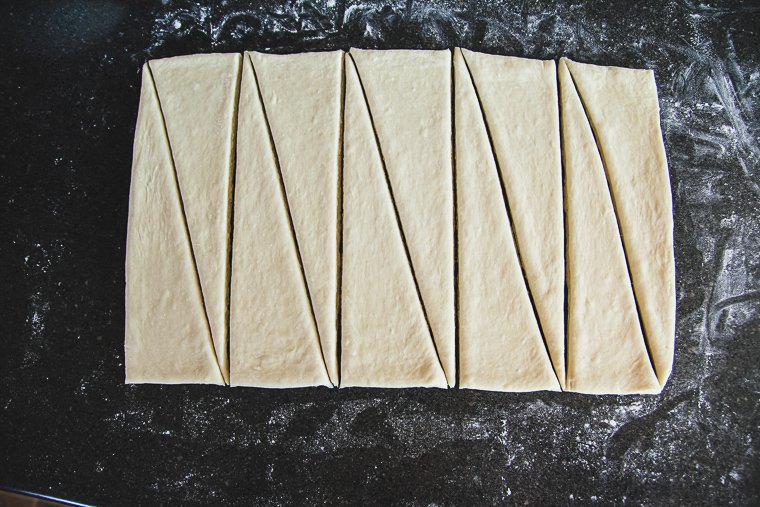 Starting with the fat side of your first triangle, gently stretch the corners to make them wider. It's even easier if you use both hands at once. Careful not to tear the dough.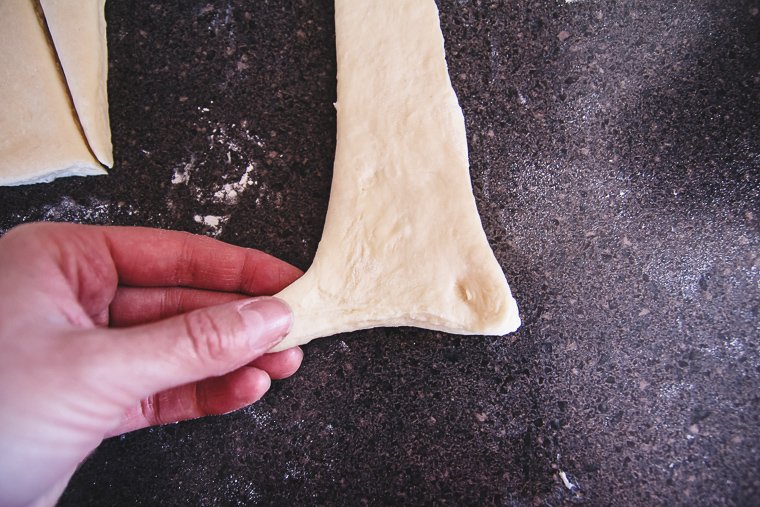 Then begin rolling the croissant from the bottom.
When you get to the end, gently pat the top of your croissant to help the bottom seal. Repeat with the remaining triangles.
Place your croissants on parchment-lined half sheet pans, five to a pan.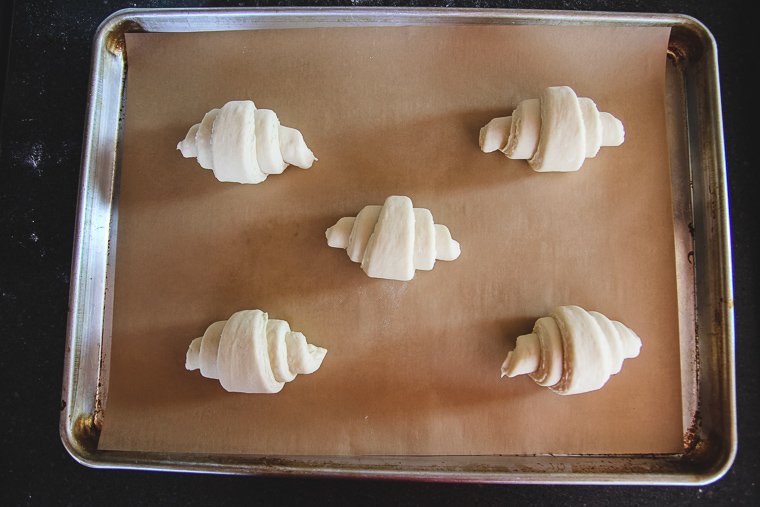 Step 7 – Proofing and Baking Sourdough Croissants
Cover your sourdough croissants with plastic wrap (not too tightly), and place them in a warm spot to proof until they look "poofy"(though not near any direct heat or the butter will melt out of your layers and onto your pan!!)
They should be jiggly if you scoot the pan. This will likely take 2 hours or more. It is very important that they proof long enough so the butter doesn't leak out of the layers during baking.
I like to place the trays in my turned off oven with the light on for extra warmth. However, I frequently rotate the pans away from the side with the oven light, because the heat from the light can cause them to proof unevenly or get too hot on one side of the tray.
Meanwhile, preheat your oven to 425°F and place a rack in the center of the oven (remove your proofing croissants first!).
Whisk together your egg and milk to make an egg wash. Brush the egg wash gently on the entire surface of each proofed croissant with a pasty brush.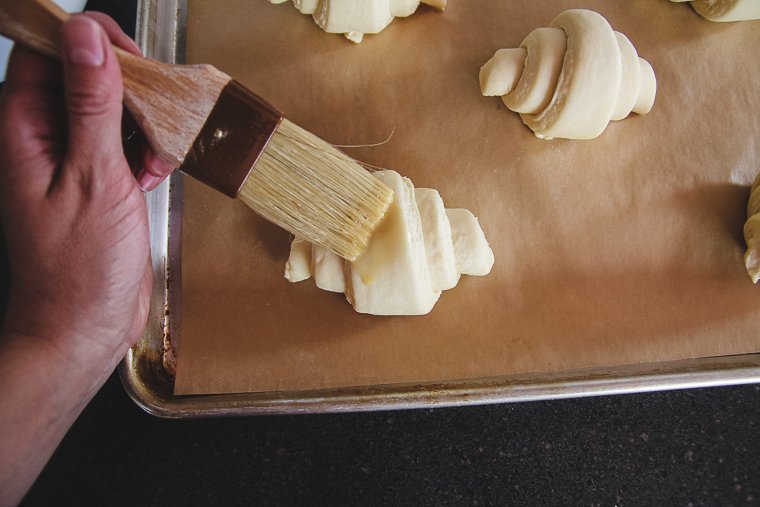 Bake one pan at a time for 15-17 minutes, or until the croissants are deeply golden. (Hold the second pan in the fridge if it's done proofing, but you aren't ready to bake yet. Egg wash and bake when the first pan is done.)
Place your finished pastries on a rack to cool completely before serving or storing.
How to Store Sourdough Croissants
Freeze any leftover sourdough croissants in a zipper freezer bag for optimal freshness. Microwave the croissants briefly, or place them on a baking tray in a 475°F oven for 3-5 minutes, or until warm.
I hope you enjoy these as much as I do!
If you make this recipe and love it, I would be so grateful if you would come back to leave 5 stars and a comment. Your feedback is very appreciated!

Tag your photo on Instagram @aberlehome to show me what you made!