This showy sourdough brioche is rich and buttery, and yet unbelievably light and soft due to the addition of a cooked flour and milk (tangzhong) mixture. A mixer fitted with a dough hook attachment makes kneading easy. Slice the loaves before toasting with butter and jam or making into French toast.
This post may contain affiliate links. See my full disclosure. As an Amazon Associate I earn from qualifying purchases.
Pin for later!
Brioche is a pastry-like bread enriched with milk, sugar, eggs and a generous amount of butter.
The dough is quite sticky at first, but after a long knead, it comes together into the most beautiful, stretchy dough.
Inspired by Claire Saffitz's All-Purpose Enriched Bread, I added a cooked milk and flour mixture (called a tangzhong) to this sourdough brioche bread recipe. This alteration makes the loaves even lighter and softer than traditional brioche.
And of course, I had to use my sourdough starter instead of yeast. The longer rise times only make the flavor of this bread more desirable.
After the first rise, the dough spends the night in the refrigerator as it develops even further.
This overnight brioche recipe yields two pan loaves.
This is such a versatile dough, though, that you could make half the recipe into cinnamon rolls, hamburger buns, donuts, or even pastries! Or you can simply freeze the second loaf for another time.
More from Aberle Home:
Sourdough Brioche Baking Schedule
*The strength of your starter and the temperature at which you keep the dough will affect how long each step will take.
Approximate timing:
Prepare and cool cooked flour mixture: 20 minutes
Mix and knead dough: 45 minutes
Bulk rise: 4 hours
Retard in refrigerator: overnight (12 hours+)
Shape and proof: 3.75 hours
Egg wash and bake: 30 minutes
Feed your starter several hours prior to baking the recipe and allow it to peak.
Start the dough in the afternoon on day 1. Shape, proof and bake the morning of day 2.
Tips for Making Sourdough Brioche
You won't want this bread to take on an acidic flavor from the sourdough starter. Plan to use your freshly-fed starter right as it reaches its highest point in the jar (don't wait until it collapses again). Also, insure you don't over-ferment the dough before it goes into the refrigerator overnight.
This is a sticky dough! You'll be tempted to add more flour during mixing, but don't. It will come together perfectly and become less sticky after kneading. The butter is added in after some strength is already developed in the dough for the best results.
The baking schedule above is assuming you keep your dough at 80°F (26°C). I achieve this by keeping my dough in my turned-off oven with the light on or in the microwave with the door ajar. I use an ambient thermometer to insure the temperature isn't getting too warm. A dough proofer box or oven on its proof setting would be even better. If you keep your dough in a cooler place, know that the rise times will take longer. Use the dough as your guide to know when to move on to the next step.
Cut the recipe in half if you only want one loaf. Just shorten the knead times as necessary.
Recommended Equipment
How to Make Sourdough Brioche
Step 1 – Make Cooked Flour (Tangzhong) Mixture
This step adds so much to the recipe, and it's quick to do. Whisk the flour into the milk in a small saucepan.
Then set the pan over medium heat. Stir with a silicone spatula until the mixture thickens. It should look like smooth mashed potatoes.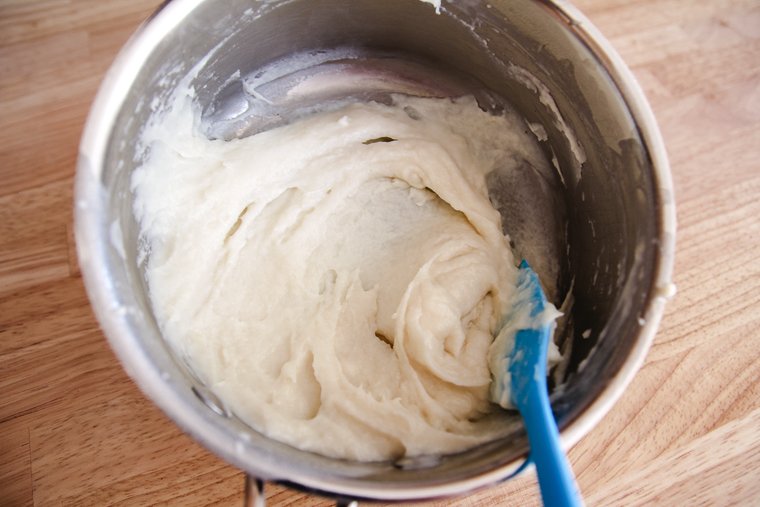 At this point, I remove the mixture to a dinner plate and smooth it out flat so it can cool quickly.
Cover the surface directly with a piece of plastic wrap to prevent a skin from forming on the surface as it cools.
You can place it in the refrigerate to cool it even faster.
Step 2 – Mix and Knead Sourdough Brioche Dough
Once your cooked flour and milk mixture has cooled completely and your starter has peaked, you're ready to mix the dough.
First add the cooked flour mixture, starter, eggs, sugar, salt and flour to the bowl of your mixer. Knead on low speed for about 5 minutes or until a smooth dough forms.
Then add in half of your butter chunks. Knead on low until the butter is fully incorporated. Add the remaining butter and continue to knead until that butter is fully incorporated as well.
At this point the dough will look really sticky and will tear apart easily if you pull it. Continue to knead it on low speed for about 25 more minutes.
When kneading is done, you'll notice the dough will have changed considerably.
It will become smooth and shiny and will pull away from the sides of the bowl as it holds to the dough hook.
It will pull to a dramatic "windowpane" if you stretch it with damp fingers.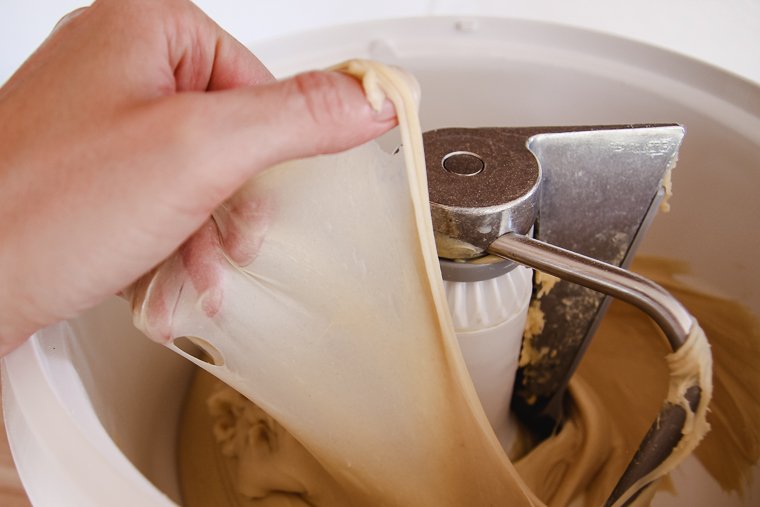 Step 3 – Bulk Rise and Refrigerate Overnight
After kneading, turn the dough out onto a clean surface.
Use a dampened dough scraper to scoot the dough in a circular motion until it forms a tight ball. Place the ball in a large bowl and cover with a lid or plastic wrap. Set the dough in a warm place to rise until it has increased in volume by one-third.
Place the dough in the refrigerator overnight.
Step 4 – Shape and Proof Sourdough Brioche Loaves
The next morning, prepare your loaf pans. Use a paper towel to apply softened butter to the inside of two 1-pound loaf pans. Line the pans with parchment paper, and then butter the inside of the parchment paper as well.
Turn the cold dough out on a clean surface again and divide it in half for two loaves. I use my digital kitchen scale to make sure the halves are even.
Then divide each half into five even pieces. Form each piece into a tight ball the same way you would shape rolls. You can use a slight bit of flour to prevent sticking as you are shaping. This video shows how to shape rolls quickly.
Arrange the balls in your prepared loaf pans. It works to place them in a zigzag pattern as pictured below.
Cover the pans with plastic wrap and place them in a warm place to proof until the balls have filled the pans and reach slightly over the top rims.
Alternately, you can divide the dough into eight pieces and arrange the balls in twos in the loaf pan. I have included a picture here in case you would rather shape this way. Either way is lovely.
Preheat your oven to 350°F (177°C) when the dough is close to being fully proofed.
Step 5 – Egg Wash and Bake
Finally, beat an egg to make an egg wash and gently brush a layer over the tops of the proofed loaves. The egg wash will help the loaf brown properly with a beautiful shine.
Bake the loaves together on the center rack for about 25 minutes. They will register 190°F (88°C) on an instant-read thermometer when they are baked through.
Although you will want them golden brown, you can always tent the loaves with foil if you feel they are browning too quickly.
Leave the loaves in the pans to cool for the first ten minutes out of the oven. Then lift them out of the pans and transfer them to a cooling rack to finish cooling completely before you slice or store them.
Voilà! I hope you enjoy making this sourdough brioche bread recipe!
If you make this recipe and love it, I would be so grateful if you would come back to leave 5 stars and a comment. Your feedback is very appreciated!

Tag your photo on Instagram @aberlehome to show me what you made!