This post may contain affiliate links. See my full disclosure. As an Amazon Associate, I earn from qualifying purchases.
Your friends and family will love these soft sourdough potato rolls. They are such a treat warm with butter and jam and are only subtly sour. They are perfect for holiday dinners or special occasions, and they aren't difficult to make from scratch.
Sourdough Guides for Beginners
These dinner rolls freeze well, but they do not last long around my house. If I leave a bag of these soft sourdough rolls out on the counter, they disappear faster than a jar of cookies.
You'll love how simple this no-knead recipe is!
These are inspired by a favorite potato roll recipe that's been in my family for years. I have made my own tweaks, the biggest of which was to change it to a sourdough recipe.
I love baking with my sourdough starter whenever I can for the added health benefits and depth of flavor. It's really a lot more simple to work with than many people think. You just have to plan ahead.
If you don't have your own sourdough starter yet, you can make one with these instructions: Easy Sourdough Starter from Scratch
You may also enjoy making my Sourdough Cinnamon Raisin Bread, Soft Sourdough Breadsticks, or Soft Sourdough Pretzels.
This recipe yields about 17 soft sourdough rolls, but you can easily double the recipe for a bigger batch.
You can bake them the same day if you start the recipe early in the morning. Or to work around your schedule, you can keep the dough in the fridge for 1-3 days before forming the rolls and baking.
You could even bake some fresh rolls one evening and save the rest of the dough to bake a couple of days later.
Recommended Equipment
Stand mixer (optional)
Measuring cups and spoons
Large bowl
Plastic wrap
Parchment paper
How to Make Soft Sourdough Potato Rolls
Step 1- Mix Dough Ingredients and Ferment
Your sourdough starter should be active and bubbly. If you store your starter in the refrigerator, make sure you pull it out and give it a fresh feeding a few hours before you are ready to make this recipe.
To scald your milk, heat it on the stove top or in the microwave until it exceeds 180°F. Then allow it to cool down to lukewarm.
Fit your mixer with either the bread hook or cookie paddles. (This dough does not require much kneading, so you can definitely mix by hand, if you need to.)
Add your sourdough starter, cooled milk, softened butter, sugar, mashed potatoes, beaten egg, salt, and flour to the bowl of your mixer (reserve the 1½ T. melted butter for later).
Mix until the ingredients come together into a smooth dough. If the dough is still really sticky you can add a little more flour, about 1/8 cup at a time.
The dough has enough flour once it pulls away form the sides and bottom of the mixer, but avoid adding too much flour, or your rolls will turn out dry.
Transfer your dough to a large oiled bowl and cover the bowl tightly with plastic wrap.
You have two choices: you may do the entire 8-hour ferment on the countertop at room temperature and bake the rolls directly after, or you may ferment for 4 hours on the counter and then transfer your bowl to the refrigerator.
You can refrigerate the dough for 24 hours and up to 3 days before forming and baking your rolls. Simply remove the dough from the fridge an hour before you are ready to form your rolls to allow your dough to come to room temperature.
You'll know when your dough is fully fermented when it has doubled in size. (Keep in mind fermentation may happen more slowly or more quickly depending on the ambient temperature in your house.)
Step 2 – Form Dough Into Rolls and Proof
Two hours before you are ready to bake, form your dough into 17 rolls. For uniform rolls, you can weigh out 58g portions of dough with your kitchen scale.
Place them onto a baking sheet lined with parchment paper. Use a second pan, if you need to, but feel free to squeeze them all on one baking sheet.
If you've never shaped rolls before, you might find this video helpful.
Cover the rolls with a damp tea towel or plastic wrap and let them proof in a warm area for about two hours, or until the rolls look poofy.
(You can put your pan in your turned-off oven with the light on if your home is chilly.)
Step 3 – Bake and Brush with Melted Butter
Bake on the center rack in a 375°F oven for 12-15 minutes, or until your rolls are lightly golden brown.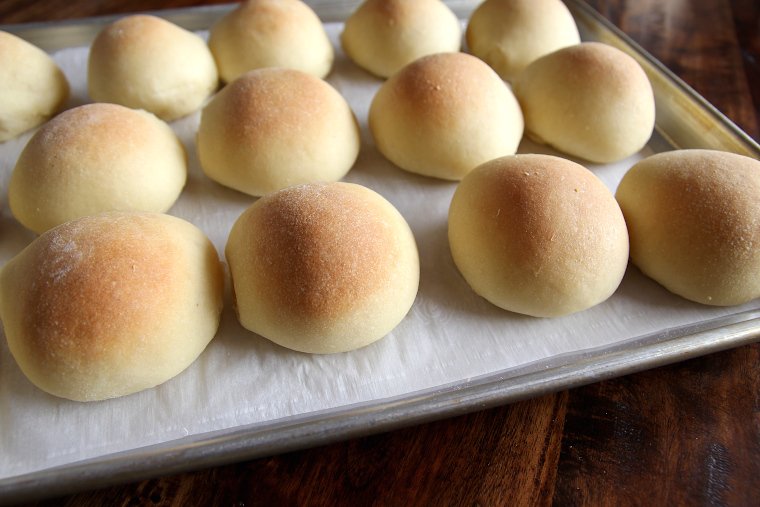 While they are still warm, use a pastry brush to brush the remaining 1½ T. melted butter on each one. This will make the exterior shiny and soft.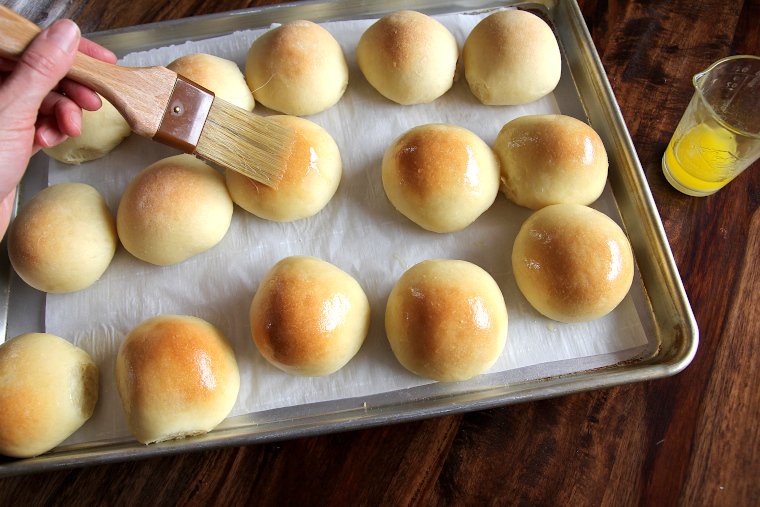 Serve warm. Allow any leftovers to cool completely, then store in an airtight container for up to three days or freeze.
If you make this recipe and love it, I would be so grateful if you would come back to leave a star rating and a comment. Your feedback is very appreciated!

Follow me on Instagram @aberlehome and tag me on your photo to show me what you made!