This post may contain affiliate links. See my full disclosure. As an Amazon Associate, I earn from qualifying purchases.
You can make bakery-quality sourdough Danish pastries using sourdough starter and a long ferment instead of commercial yeast. No stand mixer required! The danishes are flavorful (but not sour), tender, and flaky with a cheese and fruit filling and a beautiful glaze to finish them off.
I use my sourdough starter for as many baking projects as possible, so these homemade Danishes are no exception.
You may also enjoy making my Sourdough Brioche, Homemade Sourdough Croissants, or Filled Sourdough Donuts!
Pastry-making can seem intimidating for the first-timer, but it is so worth it.
I will show you step-by-step how to make these, and once you get the process down, it really moves pretty quickly.
The Danish dough is laminated meaning it has many thin layers of dough and butter.
Lamination is accomplished in a process of folding and rolling a thin block of cold butter into the dough. The layers of butter give the pastry its perfect rise and light flakiness.
If you need a good reason to wake up in the morning, one of these Danishes with a hot cup of coffee may just do the trick.
I've included a printable recipe card at the end of this post with recipes for the dough, the butter block, the egg wash, the cheese filling, the glaze, and also an optional streusel topping (not pictured).
I've included both volume and weight measurements, but I would definitely recommend you weigh the ingredients on a digital kitchen scale for accuracy.
About the Homemade Danish Dough and Filling
The sourdough Danish dough itself is enriched with sugar, eggs, milk, and butter.
These enrichments are the most profound difference between Danish dough and croissant dough.
Ground cardamom and vanilla give danishes their iconic flavor, so I would recommend you do not skip the cardamom. You can find it with the spices at your grocery store.
The cheese filling is easy to make with a base of cream cheese, and it pairs extremely well with my favorite four-fruit preserves (strawberry, cherry, raspberry, and current).
You can use your favorite fruit preserves, use the cheese filling alone, or even swap for some lemon curd.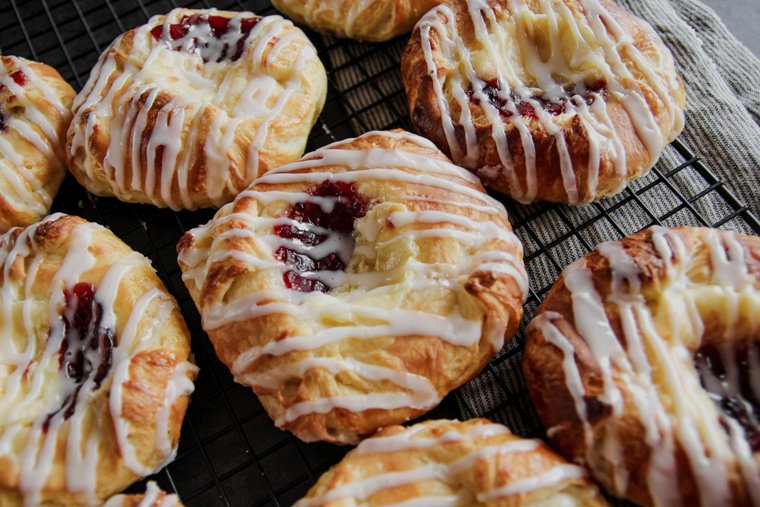 You could make your own variation to these Danishes with finely chopped pecans or sliced almonds or even by sprinkling streusel topping over your filling.
Here is a simple (but optional) streusel topping:
Streusel Topping
1/4 cup (30g) unbleached all-purpose flour
1/4 cup (50g) granulated sugar
1 ½ tablespoons (21g) butter, melted
Stir together streusel ingredients with a fork just until the streusel is crumbly, then chill before using.
I like adding a drizzle of glaze after baking for a touch more sweetness.
Feel free to play around shaping the pastry differently once you get the hang of this shape I will show you here.
Do I have to use unsalted butter?
You will definitely want to choose unsalted butter. Salted butter would pull moisture from the dough during lamination. Unsalted butter will give you cleaner layers.
Additionally, any time you are making pastry dough, I would recommend you go the extra mile to use a cultured European-style butter (82% fat).
The higher fat content makes lamination easier since the butter is more pliable at a colder temperature. Higher quality butter also lends added color and flavor to the finished pastries.
That being said, a store-brand unsalted butter like I've used here will work fine if that's what you have.
Doesn't using sourdough starter make the process more difficult?
The Danish-making process isn't made any more difficult with the use of sourdough starter and no yeast. The only difference is the extra hands-off time the dough needs to ferment before laminating and shaping.
Much of this time is spent in the refrigerator and can be manipulated to fit in with your schedule. The dough develops flavor from this process but does not become sour.
You can make the dough on day one and laminate, shape, proof and bake on day two.
Or you can leave the dough in the fridge an extra full day before or after lamination (or both) for an even longer ferment or to time your bake for early morning.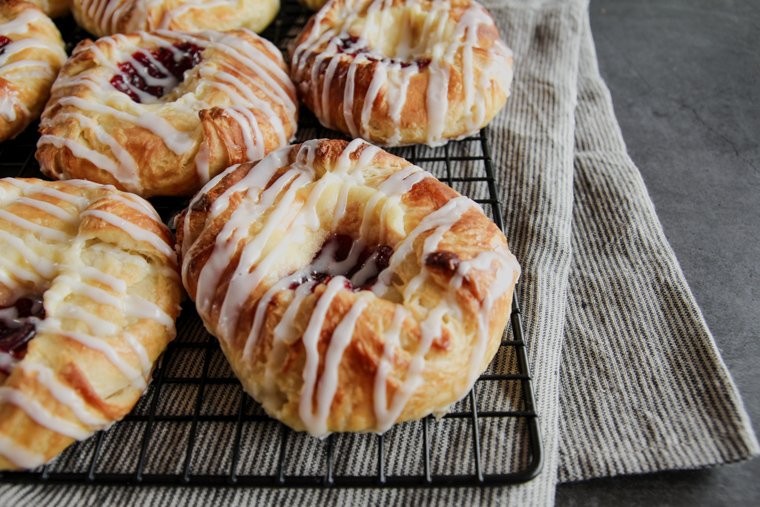 Sourdough Beginner Guides:
Tips for Making Homemade Danishes
When you begin laminating your dough, be sure your butter block and your dough are the same consistency so they will roll out nicely. Your butter should be cold, but bend easily without cracking, and the dough should be chilled. If your butter is too cold, it will crack and look like broken ice below your dough. If it is too warm, it will meld into the dough and you won't get clean layers.
Chill your dough as needed though the laminating process to keep your dough and butter from becoming too soft. If your butter gets too cold, leave your wrapped dough on the counter for a few minutes to warm up a bit before you try to roll it out.
It is best to proof Danish dough at room temperature (preferably under 75°F). Under-proofing or proofing at a high temperature could result in butter leaking out of the laminated layers. In that case your finished pastry could end up with overly-pronounced thick, crunchy layers instead of a light, flaky texture.
Recommended Equipment
Plastic wrap
Rolling Pin
Measuring tape or ruler
Rolling Pin
Pizza cutter
How to Make Sourdough Danish Pastries
Step 1 – Make and Ferment the Sourdough Danish Dough
Make sure your starter has been recently fed, and has had time to double in its container and become very bubbly.
Weigh and stir together your starter, sugar, salt, cardamom, melted butter, egg and egg yolks, milk, and vanilla. Add in the flour and mix until most of the flour is absorbed and you have a shaggy dough.
Turn the dough out onto a clean countertop and knead it for a few minutes until it becomes nice and smooth. Use a bench scraper to help as you knead if you find the dough is sticking to the counter at first.
The sourdough Danish dough should be tacky, but not sticky, when you are finished kneading.
Form the dough into a ball and place in a large bowl. Prop the lid on so the dough or cover with plastic wrap so it doesn't dry out.
Place it in a warm place to ferment for about 5 hours or until the dough increases in size by about 1/3. Then cover tightly and refrigerate for at least 12 hours, and up to two days.
Step 2 – Make the Butter Block
After your dough has had sufficient time to ferment, you are ready to laminate it. The first step is forming your butter into a thin block that can be rolled into the dough.
Place your butter on a good-sized rectangle of parchment paper and sprinkle it with the tablespoon of flour.
Next, loosely fold the ends of the parchment over the butter to cover it. (Update: I now find it easier to measure and fold the parchment before placing the butter inside.)
Begin beating the butter with your rolling pin until it begins to flatten (do this evenly without "digging" into the butter). If your butter is too hard, wait a couple minutes and try again.
Now we're going to create a package on the outside of the butter to help us shape the butter into a rectangle.
Crease the edges of your parchment paper to make the start of a rectangle that is 7 inches wide. Fold the top and bottom edges over to make your rectangle 8 inches long. Use a measuring tape to be precise.
Flip your butter package over and measure again to make sure it's right.
Now pound, roll and press your butter evenly into the package you just made. Make sure the butter fills each corner.
If your butter feels like it's beginning to melt on the edges, place it in the refrigerator for a few minutes to help it set back up. If your butter block is still cold, but nice and pliable, you're ready for the next step.
Step 3 – Lock the Butter Block into the Sourdough Danish Dough
Remove your sourdough Danish dough from the fridge and roll it out to a 16 x 10-inch rectangle.
Before I even begin rolling, I like to press the dough into the shape of a rectangle with my hands. I pinch the corners out to help them keep their shape.
Focus on being as precise as you can, and measure your dough for each step.
Frequently check that the dough is not sticking to your counter. Lift up the edges and sprinkle with more flour when you need to.
Now unwrap your butter block and place it in the center of your rectangle with a short side facing you.
Fold one side of the rectangle over the butter block so the edge meets the center of the butter block.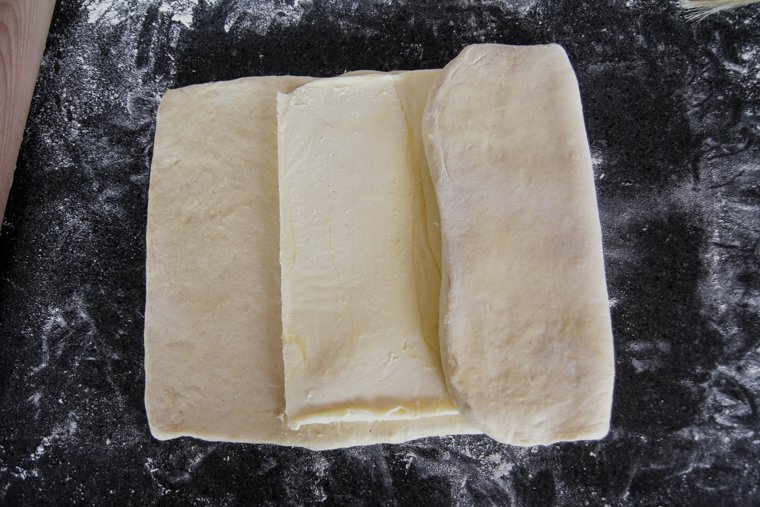 Then fold in the other end to meet the first end.
Brush away any loose flour with a pastry brush and pinch the center seam together to seal it shut. Press the top and bottom edges together around the butter block so the butter won't escape during rolling.
Step 4 – First Lamination Fold (Book Fold)
Now we are going to roll the dough out and do the first fold. Turn your dough 90 degrees so your center seam is horizontal to you.
Roll your dough into a 20 x 12-inch rectangle. Roll the 20-inch length first, and then get the width to 12 inches.
I like to carefully pound the rectangle longer by beating it with the length of my rolling pin at first. This helps to keep the edges straighter, distribute the butter evenly, and avoid developing the gluten in the dough too much.
Concentrate on rolling with a gentle outward "sweeping" motion instead of pressing hard downward into the Danish pastry dough.
Keep checking underneath to make sure your dough isn't sticking.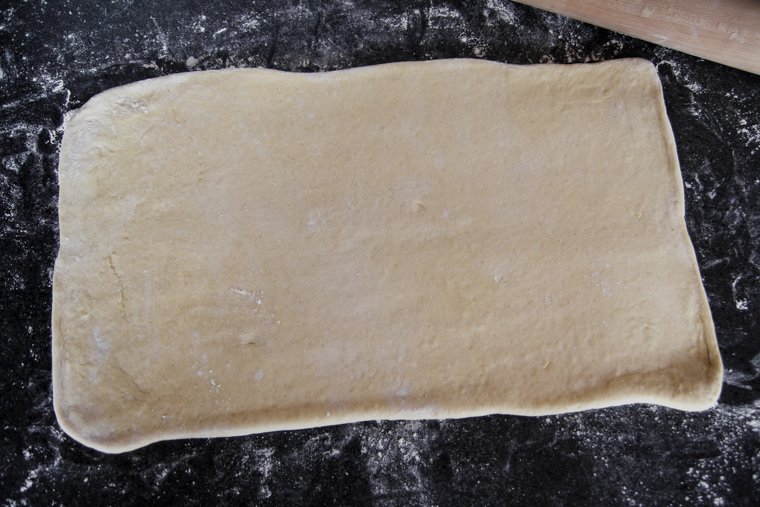 Brush away any loose flour from the top after rolling.
Now for the first fold or "book fold." You're going to fold each short end to meet in the middle. It's totally okay if the dough meets somewhere other than the middle too.
Brush away any loose flour again.
Then you're going to close your new folded ends together like you're closing a book.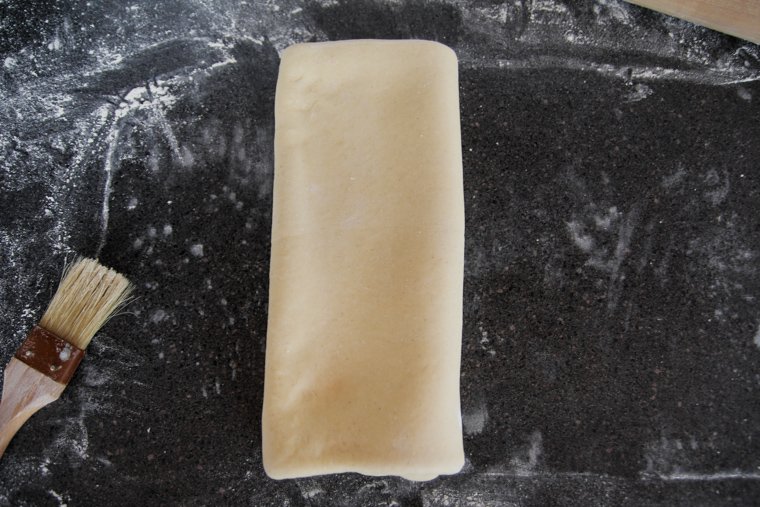 Here is a side view after this first book fold: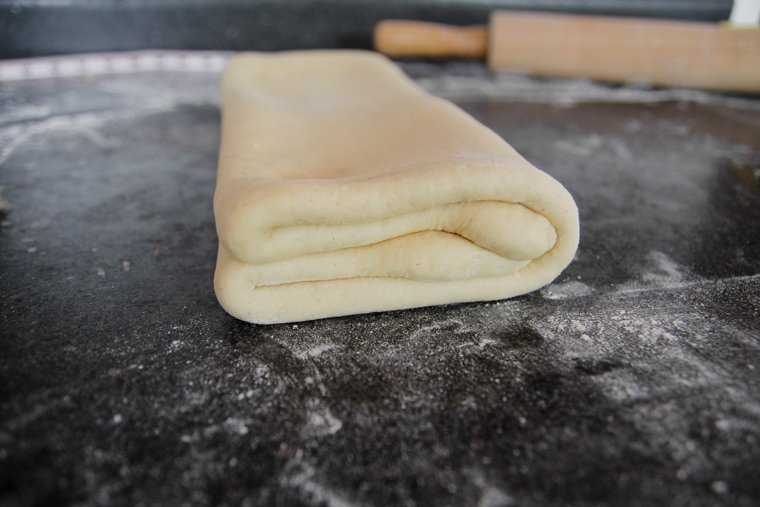 Wrap the "book" in plastic wrap and chill for 20 minutes in the refrigerator. This will keep the sourdough danish dough and butter from softening too much.
The time will also allow the dough to relax so it won't bounce back when you roll it again.
Step 5 – Second Lamination Fold (Tri-Fold or Letter Fold)
For the second fold, we are going to roll the dough again and fold it in thirds like a letter.
Take the plastic off your dough "book" and lay it on the counter so the fold is facing you. Roll it to a 20 x 12-inch rectangle again. Brush away loose flour.
Now fold the sourdough Danish dough in thirds like you're folding a letter.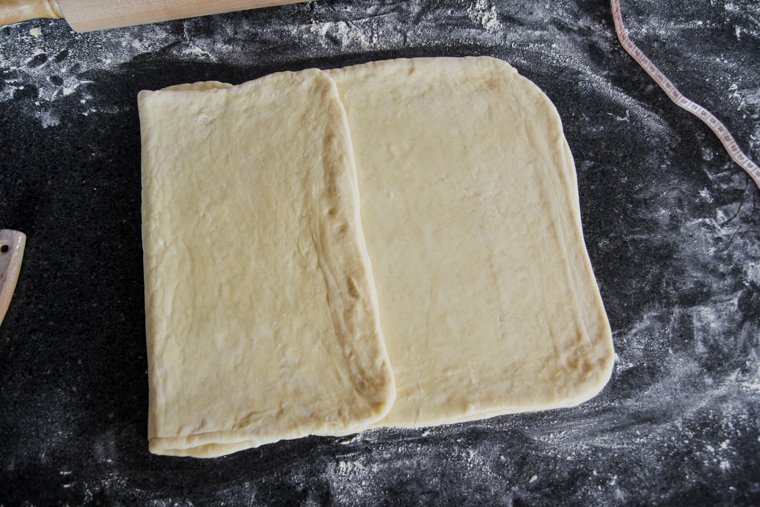 Here is the side view after the letter fold.
Your dough is now laminated. Wrap it in plastic again and refrigerate for 1 hour or overnight.
Step 6 – Cutting, Shaping, and Proofing Sourdough Danishes
Slice your laminated dough in two equal halves and set one half aside.
Roll the first half into a 16 x 8-inch rectangle. Use a pizza cutter to trim the ends (this will expose the layers so they rise properly during baking).
Cut the rectangle into eight squares.
To shape your Danishes, brush a dot of egg wash in the center of each square. Fold each of the four corners to the middle and press them down to seal.
Roll, cut, and shape the second half of your dough in the same manner or freeze it for another time.
Place Danishes on parchment-lined half sheet pans, no more than 6 to each pan.
Cover the pastries loosely with plastic wrap and proof them at room temperature until they look puffy. This could take 1-2 hours or more.
If you do want to bake all 16 sourdough Danishes but don't have enough pans or oven space to bake all of them at once, you can refrigerate shaped pastries wrapped in plastic wrap until you are ready to proof and bake them.
Preheat your oven to 425°F, and make your egg wash and cheese filling (or whatever toppings you want to use) while you're waiting for them to proof.
For the egg wash, simply beat together the egg and milk in a small bowl. Set it aside.
In a medium-sized bowl, beat your softened cream cheese until it's smooth. Then beat in the remaining cheese filling ingredients until smooth again. Set your cheese filling aside.
Step 7 – Filling Sourdough Danish Pastries
After proofing your Danishes, wet your fingers and press the corners of the pastries down into the center again to make room for the filling. Don't disturb the edges of the pastries.
Brush the top of each one with the egg wash, but use a light hand so you don't deflate the dough.
Drop about a tablespoon of cheese filling onto the center of each pastry. Then drop on about half as much fruit preserves.
(If you use preserves in addition to the cheese filling like I do here, you may not use the entire amount of cheese filling that the recipe makes.)
This is the point where you would add an optional streusel topping or nuts.
Step 8 – Baking Sourdough Danishes
Bake one pan at a time on the center rack in a 425°F oven for 12-15 minutes, or until the pastries are golden brown.
Step 9 – Glaze Sourdough Danish Pastries
For the glaze, whisk the powdered sugar and milk together in a small bowl.
Pipe the glaze on your Danishes using a piping bag or zipper bag with the very tip cut off, or you can simply drizzle the glaze on with a fork. The Danishes can be warm when you glaze them.
Can you believe it? After a long process, you have a beautiful final result and maybe even some new baking skills in your repertoire.
How to Store Sourdough Danish Pastries
My favorite way to store these homemade pastries is in the freezer in a zipper freezer bag. Freeze them right after they cool completely. They reheat tasting almost the same as when they go in the freezer.
I just place one sourdough Danish on a plate and microwave for 20-30 seconds to warm it back up for breakfast.
If you make this recipe and love it, I would be so grateful if you would come back to leave a star rating and a comment. Your feedback is very appreciated!

Follow me on Instagram @aberlehome and tag me on your photo to show me what you made!