This post may contain affiliate links. See my full disclosure. As an Amazon Associate, I earn from qualifying purchases.
Your search for the perfect sourdough english muffins has ended with this simple overnight recipe and fool-proof cooking method! You'll want to keep these on hand for egg sandwiches, eggs Benedict, or for toasting and slathering with butter and preserves.
Sourdough english muffins are such a versatile food, and so much better when made with a sourdough starter instead of commercial yeast.
I rarely purchase bread from the store anymore. I use my starter to make staples like hamburger buns, whole wheat pita, and even pizza crust.
Some sourdough english muffin recipes I've tried have turned out almost dinner-roll like in taste and texture due to too many enrichments.
I wanted these muffins to be tender and flavorful, but I also wanted them to resemble store-bought english muffins with an open crumb and slight chew.
I think these strike the perfect balance. I've added melted butter and honey for flavor and texture, but I've opted to skip milk and eggs.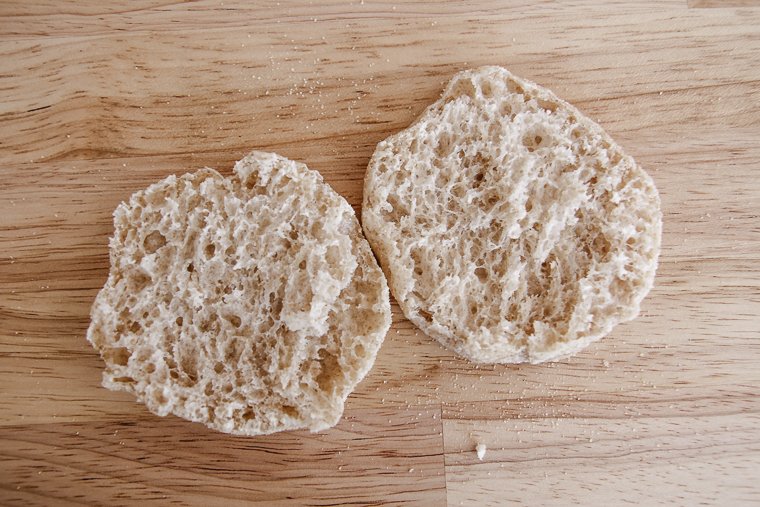 The open crumb is achieved due to the dough being on the sticky side. The muffins expand quickly once they hit the hot skillet which creates the little air pockets on the insides.
Cornmeal on the baking tray prevents sticking and adds nice texture.
More sourdough recipes from Aberle Home:
Why finish in the oven after browning in the skillet?
How disappointing to split a homemade english muffin only to find the center doughy! I've been there.
I think one of the most difficult parts of making english muffins is getting them cooked through in the skillet without over-browning them on the outside.
To solve this problem, I start these in the skillet to brown each side, then I finish them off in the oven to ensure they bake through to the perfect texture. This way it's such a beginner-friendly sourdough english muffin recipe.
Sourdough English Muffin Baking Schedule
*The strength of your starter, the temperature in your home, and other factors will affect how long each step in the recipe will take.
Approximate timing:
Mix and rest: 20 minutes
Bulk fermentation: 6-8 hours (or overnight if room is cool)
Cut and proof: 35 minutes
Brown in skillet and bake: 20 minutes
Feed your starter several hours prior to baking the recipe and allow it to peak. Start the dough in the morning if you want to bake them the same day, or 1 hour and 20 minutes before you go to bed to finish them first thing in the morning.
Tips for Making Sourdough English Muffins
You'll want to bulk ferment until the dough has at least doubled in size. If you prefer a more sour taste to your english muffins, you can extend the ferment time by a couple more hours.
As much as possible, you'll want to avoid making scraps as you are cutting your rounds. Re-rolled scraps will shrink back after cutting, causing misshapen muffins. Only re-roll scraps once, if necessary, and discard any scraps that remain after that.
If you're really in a hurry, roll the dough into a rectangular shape 1/2-inch thick. Cut into squares with a floured bench scraper and cook as normal. You'll have no scraps to worry about this way.
Cut the parchment paper with kitchen shears and invert the proofed english muffins into the hot skillet if the muffins are too delicate to touch with your hands.
Recommended Equipment
How to Make Sourdough English Muffins
Step 1 – Mix Dough and Bulk Ferment
After feeding your starter several hours earlier, you'll want to mix together your dough ingredients until no dry flour remains. You'll notice the ingredients are listed by weight in grams in the recipe… this is for accuracy.
Cover the dough and let it rest for 15 minutes.
Next begins the bulk fermentation phase which starts with three sets of stretch-and-folds at 30-minute intervals.
For each set, simply stretch the dough with a damp hand almost to its breaking point and then fold the dough back over itself. Continue stretching and folding until you have worked your way around the bowl once.
If the dough is very slack during this first set of folds, you can go around the bowl twice.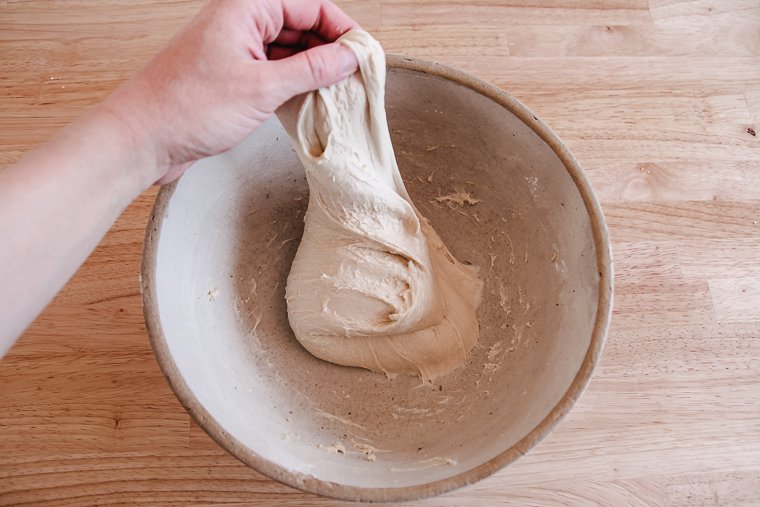 Cover the dough, let it rest for 30 minutes, and repeat two more times. Then allow the dough to rest undisturbed (covered) until it has doubled in size as shown in the photo below.
This takes about 5 additional hours at 75°-80°F, but could take up to 8 hours depending on how cool your room is. If you plan to let it rise overnight, make sure the dough is in a cool place.
Step 2 – Cutting and Proofing Sourdough English Muffins
When the dough is done rising, prepare a half-sheet pan by lining it with a sheet of parchment paper and giving it a sprinkling with semolina or cornmeal.
Use a flexible bowl scraper to gently coax the entire lump of dough out onto a floured surface.
Then flour the top of the dough and give it a flip with your scraper so the smooth-side of the dough is facing upwards.
Use a rolling pin to gently roll the dough to 1/2-inch thick, without degassing the dough.
Use a 3-inch (or larger) round cutter to cut rounds from the dough, leaving as few scraps as possible. If the cutter starts to stick to the dough, dip it in some flour between cuts.
Arrange the muffins evenly spaced on the prepared pan, and sprinkle the tops with a little more semolina.
You can press the scraps back together and re-roll them once to cut a couple more muffins. These will prove to be a bit more challenging, though.
The muffins you cut from the scraps will tend to spring back and resist holding their shape. Just do your best.
Discard any remaining scraps.
Cover the tray with plastic wrap, and let the muffins rest for 20 minutes. Meanwhile, preheat your oven to 350°F and preheat an electric griddle to 300°F or a skillet over medium heat on the stove.
Step 3 – Browning in the Skillet and Baking
When it's time to place your muffins on the griddle, you may be able to carefully pick them up with your hands and transfer them over.
Usually, I find them to be a little sticky and delicate, though. To avoid misshaping them, I use kitchen shears to cut the parchment in squares around each muffin.
Then I transfer the muffins to the griddle by the parchment and invert them onto the cooking surface.
After the sourdough english muffins brown on one side, give them a flip to brown the other side. Then return them to the same half-sheet pan fitted with a fresh sheet of parchment paper.
Slide the pan into the preheated oven for 8-10 more minutes to ensure the centers cook through (this might take a couple extra minutes if you used a larger cutter than a 3-inch one).
Move the finished muffins to a cooling rack to cool completely. Split them with a fork and pop them into the toaster before serving!
I hope you enjoy these!
How to Store Sourdough English Muffins
These will last for a few days in an airtight container at room temperature, as long as you have allow them to cool completely first. You don't want residual steam to create moisture on the muffins.
I always freeze the muffins the day I've baked them. I thaw them in the microwave just until I can split them with a fork, then I finish warming them in the toaster.
If you make this recipe and love it, I would be so grateful if you would come back to leave a star rating and a comment. Your feedback is very appreciated!

Follow me on Instagram @aberlehome and tag me on your photo to show me what you made!