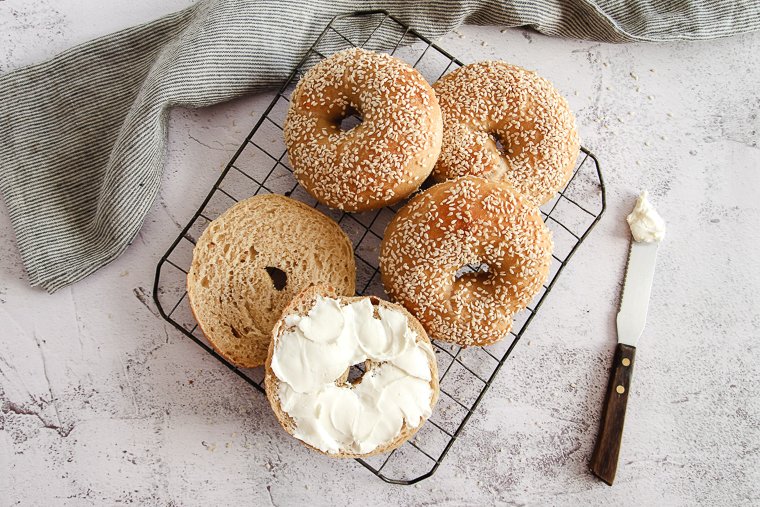 This post may contain affiliate links. See my full disclosure. As an Amazon Associate, I earn from qualifying purchases.
This not-too-dense sourdough bagels recipe is chewy and delicious with a flexible baking schedule. If you haven't had a homemade bagel, you'll have to treat yourself to one of these fresh out of the oven.
If you are new to sourdough baking, you may find it helpful to visit the posts, Sourdough Baking Terms for Beginners and Essential Sourdough Bread Making Tools.
These bagels made with sourdough starter have quickly become a staple in our home.
They come together easily and can be baked the same day or baked fresh in the morning after an overnight ferment.
The dough can even be fermented on day one, refrigerated overnight, and finished anytime the next day.
It took me some time to perfect these sourdough bagels. The dough isn't as stiff as some other popular sourdough bagel recipes.
I prefer the level of hydration here for the perfect chewy bagel with a thin crust. They toast up well without becoming too dry and dense.
Diastatic malt powder is added to improve browning, but you can leave it out if you don't have some around already.
Use barley malt syrup for bagels with a traditional flavor and darker color, but honey works great if that's what you have on hand already.
Why are bagels boiled?
Bagels are traditionally boiled before they go into the oven. The moisture gelatinizes the starch in the crust giving the bagel its characteristic texture.
The boiling does add an extra step to the bread-baking process, but is actually really quick to do. I usually add a tablespoon of honey or barley malt syrup to the pot, but you can also just boil the bagels in plain water.
The unbaked bagels accept their toppings well while they are still moist. We love to use a variety of toppings on the sourdough bagels in each batch (and we usually double the recipe too!).
We freeze the leftover bagels and toast them for quick breakfasts later.
More Sourdough Recipes from Aberle Home:
Sourdough Bagels Baking Schedule
*The strength of your starter, the temperature in your home, and other factors will affect how long each step in the recipe will take.
Approximate timing:
Mix and rest: 55 minutes
Bulk fermentation: 6-8 hours
Cold ferment (optional): 12 hours or longer
Pre-shape, shape, and proof: 1 hour, 20 minutes
Boil and Bake: 25 minutes
Feed your starter several hours prior to baking the recipe and allow it to peak.

With cold ferment: Start the dough in the morning or early afternoon on day 1. Refrigerate overnight. Finish your bagels anytime on day 2.

Without cold ferment: Start the dough in the morning to ferment, boil and bake later the same day, or start dough 1 hour before bedtime to ferment overnight and boil and bake first thing the following morning.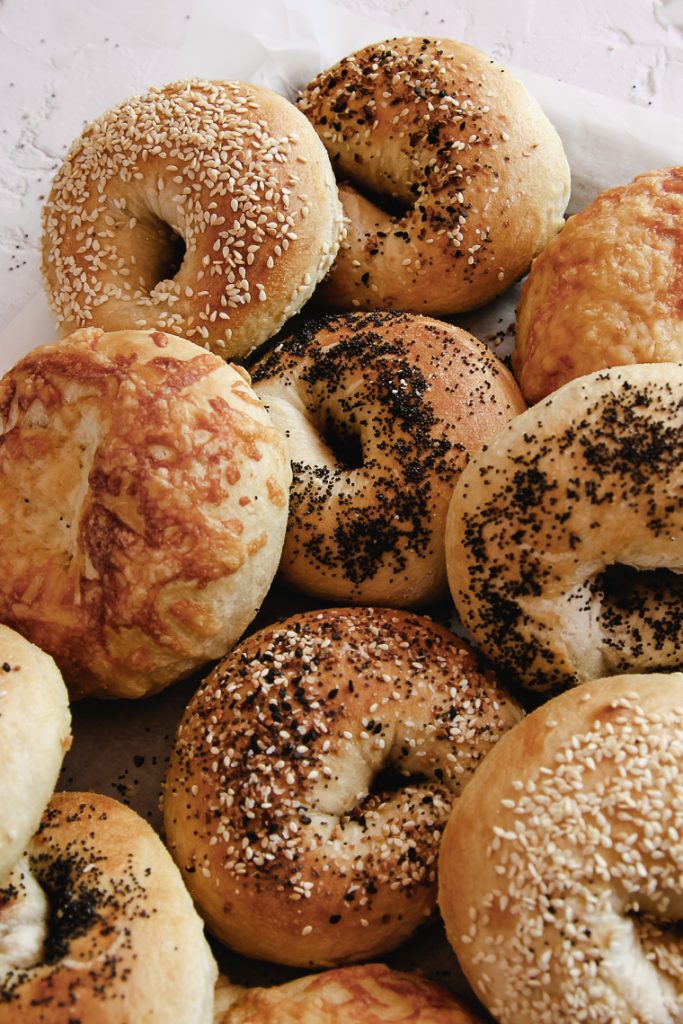 Tips for Making Sourdough Bagels
This recipe can easily be doubled, but make sure to use two half sheet pans so the bagels don't stick together during proofing.
Avoid adding extra flour while shaping the bagel dough.
The sourdough bagels should float in the boiling pot. If the first bagel sinks to the bottom, this is an indication that the bagels haven't proofed sufficiently. Allow the remaining bagels to finish proofing, then boil and bake as directed. (You can also float a bagel in a bowl of cold water to test if you have doubts.)
If your bagels collapse in the oven instead of puffing up nicely, this is an indication that you have over-proofed your bagels.
Sourdough Bagel Topping Ideas
Sesame seeds
Poppy seeds
Shredded asiago cheese
Dehydrated minced onion or garlic
Recommended Equipment
Large mixing bowl
Dutch oven or large pot for boiling bagels
How to Make Sourdough Bagels
Step 1 – Mix, Knead, and Ferment Sourdough Bagel Dough
Start by weighing and stirring all your dough ingredients together in a large bowl until the flour is absorbed. At this point the dough will look very shaggy.
Let the dough rest for 40 minutes to allow the gluten to start developing. This will make kneading a little easier in a bit.
I usually use my mixer with a dough hook to knead the dough, but it's totally possible to knead it by hand. Knead the dough for 8-10 minutes (don't add additional flour), or until it is very smooth and extensible.
You'll be able to stretch the dough thin enough to see the light through it when it's done.
Form the dough into a ball, place it back in the bowl, and allow it to ferment for 6-8 hours, or until it has doubled in size and you can see bubbles forming on the surface. Fermentation will go quicker if your dough is in a warm place, and take longer if your home is chilly.
(If you take fermentation past this point at room temperature, your bagels will develop a more sour flavor.)
From here you can divide and shape the bagels, or you can cover and refrigerate the dough and proceed with the recipe the next day.
Step 2 – Shape and Proof Sourdough Bagels
Divide the dough into six equal pieces. I weigh my dough on a kitchen scale to make the bagels exactly the same size. Cover the balls with a tea towel and let them rest for 15 minutes so they won't resist being shaped.
Then, without flouring your bench, use your hands to roll the first ball into a snake shape about 10 inches long with slightly tapered ends.
Wrap the snake around the back of your hand and overlap the ends under your thumb. Flip your hand over and roll the seam against your countertop to fuse the ends together.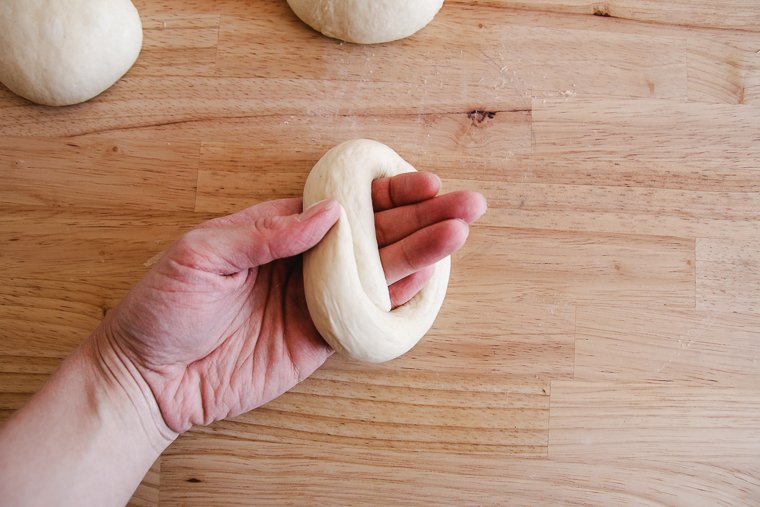 Shaping takes a bit of practice, but they will taste delicious even if they don't look perfect your first time!
Place your shaped bagels on a half sheet pan lined with parchment paper and sprinkled with semolina or cornmeal. If the center holes aren't as big as the first picture below, you can give each bagel a gentle stretch.
Cover your tray with plastic wrap, and allow the bagels to proof for about an hour or until they look more puffy.
Step 3 – Boil, Top, and Bake Sourdough Bagels
When the bagels are almost finished proofing, preheat the oven to 500°F, prepare your toppings, and boil a pot of water on the stove with a tablespoon of honey or barley malt syrup.
(If the bagels finish proofing before your water and oven are ready, you can place them in the fridge to prevent them from over-proofing. They will be easier to handle while chilled anyway.)
Drop bagels two at a time in the pot of boiling water and boil for 30 seconds on each side.
Remove them from the pot with a spider strainer spoon, allow the excess water to drain off into the pot, and place the bagels back on the pan. Sprinkle the bagels with any desired toppings while they are damp.
Repeat with the remaining bagels.
Bake them on the center rack for 15 minutes, then lower the temperate to 475°F for 5-7 more minutes, or until the bagels are golden brown. You can rotate the pan once during baking if you notice they aren't browning evenly.
Bake the bagels as dark as you like, but I generally don't go too far knowing I'll be toasting them later.
Place them on a cooling rack until they cool completely. Then slice, toast, and slather with cream cheese or butter. Or make a delicious bagel sandwich with breakfast or lunch fixings (or a lox bagel if you're feeling extra fancy)!
If you make this recipe and love it, I would be so grateful if you would come back to leave a star rating and a comment. Your feedback is very appreciated!

Follow me on Instagram @aberlehome and tag me on your photo to show me what you made!