This post may contain affiliate links. See my full disclosure. As an Amazon Associate, I earn from qualifying purchases.
Sourdough soft pretzels are fun to make at home. They are chewy on the inside, lightly crisp on the outside, and deeply golden with that perfect pretzel flavor. Score and salt them for a savory treat, or top them with melted butter and cinnamon sugar to satisfy your sweet tooth.
We used to buy soft pretzels frozen… but not anymore. It turns out soft pretzels are not hard to make from scratch using a trusty sourdough starter. They taste even better and are better for you.
It took me some time to get this recipe right. After making pretzels that were too dense or too big and soft, I finally struck a good balance between the different textures that a fresh soft pretzel should have.
The dough is fairly stiff with the addition of bread flour to give the pretzels their chewy texture. It is fermented for 8 hours at room temperature before shaping and proofing. The pretzels then spend a stint in the refrigerator to help them keep their shape.
Then one of the most important steps: the homemade pretzels are boiled for 30 seconds in a baking soda and honey bath to give them their dark color and pretzel flavor.
Traditionally, pretzels take a dip in a lye solution before baking for an even deeper color and stronger pretzel flavor. I went the route of boiling with baking soda instead, since most home bakers have some around already. Baking soda is alkaline, similar to lye, and still gives decent results.
Sourdough Soft Pretzels Baking Schedule
I like to start these sourdough soft pretzels in the morning before 8am so I can have them ready the same evening around dinnertime.
You could choose to make the dough in the late evening and bulk ferment overnight in a cool area of your home. They can also be held in the fridge (shaped) longer than the recipe calls for before you boil and bake.
More Sourdough Recipes from Aberle Home:
Tips
The recipe is in grams because weighing ingredients is more accurate than measuring.
There are differences in flour brands, so make small adjustments to the amount of flour, if necessary. The dough should be tacky after kneading, but not at all sticky.
If you don't have bread flour, all-purpose flour will work. You'll just have to add a little more than the recipe calls for so your dough isn't too sticky to shape later. Your pretzels will have a slightly softer texture.
Don't use flour on your counter when dividing and shaping the pretzel dough. The dough shouldn't stick to the surface, but it should grip against the surface to help with shaping.
If you're struggling to shape your pretzels and the dough is starting to resist being lengthened, let it rest covered for an additional 10 minutes. The dough will relax and you can try again.
Equipment Needed
How to Make Sourdough Soft Pretzels
Step 1 – Make and Ferment the Sourdough Soft Pretzel Dough
Make sure you feed your starter a few hours ahead of time (or the evening before) so it has the chance to double before you add it to the recipe. You'll want to feed it with equal weights flour and water. It should be about the consistency of pancake batter.
The dough ingredients come together easily in a mixer. Simply knead the dough for about 6 minutes until it becomes nice and smooth. The dough will pull away from the sides and bottom of the mixer. If you don't own a mixer, you can knead it by hand on a clean countertop.
Form the dough into a smooth ball and place it in lightly oiled lidded bowl to bulk ferment for 6-8 hours at room temperature. It will take longer the cooler your kitchen is. Keep the lid propped on to prevent the dough from drying out.
You're looking for your dough to have grown by the time bulk fermentation is done, but it doesn't need to double.
Step 2 – Divide and Preshape
Turn out your dough and use a bench knife to divide it into eight pieces. I weigh my pieces on my kitchen scale to make sure they are the same size: 98 grams a piece. You won't need to dust your counter with flour.
Preshaping the pieces first will help shaping go more smoothly later.
To preshape, flatten the first piece with your hand to remove any air bubbles (degas). Then begin to roll the flattened dough up into a little log. Use your fingers to press the dough down tightly with each turn until the piece is completely rolled up.
Set it aside under a length of plastic wrap and preshape the other pieces the same way. Allow them to rest covered for 15 minutes. This will give the gluten time to relax.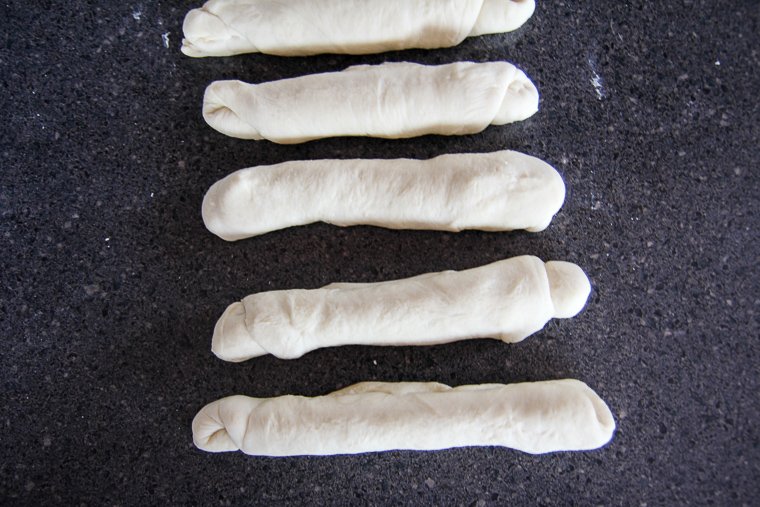 Step 3 – Shape Pretzels
To shape a pretzel, take one of your little logs of dough and begin rolling it back and forth on the counter with both hands. Use even pressure to lengthen the dough into a long rope as you move your hands further apart. Leave the dough just slightly thicker in the very middle and work your way outwards until your rope is about 30 inches long. Leave little bulbs on the very ends.
Lay the rope in a U shape. Cross the ends twice, and then bring the ends down to the bottom of your pretzel. Press them lightly so they stay in place and lay the pretzel on a parchment-lined half sheet pan. Cover the pretzel with plastic wrap so it doesn't dry out while you shape the other pretzels in the same way.
You'll use two parchment-lined pans, 4 pretzels to each pan.
Step 4 – Proof and Boil the Pretzels
While the pretzels are covered in plastic wrap, proof them at room temperature for about 1 hour. They should be only slightly more "poofy" by this point. If your house is really warm, it may not take quite this long.
Transfer the pans to the refrigerator for 40 minutes to chill the pretzels through. This will help them keep their shape while you handle and boil them.
Before they are done chilling, prepare your boiling pot and preheat your oven. I like to add the baking soda and honey in before the water heats so I don't risk my pot boiling over later. I am using my Dutch oven here.
Drop the pretzels one at a time into the boiling pot for 30 seconds each. You can expect them to float after a few seconds. Use a spider strainer spoon to keep them submerged and then gently lift them out of the water when they are done.
Allow any excess water drip back into the pot before you place them back onto your baking sheet.
Step 5 – Slash, Salt and Bake the Sourdough Soft Pretzels
For salted pretzels, use a lame or a razor blade to slash each one on the top center of the bottom bulge.
Sprinkle the bottom third of the pretzel with coarse salt while the dough is still wet from boiling. You can use kosher salt, sea salt, or purchase pretzel salt if you like.
Bake them with the pans staggered on the center and bottom racks of your oven for about 20 minutes or until they are deeply golden brown. Rotate your pans halfway through baking if you notice they are not browning evenly.
For Cinnamon Sugar Soft Sourdough Pretzels
I made half my batch salty and half sweet which worked out very well!
To make the cinnamon sugar soft pretzels, simply skip the scoring and the coarse salt. Bake them straight out of the water bath.
After they come out of the oven, brush them generously with melted butter before you give them a good dunk in a mixture of cinnamon, sugar, and salt. You can also spoon the mixture over the pretzel to coat every crevice.
Do this while the pretzels are still warm so the cinnamon sugar melts in to coat the surface thoroughly.
And that's it! Enjoy them warm and fresh.
How to Store Sourdough Soft Pretzels
Sourdough soft pretzels are best eaten fresh the first day. If you do have leftovers, I suggest you freeze them in a gallon zipper freezer bag right after they cool completely. To thaw them, bake them uncovered at 400°F for about 5 minutes until they are warmed through.
If you make this recipe and love it, I would be so grateful if you would come back to leave a star rating and a comment. Your feedback is very appreciated!

Follow me on Instagram @aberlehome and tag me on your photo to show me what you made!