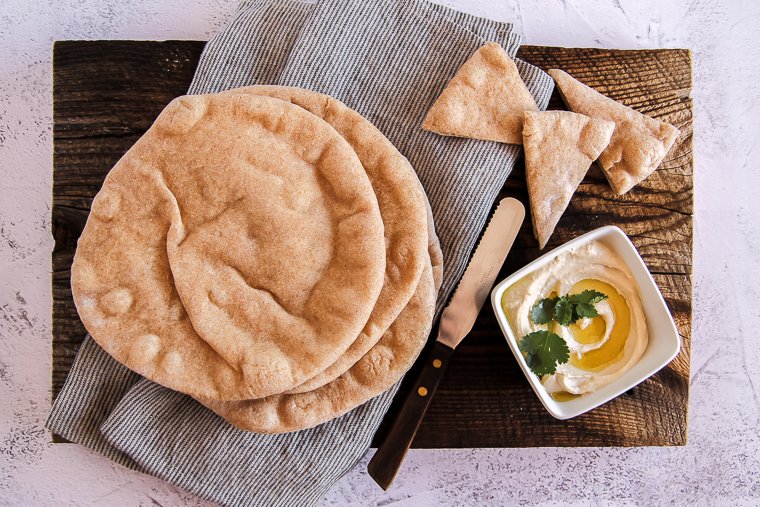 This post may contain affiliate links. See my full disclosure. As an Amazon Associate, I earn from qualifying purchases.
Make sourdough pita bread with 100% whole wheat flour! This healthy sourdough pita recipe is easy to make and is much softer than store-bought. Enjoy it as a snack with hummus or use it for a pocket sandwich.
If you want to make a fermented sourdough bread in a short amount of time, this whole wheat sourdough flatbread would be a great option! It's definitely a beginner friendly recipe.
(For another flatbread recipe, check out my soft sourdough naan that's cooked in a cast iron skillet.)
We love sourdough pita for snacks. I often cut the pockets into wedges for easy dipping.
There's no need to use a mixer for this recipe since the dough doesn't take long to knead by hand. This recipe also works well for high altitude bakers!
Can you make pita bread with sourdough starter?
Yes, you can make pita bread with sourdough starter, and this whole wheat pita bread can be ready just a few hours after you start the dough!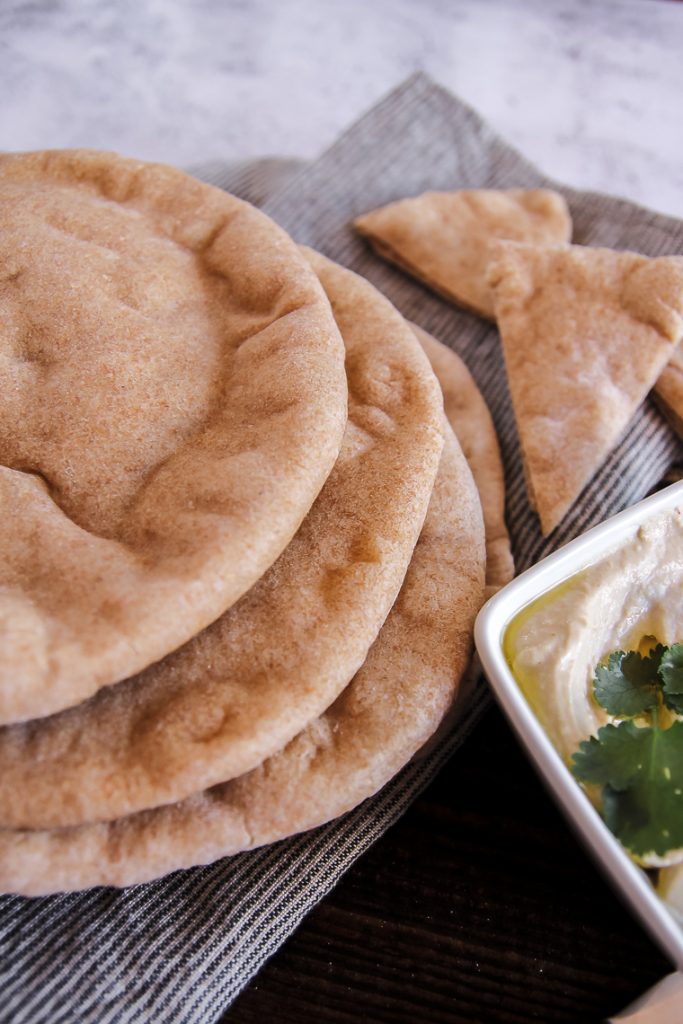 You can use an all-purpose flour starter or a whole wheat starter for this recipe.
You could also create a levain with an all-purpose flour starter using 30g starter, 30g whole wheat flour, and 30g water for more whole wheat.
Notes on the Flour Used
Being 100% whole wheat, this recipe is a perfect candidate for home milled flour.
I mill hard red spring wheat berries in my Mockmill on the finest setting. I think the fresh flour adds so much flavor to this sourdough pita bread.
Any hard wheat would work well. Use hard white if you want your sourdough pita to have a more mild flavor and lighter color.
I have written this pita recipe by weight for ease and consistency. Simply weigh your wheat berries before you mill them.
I know not everyone mills their own flour, though. You can use whole wheat flour that you've purchased with wonderful results! (Don't use a soft wheat or a whole wheat pastry flour.)
Easy Homemade Hummus Recipe
I've been making the following homemade hummus recipe (adapted from Heartbeet Kitchen) to pair with my sourdough pita:
1 garlic clove, chopped
1 1/2 tablespoons fresh lemon or lime juice
1/2 teaspoon kosher salt (or more to taste)
1 (14.5 ounce) can chickpeas, drained and rinsed
1/4 teaspoon crushed red pepper flakes
1/3 cup + 1 tablespoon tahini
1/4 cup extra virgin olive oil
1/3 cup water (may been more depending on the brand of tahini you're using)
cilantro and olive oil for garnish (or anything else you like)
Start by soaking the garlic and salt in the lemon juice for 10 minutes to mellow the garlic out a bit, then pulse everything together in a blender or food processor.
Finally, continue to blend until very smooth.
Sourdough Pita Baking Schedule
*The strength of your starter and the temperature at which you keep the dough will affect how long each step will take. My final dough temp was 79°F and my kitchen was 71°F, for your reference. If your kitchen is cooler, expect the dough to rise slower.
Approximate timing:
Mix and knead dough: 10 minutes
Bulk rise: 5 hours (Alternately hold the dough in the refrigerator after the first rise if you want to roll and bake the pita pockets the next day. Allow the dough to come back to room temperature before proofing.)
Divide and shape: 7 minutes
Proof: 30 minutes
Roll and bake: 15 minutes
Feed your starter prior to baking the recipe and allow it to peak.
As long as your starter is ready to go, your sourdough pita could be ready to eat in as little as 6 hours!
Recommended Equipment
Tips for Making Whole Wheat Sourdough Pita Bread
I have instructions to create a sourdough starter if you don't have your own yet. I also have sourdough guides for beginners.
Since the ingredients are by weight, it's easy to scale the recipe if you want to make a bigger batch.
There are some keys to achieving the perfect pocket in your sourdough pitas: 1) Roll your rounds thin enough (7-inches in diameter for this recipe) and roll them out evenly. 2) Make sure your oven and baking stone are sufficiently preheated before each batch. 3)The pita dough needs to have enough moisture in the formulation. This pita recipe is by weight to help you use the correct amount of flour even if you mill your own. The dough should be tacky when you're done kneading, though not so sticky that you can't roll it out with a light dusting of flour.
How to Make Whole Wheat Sourdough Pita Bread
Step 1 – Mix and Knead Sourdough Pita Dough
Start by weighing all of your ingredients into a bowl. It's so quick when you don't have to use measuring cups and spoons.
Mix everything together until all of the flour is absorbed.
Knead the dough with your hand in the bowl for about 6 minutes until it's nice and smooth. It doesn't need to pass the windowpane test.
Step 2 – Bulk Ferment the Sourdough Pita Bread Dough
Form the pita dough into a ball. Place the dough in a bowl, cover, and allow it to double in size. The warmer your kitchen is, the faster the dough will rise.
Step 3 – Divide, Form Into Balls and Proof
Next, turn the dough out onto a clean countertop.
Divide the dough into 6 pieces. You can weigh the pieces to get them exactly the same or you can eyeball it.
Form each piece into a ball. I like to scoot the dough against the countertop with my hand cupped around the dough to shape the balls quickly.
Cover the dough balls with plastic wrap so they don't dry out. Allow them to rest (proof) for 30 minutes. (The goal is to let the dough relax sufficiently before rolling. Don't expect the dough balls to rise much.)
In the meantime, set a baking stone on the center rack inside your oven, and then preheat the oven to 450°F.
This way the stone and oven can preheat together to prevent the stone from cracking.
Step 4 – Roll and Bake Sourdough Pita Bread
Using a rolling pin, roll the first sourdough pita into a thin circle that is 7-inches in diameter. This will be the right thickness for the pocket to puff in the oven.
Use a light dusting of whole wheat flour as needed to prevent the pita dough from sticking to your rolling pin or countertop.
Repeat the process to roll out two more pitas. Once you have three circles rolled out and your oven is nice and hot, use your hand to flip three sourdough pitas top-side-down onto the pizza stone.
Close the oven door and allow them to bake for 4 minutes. They should puff completely by the time 4 minutes have elapsed. (Meanwhile, you can roll out the remaining pitas.)
Use a spatula to carefully transfer the baked sourdough pita pockets from the baking stone to a cooling rack. They will flatten as they cool.
Reheat your oven to 450°F before baking your final three pitas. This will insure that the oven and stone remain hot enough to puff the last three pockets of sourdough pita bread.
Serve the sourdough pita warm or cooled, but make sure you allow any leftover pitas to cool completely before storing.
How Long Does Pita Bread Last?
Whole wheat sourdough pita bread will stay fresh in an airtight container on the counter for at least 3 days. The pitas also freeze very well in a zipper freezer bag for up to 3 months.
Pull out the bag and leave at room temperature until thawed. If you're in a hurry, you can microwave the pitas briefly to thaw them as well.
I hope you enjoy making this recipe!
If you make this recipe and love it, I would be so grateful if you would come back to leave a star rating and a comment. Your feedback is very appreciated!

Follow me on Instagram @aberlehome and tag me on your photo to show me what you made!