This post may contain affiliate links. See my full disclosure. As an Amazon Associate, I earn from qualifying purchases.
Learn to make the best sourdough hamburger buns! The recipe utilizes a scalded flour mixture (yundane) for a soft and light texture and some whole wheat flour for added nutrition and flavor. Prepare the yundane and starter the night before, and make the buns in one day!
Instead of buying burger buns, you can make homemade buns without yeast using a sourdough starter and simple ingredients!
I like to use my sourdough starter to make many of our bread products including sourdough pizza crust, sourdough bagels, and sourdough English muffins.
Some homemade hamburger buns err on the side of being heavy and filling. I prefer this sourdough hamburger bun recipe.
These sourdough buns come out with such a soft, light texture even though a portion of the flour is wholegrain.
They are delicious toasted for a juicy grilled burger or pulled pork sandwich. (The recipe is perfect for hotdog buns too, by the way).
Although they are wonderful served right after they are baked, I think they are even better the second day when the outsides of the buns have softened!
*If you want an even more buttery sourdough burger bun, use my sourdough brioche recipe and find instructions for making brioche buns in Step 4.
What is yundane?
Yundane is a scalded flour mixture.
It sounds complicated, but to make it, all you have to do is stir boiling water and flour together into a paste. It will rest in the fridge overnight as the flour gelatinizes.
The yundane improves the final dough by allowing the dough to soak in more water. This creates softer sourdough burger buns that stay fresh on the counter longer than homemade buns normally would.
Notes About the Flours Used
This recipe calls for about 40% whole wheat flour. I mill my own hard white wheat berries.
Hard white wheat is still a wholegrain, but it has a lighter color and more mild flavor than traditional red wheat. I like those characteristics for sourdough hamburger buns.
You could purchase hard white wheat flour if you don't mill your own, or use regular whole wheat flour.
You can also replace the whole wheat flour with more all-purpose flour if that's all you have on hand. Just add a little extra flour until your dough resembles the dough shown the photos below.
Sourdough Hamburger Buns Baking Schedule
*The temperature of your dough and kitchen will affect how long each step will take. I bulk fermented and proofed around 75°F with a final dough temp of 75°F. If your kitchen is cooler, expect the dough to rise slower.
Approximate timing:
Prepare yundane and starter: 5 minutes the night before
Mix and knead dough (including 30 minute rest): 40 minutes
Warm bulk rise: 2.75 hours
Divide and shape: 15 minutes
Proof: 4 hours
Bake: 14 minutes
Make your prepared starter and yundane before bed so you can start the dough the next morning. The process took me about 8 hours total on day 2.
Tips for Making Sourdough Hamburger Buns
The yundane needs to sit overnight for the starch in the flour to gelatinize. It will not function the same way if made the same morning the dough is mixed.
The prepared starter should have risen to triple its size and be very bubbly throughout when it's time to mix the dough the next morning. Give it extra time if it needs it.
Two keys to the perfect soft and light texture are kneading to a dramatic windowpane and pushing the proof. The dough should be quite sticky before the kneading is done. When you shape the sourdough burger buns, they will look so small! They will increase in size during the second rise.
This makes 10 standard-size burger buns that work well for hamburgers made from a quarter-pound of ground beef. If you want even larger sourdough buns, make only 8 buns (87g each) out of the recipe. You can also make small sourdough slider buns by forming 20 buns (35g each) with the same amount of dough.
Recommended Equipment
How to Make The Best Sourdough Hamburger Buns
Step 1 – Prepare Starter and Yundane (Night Before)
It's pretty quick to prepare the starter and yundane.
It's just a matter of stirring together the ingredients in their respective containers. Cover both. Leave the starter out at room temperature to ripen, and place the yundane in the fridge until morning.
In the morning, the starter should have tripled in size and look very bubbly all the way to the top before you start your dough.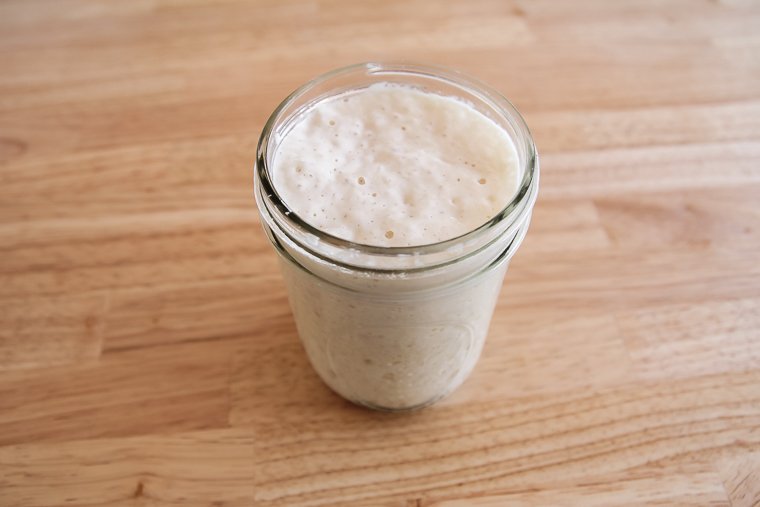 Step 2 – Mix and Knead Sourdough Hamburger Bun Dough
I use my Bosch mixer fitted with the dough hook and the dough hook extender.
Any stand mixer will do, or you can slap-and-fold and knead the dough by hand on the counter if you don't have a mixer.
Add the prepared starter and yundane to the other dough ingredients, holding back the salt and butter. Those will go in after the dough rests for 30 minutes.
Knead the dough until it becomes very smooth and shiny and can be stretched to a thin windowpane with damp fingers.
You'll notice the dough will clean itself off the mixer bowl and become less sticky when it has reached this point.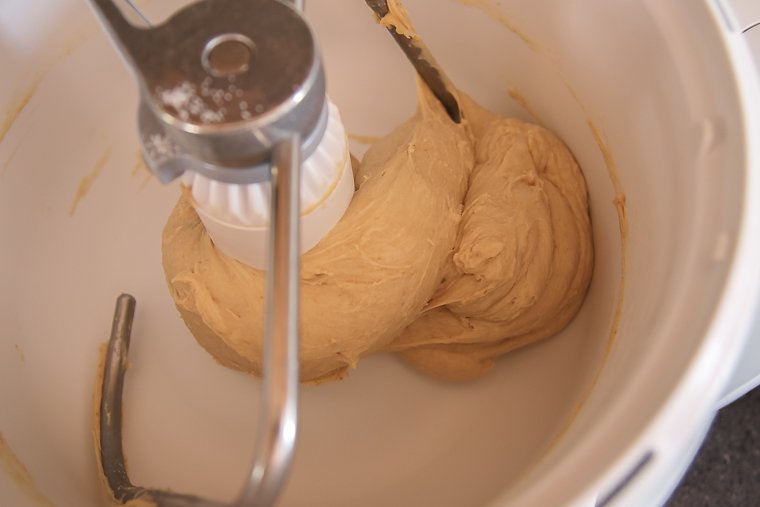 Step 3 – Bulk Ferment Sourdough Burger Dough
When the dough is finished, form it into a tidy ball on a clean countertop with a dampened bench knife. Place it in a bowl, and cover it with plastic wrap.
Allow it to bulk ferment until it has doubled in size.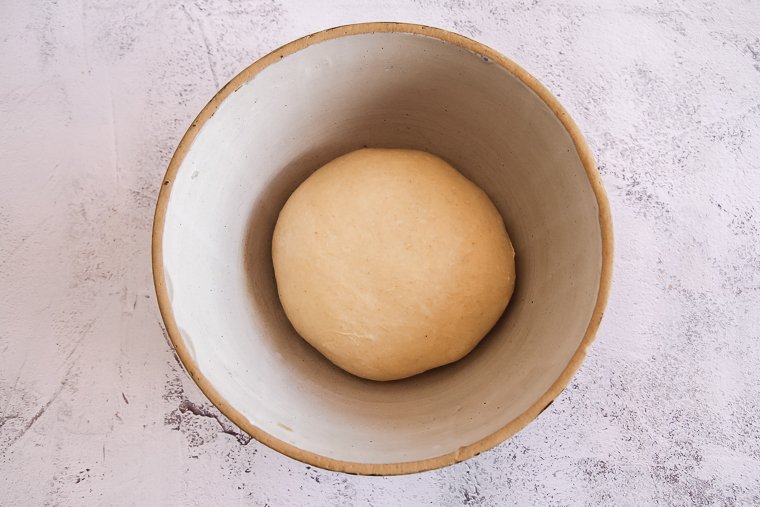 Step 4 – Divide and Shape Sourdough Burger Buns
Then it's time to turn out the sourdough hamburger bun dough, and use your bench knife again to divide it into 10 pieces that are 70 grams apiece.
To shape the sourdough buns, start by degassing the first piece of dough. You're basically pressing it flat to remove any bubbles.
Then use your fingers to begin forming it into the shape of a ball.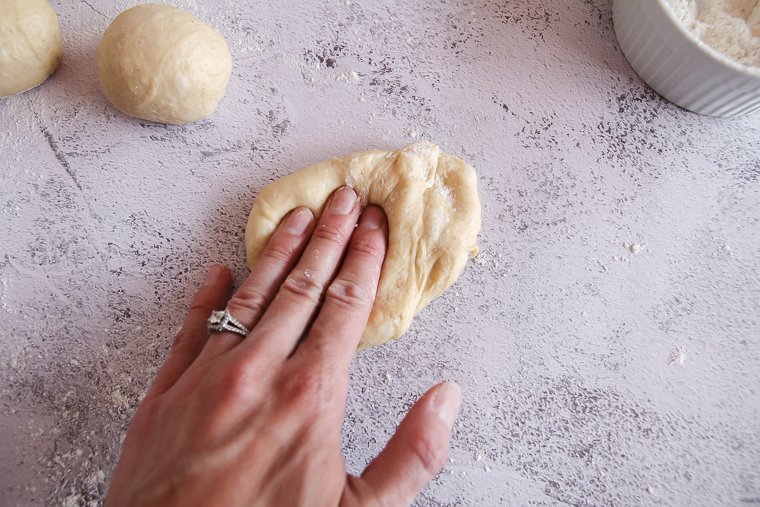 Next cup your hand around the dough ball and scoot it in a circular motion against the countertop to make a tight, smooth bun.
Use a light dusting of flour on your hands as needed to prevent sticking, but not much! The dough needs to grip the counter a little for the scooting to work.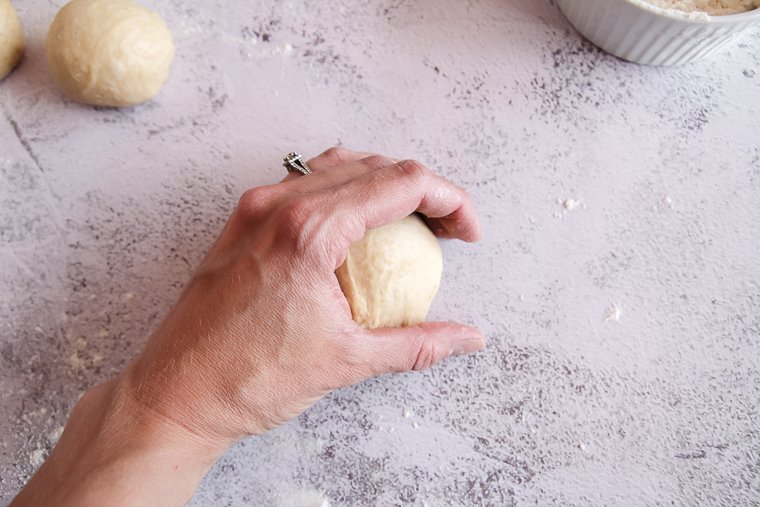 Repeat with the remaining pieces of dough until they are all shaped.
Step 5 – Proof Sourdough Hamburger Buns
Prepare two half sheet pans with parchment paper. Arrange the sourdough burger buns five to each pan.
Cover loosely with plastic wrap so the hamburger buns don't dry out, and leave them to proof until they have more than doubled in size.
When they are done proofing, they should look very poofy and jiggle slightly when the pan is pushed.
Make sure they get to the proper size here, or you'll end up with small, dense buns.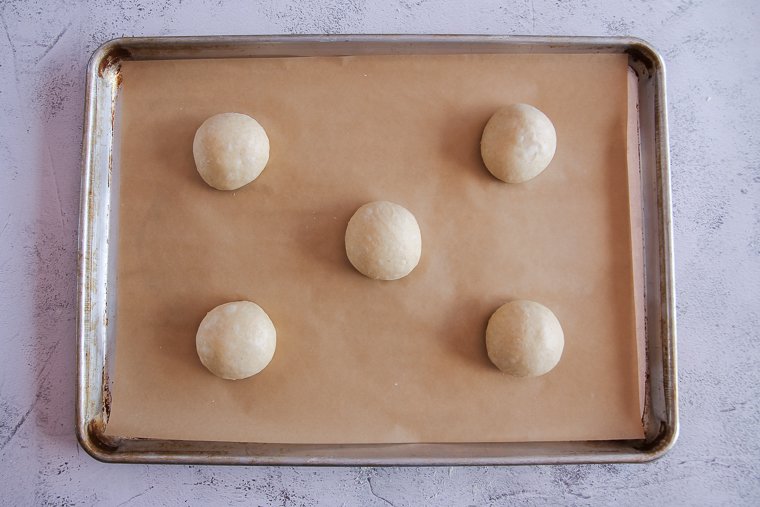 Meanwhile, preheat your oven to 425°F with two racks arranged in the center.
Step 6 – Apply Egg Wash, Toppings, and Bake
Right before they go into the oven, brush on a layer of egg wash with a pastry brush to give them color and shine as they bake. Be gentle, or the buns could collapse.
Sprinkle on toppings, if you like. We've done these buns with white sesame seeds, black sesame seeds, or Everything Bagel Seasoning.
Bake them for 10 minutes, then rotate the pans to promote even browning. Finally, bake for about 4 more minutes, or until they are golden.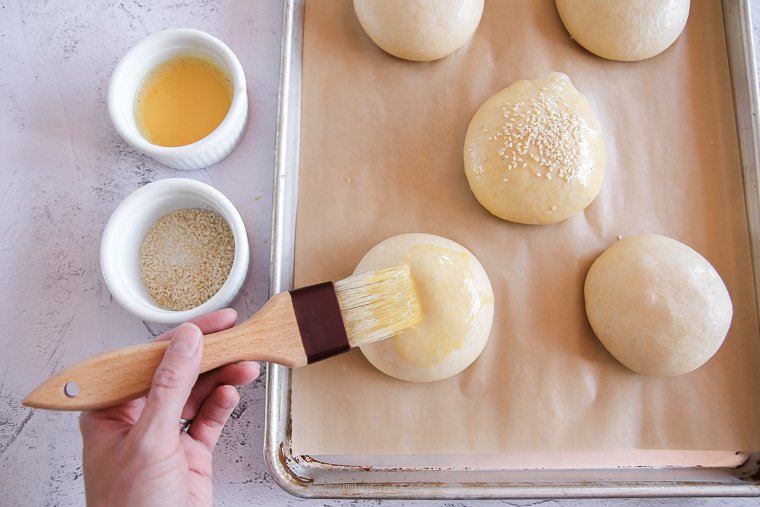 Transfer them to a cooling rack and allow them to cool completely before you slice or store them. Consume within 3 days if you store them at room temperature.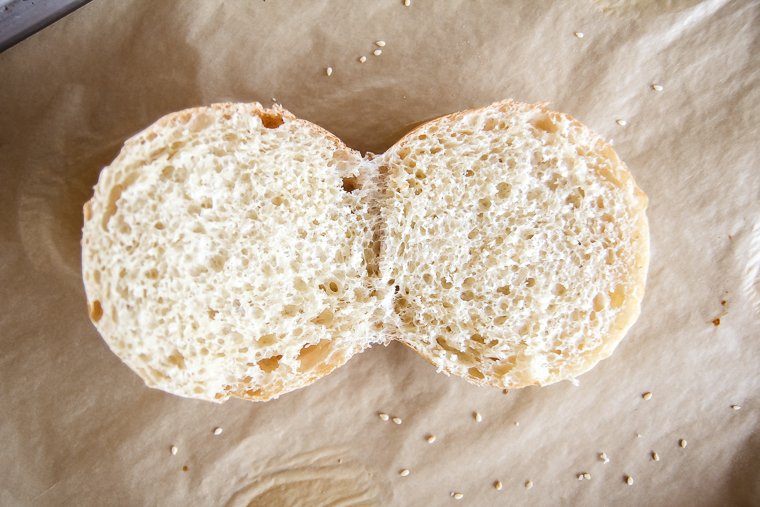 Can You Freeze Sourdough Hamburger Buns?
Sourdough hamburger buns freeze very well! I like to arrange them in a double layer (like store-bought buns are packaged) in a freezer zipper bag (or bread bag). Freeze for up to three months.
Pull them back out ahead of time to thaw at room temperature, or microwave them briefly if you're in a hurry.
If you make this recipe and love it, I would be so grateful if you would come back to leave a star rating and a comment. Your feedback is very appreciated!

Follow me on Instagram @aberlehome and tag me on your photo to show me what you made!