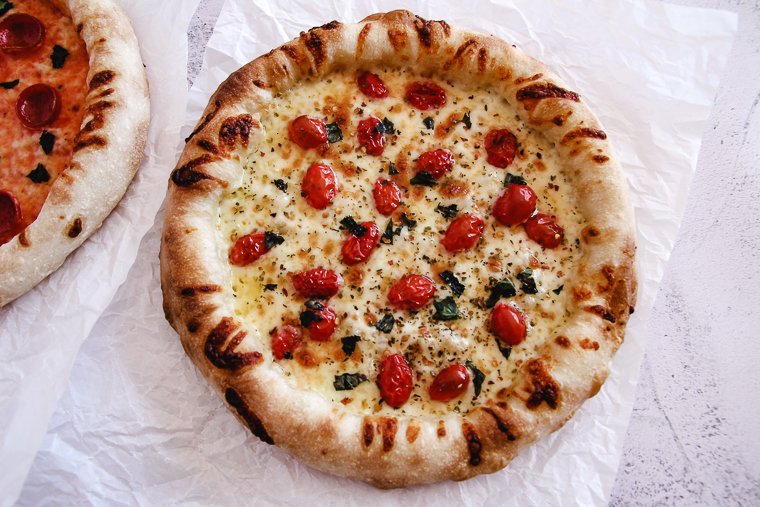 This post may contain affiliate links. See my full disclosure. As an Amazon Associate, I earn from qualifying purchases.
Sourdough pizza crust is simple to make a day or two ahead for two 12-inch pizzas with chewy, airy crusts that are perfectly crisp on the outside. Proof and shape your pizza dough balls directly onto sheets of parchment paper for easy transferring of the dough onto a hot baking stone in the oven.
There are so many things I love baking with my sourdough starter like Soft Sourdough Breadsticks, Sourdough Soft Pretzels, and Sourdough Danish Pastries.
But one of my favorite things to make with my starter is sourdough pizza dough! Pizza is such an easy meal to put together after preparing the dough the day before.
The texture of the crust rivals restaurant pizza, thanks to a higher hydration dough. Good homemade pizza is a must for us living up in the mountains where restaurants are few and far between.
This pizza dough recipe is heavily influenced by Maurizio Leo's sourdough pizza dough and his method for baking pizza in a home oven. I quite enjoy his recipe just as it is, but after making it many times, I've made my own tweaks and simplified the method.
The recipe calls for a very small amount of diastatic malt powder. This is to help the crust develop and brown properly, but you can leave it out if you don't have any on hand.
The crust turns out like a beautiful artisan pizza with the occasional giant crispy air pocket. Gosh, I'm making myself hungry for more pizza…
With this method, there's no mess on a rolling pin, my oven, or even on my pizza stone, so the dishes afterward are very minimal–a win-win!
You can customize each sourdough pizza with whatever sauce and toppings your heart desires. Just keep in mind that freshly sliced, torn, or shredded mozzarella (or whatever cheese you're using) will melt much better than pre-shredded cheese.
Sourdough Pizza Crust Baking Schedule
*The strength of your starter, the temperature in your home, and other factors will affect how long each step in the recipe will take.
Approximate timing:
Mix and rest: 20 minutes
Bulk fermentation: 2.5 hours
Retard in refrigerator: 24+ hours
Pre-shape and proof: 3 hours 15 minutes
Shape, top, and bake: 35 minutes
I usually start my dough in the late morning on day one. This gives me time to feed my starter when I wake up in the morning so it can peak before I mix my dough.
I begin proofing the next day around 2:30pm to have pizza in time for dinner. This means the dough is in the fridge for more than 24 hours for optimal flavor and development.
The timing is flexible, though, since you can leave the dough in the refrigerator longer than a day.
You could start in the afternoon or evening on day one, if that works better for your schedule, then leave it in the fridge for pizza anytime on day three.
(And really, if you're in a big hurry, the dough will be just fine if you start it in the morning and proof and bake the same day.)
Tips
If you don't own a pizza peel (I don't), a large wooden cutting board or an inverted half sheet pan will work to transfer your pizza to the oven with this method.
Make sure to preheat your stone or steel along with your oven to prevent damage. Allow it to stay inside the oven as the oven cools down afterward as well.
Equipment Needed
Medium-sized bowl (a bowl with a lid is helpful)
Danish dough whisk or spoon
Pizza stone or baking steel
Plastic wrap
Wooden cutting board or half sheet pan to transfer pizzas to oven (or a pizza peel)
How to Make Sourdough Pizza Crust
Step 1 – Make Sourdough Pizza Crust Dough and Bulk Ferment (Day 1)
You'll want to start by scaling your ripe sourdough starter, water, kosher salt, and diastatic malt (if using). Stir them together.
Then add your flour and stir until a shaggy dough forms. At this point I use my hand to knead the dough in the bowl until it comes together and no dry flour remains. The dough should still be fairly sticky (the higher hydration is one key to the open crumb), although it does hold its shape.
Use the videos below to see the consistency, and add a sprinkle more water if your dough feels too stiff.
Place a lid (or tea towel) on the bowl and allow the dough to rest for 15 minutes.
Then it's time to bulk ferment for the next 2.5 hours, or so. I like to set my dough in my turned-off oven with the light on to keep it closer to 75°-80°F.
You'll want to perform 3 sets of stretch-and-folds every 30 minutes to develop strength in the dough. You can refer to my video below to see how to stretch-and-fold dough:
Then allow the dough to rest for the remainder of bulk fermentation (another 1.5 hours). Your dough should increase in size by about 1/3 its volume.
Then place a lid (or plastic wrap) securely on the bowl and refrigerate your pizza dough for at least 24 hours.
Step 2 – Proof and Shape Sourdough Pizza Crust (Day 2 or 3)
Remove your dough from the refrigerator about 3.5 hours before mealtime.
Turn out your dough onto your countertop and divide it in half with a dough scraper. You shouldn't need to dust with any additional flour at this point.
Without degassing your dough, use your scraper to push your first piece of dough against the counter to form it into a tight ball.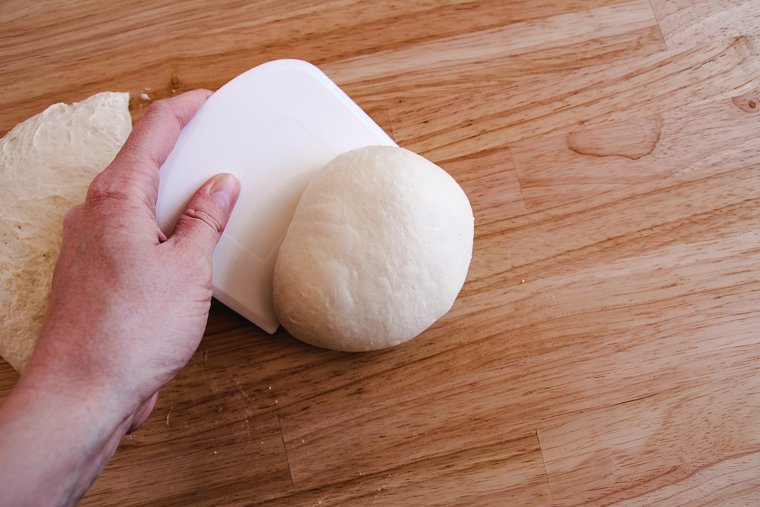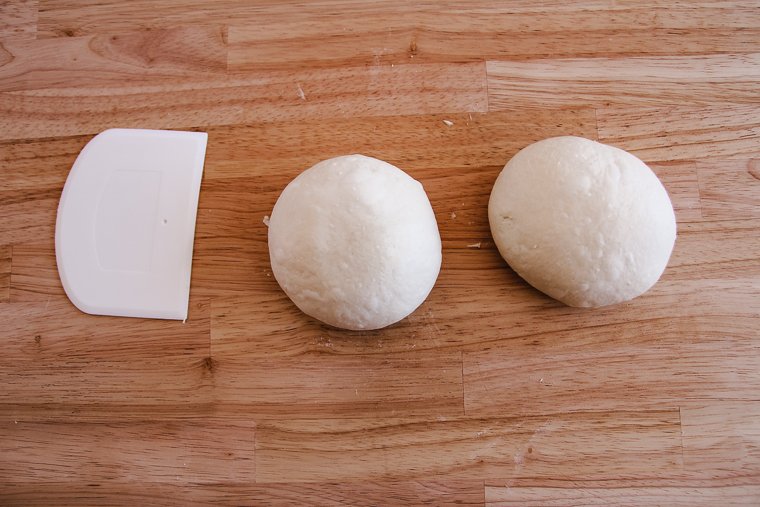 Repeat to form the second piece of dough into a ball. Coat each ball with a thin layer of olive oil. I usually drizzle oil in the same bowl the dough was fermenting in and scoot my dough balls through it.
Place the oiled dough balls in the center of sheets of parchment paper. Cover them with plastic wrap to keep them from drying out and set them in a warm place (75°-80°F).
(Again, you can put them on baking sheets in a turned-off oven with the light on for extra warmth, if you need.)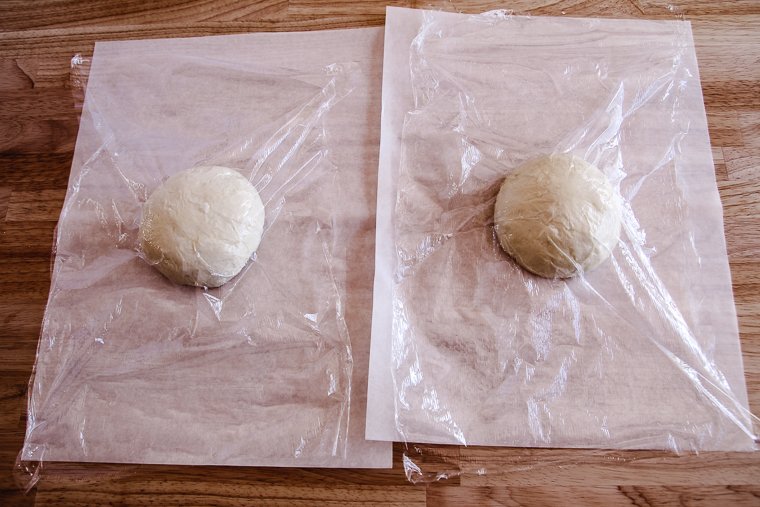 Allow them to proof for 3 hours or until they look puffier and expand out sideways like the picture below.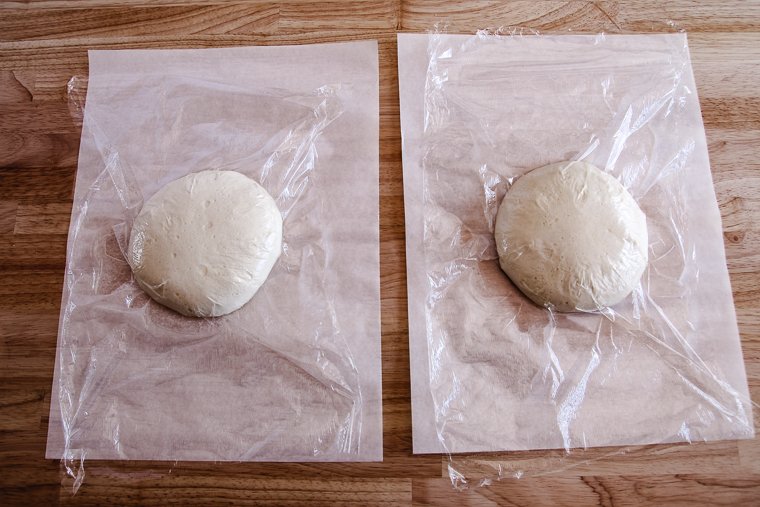 Preheat your oven to 525°F (550°F is even better, if your oven has the option) before you begin assembling your pizzas.
Note: To avoid damaging your pizza stone (or steel), make sure you put it in your cold oven and allow it to preheat with your oven.
The stone/steel insures your crust becomes crispy on the bottom and that heat is transferred to your pizza quickly, giving the crust the ability to rise.
To shape your first pizza, dampen your fingers to prevent the dough from sticking to you. I keep a small bowl of water nearby to dip into as needed.
Begin pressing out the dough ball with both hands in a circular shape. Go from the center outwards, stopping before you flatten the outer crust.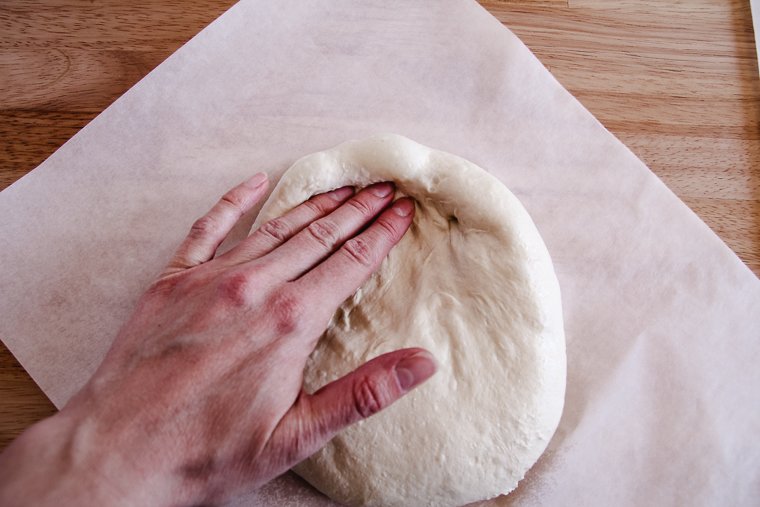 You don't want to deflate the outer crust or pop any air bubbles that come to the surface. Work on pressing the middle of the crust out evenly until your pizza is about 12 inches in diameter.
This method is very beginner friendly. You don't even have to lift the dough from the parchment to shape it or worry about tearing holes in it as you stretch it.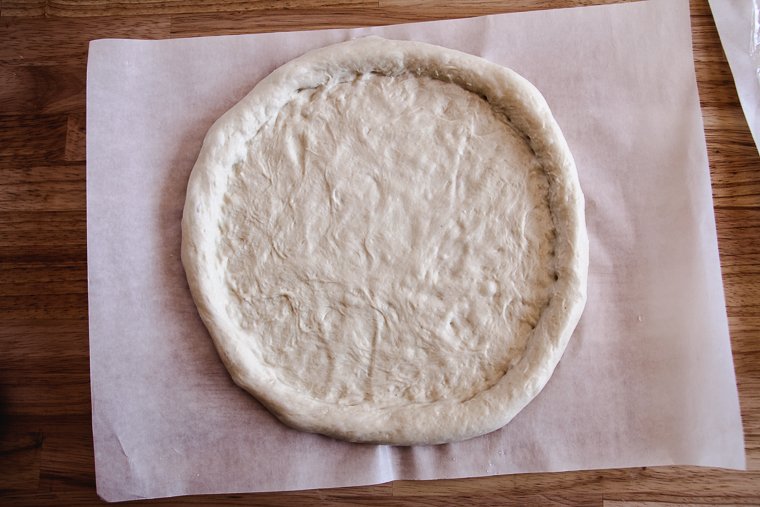 The crust will expand considerably during baking, so feel free to press even closer to your outer crust during this step if you like a smaller crust on your finished pizza.
Step 3 – Top and Bake Sourdough Pizzas
Add any sauce and toppings you wish. Sometimes we go all out and do supreme-style pizzas with red sauce. Other times, we stick to mozzarella, olive oil, tomatoes, and fresh herbs after baking.
When your oven is ready, slide your pizza with its parchment onto your pizza peel (or whatever you're using in place of a peel…see tips section above).
Open your oven and quickly scoot your pizza right onto your hot stone or steel. Close the oven door and bake for about 10 minutes (6 minutes at 550°F). You'll know the pizza is done when the crust is nice and brown.
Note: Your parchment paper will be very dark by the time your pizza is baked. Don't worry. It will not light on fire or release chemicals even when you're baking higher than the recommended temperature on the package, according to my research and experience. 🙂
You can take your crusts even darker than mine if you like them nice and crispy.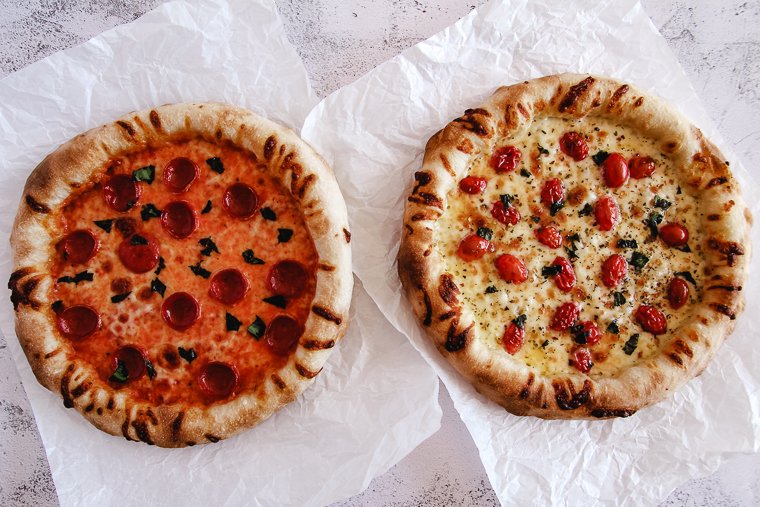 Once you remove your first pizza from the oven, reset your oven temperature and allow it to come back to temperature before you put your second pizza in. This will allow your second pizza to bake up just as well as the first!
Allow your pizzas to cool on a wire rack for about 5 minutes, then slice and enjoy while they are still warm. I hope you enjoy this recipe!
If you make this recipe and love it, I would be so grateful if you would come back to leave a star rating and a comment. Your feedback is very appreciated!

Follow me on Instagram @aberlehome and tag me on your photo to show me what you made!