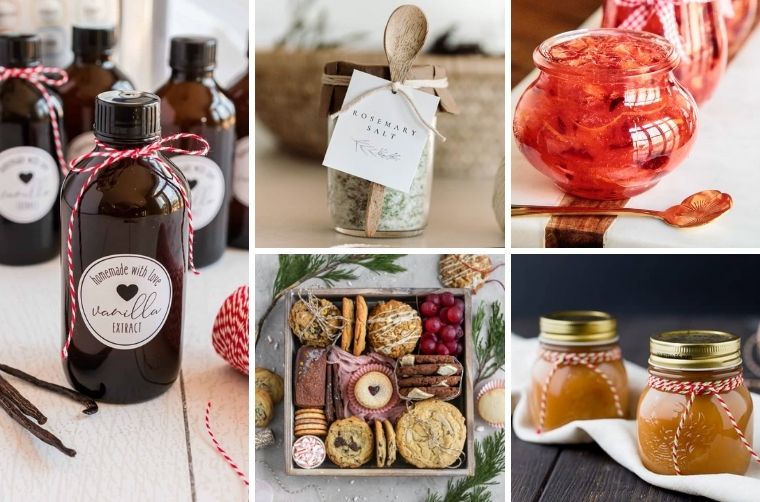 This post may contain affiliate links. See my full disclosure. As an Amazon Associate, I earn from qualifying purchases.
These homemade food gifts are fun to make and even more fun to gift to loved ones! You can't go wrong with these delicious recipes and lovely packaging ideas. Something homemade is special even for those people that are the most difficult to shop for.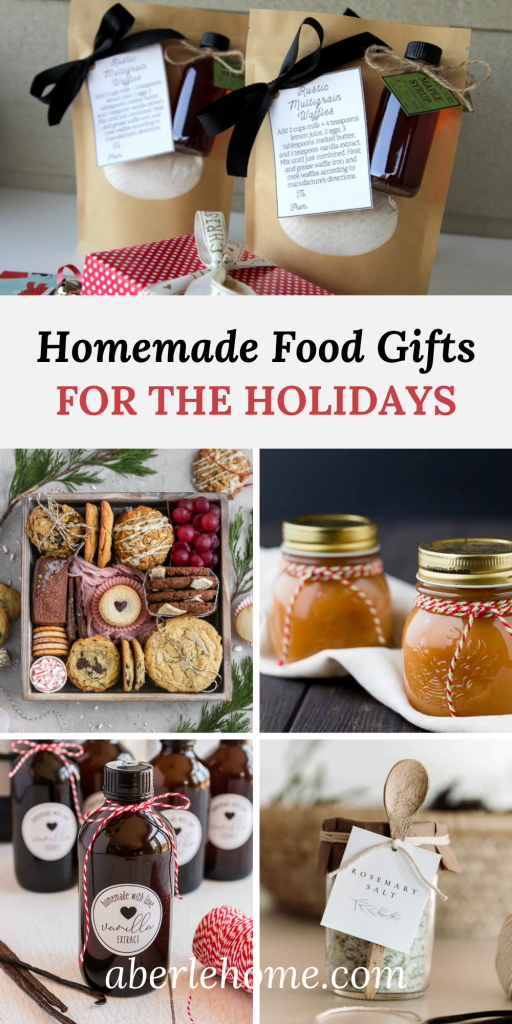 I'm always on the lookout for new homemade food gifts to make each year. I love to have Christmas gifts like these on hand for hostess gifts, neighbor gifts, and small gifts to bless friends and family members.
Sometimes I like to grab my sister and spend an afternoon making gifts like these together.
These ideas come from various talented bloggers and many of the articles have free printable labels or tags for you to use. Click the links in the headings to visit the posts. You can also click the embedded pins to save the ideas on Pinterest!
I hope these homemade food gifts inspire your gift-giving this holiday season!
Homemade Food Gifts for the Holidays
1. How to Create the Ultimate Cookie Gift Box by Frosting & Fettuccine
Sam's cookie boxes are absolutely beautiful. She shows you all her tricks and tips to make one of your own (recipes included)!
2. How to Gift Wrap Bread and Make a Bread Gift Basket by Heartbeet Kitchen
Learn how to make a lovely bread gift basket complete with Amanda's homemade red wine fig jam, cultured butter, cinnamon sugar, and a linen towel.
3. Cinnamon Bread Recipe by Julie Blanner
Whip up this tasty bread with only five minutes of hands-on time and ingredients you probably already have on hand. One batch yields six miniature loaves to gift.
4. Rosemary Salt Recipe by Boxwood Avenue
This beautifully packaged salt takes only five minutes to make. You can even print Chloe's free tags to go along with your gift.
5. 5 Homemade Flavored Butter Recipes by Happy Money Saver
Karrie has some delicious recipes here including a brown sugar cinnamon honey butter and a garlic herb butter. She has free printable tags as well!
6. Rustic Multigrain Waffle Mix Gift by Aberle Home
These waffles are delicious in their own right and extra special as a mix with a mini bottle of maple syrup! Visit the post for the free printable tags.
7. How to Make a Holiday Breakfast Kit by HGTV
Find special recipes for spiced cinnamon biscuits and pear cardamom butter and instructions for packing everything up!
8. Homemade Popcorn Gift Set by A Cultivated Nest
Who wouldn't love to make popcorn with Manuela's cinnamon vanilla sugar, Dorito, and garlic parmesan popcorn flavorings!
9. Hot Chocolate Bombs by Sugar Spun Run
Sam teaches how to temper chocolate for perfectly smooth hot chocolate bombs. She even shares ideas for other flavors! All the recipient has to do is pour hot milk over the top of the sphere to reveal the hot cocoa mix and mini marshmallows inside.
10. Bourbon Caramel Sauce by Rachel Cooks
You'll love sharing jars of this bourbon caramel sauce with pretty ribbons tied on the tops. This sauce would go wonderfully with apples or atop a number of desserts or brunch foods.
11. Chai Tea Concentrate for Homemade Lattes by Neighbor Food Blog
Gift some homemade chai tea concentrate in pretty bottles. The recipient will simply add the concentrate to steamed or frothed milk to enjoy their own lattes at home.
12. Easy Orange-Cranberry Christmas Marmalade by The Cafe Sucre Farine
This colorful Christmas marmalade takes only thirty minutes from start to finish and is incredibly beautiful to gift!
13. Fig and Ginger Granola by Martha Stewart
This granola is so pretty gifted in a box alongside a jar of fresh honey.
14. Easy Homemade Crackers and Holiday Gift Basket Idea by Food Fashion Party
See how Asha puts together a beautiful cheese board gift basket! You'll love her homemade crackers that come together in less than twenty minutes.
15. Chili & Garlic Olive Oil Holiday Gift by Satori Design for Living
You'll love giving this chili and garlic olive oil as a gift or as part of a gift basket. It's also a delicious holiday appetizer served with a loaf of bread! You only need five ingredients.
16. Mango and Ginger Chutney by Harris Farm Markets
Imagine this beautiful homemade chutney over a Christmas ham or a pork roast. It looks like a winner to me!
17. Orange Cranberry Biscotti by Leigh Anne Wilkes
These cookies have the perfect flavor combination for the holidays and are drizzled with white chocolate. Biscotti are perfect for dipping in coffee or tea.
18. Peppermint Bark by The Recipe Rebel
Ashley's peppermint bark is so festive! Though it looks fancy, this Christmas candy is actually easy to make.
19. How to Make Vanilla Extract by Shugary Sweets
Any home baker is sure to appreciate a bottle of homemade vanilla extract. Aimee's is made in the instant pot to speed up the process, and she has printable labels as well.
20. Homemade Caramel Candy (Soft and Chewy) by Our Salty Kitchen
Danielle's tips and tricks make these soft caramels come together easily. You'll love to share them with family and friends.
21. How to Make a Christmas Cookie Decorating Kit to Gift by Aberle Home
A themed cookie decorating kit might just be the perfect gift for some kids, seniors, or any busy people in your life! They can decorate delicious sugar cookies without the hassle of making anything themselves.
Happy Holidays to you!