This post may contain affiliate links. See my full disclosure. As an Amazon Associate, I earn from qualifying purchases.
This holiday season I have had a fun time making waffle mix gifts with mini bottles of real maple syrup! These sweet little gifts are perfect for teachers, coworkers, neighbors, or anyone else for whom you need a small, thoughtful gift!
These Rustic Multigrain Waffles are flavorful and delicious for a holiday-time breakfast and are sure to please any gift recipient.
The downloadable gift tags include instructions and the four ingredients to add when making the waffles!
(If you would just like the recipe for the waffles, it can be found here.)
I would recommend you affix pre-packaged mini bottles of maple syrup or samplers to the waffle mixes so no refrigeration will be necessary.
But I will also show you how to make the syrup bottles yourself if that's the route you want to go.
I ended up making eleven mixes total to gift this Christmas, and these were very affordable to do.
The following steps will show you how to make six waffle mix gifts of your own!
Tools Needed
Measuring cups and spoons
Food processor or blender
Whisk
Ruler
Scissors
Hot glue gun
Supplies Needed to Make Waffle Mix Gifts
Waxed stand-up food bags – size 5.9″ by 8.6″
Ribbon (I used 5/8″ black grosgrain ribbon)
Thin twine
2 sheets of 8.5″x11″ cardstock for printing the gift tags and syrup tags (I used a cream and a green cardstock)
I've taken the time to create these gift tags, now all you need to do is download and print them here:
Ingredients for 1 Bag of Waffle Mix
½ cup rolled oats
½ cup bran flakes cereal
¼ cup corn flakes
¾ cup all-purpose flour
½ cup whole wheat flour (I used Bob's Red Mill Whole Wheat Pastry Flour)
2 tablespoons packed brown sugar
2 ¼ teaspoons baking powder
½ teaspoon baking soda
½ teaspoon salt
You will use six times these ingredients, of course, if you are making six mixes.
You will also need to buy some real maple syrup to fill your smaller bottles with. I linked the brand and size I purchased (I made a lot of mixes and we wanted extra to have around the house), but any brand will do.
How to Make the Multigrain Waffle Mix Gifts
Now that we've covered all the needed tools, supplies, and ingredients, let's get started with the first waffle mix!
Step 1 – Make the Waffle Mixes
First, add the rolled oats, bran flakes, and corn flakes to your food processor or blender and pulse until the mixture resembles coarse sand.
Next, place the cereal mixture in a glass mixing bowl. Add the remaining ingredients (brown sugar, baking powder, baking soda, and salt), and whisk to combine.
Now open up one of your food bags and use a measuring cup to scoop the dry mix into the bag. Close the bag carefully.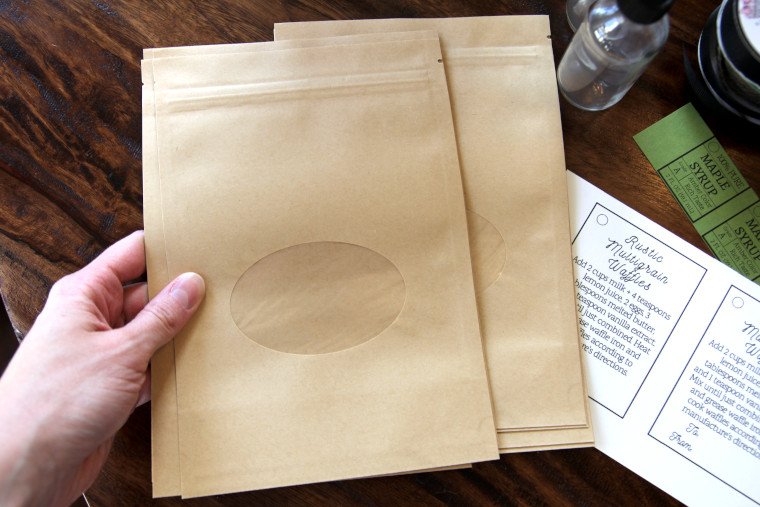 I love how the little window in the bag lets you see the waffle mix inside! You could heat-seal the bags if you have the ability.
Repeat this process five more times to make six waffle mix gifts. You'll feel like a waffle mix factory after all that.
Step 2 – Fill Syrup Bottles (if not using prepackaged bottles)
Carefully fill six of your glass bottles with maple syrup and secure the lids tightly.
My syrup had a really nice pour spout, but you can use a small funnel if you're having trouble.
Step 3 – Prepare Your Tags and Tie the Ribbon and Twine
Use a paper cutter to cut out all of your instruction gift tags and syrup tags that you've printed.
Use a hole punch to punch out the circle in the upper left corner of each tag.
Cut six 17-inch long pieces of ribbon, and trim the ends at an angle.
Also cut six 13.5-inch long pieces of thin twine.
Now, tie the syrup tags to the bottles with the twine. Make a bow!
Put your lengths of ribbon through the instruction gift tags, and tie bows again.
Step 4 – Glue the Tags and Syrup Bottles to the Bags
Now it's time to use a hot glue gun to attach your syrup bottles and gift tags to your bags.
Apply glue along the entire length of your syrup bottles to insure they will sit nicely on the bags.
And that's it! You now have six beautiful Rustic Multigrain Waffle Mix gifts to give away this Christmas!
**Remember, these mixes will need to be stored in the refrigerator if you packaged your own maple syrups! Tell your recipients upon gifting to do the same!
Happy gifting!