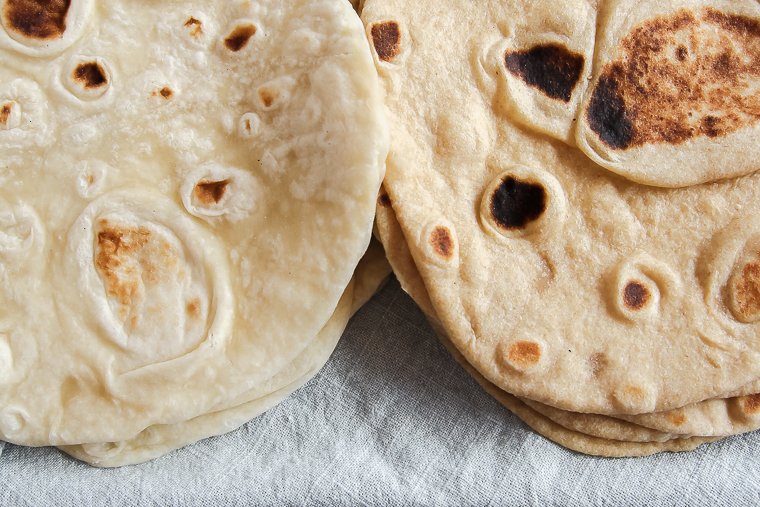 This post may contain affiliate links. See my full disclosure. As an Amazon Associate, I earn from qualifying purchases.
Make soft sourdough tortillas with either ripe starter or sourdough discard. Whether you choose all-purpose or whole wheat flour, this recipe is quick and easy to put together!
I love having quick sourdough flatbread recipes for those times I can't make it to the store for bread or just want healthier homemade bread to eat with meals.
I've recently shared recipes for sourdough naan flatbread and whole wheat sourdough pita bread. I also have a fool-proof sourdough pizza crust recipe that I'm sure you'll love.
These sourdough starter tortillas are great for lunch wraps or Mexican recipes, or even as a side to dunk into soup or chili.
They stay soft to roll up without splitting for 3 days at our house, and I don't have to heat up my house with the oven.
This recipe is a great way to use up some sourdough discard (or even ripe sourdough starter). The starter leavens the dough very slightly for softer tortillas, and also adds flavor.
I've chosen to use butter for the fat, but if you wanted, you could substitute with ½-cup of lard or oil and simply add 5 extra grams of salt.
Notes on Flour Options
You can use unbleached all-purpose flour for classic white flour tortillas. For more flavor and nutrition, choose a whole wheat flour.
The steps to make the sourdough tortillas will be the same no matter which flour you use, but the amount of water will vary as noted in the recipe card.
I have milled my own hard white wheat berries, and really enjoyed the result (pictured below).
Hard white wheat is still a whole grain, but it has a lighter color and more mild flavor than traditional wheat.
I've also made this recipe with soft white wheat (heritage Sonora wheat berries would be wonderful).
You can weigh your wheat berries prior to milling to make the exact amount of flour you need.
And of course, if you want to make whole wheat tortillas but don't mill your own flour, you can purchase white whole wheat flour, regular whole wheat flour, or even Sonora flour.
Sourdough Tortillas Cooking Schedule
Approximate timing:
Mix: 10 minutes
Rest: 1 hour
Divide, shape into balls, rest: 45 minutes (can refrigerate dough balls for 1-2 days before cooking)
Roll and cook: 20 minutes
Tips for Making Sourdough Tortillas
Note that you shouldn't use sourdough discard during the creation stage of your starter. Instead, wait until your starter is established. Use your discard before it becomes too old and acidic, or it will impart an unpleasant flavor to your baked goods. I have sourdough guides on my site for beginners, if you would like to learn more.
There are two ways to mix the dough depending on the texture you prefer for your sourdough flour tortillas (see Step 1 below).
This recipe yields 12 standard-size tortillas that fit well in a 10-inch skillet. Make only 10 tortillas if you want them extra-large, but don't forget to use a larger pan.
Make sure to roll them thinly enough–they will puff a little while they cook and you don't want them too thick.
Preheat your skillet sufficiently before beginning. The goal is to cook the sourdough starter tortillas quickly so they brown before they become crispy. A cast iron skillet is preferable for heat retention and flavor, but any skillet will work.
Recommended Equipment
How to Make Sourdough Tortillas (White or Whole Wheat)
Step 1 – Mix Sourdough Tortilla Dough
To start, I weigh the water into a pyrex measuring cup and boil the water in the microwave really quick.
Stir the butter chunks into the boiling water until the butter is melted.
Then mix the dough. The sourdough starter tortillas will take on a different texture depending on the order you add the ingredients:
If you prefer your tortillas extra soft and fluffy (whole wheat tortillas pictured), add the starter into the mixing bowl first and cover it with the flour. Pour in the hot butter/water mixture and salt and mix. (The flour acts as a buffer to protect the starter from the hot liquid.)

If you prefer your tortillas flatter with a bit more chew (white flour tortillas pictured), pour the hot butter/water mixture over the starter in the bottom of the mixing bowl (don't stir yet). Then add the remaining ingredients and mix. (This method works by "killing" the leavening power of the starter to some extent).
Squeeze/knead the dough in the bowl for a couple of minutes until it becomes cohesive and smooth.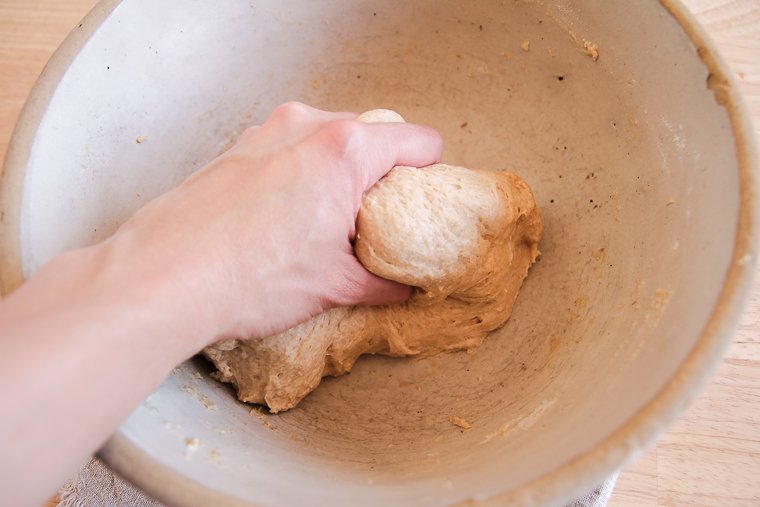 Step 2 – Rest the Dough for 1 Hour
Cover the bowl with plastic wrap and allow the dough to rest at room temperature for 1 hour.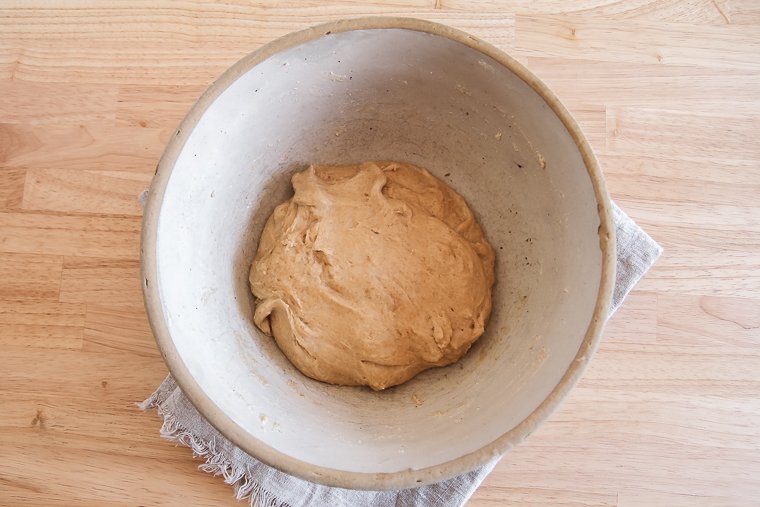 The dough will absorb the water and develop gluten during the rest time, but don't expect the dough to rise.
Step 3 – Divide, Shape and Rest for Another 30 Minutes
Turn out the dough onto a clean surface and divide it into 12 pieces using a bench knife.
You can weight the dough to get each tortilla exactly the same size, but I just eyeball it since they are cooked individually.
Then form the pieces into balls.
It's quick to scoot the pieces against the counter in a circular motion with your hand held in a cup shape.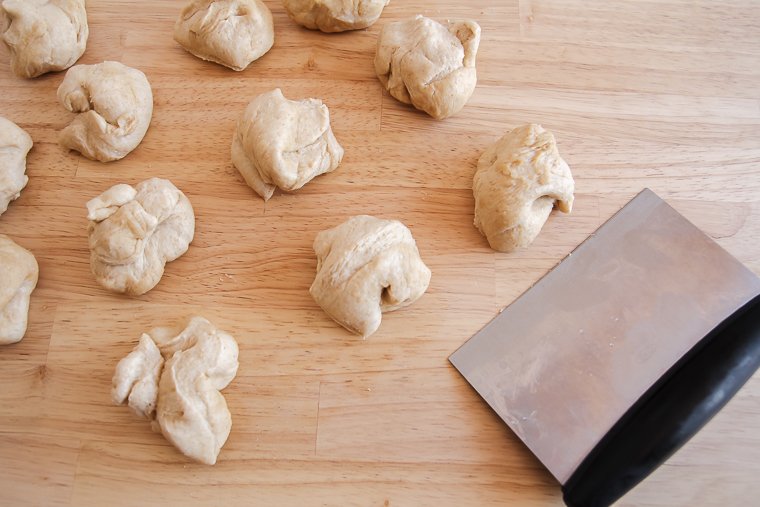 I don't find I need to dust with flour during this step. The dough is tacky which allows it to grip the counter when I scoot it, but it isn't sticky.
Cover the dough balls with plastic wrap and allow them to rest for another 30 minutes (I just place them back into the bowl and cover). This will allow the dough to relax again for easy rolling.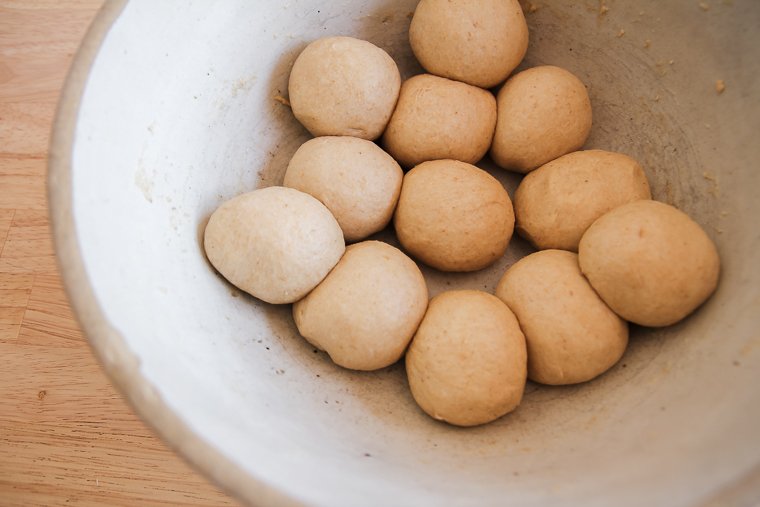 (Alternately, you can place the dough balls in a zipper bag and refrigerate for 1-2 days before you roll and cook them.)
Step 4 – Roll and Cook the Sourdough Tortillas
About 15 minutes before you're ready to cook your sourdough flour tortillas, begin preheating a cast iron skillet over medium heat.
Once it begins to smoke, it's hot enough to cook the first sourdough tortilla. Roll the first one while you keep the remaining dough balls covered.
I press the ball into a flat disk with my hands first.
Then I roll the tortilla, turning it and dusting with additional flour as I go. It should end up quite thin and 9.5-inches in diameter.
Don't worry if your tortillas are wonky at first! Just try to roll them very thinly. They will taste the same no matter the shape.
Gently pick up the sourdough tortilla by one edge with your hands and lay it down in the preheated skillet.
Once the top has bubbled and the bottom has browned to your liking, flip it gently with kitchen tongs to cook the second side.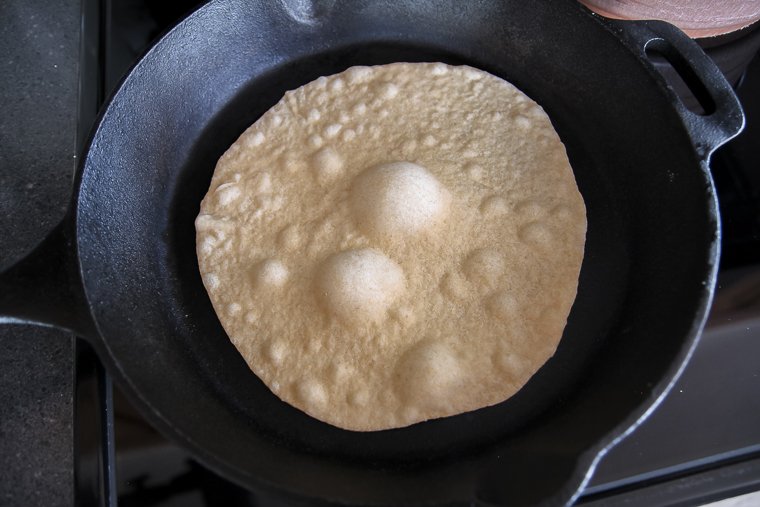 Remove the sourdough tortilla to a plate or basket lined with a tea towel, or place it in a tortilla warmer and cover.
Roll and cook the remaining tortillas, and serve them while they are still warm.
How to Store Sourdough Tortillas
Allow them to cool completely before wrapping them to prevent condensation from forming in your container. Like I said at the beginning of the post, we've found they are still fresh on day 3! After that they will start to dry out.
You can also freeze the tortillas for longer storage.
Stack the tortillas with a piece of parchment paper between each one. Place the stack in a freezer zipper bag, and freeze for up to three months. Pull them out ahead of time to allow them to thaw and come back to room temperature.
They can be warmed briefly in the microwave or back in a preheated skillet.
I've also made freezer green chili breakfast burritos with these tortillas, and they held up just fine.
If you make this recipe and love it, I would be so grateful if you would come back to leave a star rating and a comment. Your feedback is very appreciated!

Follow me on Instagram @aberlehome and tag me on your photo to show me what you made!