This post may contain affiliate links. See my full disclosure. As an Amazon Associate, I earn from qualifying purchases.
Learn how to make easy green chile breakfast burritos to freeze for quick hot breakfasts on busy days. These breakfast burritos will live up to your expectations with flavorful breakfast sausage, roasted potatoes, eggs, cheese, and green chile sauce. You'll be surprised how well they reheat with the tips I share later in the post.
These are my version of the freezable breakfast burritos my parents would make for our family growing up.
Even though we would end up with a good-size batch of burritos, we would always end up fighting over them as soon as our stock started running low.
We eventually learned to put each family member's portion of burritos in his/her own separate bag in the freezer to avoid disputes.
For a little time spent upfront to make these burritos, you'll end up with about 17 burritos to freeze. We love to include them in our normal breakfast rotation whenever we can get around to making them.
Sure you can buy pre-made frozen burritos, but you'll save money making them yourself. And in my opinion, they taste so much better homemade.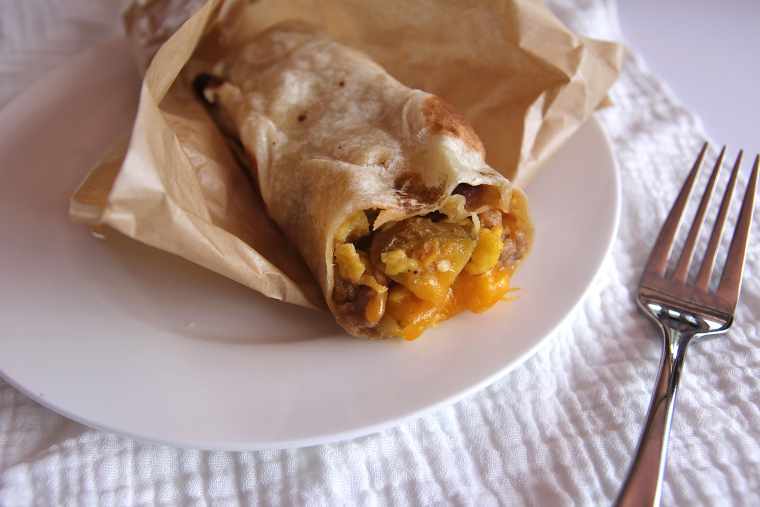 I hope you'll stick around while you're here and explore some other breakfast recipes on the blog.
Tips
You can make your burritos spicy by choosing spicy breakfast sausage or spicy green chile.
Under-cook the eggs slightly to help them to reheat later without becoming rubbery. They should be a little shiny when you finish scrambling them.
Warm your tortillas wrapped in a moist paper towel if they are cracking while you try to roll your burritos. I put warm tortillas in my tortilla keeper until I'm ready to use them.
Allow your filling to cool for about 10 minutes before filling your burritos. You don't want to stick hot burritos in the freezer. Steam turns to ice in the freezer, and melted ice could make your burritos soggy when you reheat them.
Wrap the breakfast burritos in parchment paper to freeze. This way they won't stick to each other and will reheat easily while still wrapped. The parchment will keep the tortillas from drying out in the microwave.
How to Make Breakfast Burritos to Freeze
You can find the specifics in the printable recipe card at the end of the post, but here are the basic steps to making these easy breakfast burritos.
Step 1 – Make Breakfast Burrito Filling
You'll want to start by cubing your potatoes. Yellow potatoes tend to have a thin skin, so I don't bother peeling mine. Toss the potatoes in olive oil on a half sheet pan lined with parchment paper, sprinkle with salt and pepper, and get them roasting in the oven at 375°F.
While those are roasting, you'll have time to brown your breakfast sausage and cook your scrambled eggs.
Stir your potatoes, sausage, scrambled eggs, and green chile sauce together in a large bowl to make your filling. Allow it to cool.
When the filling is mixed like this, it's easy to get the right ratio of ingredients onto each tortilla quickly.
As a side note, you can surely stir your cheese right into the filling too (and this makes the process even faster), but I often sprinkle my cheese on top of my filling in each burrito so it forms its own layer. Either way works.
*Update: I now prefer to just stir in the cheese with everything else. Maybe because I have 4 kids?
Now I set up a little station at the kitchen table with my filling, cheese, warm tortillas, and parchment paper pieces.
Step 2 – Fill and Fold Burritos
When you're ready to fill the burritos, set a tortilla on your first piece of parchment paper. Add about 1/2 cup of filling along the length of the burrito.
Sprinkle with some cheese.
Then begin to fold your tortilla. I fold in the sides first…
Then roll the tortilla from the bottom over the filling until the seam is down on the parchment.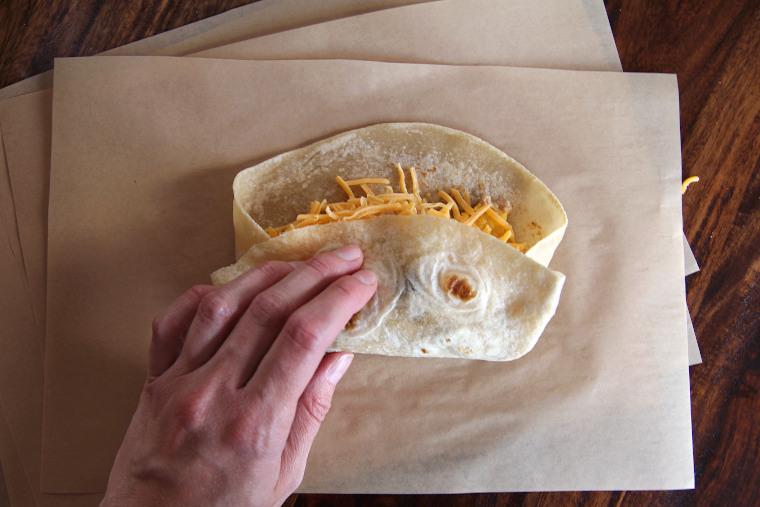 Step 3 – Wrap and Freeze Burritos
I had purchased a package of unbleached parchment paper with sheets sized to fit a half sheet pan. I've found I can cut these sheets in half to 12×8 inches. This is the perfect size to wrap my burritos without much waste.
With the paper and the burrito both lengthwise, I fold in the ends of the paper first, and then roll from the bottom to wrap the burrito.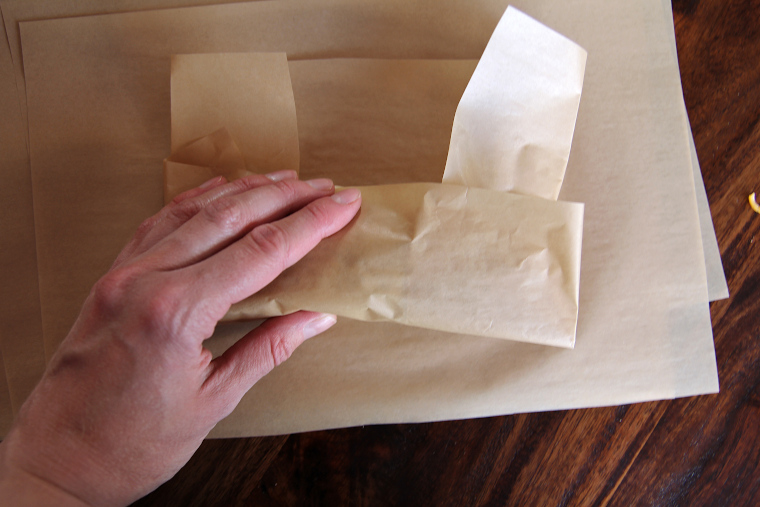 Place your burritos seam-side-down into gallon-size zipper freezer bags.
It's never a bad idea to write the day's date on the bags with a permanent marker so you can keep track of how old they are later.
They should last up to three months in the freezer (unless you eat them within the next week or two, which is what will likely happen).
Reheating Breakfast Burritos
Reheating these breakfast burritos from the freezer is easy.
Simply microwave the breakfast burritos one at a time, still wrapped, one minute on one side, and about 30 seconds more on the other side (or until the center is warm). Let it stand for a few minutes to cool, and you're good to go.
If you'll be serving up multiple burritos for breakfast or brunch, you can always place them in the refrigerator to thaw overnight for quicker reheating the next morning.
You could top these burritos with anything you wish at this point, but we love them so much just as they are. I hope you enjoy them!
If you make this recipe and love it, I would be so grateful if you would come back to leave a star rating and a comment. Your feedback is very appreciated!

Follow me on Instagram @aberlehome and tag me on your photo to show me what you made!