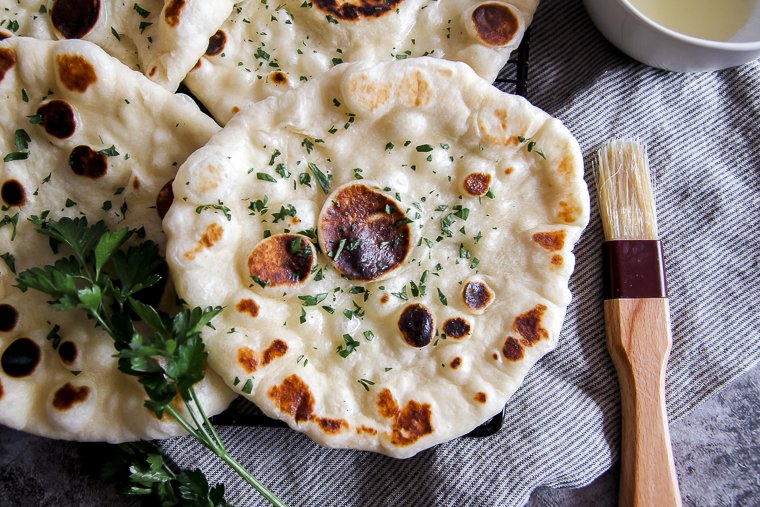 This post may contain affiliate links. See my full disclosure. As an Amazon Associate, I earn from qualifying purchases.
Learn to make bubbly, soft sourdough naan flatbread. Naan really is best naturally leavened and homemade, fresh out of the cast iron skillet and brushed with melted butter. It's the perfect side to a winter soup, a gravy-based meal, or a grilled summer dinner.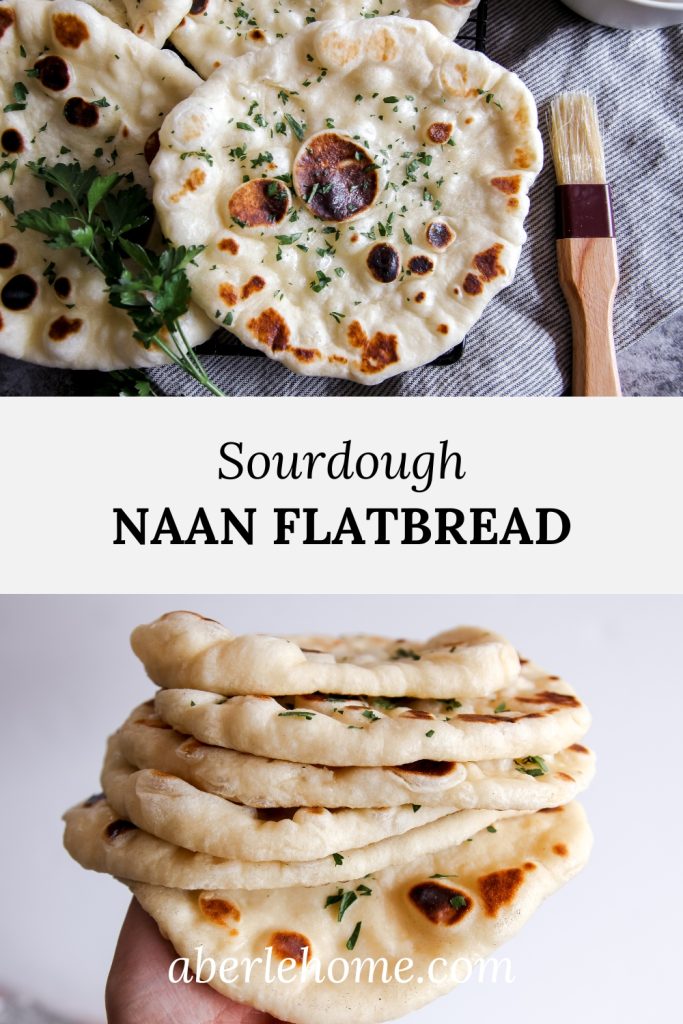 With yogurt and olive oil in this sourdough naan recipe, the texture comes out so soft!
The flatbread puffs and bubbles perfectly in a hot cast iron skillet, taking on some char and flavor from the pan.
Like my soft sourdough breadsticks, these are a special treat that get devoured quickly in our home.
This sourdough naan bread recipe comes together so easily.
The dough is mixed and kneaded by hand in the bowl before it rises to double its size. There's no stretching or folding, so it's really a matter of leaving it to rise until it's time to shape.
The process feels very similar to making homemade tortillas.
Sourdough naan bread paired with grilled marinated steak kabobs is one of my new favorite summer dinners.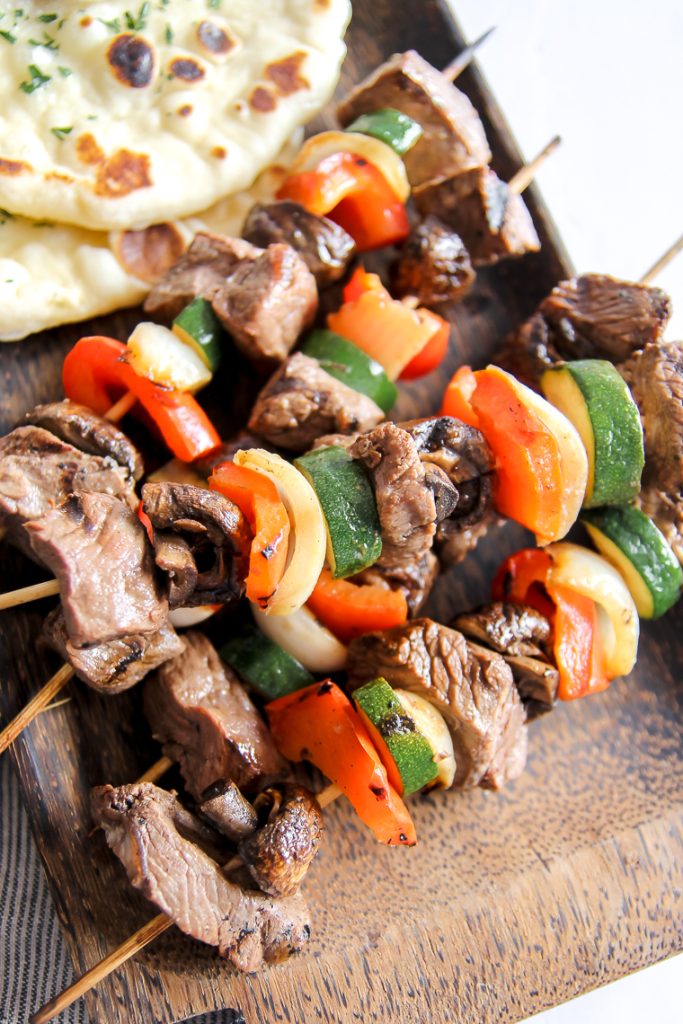 Is naan the same as pita?
Both of these flatbreads are leavened and have enrichments like sugar and oil. Naan usually has yogurt in the mix for flavor and softness (and some homemade naan recipes even include egg).
Traditional naan bread is baked in a tandoor oven cooked on a skillet, while pita is usually baked on a stone.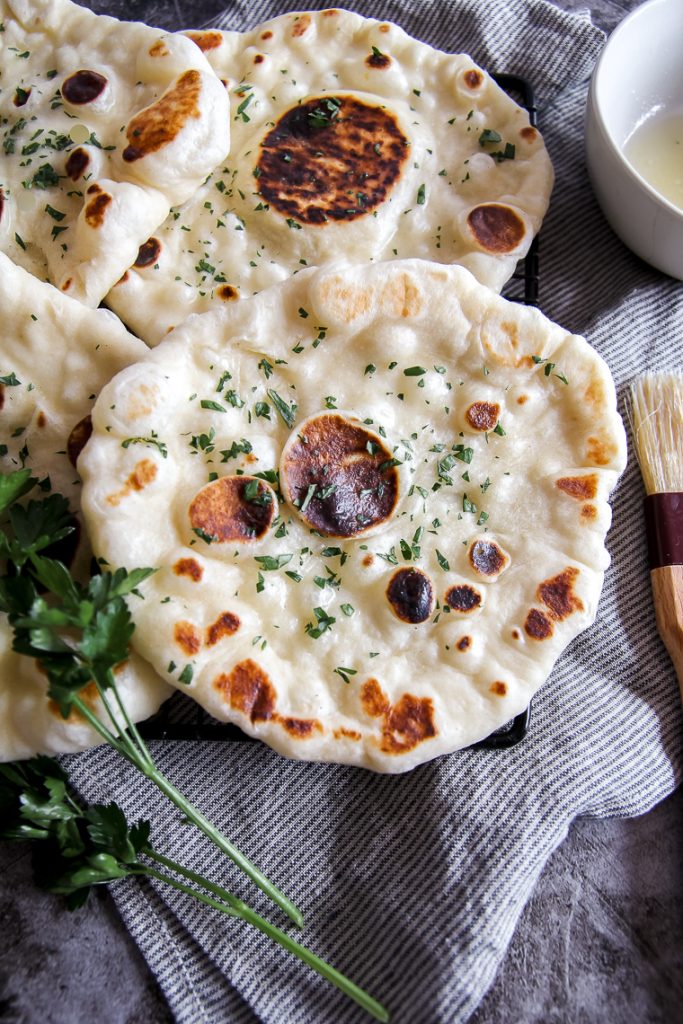 Though both flatbreads are usually made with yeast, I like making all my breads with my sourdough starter for greater digestibility and flavor.
I have a delicious whole wheat sourdough pita that is just as simple to make as this sourdough naan recipe (and just as delicious in its own right)!
Both flatbreads make a delicious snack or a welcome alternative to a loaf of bread alongside a meal.
Sourdough Naan Flatbread Baking Schedule
*The strength of your starter and the temperature at which you keep the dough will affect how long the bulk rise will take. I bulk fermented around 78°F with a starting dough temp of 74°F. If your kitchen is cooler, expect the dough to rise slower.
Approximate timing:
Mix and knead dough: 10 minutes
Warm bulk rise: 4 hours, 15 minutes+ (you could alternately hold the dough in the fridge overnight if you want to make your sourdough naan the next day.)
Divide and Shape: 15 minutes
Proof: 30 minutes
Roll and Cook: 30 minutes
Feed your starter several hours prior to baking the recipe and allow it to peak.
As long as your starter is ready to go, your flatbreads could be done in about 5.5 hours from start to finish.
Recommended Equipment
Tips for Making This Sourdough Naan Recipe
I have plenty of sourdough guides here on my blog if you're a beginner.
This recipe can easily be doubled or tripled. Since the recipe is by weight, it's really easy to scale it up as needed.
Roll the sourdough flatbreads evenly even if they don't turn out perfectly round. When cooking, wait to flip until the top has become very bubbly and the bottom begins to char. You can use any skillet, but a cast iron skillet is the best for heat retention and flavor.
Make sure you allow your skillet to preheat sufficiently or your naan bread won't bubble very much. If the bread is browning too quickly before bubbles form, however, lower the heat.
You could grill the sourdough naan to avoid heating up your kitchen in the summertime. Use a cast iron plate or grease your grill grate to prevent the dough from sticking. Grill on high heat, and close the lid except for when you're flipping the naan bread.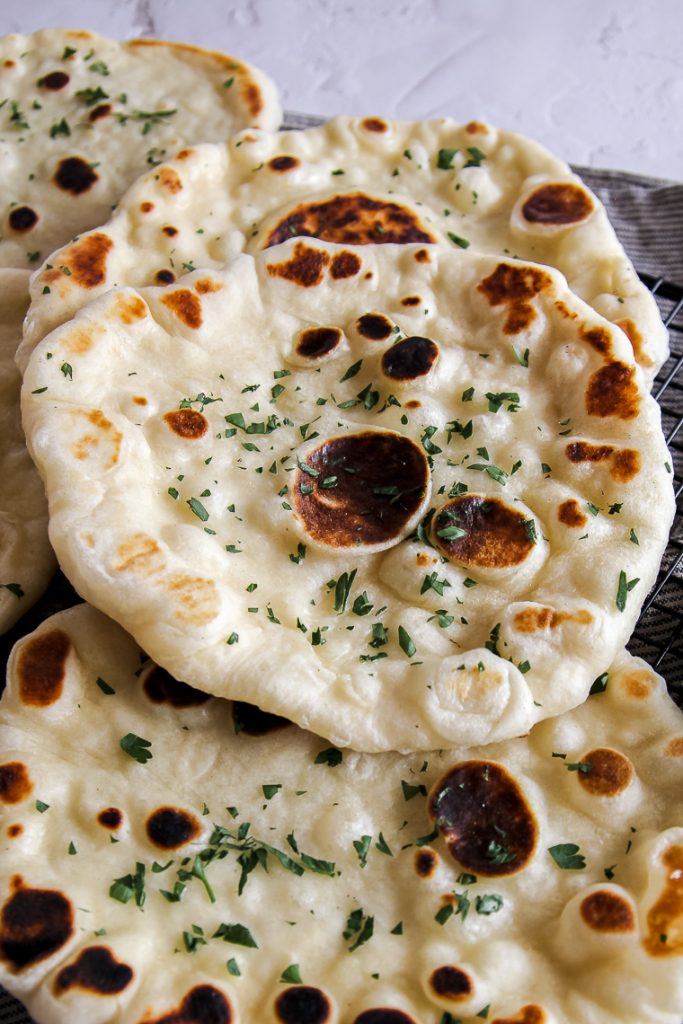 How to Make Sourdough Naan Flatbread
Step 1 – Mix Sourdough Naan Dough
The recipe is by weight, so it's very quick to weigh all the ingredients right into a bowl.
Mix everything with a dough whisk or your hand, and then continue to knead the dough in the bowl for about 3 minutes.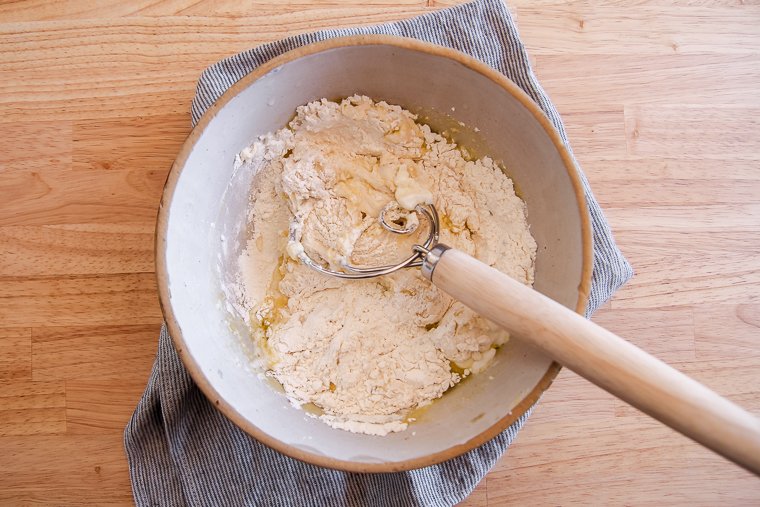 The finished dough won't pass the windowpane test, but it should look fairly smooth.
Step 2 – Bulk Ferment Sourdough Naan Flatbread Dough
Form the dough into a ball, and place it back in the bowl.
Cover the bowl with plastic wrap, and let the dough sit at room temperature until it has doubled in size.
(If you want to refrigerate the dough overnight, end bulk fermentation just shy of doubling. The sourdough naan dough will continue to rise in the fridge as it cools down. You can continue the recipe the next day while the dough is cold.)
Step 3 – Divide Dough and Shape Into Balls, Rest (Proof)
When the dough is done rising, turn it out onto a clean surface and divide it into 6 pieces. Roll each piece into a ball. (I do this quickly by scooting the piece of dough against the counter with a cupped hand.)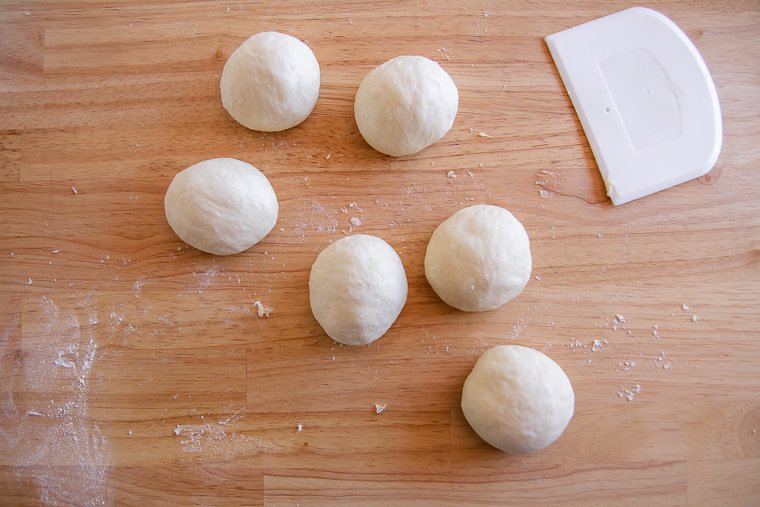 Cover the balls with plastic, and allow them to sit for 30 minutes. The time is primarily to let the dough relax before rolling. Don't expect the dough balls to rise much at all.
Meanwhile, about halfway through the proof, begin preheating your cast iron skillet over medium heat.
Step 4 – Roll Out and Cook
When your skillet is nearly smoking, it's hot enough to begin cooking the sourdough naan bread.
Flour your counter and rolling pin and evenly roll out the first ball.
The dough doesn't need to be perfectly round, but aim for about 7-inches in diameter. It should be about the thickness of pizza dough.
Gently pick up the round and place it in your preheated skillet.
Wait until the top gets some substantial bubbles and the bottom begins to char before you flip it to cook the top side.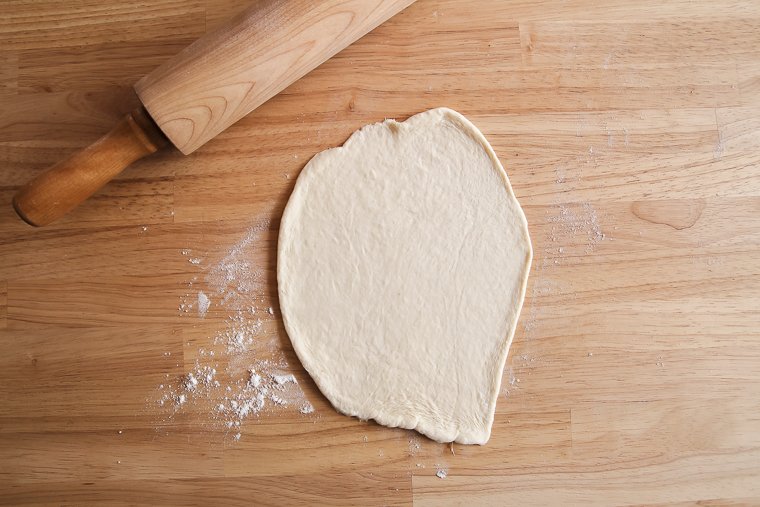 If the bottom is browning too quickly before bubbles form, lower the heat.
Similarly, if the naan is taking more than a couple of minutes to brown and isn't bubbling very much, turn the heat up before cooking the next flatbread.
Transfer the cooked sourdough naan bread to a cooling rack while you cook the other flatbreads in the same manner.
Step 5 – Brush with Butter and Garnish with Parsley
When the naan breads are done, brush the top of each one with melted butter. The butter adds flavor and shine and makes the naan extra soft.
Sprinkle on some fresh or dried parsley as a garnish, if you desire.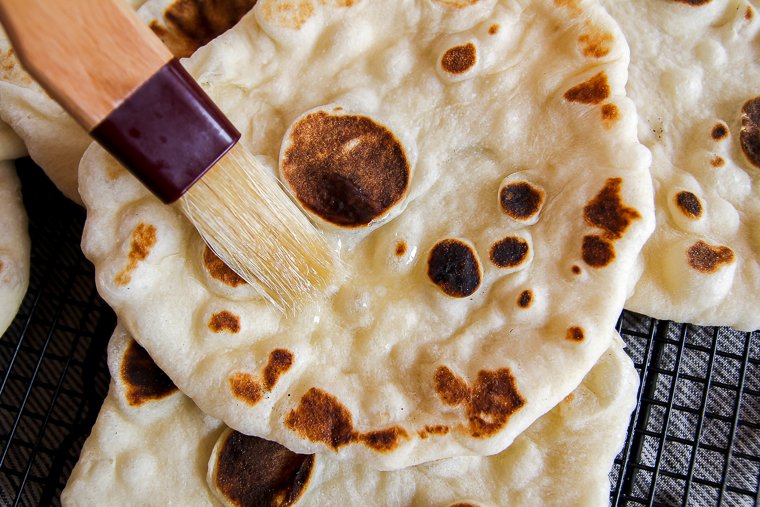 You can serve sourdough naan warm in a basket with a tea towel or in a tortilla warmer.
How to Store Sourdough Naan Flatbread
Sourdough naan bread stores well at room temperature for up to 3 days in an airtight container. Just ensure it has cooled completely before you store it.
For longer storage, freeze the sourdough naan in a zipper freezer bag for up to 3 months. Pull out ahead of time to allow it to thaw.
It can be warmed briefly in the microwave or back in a hot skillet.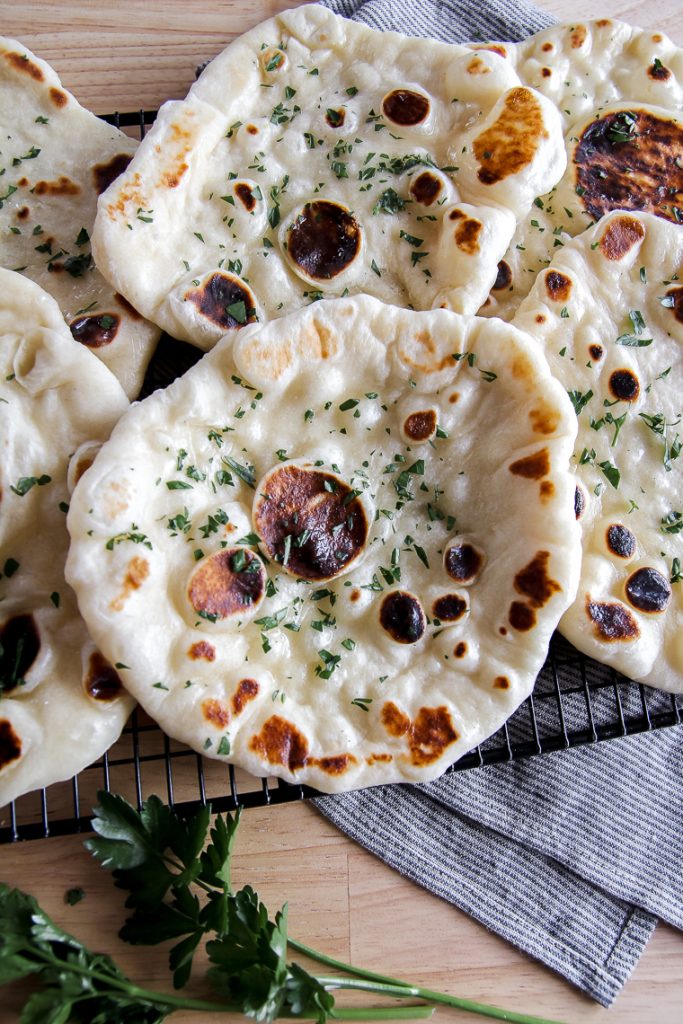 I hope you enjoy this simple recipe as much as we do!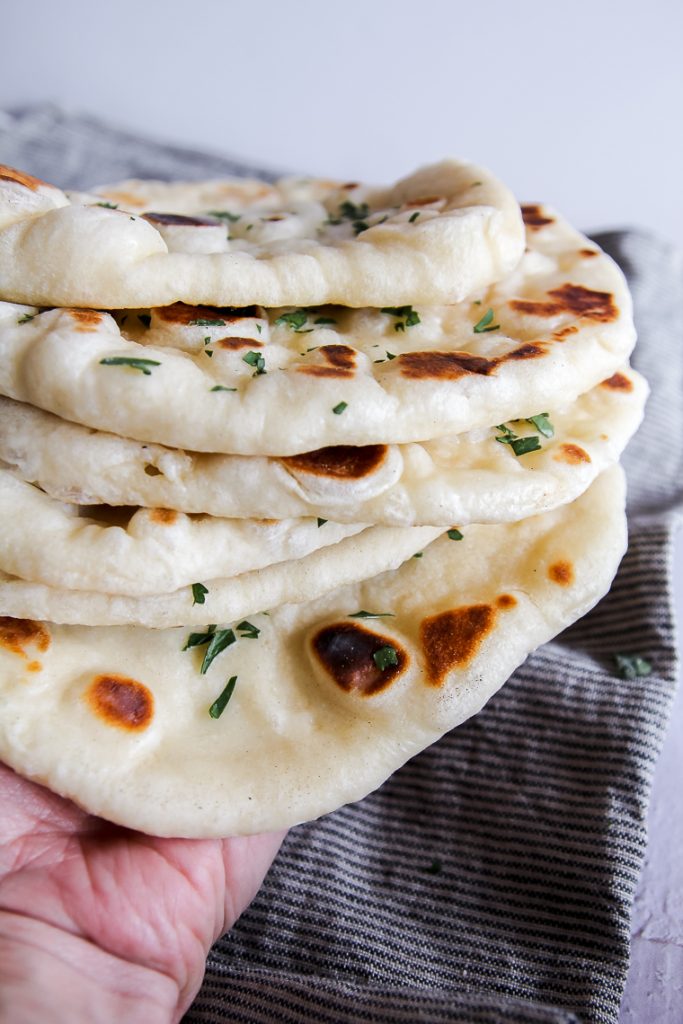 If you make this recipe and love it, I would be so grateful if you would come back to leave a star rating and a comment. Your feedback is very appreciated!

Follow me on Instagram @aberlehome and tag me on your photo to show me what you made!