This post may contain affiliate links. See my full disclosure. As an Amazon Associate, I earn from qualifying purchases.
More than just a recipe, this is a tried-and-true method for making a long-fermented artisan sourdough bread that you'll be proud to share with your family and friends! Amazingly, you only need four ingredients: flour, water, sourdough starter, and salt.
Sourdough Guides for Beginners:
I've maintained my sourdough starter for over a few years now. I find it so satisfying to make all kinds of baked goods from my starter including soft sourdough potato rolls, soft whole wheat sourdough rolls, and even sourdough croissants.
I'm going to show you how you step-by-step how you can make long-fermented artisan sourdough bread! I've also included a printable recipe card at the bottom of this post so you can save it and refer back to it again and again.
This process spans about 48 hours from start to finish, but don't worry… for the majority of that time your dough will be in the fridge, and the hands-on portion is very manageable.
The long ferment is well worth the wait, though, as it makes for bread with incredible depth of flavor with minimal sourness, a thin, crackly crust, and a chewy and airy interior (not to mention added nutritional benefits).
You will start your dough the morning of day 1 and bake two mornings later. You won't even touch the dough on day two. You can follow the time frame in this post exactly, or start a little earlier the morning of day 1 with the same time intervals.
I always freeze what we don't eat the day of baking so I have bread ready for another meal later on.
This versatile bread is perfect alongside dinner with butter or olive oil, or it makes for the best toast or grilled panini sandwiches.
Some Notes About This Recipe
All-purpose flour is used for the texture it imparts to the finished bread (and it's widely available). However, use bread flour if that's what you have on hand.
This recipe utilizes an extended cold autolyse which functions to affect the texture of the finished bread. You can alternately use lukewarm water in the recipe and autolyse for 1 hour at room temperature. This might shorten the bulk fermentation time since the dough will not start out cold.
Recommended Equipment
How to Make Long-Fermented Artisan Sourdough Bread
Step 1 (11am on day 1) – Feed Starter + Autolyse Flour & Water
Start by feeding your sourdough starter if it hasn't been fed, insuring you'll have 150 grams for this recipe with some left over to save.
Let your starter sit to become active and bubbly before you add it to the dough later.
To start your dough, tare out your kitchen scale with a large bowl on top and weigh out your flour.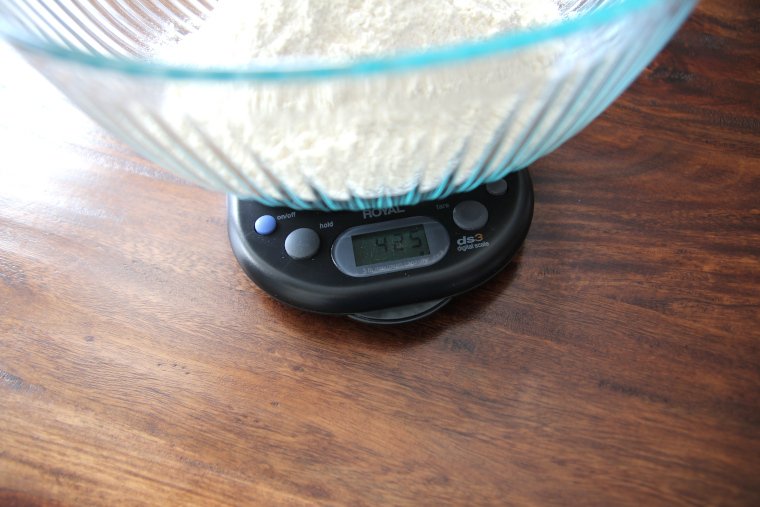 Now you might scoff at first at the thought of using a kitchen scale. When I first started baking sourdough bread, I resisted weighing my ingredients.
But I've since learned that it's actually easier to dump ingredients straight into my bowl while I'm weighing them instead of messing with measuring cups and spoons.
Plus accuracy is important here.
Now tare your scale again and slowly add the ice water.
Remove your bowl from the scale, and mix the flour and water together until all the flour is absorbed.
I use a table knife to mix because the dough sticks to it less than to a spoon.
If your dough looks more slack than mine in the picture below, mix in another sprinkle of flour. Every brand of flour is slightly different.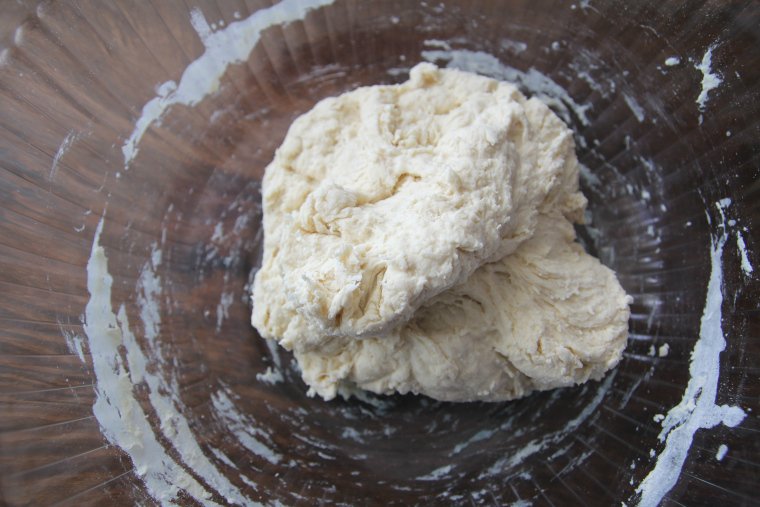 Now cover your bowl with the lid and stick it in the fridge for 6 hours.
This rest time before the starter and salt are added is called an autolyse and will help your dough develop properly.
Here is the dough after the autolyse, ready for step 2: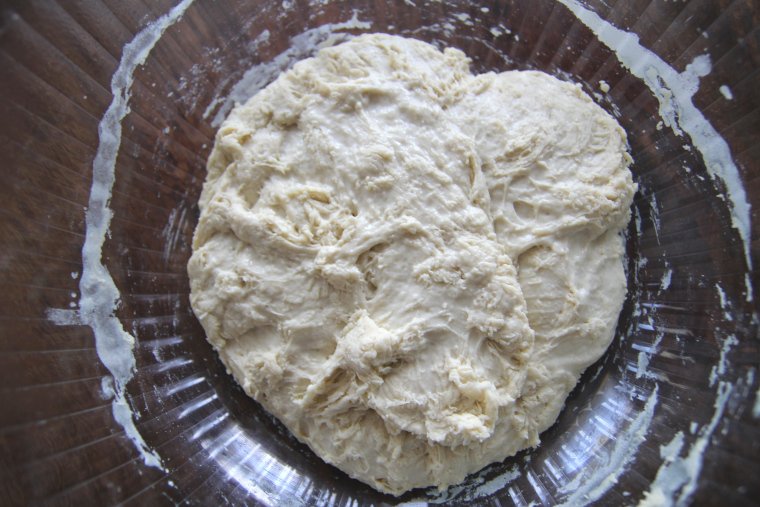 Step 2 (5pm on day 1) – Add Salt & Sourdough Starter
At this point, your starter should be active and bubbly. It should have reached it peak in the jar.
You'll weigh out the 150 grams you need and save the rest of your starter for next time. I keep mine in the refrigerator since I don't bake with it every day.
I like to weigh my salt in a separate little bowl and then sprinkle it over my autolysed dough, and then pour my starter over the top to help dissolve the salt.
Now use your fingers to poke the starter into the dough.
Then squeeze and work the dough with your hands to continue to incorporate everything.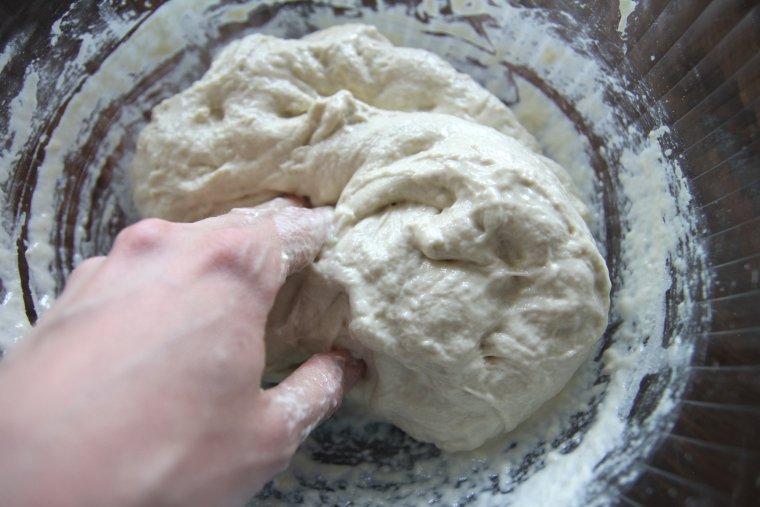 Your dough will fall apart, and then come back together.
Step 3 (5:10pm-9:10pm on day 1) – Bulk Fermentation with Stretch-and-Folds
Now we are going to develop strength in the dough with three sets of stretch-and-folds. We want to treat the dough gently from here on out so we don't deflate it as it ferments and aerates.
Wet your fingers so they don't stick to the dough. Slide your fingers underneath the dough. Pull the dough upwards…
and then fold it over itself to the opposite side of the bowl. Don't press the dough down.
Turn your bowl slightly, grab underneath, gently stretch and fold again.
And one more time.
Cover your dough loosely with your lid and let it sit on the counter for 30 minutes. (If your house is colder than 72°F, put the bowl in your oven with the oven light on for a little extra warmth.)
Your first set of stretch-and-folds is done! You will repeat this process for two more sets.
So in total, bulk fermentation will last for 4 hours. You'll do three sets of stretch-and-folds spaced 30 minutes apart (do more if you feel like your dough hasn't gained any more resistance), then let your dough continue to sit for the remainder of the 4 hours.
When bulk fermentation is done, your dough should have increased in volume by at least a third, formed a convex shape around the edges even after it has rested, and look smooth and strong.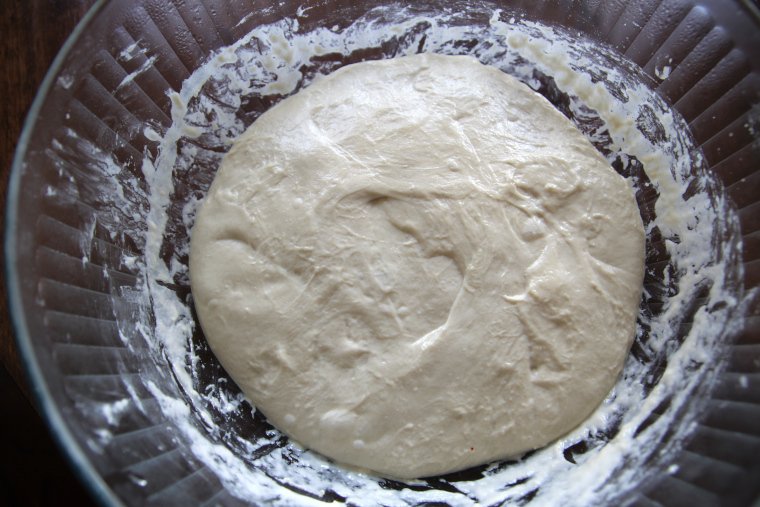 Note: If you feel like your dough isn't showing these signs, let it sit even longer before step 4!
Step 4 (9:10pm on day 1 to day 3) – Retard in Refrigerator
This is the easy step: cover your dough and place in the refrigerator overnight, through day and night two, and you'll be ready to shape your loaf in the morning on day 3.
The fridge is slowing (or retarding) the process so we can get that long ferment time as the dough continues to develop.
Step 5 (9am on day 3) – Shaping & Proofing
Now that you've reached the morning of day 3, it's time to turn out your dough and form your loaf.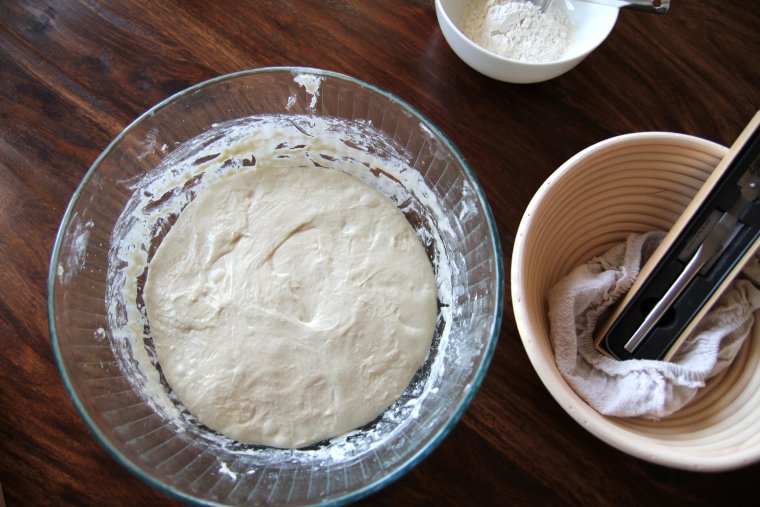 Lightly flour your counter and use your dough scraper to gently encourage the dough out of the bowl in one mass (don't deflate it).
Now you need to preshape your loaf. A round loaf is called a boule (pronounced BOO-l).
Pull the edges of the dough onto itself to form a ball shape.
Now flip it over and move it to a part of your counter that is not floured.
Cup your hands around the top of the ball and gently pull the dough a couple inches toward yourself against the countertop.
Here's my one-handed attempt as I snap a photo at the same time.
Give the ball a quarter turn and pull against the counter toward yourself again.
Gently pop any large air bubbles that appear on the surface of your loaf.
Repeat until the skin on the top of the loaf is smooth and tight. Don't go too far, though, or your boule will begin to tear.
Cover your loaf with a flour sack towel and let it rest for 10 minutes.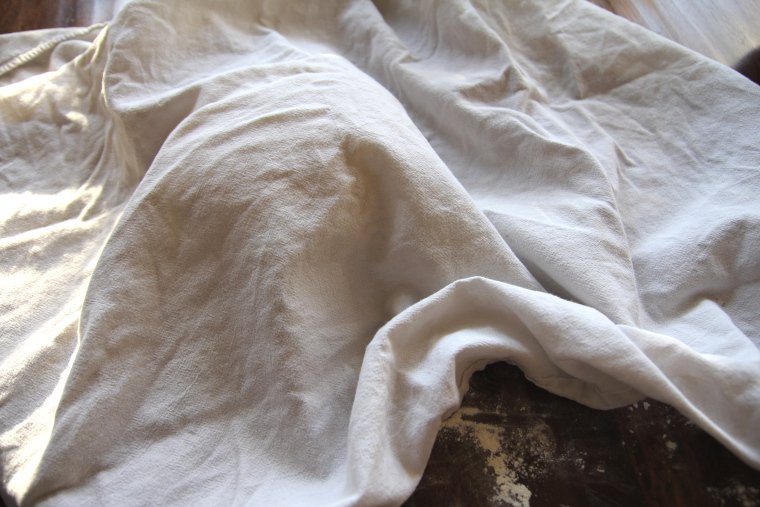 Your loaf will probably relax after resting, so flip your loaf right side down and repeat the shaping process: ends in, flip over, pull against countertop to tighten skin.
Proper shaping will ensure that your loaf will hold it's shape even after proofing.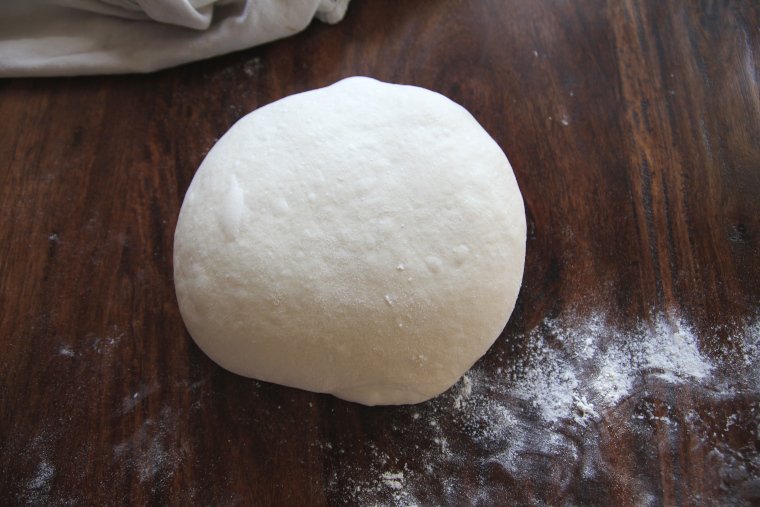 Use a fine mesh strainer to generously flour your banneton (or a bowl lined with a flour sack towel). Rice flour works best, but you can use all-purpose flour. Use more flour than you think so your loaf doesn't stick.
Now place your boule top side down in the banneton.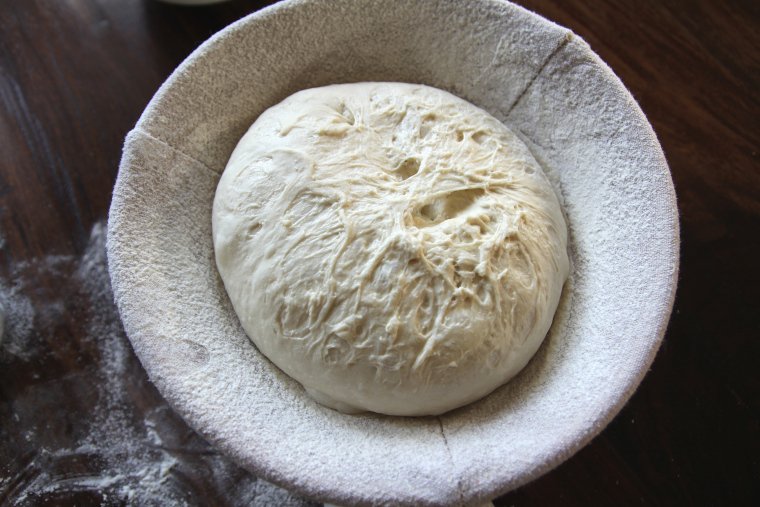 Cover again with a tea towel and let it proof (rise) for 1-2 hours or until it passes the poke test. Wet a finger and poke the dough. If the indent from your finger springs back just barely, it is ready to be baked.
Again, if your house is less than 72°F, you can set your covered banneton in the oven with the light on for more warmth.
When proofing is almost done, preheat your oven to 475°F (make sure your dough isn't in there while you preheat!).
Once the oven is comes to temperature, place your Dutch oven inside so it can preheat for 10 minutes.
Step 6 (after about 2 hours proof time on day 3) – Score & Bake
Once proofing is done and your Dutch oven is almost done preheating, place a large square of parchment paper on your counter top.
Dust your boule with flour (I like coarse semolina for a crunchier bottom crust), and then gently invert your loaf onto your parchment paper. (Sorry, no pictures for this part.) You can hold the parchment over the banneton while you flip it.
If the top of your loaf has too much flour, use your hands to gently rub it around/off.
Trim some of the excess parchment from around the loaf so it doesn't burn, but leave enough to grab onto.
Remove your preheated Dutch oven from your oven, and working swiftly, use a lame or a razor blade to slash your loaf.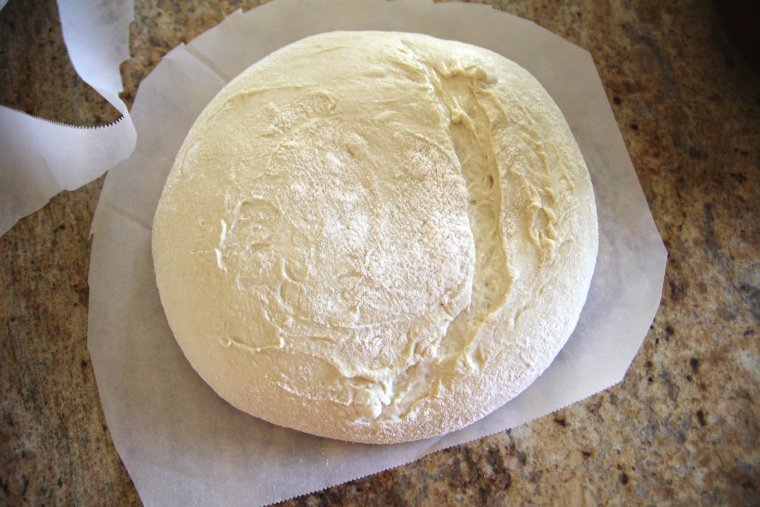 Confidence is key when scoring, and the score line will enable your bread to expand in the oven. I found this video extremely helpful: How to Score a Loaf of Bread
Carefully transfer your boule into your Dutch oven, cover with the lid and bake for 20 minutes. (Your Dutch oven will trap the steam and help your bread to rise to it's full potential.)
After 20 minutes, lower the heat to 450°F, remove the lid, and continue to bake until your loaf is a deep golden color. This could take more than 15 minutes. Just watch it.
Remove to a cooling rack right away, and let it cool completely before slicing. The interior will continue to bake through as it sits.
Just look at that crackly, blistered crust.
How to Store Long-Fermented Artisan Sourdough Bread
This bread has a decent shelf-life when stored at room temperature. My favorite way to store the leftover bread, though, is in the freezer. It tastes freshly baked (minus the crackly crust) this way.
I will slice the bread and place it in a zipper freezer bag. Then we can pull out slices to microwave or toast whenever we want.
Now excuse me while I eat half the loaf of this long-fermented artisan sourdough bread in the form of buttered toast. There's nothing quite like fresh sourdough bread from scratch. Delicious!
If you make this recipe and love it, I would be so grateful if you would come back to leave a star rating and a comment. Your feedback is very appreciated!

Follow me on Instagram @aberlehome and tag me on your photo to show me what you made!