This post may contain affiliate links. See my full disclosure. As an Amazon Associate, I earn from qualifying purchases.
These unbelievably soft whole wheat sourdough rolls use 100% whole wheat flour and are long fermented (no commercial yeast) for soft, slightly sweet, and flavorful dinner rolls. You'll love adding this delicious and nourishing sourdough roll recipe to your baking repertoire!
*This recipe was updated on 10/29/22 for even softer rolls and a faster-rising dough!
Why Bake Sourdough Rolls with No Yeast?
Sourdough is the natural way to leaven bread. The beneficial yeasts and bacteria in the starter ferment the flour in your baked goods slowly.
The added time reduces the gluten content, makes the grains more digestible, and increases the nutritive properties of the finished product when compared to bread made with commercial yeast.
For most people, sourdough is the healthiest way to enjoy bread!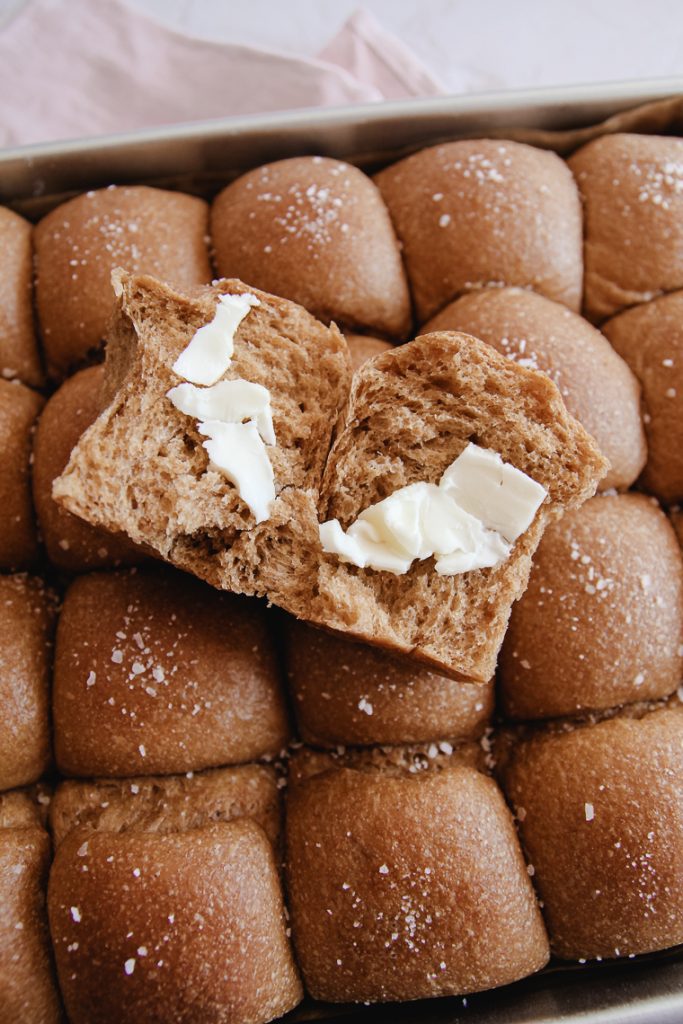 Using and maintaining a starter isn't as difficult as many people believe. You may have to plan ahead a little more for the longer rise times, but the hands-on process is much the same as baking with yeast.
Make Your Own Sourdough Starter
To make homemade sourdough rolls, you will want a strong, healthy starter.
I have simple instructions for making a sourdough starter from scratch here.
Make sure you feed your established starter ahead of time so it's active and bubbly by the time you're ready to add it to the recipe.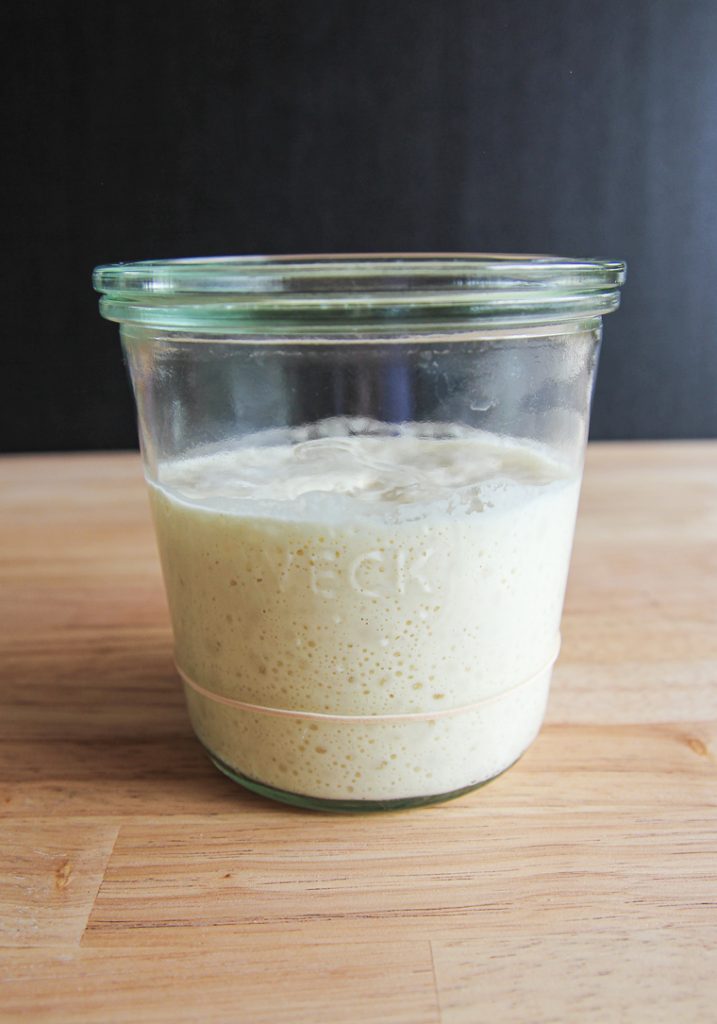 This recipe calls for starter that is at 100% hydration. That simply means it's been feed with equal weights flour and water.
More Sourdough Beginner Guides:
What Makes These Whole Wheat Rolls Soft?
These rolls are 100% whole wheat (well, except for the small amount of all-purpose flour in my starter).
Though whole wheat can be notorious for baking up dense, I have a few tricks up my sleeve to make these rolls incredibly soft and fluffy without adding white flour.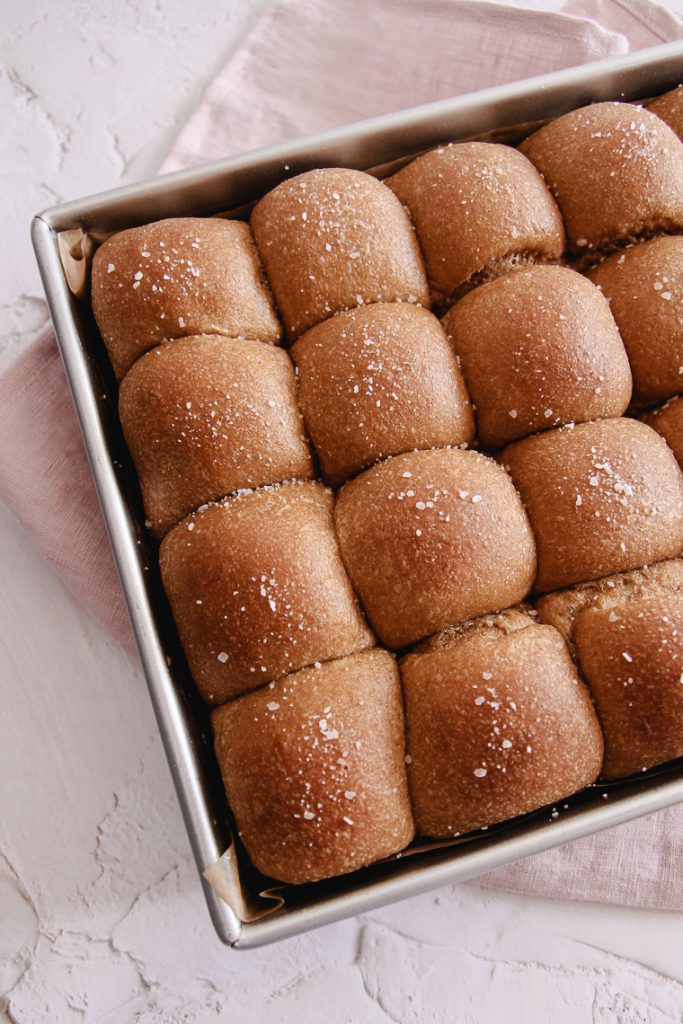 First, the dough is enriched with milk, eggs, and molasses (or honey, if you prefer).
I've also added vital wheat gluten and vinegar which both help to condition the dough for a better texture and rise.
You can probably find vital wheat gluten in the baking isle at your grocery store.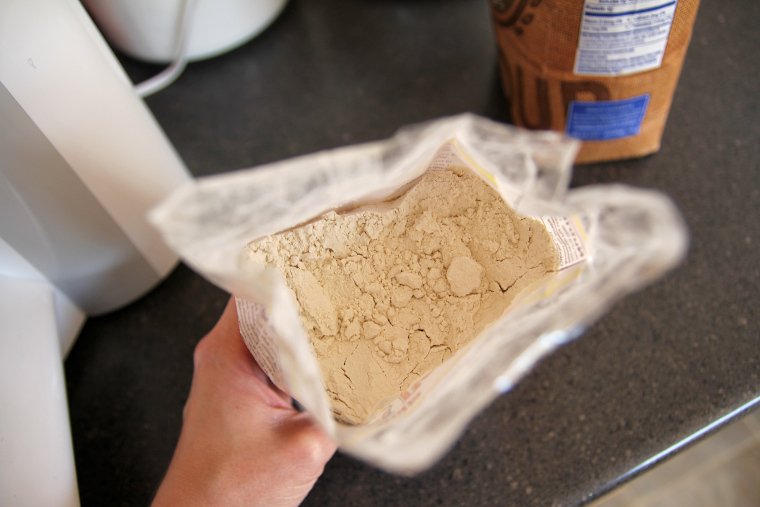 Finally, not adding too much flour and kneading properly will help you achieve the soft sourdough rolls you are after.
Brushing the finished rolls with melted butter will give them a soft exterior as well.
I highly recommend you use a mixer for this recipe because it requires a lot of kneading!
Soft Whole Wheat Sourdough Rolls Baking Schedule
*The strength of your starter, the temperature in your home, and other factors will affect how long each step in the recipe will take.
Approximate timing:
Mix and knead: 35 minutes
Bulk fermentation: 4 hours
Cold ferment: 12 hours+
Divide, shape, and proof: 5 hours, 15 minutes
Bake: 17 minutes
Feed your starter several hours prior to baking the recipe and allow it to reach its peak.

Start the dough in the morning or early afternoon on day 1. Refrigerate overnight.
Finish your rolls on day 2, leaving sufficient time for the long proof. (See notes in the recipe card for a one-day option.)
Tips for Making Soft Whole Wheat Sourdough Rolls
I like to use molasses for more depth of flavor and a deeper brown color, but honey works just as well to add sweetness to the bread.
Don't add extra flour to your dough. The dough will seem way too sticky as you follow the recipe, but trust me, after the long knead, it will be just right!
Make sure you knead the dough in your stand mixer on low for 25 minutes, or until the dough passes the "windowpane test" of gluten development. I explain this more in the steps below. This is a huge key to getting the texture you're after.
I prefer baking in a 13×9-inch pan for pull-apart rolls. You could also bake them on a half-sheet pan lined with parchment paper.
Place your dough in a warm place for the bulk ferment and proof. It's a slow-moving dough, and a warm temperature makes the process go faster. I like to aim for 80°F for the timeline in this recipe. I put my dough in my turned-off oven with the light on or in the microwave with the light on and the door ajar. I keep my ambient thermometer in with the dough to make sure the temperature is not getting any warmer than 80°F.
Equipment Needed
How to Make Soft Whole Wheat Sourdough Rolls
Step 1 – Making and Fermenting the Dough
Add sourdough starter, milk, softened butter, molasses (or honey), eggs, vinegar, salt, vital wheat gluten, and whole wheat flour to the bowl of a stand mixer fitted with a dough hook.
Mix on low speed until everything comes together. The dough will be very sticky.
Continue to knead for 25 minutes or so until your dough becomes glossy, pulls away from the sides and bottom of the bowl, and passes the windowpane test as shown in the picture below. You'll be able to see the change in the way the dough is behaving at this point.
Wet your fingers and pull the dough, it should stretch until you can see the light through it before it tears (the windowpane test).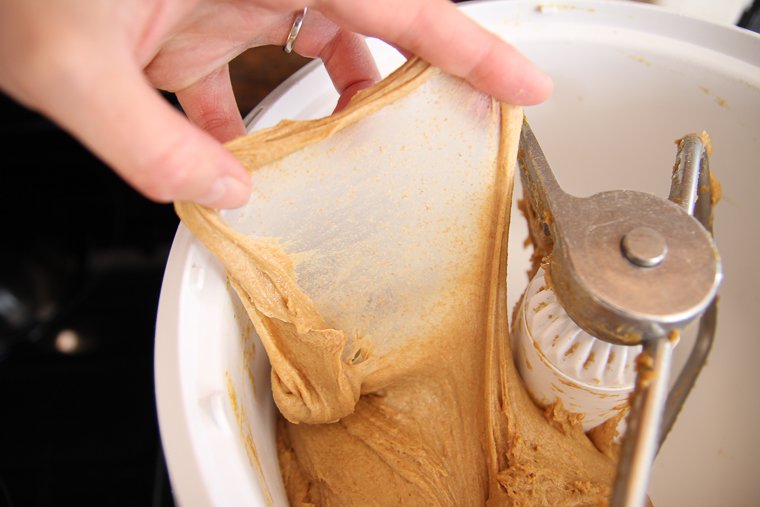 Form your dough into a nice neat ball, and place it into a large bowl.
Cover the bowl loosely with the lid and leave in a warm place (80°F) to ferment for about 4 hours, or until it has increased in size by about 1/3.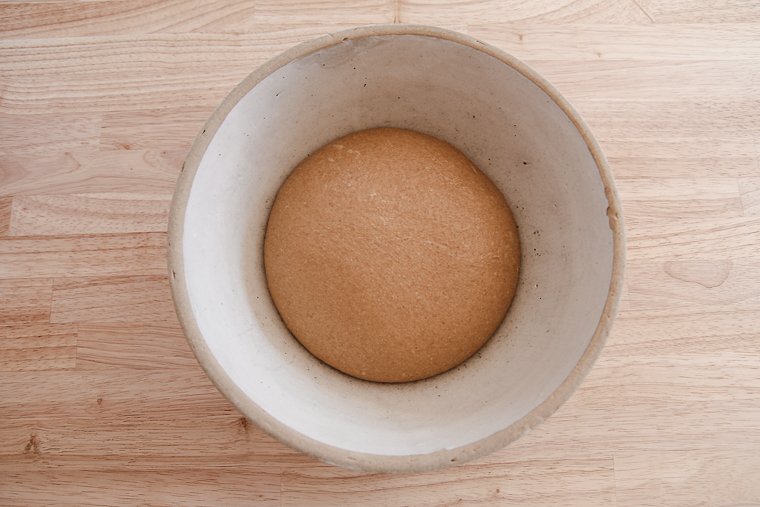 Now place the lid on tightly and refrigerate the dough overnight. Your dough should continue to increase in volume a little during refrigeration.
(Alternately you can skip the overnight cold ferment. For this schedule option, feed your starter the night before you make the rolls. Start the dough in the early morning and shape and proof directly after the first rise. You may need a bit of flour to prevent sticking while shaping. The proof will be faster since the dough will stay warm the whole time.)
Step 2 – Forming and Proofing the Rolls
Butter a 13×9-inch baking pan, press a sheet of parchment paper down inside, and then butter the parchment paper.
Remove the dough from the fridge. The dough will feel stiff while it's cold, but it will be easier to work with.
For uniform rolls, weigh out 24 portions, 54g each, before shaping, but you can eyeball them if you would prefer.
Then shape the rolls into tight balls. (Learn how to shape rolls quickly with this video.)
Arrange the rolls evenly in your prepared pan.
Cover your pan with plastic wrap and allow the rolls to proof in a warm place for 5 hours (80°F), or until they have doubled in size, are touching, and bounce back only slightly when poked with a damp finger.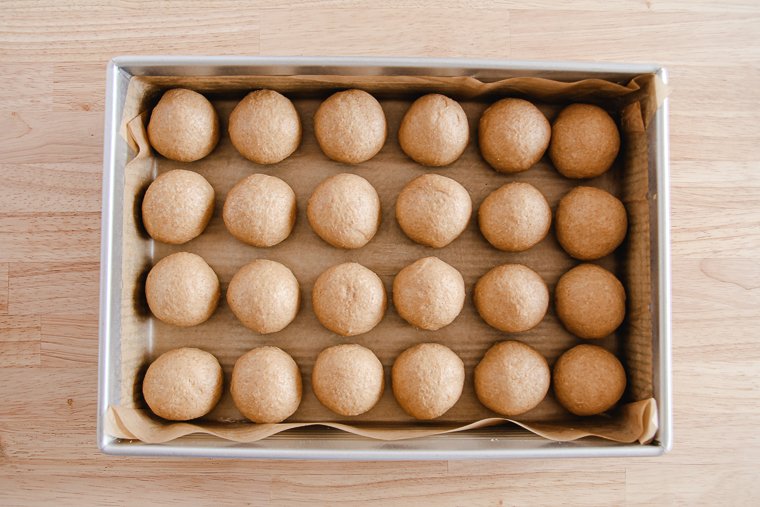 Meanwhile, preheat your oven to 375°F.
Step 3 – Baking and Brushing the Rolls
Remove the plastic wrap and bake your rolls on the center rack for about 17 minutes, or until they are lightly golden on the top.
Finally, brush the rolls with melted butter right after they come out of the oven. I sprinkled mine with a little coarse kosher salt this time around. This is optional!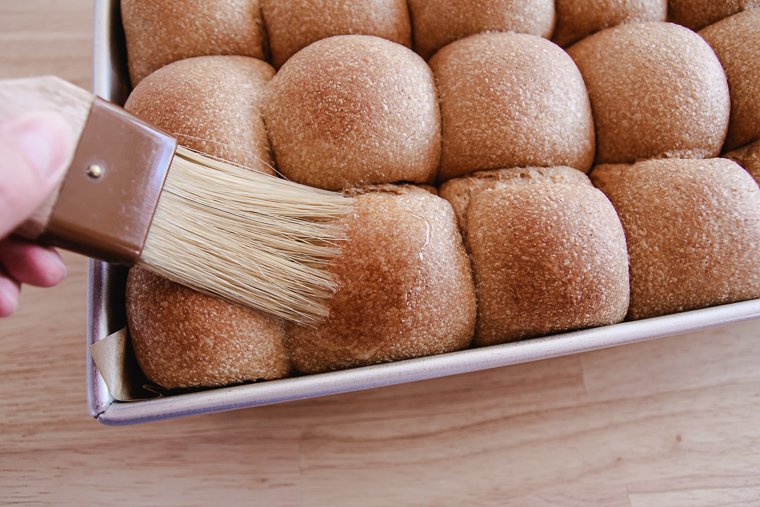 Serve the rolls warm, or allow them to cool completely before freezing in an airtight container.
I hope you enjoy these!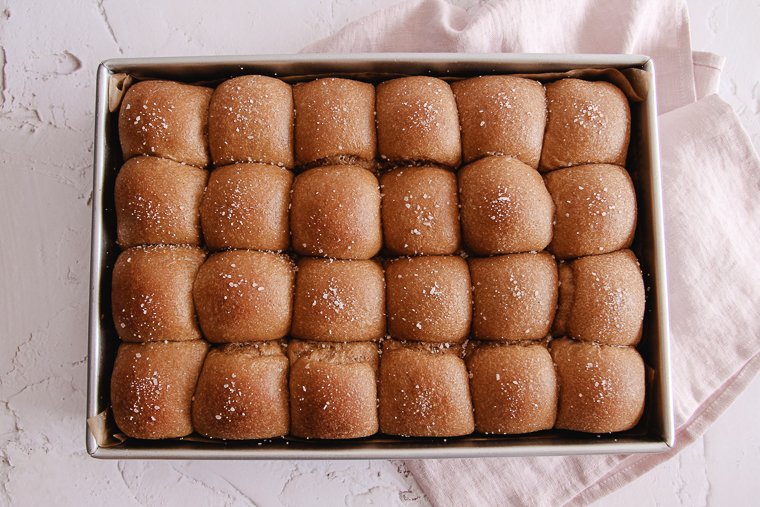 If you make this recipe and love it, I would be so grateful if you would come back to leave 5 stars and a comment. Your feedback is very appreciated!

Tag your photo on Instagram @aberlehome to show me what you made!