These soft whole wheat sourdough rolls use 100% whole wheat flour and are long fermented (no commercial yeast) for soft, slightly sweet, and flavorful dinner rolls. A little cardamom enhances the nutty flavor of the grain, and they are hardly sour at all. You'll love adding this delicious and nourishing sourdough roll recipe to your baking repertoire!
This post may contain affiliate links. See my full disclosure. As an Amazon Associate I earn from qualifying purchases.
Pin for later!
Why Bake Sourdough Rolls with No Yeast?
Sourdough is the natural way to leaven bread. The beneficial yeasts and bacteria in the starter ferment the flour in your baked goods slowly.
The added time reduces the gluten content, makes the grains more digestible, and increases the nutritive properties of the finished product when compared to bread made with commercial yeast.
For most people, sourdough is the healthiest way to enjoy bread!
Using and maintaining a starter isn't as difficult as many people believe. You may have to plan ahead a little more, but the hands-on process is much the same as baking with yeast.
Make Your Own Sourdough Starter
To make homemade sourdough rolls, you will want a strong, healthy starter.
I have simple instructions for making a sourdough starter from scratch here.
Make sure you feed your established starter ahead of time so it's active and bubbly by the time you're ready to add it to the recipe.
This recipe calls for starter that is at 100% hydration. That simply means it's been feed with equal parts flour and water. It should be the consistency of pancake batter.
What Makes These Whole Wheat Rolls Soft?
These rolls are 100% whole wheat (well, except for the small amount of all-purpose flour in my starter).
Whole wheat can be notorious for baking up too dense.
And let's face it, you really can't compare whole wheat rolls with ones made with all-purpose flour. They are just not going to be as fluffy, and they will taste more nutty. But that can be a good thing!
To make these rolls lighter and softer without adding all-purpose flour, the dough is enriched with milk, eggs, and honey or molasses.
I've also added vital wheat gluten and vinegar which both help to condition the dough for a better texture and rise.
You can probably find vital wheat gluten in the baking isle at your grocery store, but I've also linked it in the ingredients below.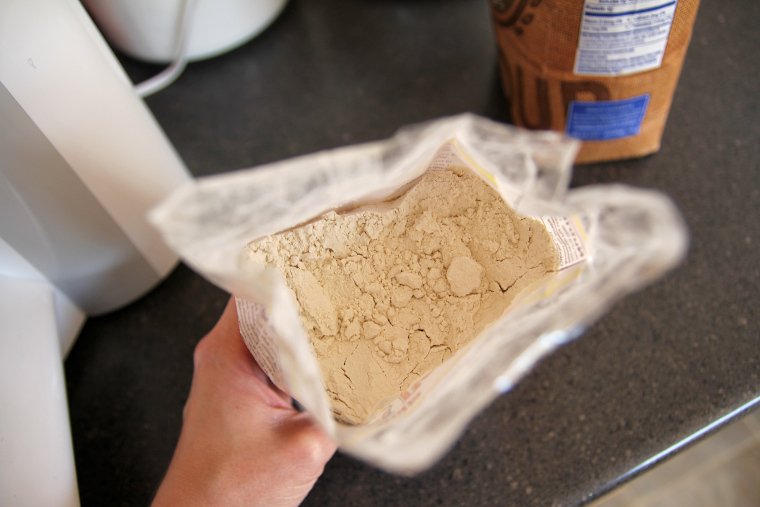 Finally, not adding too much flour, kneading properly, and not over-baking will help you achieve the soft sourdough rolls you are after. Brushing the finished rolls with melted butter will give them a soft exterior as well.
You'll find a printable recipe card at the end of this post for your convenience!
Tips for Making Soft Whole Wheat Sourdough Rolls
Don't add too much flour to your dough or your rolls will end up dry and dense. I would highly recommend you measure your ingredients by weight on a digital kitchen scale for accuracy.
Make sure you knead the dough in your stand mixer on low speed for 8-10 minutes, or until the dough becomes very smooth and stretchy when you pull it with your fingers.
Do a 4-hour ferment at room temperature to give your dough a head start, then let the dough finish in the refrigerator for 24-48 hours. This will give you a nice long ferment without having to worry about the eggs and milk sitting out of refrigeration for an extended time.
When forming your rolls, weigh each piece of dough to ensure your rolls are the same size. This way they will bake up evenly.
I like to do the 4-hour ferment and final proof in my oven (not heated) with the oven light on for a little extra warmth to speed up the process.
Equipment Needed
How to Make Soft Whole Wheat Sourdough Rolls
Step 1 – Making and Fermenting the Dough
Add sourdough starter, milk, softened butter, honey (or molasses), eggs, vinegar, cardamom, salt, vital wheat gluten, and 600 grams of flour to the bowl of a stand mixer fitted with a dough hook.
Mix on low speed until everything comes together.
Gradually add more flour until the dough just begins to pull away from the bottom of the mixing bowl. The dough will still be sticky, but don't worry, it will become less sticky after kneading.
Knead the dough on low speed for 8-10 additional minutes, or until the dough is smooth, less sticky, and very stretchy.
If you wet your fingers and pull the dough, it should stretch until you can almost see the light through it before it tears (the windowpane test).
Lightly oil a large lidded glass bowl. Form your dough into a ball, and place it into the bowl.
Cover the bowl loosely with the lid and leave at room temperature to ferment for about 4 hours, or until it has increased in size by about 1/3. You can place the dough in a turned-off oven with the light on for extra warmth if your kitchen is cool.
Now place the lid on tightly and refrigerate the dough for 24-48 hours. Because this time is spent in the refrigerator, the finished rolls are usually only mildly sour.
Your dough should continue to increase in volume during refrigeration.
Pull your dough out of the refrigerator about one hour before you're ready to form your rolls. You can expect the dough to feel very stiff until it comes back to room temperature.
Step 2 – Forming and Proofing the Rolls
Form the dough into 24 rolls. (Learn how to shape rolls quickly with this video.)
For uniform rolls, weigh your entire mass of dough in grams on your kitchen scale. Do the math to divide the total by 24, and then you will know how many grams each roll should be (probably between 54-56 grams each).
Arrange the rolls on a half sheet pan lined with parchment paper leaving space between each one.
Cover your pan with plastic wrap and allow the rolls to proof in a warm place for 1-2 hours, or until they look "poofy."
Meanwhile, preheat your oven to 375°F.
Step 3 – Baking and Brushing the Rolls
Remove the plastic wrap and bake your rolls on the center rack for 12-15 minutes, or until lightly golden.
Finally, brush the rolls with melted butter right after they come out of the oven.
Serve the rolls warm, or allow them to cool completely before freezing in an airtight container for up to three months.
Enjoy!
If you make this recipe and love it, I would be so grateful if you would come back to leave 5 stars and a comment. Your feedback is very appreciated!

Tag your photo on Instagram @aberlehome to show me what you made!