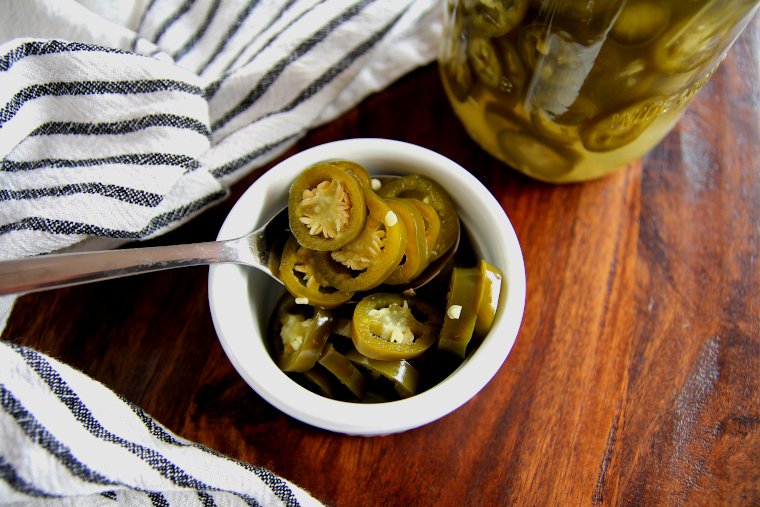 This post may contain affiliate links. See my full disclosure. As an Amazon Associate, I earn from qualifying purchases.
I'm excited to share this recipe for lacto-fermented sliced jalapeno peppers. Lacto-fermenting by preserving vegetables in a salt-water brine is a useful, old-fashioned homemaking skill to learn. The process is actually so easy and satisfying to do at home, and no canning is required.
Since jalapenos are so readily available (you may have even grown your own this year) this is a great first vegetable to ferment if you haven't done this before.
I used to frequently purchase jars of sliced jalapeno peppers from the store to enjoy with a variety of dishes, but within the past year or so, I've begun to dive into the world of lacto-fermentation, preserving hot peppers myself.
We love to eat a variety of homemade fermented foods at our house like fermented salsa, yogurt, sourdough bread, sauerkraut, and kefir.
During fermentation, the salty brine inhibits harmful bacteria from taking hold, so the beneficial bacteria on the peppers are allowed to thrive and take over.
The results of fermentation: the vegetables become more flavorful, a rich source of gut-healthy probiotics, and their vitamins and minerals become easier for our bodies to absorb.
The fermented peppers are also nicely preserved to last much longer in the refrigerator than fresh peppers would—up to three months or longer.
I find it so thrilling to be able to do preserve vegetables at home and provide a healthier alternative to the jarred peppers at the super market.
Another nice thing about fermenting vegetables, you'll be able to clearly identify if your ferment has gone south by the way it looks and smells.
So if your sliced peppers smell and taste good, are not slimy, and you don't see any mold, you will know with confidence that they are safe to consume.
Equipment Needed
*If you are going to ferment vegetables regularly, I would highly suggest you purchase a set of glass fermentation weights. These will hold your vegetables under the brine so you won't have to fuss about with other methods.
**I love the airlock fermentation lids so I don't have to remember to "burp" my ferment (more on this later).
Some notes about the ingredients: If you are on city water, you'll want to purchase some bottled spring water. Chlorinated water could kill the beneficial bacteria and inhibit fermentation.
Choose sea salt which does not contain iodine or anti-caking agents that could also hinder the process.
And finally, if you choose to use the vinegar, make sure it is the raw and unfiltered version. This way it already contains living bacterial to help your ferment along. Other varieties of vinegar will not work.
Directions for Making Lacto-Fermented Sliced Jalapeno Peppers
Step 1 – Clean Jar and Lids and Make Brine
Wash your jar, rim, fermentation weight, and airlock lid in warm, soapy water and rinse well. No need to sanitize them. Set them aside.
Make a brine by adding your sea salt to your water, and heat until all of your salt has dissolved. Remove from the heat and allow to cool until lukewarm or cooler.
I just heat my water in a glass Pyrex measuring cup in the microwave, but you could do it on the stove as well.
Step 2 – Slice Jalapenos and Pack Jar
Rinse your jalapenos clean. Slice them in thin rings. You can remove the membranes and seeds if you want them less hot, but I left mine in.
Press the sliced peppers in your jar up to the shoulder (make sure you have enough in there).
Step 3 – Add Vinegar and Brine
Add your vinegar into the jalapenos, and then pour your cooled brine over the top, leaving an inch of headspace. You will not use all of the brine, and that's okay.
Step 3 – Lid Your Jar and Lacto-Ferment Peppers
Press your glass fermentation weight on top of the peppers, insuring every pepper ends up completely under the brine.
Set your airlock lid in place on top of your jar and screw on the metal rim. The airlock lid is not necessary, but it will allow gases to escape during fermentation.
If you screw on a regular lid, you will just have to burp your jar daily to let any extra air escape. In this case you would want to set your jar in a bowl or baking dish in case any brine seeps out of the rim.
Allow your jar of jalapenos to sit at room temperature (somewhere around 70°F is ideal) out of direct sunlight for about 5 days (could take less time if your house is warmer, or more time if your house is cooler, so taste test the peppers earlier if you want.)
You will be able to see little air bubbles forming during active fermentation, and the brine will become more cloudy.
The finished peppers should be a dull green color and taste pleasantly tangy, but should still be crisp and not mushy.
When they are fermented to your liking, change to a regular lid and store your peppers in the refrigerator for up to 3 months or more (provided the peppers continue to stay below the brine, smell and taste good, and you don't see any mold or spoilage.)
Enjoy your lacto-fermented sliced jalapeno peppers on tacos or nachos, or as a side to spice up any meal you wish.
If you make this recipe and love it, I would be so grateful if you would come back to leave a star rating and a comment. Your feedback is very appreciated!

Follow me on Instagram @aberlehome and tag me on your photo to show me what you made!