Cooked on the stove in a cast iron skillet and finished under the broiler, these pizzas taste like restaurant personal pizzas with a no-knead, chewy artisan crust that can easily be made from scratch!
This post contains affiliate links. See my full disclosure. As an Amazon Associate I earn from qualifying purchases.
Pizza is almost always a weekly event for our family, but we don't like to spend money on takeout that often when we can make pizzas at home that are just as delicious!
This pizza really doesn't take all that long to prepare compared to other dinners, which is an added bonus.
This recipe yields 4 pizzas.
Pin for later!
Recommended Tools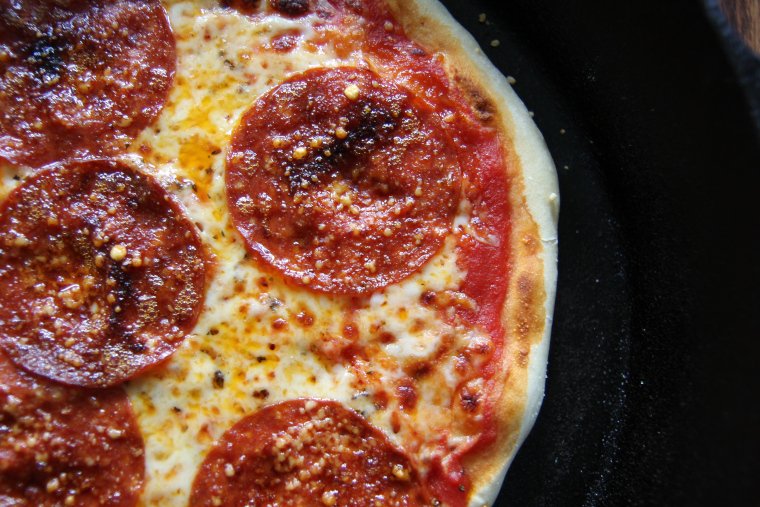 Personal Pizza Ingredients
Dough:
1 ½ teaspoons active dry yeast
2 ¼ teaspoons kosher salt
1 ½ cups lukewarm water
3 ½ cups all-purpose flour
Toppings:
15-ounce can tomato sauce (you will only need about 10 ounces)
Drizzle of olive oil
Kosher salt to taste
1 ¼ teaspoons pizza seasoning
10 ounces freshly grated mozzarella cheese, or fresh torn into pieces (more or less to taste)
Grated Parmesan cheese to taste
Any additional toppings you wish (pepperoni, cooked Italian sausage, mushrooms, sliced onion, red pepper flakes, etc.)
Directions
Step 1 – Make the Dough
Plan ahead and make the dough at least three hours before assembling the pizzas. This will give you two hours of rise time and one additional hour in the refrigerator.
The dough is sticky and is much easier to work with when it's cold!
This dough can be stored covered in the refrigerator for up to two days if you want to make it further in advance or if you aren't making all four pizzas at once. (It will store fine longer, however the crust won't rise well after a couple of days.)
In a large bowl, add your yeast and kosher salt.
Now add your lukewarm water and give it a quick stir.
Add the flour.
Stir until all the dry flour is absorbed, but do not knead. I always use a table knife to mix because the dough sticks to it less than a spoon.
The dough should be fairly sticky but should hold together.
Your flour and climate might alter the hydration of your dough. Add a sprinkle more water if your dough seems stiff, or mix in an extra dusting of flour if your dough seems overly sticky.
Cover loosely with a lid, and let sit at room temperature for two hours.
At this point, you should notice that the dough has at least doubled in size.
Cover it tightly and refrigerate for at least 1 hour.
Step 2 – Preheat Skillet & Assemble First Pizza
When you're ready to make the pizzas, turn out the cold dough onto a clean, lightly-floured surface and divide into four equal portions with a dough scraper.
Preheat a cast iron skillet on the stove over medium heat while you assemble the first pizza. Position a rack in the center of your oven and turn on the broiler.
Flatten the first portion of dough with your hands (use more flour when needed to prevent sticking) and roll it out to make a 9-inch circle.
If it keeps bouncing back, just let it rest on your counter for 10 minutes and come back to it.
Place your dough round in your preheated skillet, then reduce heat to medium low.
As the dough begins to cook, spread on about 4 tablespoons of the tomato sauce, leaving a border for the crust.
Drizzle a bit of olive oil, and sprinkle on the kosher salt and about ¼ teaspoon pizza seasoning.
Add mozzarella cheese (if you grate it yourself or use fresh, it will melt so much better), a sprinkle of Parmesan cheese, and any additional toppings you wish.
Step 3 – Broil Pizza
Cook your pizza on the stove until the bottom is lightly golden brown. This should take 4-6 minutes.
Use potholders to carefully transfer your skillet straight into your oven.
Broil pizza for 5-7 minutes or until the cheese is melted and the top is a deep golden color. (I've recently been broiling my pizzas darker than these photos show, and I like the result a little better.)
Remove the skillet from the oven and transfer your pizza to a wire rack to cool slightly before slicing with a pizza cutter.
Carefully wipe any excess flour or leftover ingredients out of your skillet with a paper towel after each pizza is finished so nothing burns and smokes as you're baking the next pizzas.
Repeat to assemble and cook the remaining pizzas, or save the remaining dough in the fridge for the next day.
Mmm, fresh hot personal pizzas with a chewy crust and crisp underside. These pair well with a side salad, and are perfect for the whole family to enjoy together!
Tips
A well-seasoned cast iron skillet is a must for this recipe. Other kinds of skillets cannot be transferred straight from the stove top to the oven.
Be sure your skillet doesn't preheat too much beforehand. It should feel hot if you hover your hand over the surface, but if it's smoking, it's too hot. Reduce the heat or remove your pan from the heat momentarily. You don't want your crust to brown too quickly on the bottom or the dough won't have enough time to cook through before the pizza goes under the broiler.
If you make this recipe and love it, I would greatly appreciate if you would come back to leave 5 stars and a review! Tag me on Instagram @aberlehome to show me what you made!