These soft sourdough breadsticks are a special treat—buttery with coarse salt and garlic on the outside and perfectly tender on the inside. They are easy to make, and there is nothing like these sourdough breadsticks when they are fresh out of the oven.
This post may contain affiliate links. See my full disclosure. As an Amazon Associate I earn from qualifying purchases.
Pin for later!
Sourdough Guides for Beginners
We usually serve these soft sourdough breadsticks for special occasions alongside spaghetti or linguine with shrimp scampi. My husband loves these homemade breadsticks…
And I have to cut him off after three or four.
Let's just say they really are worth making from scratch so they can be eaten warm and fresh!
They are super simple to shape by rolling the dough into a rectangle and slicing into sticks with a pizza cutter.
The baking schedule offers some flexibility. You can start the dough in the morning to bake the same evening, or you can make the dough in advance, letting it ferment in the refrigerator until you're ready to proof and bake.
Why Make Breadsticks with Sourdough Starter Instead of Yeast?
Traditionally, bread was always made from a wild yeast (or sourdough) starter. The long ferment time improves the digestibility of the bread, reduces the gluten content, and increases the nutritive properties.
Commercial yeast, then, is more like the "fast food" of the bread world. For most people, sourdough is the healthiest way to enjoy eating bread.
I use my starter all the time in my kitchen! I make Sourdough Soft Pretzels, Sourdough Croissants, Soft Sourdough Potato Rolls, and more!
I would still consider these breadsticks as more of a treat than a health food, but I'm happy that they are probably more nourishing for my family than the same breadsticks would be made with commercial yeast.
This recipe calls for active starter at 100% hydration. This just means it's been fed with equal weights flour and water for a consistency similar to pancake batter. You should plan to feed it a few hours before you plan to mix your dough so it's nice and bubbly.
If you don't have your own starter yet, you can learn how to make one in about 7 days here: Easy Sourdough Starter from Scratch
Tips for Making Soft Sourdough Breadsticks
Avoid adding too much flour to your dough or your breadsticks won't be as tender. Start with less flour than you think you'll need, then add more flour in small amounts just until your dough begins to pull away from the bottom and sides of your mixing bowl.
Make sure to knead your dough properly. It takes about 8 minutes on low speed in a stand mixer until the dough becomes smooth and elastic (or you can do it by hand).
Finally, don't skimp on time. Allow enough time for the dough to ferment and later proof before baking. If your house is chilly, try proofing in a turned-off oven with the oven light on for more warmth.
Recommended Equipment
stand mixer (optional)
rolling pin
cutting board
pizza cutter
How to Make Soft Sourdough Breadsticks
Step 1- Make and Ferment the Dough
Add sourdough starter, water, sugar, salt, softened butter, and 2½ cups flour to the bowl of a stand mixer fitted with a dough hook. Mix until a smooth dough forms.
Continue adding flour, 1/8 cup at a time as needed, until your dough begins to pull away from the bottom and sides of the mixer. Be careful not to add too much flour.
Continue kneading on low speed for 8 minutes. The dough should be smooth and elastic.
Lightly oil a large lidded glass bowl and transfer your dough to the bowl. Cover loosely with the lid. Now you have two options depending on your schedule:
1. Allow the dough to ferment at room temperature for 8-12 hours.
2. Let the dough ferment at room temperature for 4 hours, then cover tightly and refrigerate for 24 hours and up to 2 days before baking your breadsticks. Remove your dough from the fridge about one hour before cutting your breadsticks to allow it to come back to room temperature.
Step 2 – Cutting and Proofing the Breadsticks
When you're ready to form your breadsticks, turn out your dough onto a large, lightly floured cutting board.
Roll the dough to a 12×7-inch rectangle.
Use a pizza cutter to slice the rectangle into 12 even breadsticks. I like to cut it in half first, then into quarters…
And then it's easier to cut them evenly. Cutting the bread sticks is so much quicker than hand rolling the dough into snakes.
Transfer the breadsticks to a parchment-lined half sheet pan, leaving space between each one.
Then cover the pan with plastic wrap (not too tightly) and allow the breadsticks to proof in a warm place for 1-2 hours, or until they look "poofy." When my house is cool, I set the pan in my turned-off oven with the light on for extra warmth.
Meanwhile, preheat your oven to 400°F (remove the pan if it's proofing in there!).
Step 3 – Baking and Seasoning the Breadsticks
Remove the plastic wrap from pan, and bake breadsticks on the center rack of your oven for 10 minutes or until they are lightly golden. (Keep in mind the darker you bake them, the more chewy and less soft they will become.)
Perfectly imperfect, right?
Use a pastry brush to brush the hot breadsticks with the 1½ tablespoons of melted butter. Immediately sprinkle them with coarse salt and a bit of garlic powder to taste.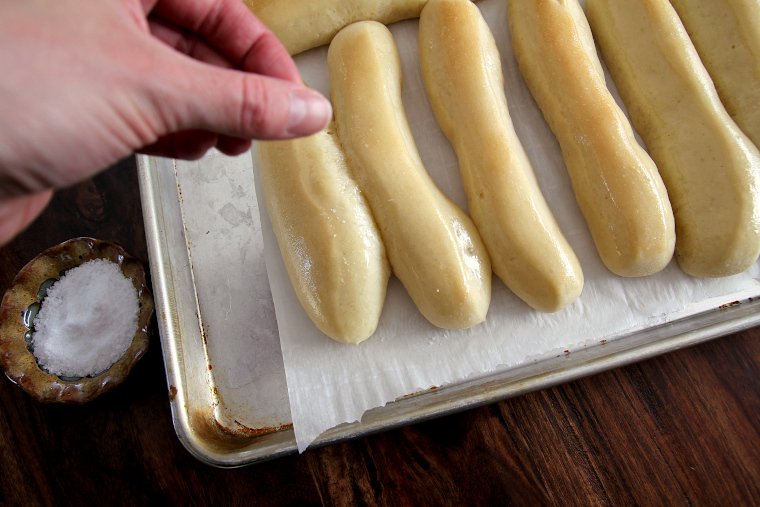 And that's all there is to it! I guarantee you they won't last very long!
Do These Breadsticks Freeze Well?
Yes! Leftover breadsticks will keep better in the freezer, in fact, than if you store them on the counter.
Allow them to cool completely before freezing them in an airtight container. Simply microwave them to thaw and warm them for another meal later.
If you make this recipe and love it, I would be so grateful if you would come back to leave 5 stars and a comment. Your feedback is very appreciated!

Tag your photo on Instagram @aberlehome to show me what you made!