This post may contain affiliate links. See my full disclosure. As an Amazon Associate, I earn from qualifying purchases.
Strawberry whole wheat and millet muffins are a healthy and satisfying breakfast treat. Sour cream lends flavor and softness, while fresh strawberries and ground cardamom compliment the grains. This is the perfect recipe to use freshly milled flour, or you can purchase the flours ahead of time.
If you bake these sour cream muffins, you can expect your kitchen to smell like fresh strawberry shortcake!
We stow muffins away in the freezer to pull out on busy homeschool mornings (and to send with my husband as he leaves for work).
100% wholegrain muffins keep us satisfied, especially when served alongside some sausage or eggs.
Millet Health Benefits
Millet flour is commonly used in gluten-free baking. However, it has many health benefits when combined with whole grain wheat flour as well.
It is an excellent source of protein. It's also rich in soluble and insoluble fiber, antioxidants, niacin, potassium, and other vitamins and minerals.
What does millet taste like?
Millet has a mild flavor. I would describe it as creamy, sweet, and nutty/corn-like. It adds subtle flavor to these muffins.
Millet can be prepared in various ways. It can be made into a whole grain or flour porridge for breakfast, cooked as a savory grain to eat in place of rice, or ground into flour for baking.
These muffins are an easy way to incorporate some millet into our diet.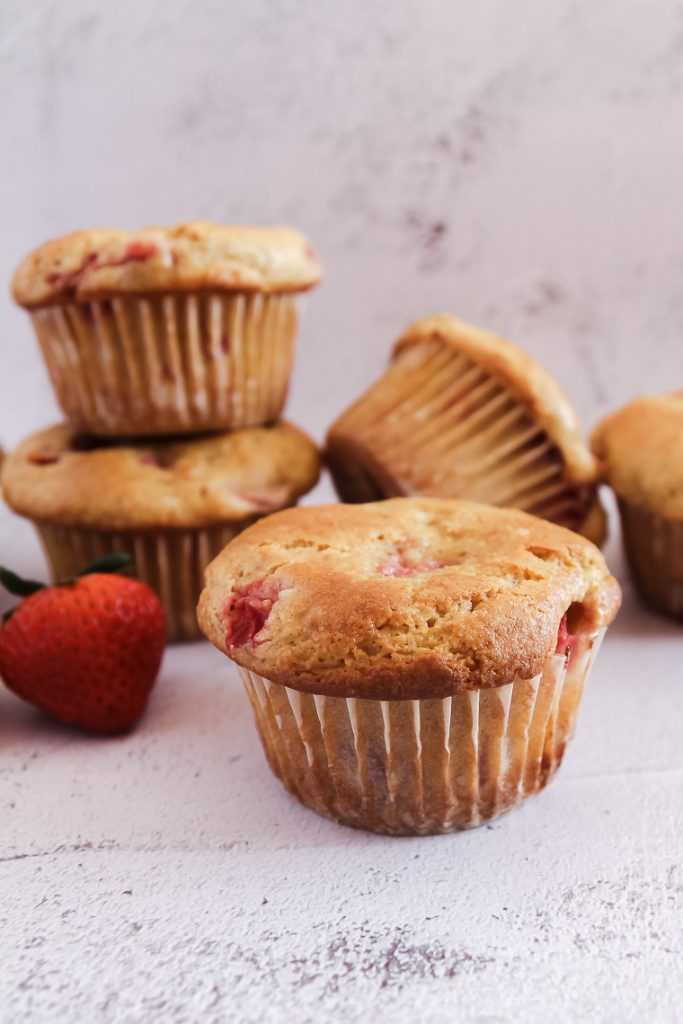 How to Make Millet Flour
I mill my own flour at home using a Mockmill 200 stone grain mill.
For this recipe, I use Bob's Red Mill Millet. My grocery store has recently started carrying this brand of whole grain millet in the cereal isle!
I mill the whole grain millet and soft white wheat berries at the same time on the finest setting. It just takes a few extra minutes to make the flour before I mix the batter.
If you don't mill your own grains, you can simply purchase whole wheat flour and millet flour to use for this recipe.
Recommended Equipment
Tips for Making Strawberry Whole Wheat Millet Muffins
The ingredients are listed in weights for consistent results. This also makes milling easier, since you can weigh out the exact amount of grain that you need for the recipe. This is my favorite digital kitchen scale for its accuracy, but you can use any kind.
The muffins will have the best texture if you don't over-mix the batter.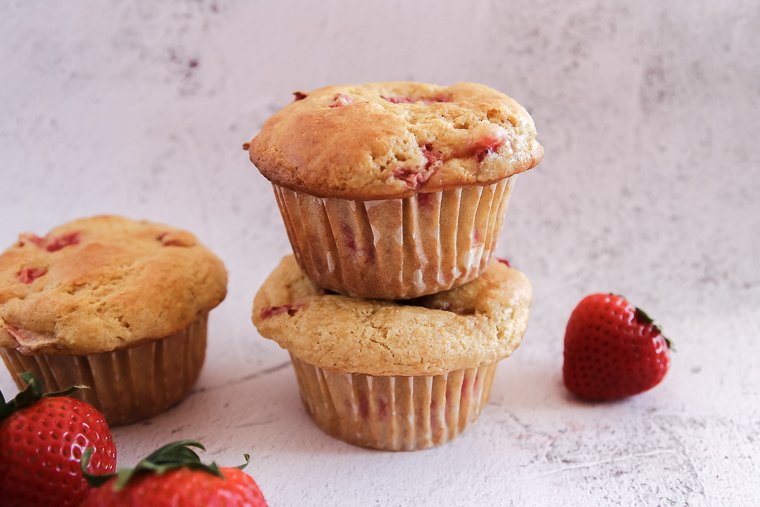 Can I use frozen strawberries?
Fresh strawberries work best, but you can chop frozen strawberries if that's what you have on hand. You would likely need to increase the baking time to account for the extra moisture in the batter.
What can I substitute for ground cardamom?
Cardamom pairs really well with the strawberries. If you don't have any on hand, though, I think substituting a 1/2 teaspoon of almond extract would be delicious.
Or you can simply omit the cardamom.
More Breakfast Recipes from Aberle Home:
How to Make Strawberry Whole Wheat Millet Muffins
Step 1 – Prepare Muffin Pan and Mix Batter
Start out by preheating your oven and placing liners in your muffin pan.
I make sure to use liners whenever I'm making muffins with fruit. The fruit really tends to stick to the pan even if it's been greased.
After your flour is milled, start by mixing the dry ingredients (including the cardamom).
In a separate bowl, beat the butter and sugar, and then mix in the sour cream, eggs, and vanilla. Stir in the dry ingredients until everything just comes together (lumps are fine!).
Finally, you'll fold in the strawberries until they are just incorporated. Avoid over-mixing the batter here.
Step 2 – Fill Muffin Pan
I have a cute vintage ice cream scoop with a wooden handle that works great for scooping muffin batter! It's so quick to fill the pan.
With the batter distributed evenly, the muffin cups will be really full.
Step 3 – Bake and Cool Strawberry Whole Wheat and Millet Muffins
These muffins bake at a high temperature for the first five minutes to help them rise well. Then a lower temperature gives them time to bake through.
You'll know they're done when the centers bounce back when gently pressed. They will look lightly golden, and a toothpick inserted in the center of a muffin will come out clean.
Remove the baked muffins to a rack once they are cool enough to handle. Allow any leftovers to cool completely before storing in an airtight container.
As I mentioned in the beginning of the post, they freeze very well!
If you make this recipe and love it, I would be so grateful if you would come back to leave a star rating and a comment. Your feedback is very appreciated!

Follow me on Instagram @aberlehome and tag me on your photo to show me what you made!