This post may contain affiliate links. See my full disclosure. As an Amazon Associate, I earn from qualifying purchases.
I'm a big fan of homemade granola. It's simple to make, and I like how I can control which ingredients I use and the level of sweetness. This recipe is my favorite.
I've been tweaking this recipe for a while now, and I've found that I really enjoy this particular combination of flavors. The cinnamon and nutmeg both compliment the oats, coconut, and almonds so well!
I also love the health benefits of the oat bran and ground flax seed.
This recipe yields about 12 cups of finished granola. You can cut the recipe in half if you'd like to try a smaller amount first.
We love this granola on its own for a snack, as a topping for yogurt and berries, or as cold cereal with milk (it tastes great mixed with bran flakes!).
You could definitely tweak the ingredients yourself. Chopped dried fruit would be a delicious addition after baking, or you could change up or omit the nuts.
More Recipes from Aberle Home:
Tools You Will Need
Large mixing bowl (these are my favorites)
Large spoon
Small saucepan
Whisk
Two half sheet pans
Airtight container for storage
How to Make Homemade Cinnamon & Nutmeg Granola
Step 1 – Preheat Oven, Prepare Pans & Mix Dry Ingredients
Preheat your oven to 275°F and line two baking sheets with parchment paper.
Add your rolled oats, oat bran, ground flax seed, shredded coconut, sliced almonds, nutmeg, cinnamon, and salt in a large mixing bowl.
Stir until well combined. Set aside.
Step 2 – Heat & Add Wet Ingredients
Now heat your coconut oil, honey, and vanilla extract in a small saucepan over medium-low heat.
Tip: Use a tablespoon-sized cookie scoop to measure out your coconut oil so you can quickly scoop it into your saucepan.
Stir the mixture gently, just until the coconut oil is just melted. Do not simmer.
Step 3 – Mix Granola
Pour coconut oil mixture over oat mixture and stir until all the dry ingredients are well coated with the wet ingredients.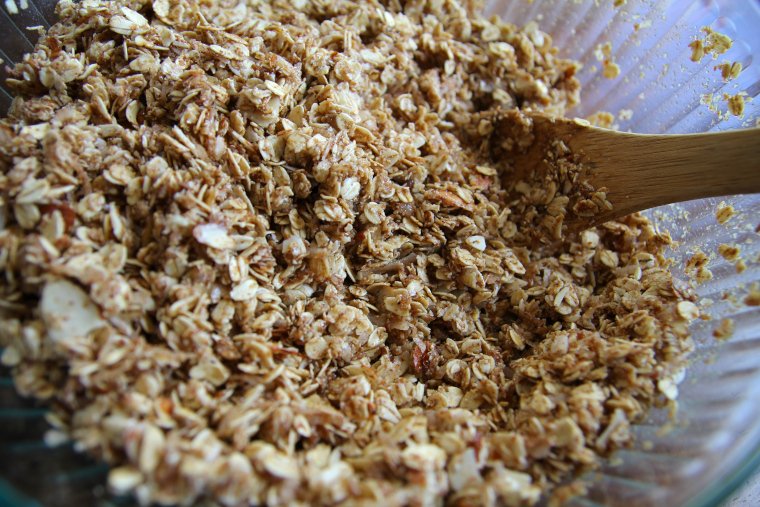 Step 4 – Bake & Cool
Spread the mixture evenly between the two prepared baking sheets and press it flat with a spoon.
Place your pans on the middle and bottom racks of your preheated oven (stagger them, one to the left of your oven, and one to the right) and bake for 35-40 minutes or until very lightly golden brown, rotating pans after 20 minutes.
It is important that you do not stir the granola during the baking process! You want to encourage it to clump together.
Remove your pans from the oven and let the granola sit and cool completely, still without stirring.
Break your granola apart after it is completely cool and store it in an airtight container for up to two weeks. Enjoy!
If you make this recipe and love it, I would be so grateful if you would come back to leave a star rating and a comment. Your feedback is very appreciated!

Follow me on Instagram @aberlehome and tag me on your photo to show me what you made!