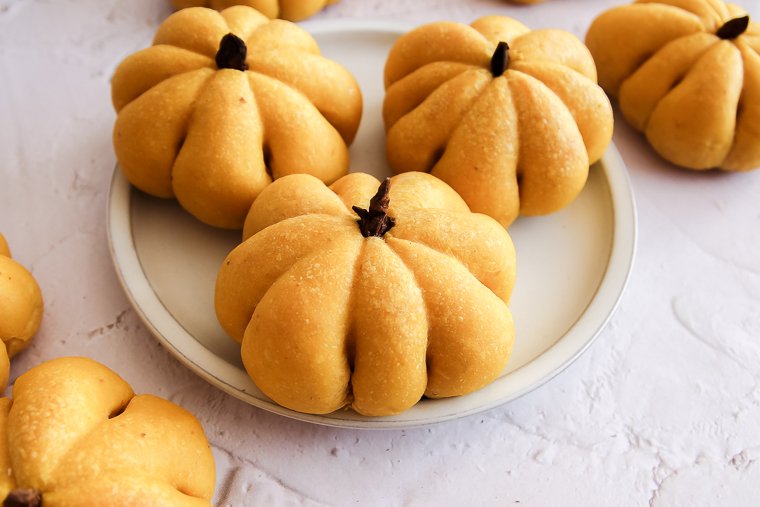 This post may contain affiliate links. See my full disclosure. As an Amazon Associate, I earn from qualifying purchases.
Pumpkin puree gives these pumpkin sourdough rolls their color and softness. Whether you make them pumpkin-shaped or as normal round dinner rolls, they are slightly sweet and buttery–perfect as a side for Thanksgiving or a cozy fall dinner!
Pumpkin Shaped Sourdough Bread
Last year it became trendy on social media to bake pumpkin shaped sourdough bread.
The beautiful pumpkin shape is achieved by tying baker's string a certain way around a loaf of bread before proofing and baking.
I decided to jump on this trend a year later in dinner roll fashion with these soft and tender pumpkin rolls.
These rolls are similar in texture to my soft sourdough potato rolls.
But instead of mashed potato, pumpkin puree is the star of the show, giving the dinner rolls color, flavor, and softness. Brown sugar adds sweetness and deepens the color further.
And the best part… if you don't have the time to tie strings around each roll to make them pumpkin shaped, they bake up perfectly as round pumpkin dinner rolls too!
It's difficult to tell from the photos just how soft these really are.
They are almost begging to be brushed with melted butter and dipped in cinnamon sugar (which I think could be done before stems are added, if you were so inclined!).
I played around with a sweet, stiff levain to prevent these rolls from becoming sour.
Although they turned out wonderfully that way, they also tasted wonderful when I made them with fed ripe starter.
So for you, I decided to keep the recipe on the simple side.
Options for Pumpkin Stems
Pumpkin stem disclaimer: In my photos I poked the arms of anise stars into my little pumpkins for stems. I found that these actually flavored my rolls quickly, and I'm not sure I enjoyed the anise flavor for this application!
Here are some other ideas if you want your pumpkins to have stems:
Pecan pieces or sliced almonds
Thin pretzel sticks broken in half
Pumpkin seeds
Pumpkin Sourdough Rolls Baking Schedule
Feed your starter several hours prior to baking the recipe and allow it to peak.
Approximate timing:
Mix and autolyse (rest): 40 minutes
Knead: 8 minutes
Bulk ferment: 4 hours, 20 minutes
Shape into balls: 10 minutes
Proof (and tie strings): 1 hour, 20 minutes
Bake: 12 minutes
Remove strings: 7 minutes
*The strength of your starter and the temperature at which you keep the dough will affect how long each step will take. These took me about 7 hours from start to finish with an ambient temperature of 73-75°F and a dough temperature of 74°F at the start of bulk fermentation. If your kitchen is cooler, expect the process to take longer.
Tips for Making Pumpkin Sourdough Rolls
You'll want a healthy starter to use for this recipe. Using the starter at its peak will prevent these rolls from tasting sour. See this post for tips on feeding and maintaining a sourdough starter.
Don't use brown twine or the colored red or black baker's string for your rolls. Those types of string tend to leave colored fuzzies on the bread. A natural cotton butcher's/baker's string works better.
Tie the string on the rolls after they have already proofed for a little while, and tie the strings only as tight as you need to keep them in place. You don't want the string to sink into the rolls too deeply during baking.
Recommended Equipment
How to Make Soft Pumpkin Sourdough Rolls – Step by Step
Step 1 – Mix the Pumpkin Sourdough Dough (with 30-Minute rest)
Hold back the salt and butter at first.
Start by weighing and mixing the starter, milk, pumpkin puree, brown sugar, egg, and flour. Mix on low speed to combine everything.
Cover the dough and allow it to autolyse (rest) for 30 minutes. This rest before the salt and butter are added helps the dough to develop gluten easily.
After the rest, add in the softened butter and salt. Knead for 6-8 more minutes on low speed (or you can just knead the dough right in the bowl by hand if you don't have a mixer).
Keep kneading until the dough is very smooth and elastic.
Step 2 – Bulk Ferment (First Rise)
Form the dough into a ball. Place it in a large bowl, cover it with a lid or plastic wrap, and allow it to double in size at room temperature.
You don't need to stretch-and-fold the dough during this time, so it's super easy.
Step 3 – Divide, Degas and Shape
After the dough has risen, turn it out onto a clean surface. Weigh the mass of dough on your kitchen scale, and divide the number by 12 so you know how many grams to make each pumpkin sourdough roll.
Divide the dough accordingly into 12 pieces.
I found each of my rolls needed to be 58g. (You could eyeball the rolls, I just like to be precise so they bake evenly.)
Degas each piece by pressing the dough flat with your palm to get rid of any large air bubbles.
Form the pieces into tight balls. I shape quickly by cupping my hand around the dough and scooting it in a circular motion against the countertop to create tension.
Cover the dough balls with plastic wrap on the counter to let them rise slightly before tying the strings and arranging them on the pan.
Step 4 – Proof & Tie Strings for Pumpkin Shaped Sourdough (Second Rise)
Like I mentioned before, you don't have to tie strings on your rolls to make them pumpkin-shaped.
They are beautiful round if you bake them on the sheet pan. You can also bake them in a parchment-lined round cake pan and brush with butter after baking for pull-apart pumpkin rolls. It's up to you!
Line a half sheet pan with parchment paper.
Once the rolls are slightly more puffy (but not fully proofed), it's time to tie on the strings. Handle the rolls gently, because they will have a little air in them at this point.
Cut a string about 30-inches long and lay it out on the counter. Place your first roll top-side-down onto the center of the string.
Now you'll tie the string just like if you were tying a ribbon around a present, flipping the roll over after each tie. Tie only as tightly as you need to keep the string in place!
Continue tying around the pumpkin until your pumpkin has 8 segments. Cut off the excess string and repeat the process for the remaining rolls.
Arrange the pumpkin shaped rolls on a half sheet pan lined with parchment paper and cover the pan with plastic wrap (not too tightly).
Continue proofing until the pumpkin sourdough rolls look puffy and the sides of the pumpkins are protruding between the tied strings.
Meanwhile, preheat your oven to 375°F with a rack set in the center.
Step 5 – Bake & Remove Strings
Bake the tray of pumpkin shaped dinner rolls until they are lightly golden on the edges.
Allow the pumpkin sourdough rolls to cool a little either on the baking tray or on a cooling rack. You can remove the strings as soon as the rolls are cool enough to handle.
Since some of the strings will be encased in the bread, I like to first cut the knots off the tops so they won't tear through the dinner rolls.
You can use a toothpick to help you release any strings that are tight against the tops of the rolls. Just take your time!
Then I flip the rolls over and carefully pull the strings through the bottoms to prevent snagging/tearing the sides of the rolls.
Place your stems of choice into the centers of each pumpkin sourdough roll and serve while they are still warm (with butter on the side for spreading, of course!).
How to Store Pumpkin Sourdough Rolls
Store any leftover sourdough pumpkin rolls in an airtight container after they have cooled completely.
You can freeze the rolls for longer storage if you wrap them well, and you can wait to add the stems when you're ready to serve them.
To thaw frozen rolls, pull them out of the freezer several hours ahead of time to thaw.
Warm them briefly in the microwave, or wrap rolls in foil and warm them in a 300°F oven for about 20 minutes, or until they are warmed through.
If you make this recipe and love it, I would be so grateful if you would come back to leave a star rating and a comment. Your feedback is very appreciated!

Follow me on Instagram @aberlehome and tag me on your photo to show me what you made!