Lately, our family has been enjoying this wonderful banana muffins recipe. These moist banana muffins have a mouth-watering crunchy topping of finely chopped nuts and raw sugar. There really is no better way to enjoy banana bread!
This post may contain affiliate links. See my full disclosure. As an Amazon Associate I earn from qualifying purchases.
Pin for later!
The pecans (or walnuts, if you prefer) get a bit toasted on top during baking which adds so much flavor. The crunchy top really makes these muffins top-notch, and the best banana muffins recipe, in my humble opinion.
They really don't take long to whip up, and they go mighty well with a hot cup of coffee with cream.
I enjoyed baking these this past Saturday while the early morning sun was coming in through the windows. The house smelled so good for the rest of the morning.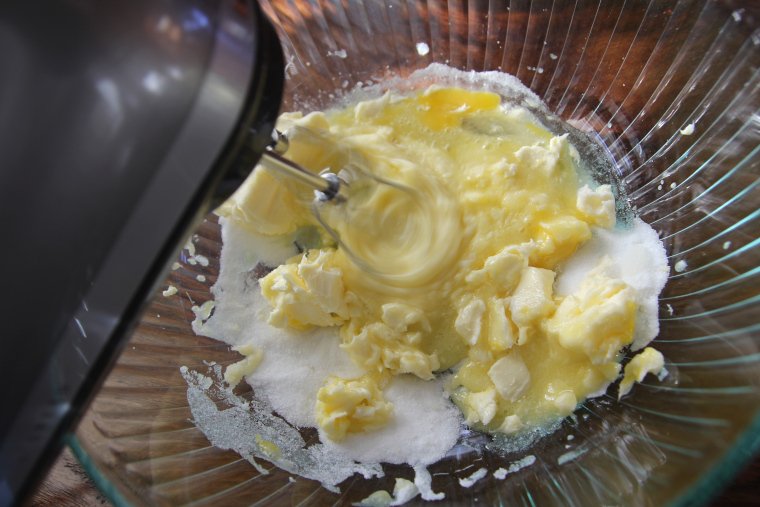 This recipe yields 12 muffins. You can learn how to make the banana muffins using the printable recipe card at the end of this post.
I used half whole wheat flour to make them a little more healthy, but if you don't have whole wheat flour on hand, you can surely use all-purpose.
Can I sprinkle the tops with regular white sugar?
I recommend using raw sugar for the crunchy top on your muffins because it's coarse and adds texture. Coarse sanding sugar would also work.
If you use white granulated sugar, it will just dissolve into your muffin batter while baking–it will not add crunch.
Tips for making Nut & Raw Sugar Topped Banana Muffins
Grease your muffin pan with butter or cooking spray, or use paper liners to prevent your muffins from sticking.
Use ripe bananas so your muffins have enough sweetness.
I like to quickly mash my bananas by using the beaters of my hand mixer to begin mashing (while the mixer is off) then turning the mixer on low speed to finish them off.
For the best texture, don't over-mix your batter.
Use a large cookie scoop to quickly and evenly distribute the batter in your muffin pan.
Allow the muffins to cool in the pans for at least 10 minutes to prevent them from sticking when you remove them.
These muffins freeze really well for a quick breakfast another day! Simply place a frozen muffin on a microwave-safe plate and heat on high for 20-30 seconds or until warm.
Mmm, can you almost smell them? I hope your family enjoys these as much as we do!
More breakfast recipes you will love:
If you make this recipe and love it, I would be so grateful if you would come back to leave 5 stars and a comment. Your feedback is very appreciated!

Tag your photo on Instagram @aberlehome to show me what you made!
I would love to see your finished banana muffins! Tag @aberlehome in your photo on Instagram.