This post may contain affiliate links. See my full disclosure. As an Amazon Associate, I earn from qualifying purchases.
This is our favorite healthy waffles recipe. These multigrain waffles are light and flavorful—a more nutritious breakfast option than normal waffles without sacrificing taste. Dare I say, your kids will love them too.
I have an older post, DIY Christmas Gift: Rustic Multigrain Waffles, where I show you how to turn this recipe into a pretty mix with free printable tags and mini bottles of real maple syrup.
Then it dawned on me that I have never actually shared this multigrain waffle recipe in and of itself—and it's definitely worth sharing.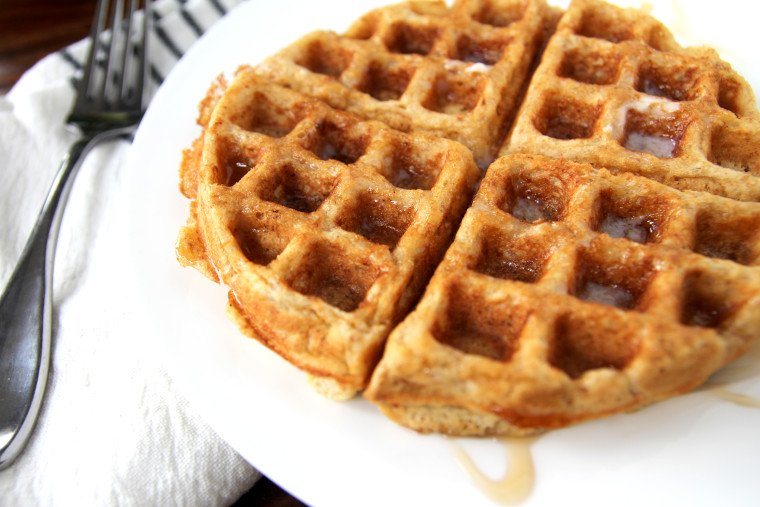 These are crispy on the outside, and moist on the inside.
But best of all, they are more healthy than your average waffle. These contain whole wheat flour, rolled oats, and corn flakes and bran flakes cereals, all of which lend to a wonderfully nutty flavor.
I simply pulse the oats and cereals together in a blender or food processor so they will have the right texture in the waffles.
You can find the full recipe on a printable card below! It's one that you'll want to keep in your breakfast and brunch repertoire to make time and again!
Tips for Making Rustic Multigrain Waffles
You may substitute melted coconut oil for the melted butter for an even crispier texture.
Use this same recipe to make delicious multigrain pancakes in a skillet.
Freeze these waffles in a bag with parchment paper separating each waffle, and toast them to reheat later.
Make sure your waffle iron is completely preheated before you try to cook the first waffle. Spray the surface with cooking spray to prevent sticking, and try not to open your waffle maker before the waffle is cooked.
If you make this recipe and love it, I would be so grateful if you would come back to leave a star rating and a comment. Your feedback is very appreciated!

Follow me on Instagram @aberlehome and tag me on your photo to show me what you made!