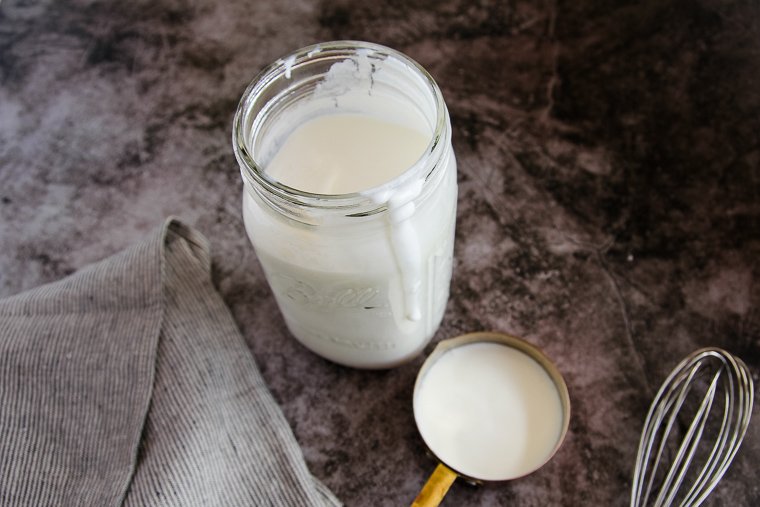 This post may contain affiliate links. See my full disclosure. As an Amazon Associate, I earn from qualifying purchases.
This is no recipe for a buttermilk substitute, ladies and gentlemen. No, this is the real deal. You can make cultured buttermilk inexpensively at home to always have on hand for cooking and baking. And best of all, it will be one of the easiest things you make in your kitchen.
I enjoy making cultured and fermented foods in my kitchen like milk kefir, sauerkraut, lacto-fermented sliced jalapenos, and sourdough breads.
I recently discovered just how easy it is to make homemade cultured buttermilk!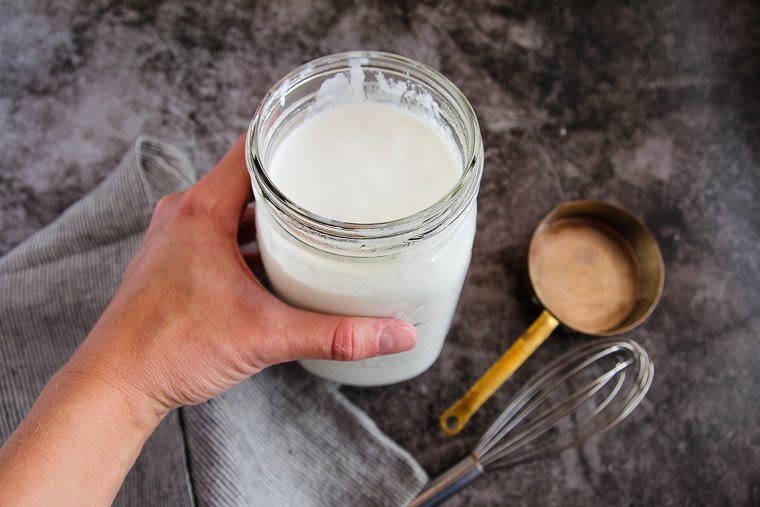 Buttermilk can refer to the liquid leftover when cream is churned into butter. However, the "cultured buttermilk" we purchase from grocery stores is actually milk that has been cultured with lactic acid bacteria.
Cultured buttermilk is a source of healthy probiotics (when consumed fresh) and is very useful for baking!
Real buttermilk works so much better than a buttermilk substitute. Buttermilk makes baked goods light and tender in a way that a mix of milk with lemon juice (or vinegar) just cannot.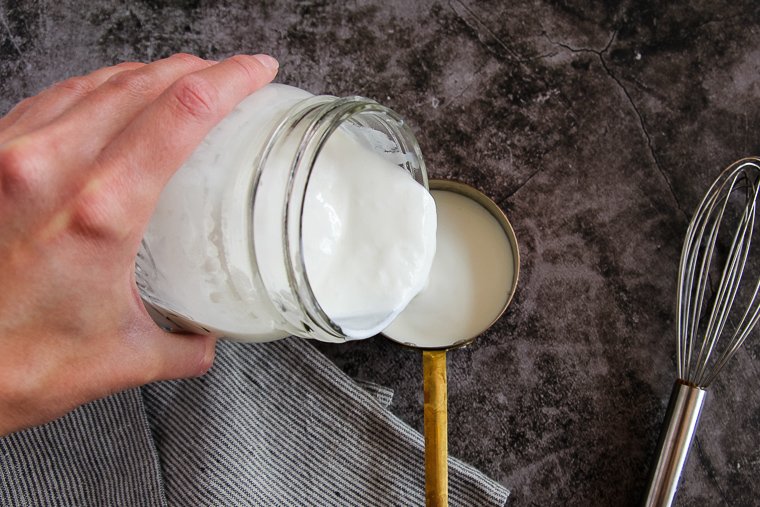 I used to have a hard time remembering to purchase buttermilk from the store for my baking. I would also have trouble using up an entire carton before it expired.
But now, I can culture buttermilk in whatever amount we will comfortably use up for the week. I can quickly make up a new batch as soon as I'm about to run out.
Buttermilk Starter
When making buttermilk, a starter is used to inoculate the milk with the right strains of lactic acid bacteria.
You can actually purchase a starter culture to begin making homemade buttermilk. But I learned a trick… you can just use a small amount of store-bought buttermilk as the starter as long as it says "cultured" on the bottle.
After you make your first batch, just remember to reserve a little to use as the starter for next time. Then you can continue making buttermilk over and over for only the cost of your milk!
Equipment Needed
*Avoid using any metal utensils besides stainless steel for buttermilk making.
How to Make Homemade Cultured Buttermilk
Step 1 – Mix Starter Culture and Milk
The process is so simple.
Start with a clean jar. Put 2 tablespoons of buttermilk in the bottom of your jar for every cup of milk you will be culturing.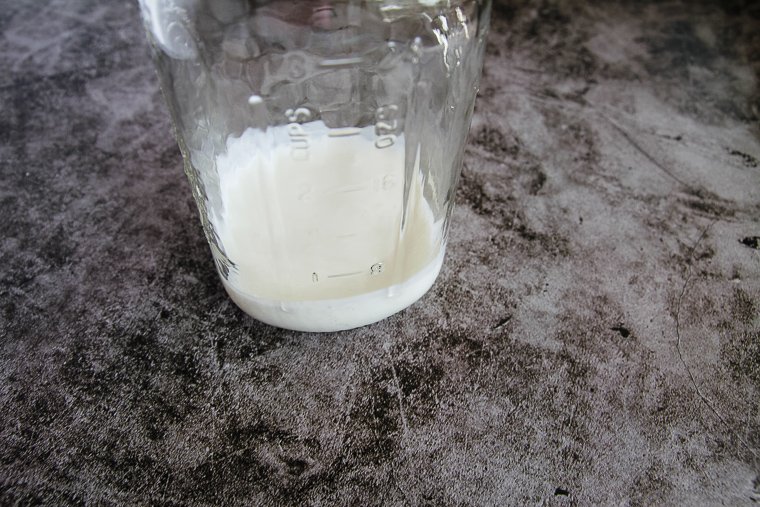 Pour your milk over the top (you can probably measure the milk using the lines on the jar), and stir with a clean spoon.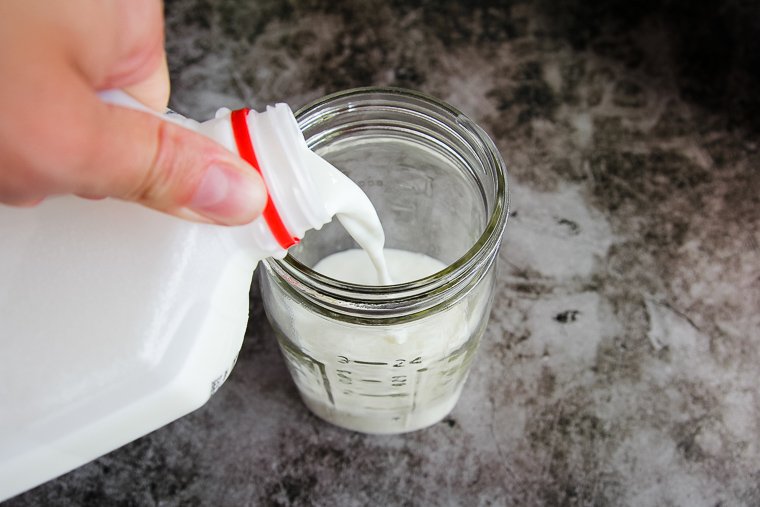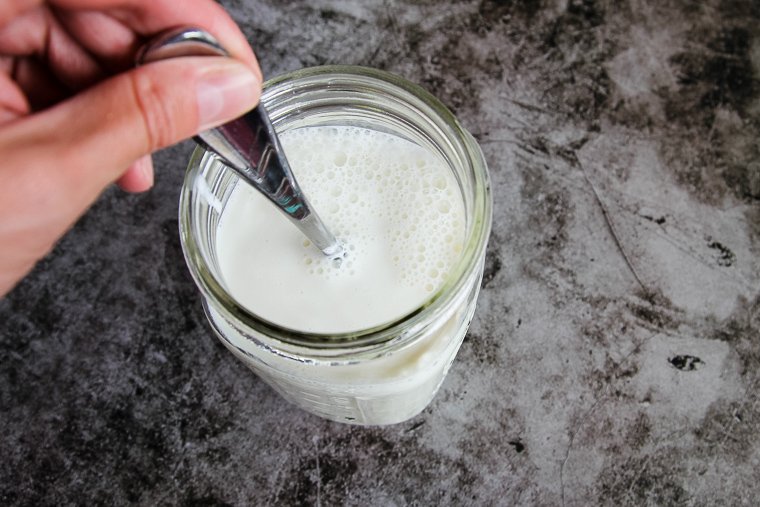 Step 2 – Allow the Milk to Culture at Room Temperature
Place a lid on the jar and tighten it only one turn to allow air to escape. I like these plastic lids because they are so easy to use and wash.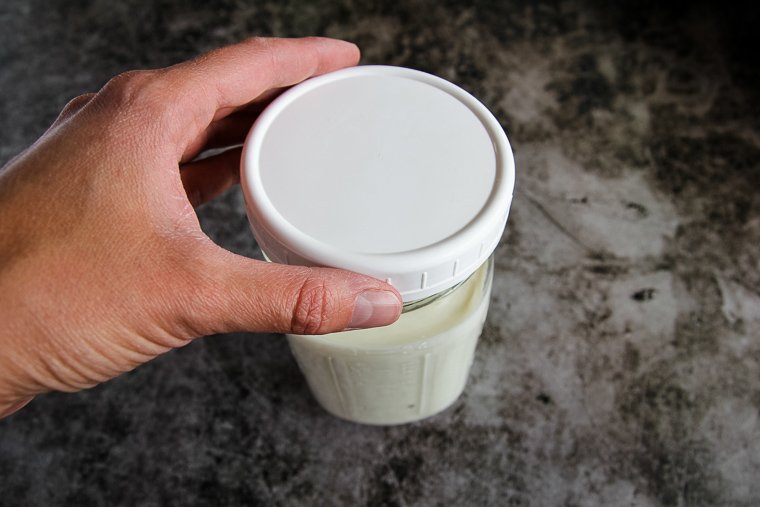 Allow your jar to sit out of direct sunlight at room temperature for about 12 hours. You'll know your buttermilk is done when it has thickened in the jar.
Fermentation happens slower in cooler temperatures and faster in warmer temperatures, so it might take more or less time depending on the temperature in your kitchen.
If you allow the buttermilk to continue to sit after it has thickened, it will eventually curdle and separate, which you don't want.
Step 3 – Store in the Refrigerator Until Ready to Use
When it's finished, simply screw the lid on tightly and transfer the jar to the fridge. So easy!
You can reserve some buttermilk right away to use as a starter for next time, or just remember to save some at the bottom of the jar later.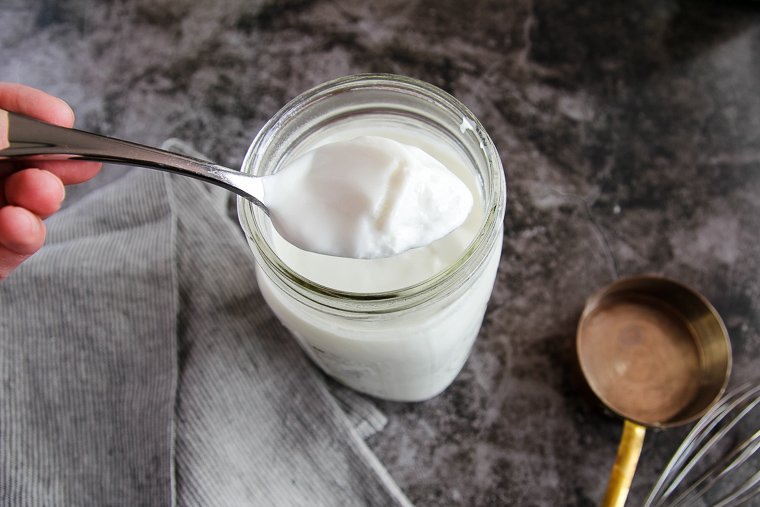 How to Use Cultured Buttermilk
This week I used some of my buttermilk in a batch of pumpkin cupcakes. Buttermilk is wonderful to use in cakes, muffins, biscuits, pancakes, waffles, donuts, and more!
I honestly won't make pancakes without buttermilk anymore after tasting the difference.
Buttermilk is also delicious in homemade creamy salad dressings. Some people even enjoy drinking it fresh seasoned with salt and pepper!
How long can you keep homemade buttermilk in the fridge?
You can store your cultured buttermilk in the refrigerator for up to two weeks before consuming it or using it as a starter to make more.
You can also freeze buttermilk for up to 3 months without killing the live cultures. You can place it back in the refrigerator to thaw when you are ready to use it again.
If you make this recipe and love it, I would be so grateful if you would come back to leave a star rating and a comment. Your feedback is very appreciated!

Follow me on Instagram @aberlehome and tag me on your photo to show me what you made!