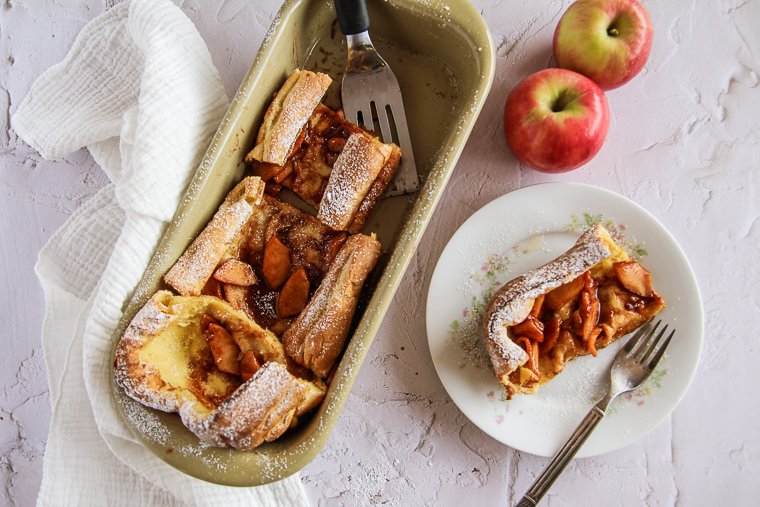 This post may contain affiliate links. See my full disclosure. As an Amazon Associate, I earn from qualifying purchases.
This German apple pancake recipe is a welcome variation on a classic German pancake (also known as a Dutch baby or puff pancake). It puffs up gloriously in the oven and is topped with syrupy cinnamon apples and a dusting of powdered sugar.
It's autumn time. Though up here in the hills, today is our first snowfall. The pellet stove has been going since early morning, and the chickens have been hiding inside their coop.
The kids, of course, had to rush out with boots and coats to play in the fresh snow. What little fall color remains on the aspens is now flocked with white. It's really quite beautiful.
We have been enjoying the return of cozy soups and all the pumpkin and apple recipes that this season brings. This German apple pancake recipe is no exception.
Though puff pancakes look so fancy on the breakfast table, they are actually really easy to whip up. They are known by name as "German" or "Dutch," but they are actually an American creation.
My recipe is loosely adapted from the New York Times Dutch Baby Recipe by Florence Fabricant.
The batter has no leavening as normal pancake batter would, but the higher egg ratio causes the pancake to puff as it bakes–almost like a big popover. I like to add nutmeg, vanilla, salt, and a little maple syrup to my batter to give the pancake even more flavor.
German pancakes are tasty with a variety of toppings. This time of year especially, I like apple slices that have been cooked down with real maple syrup, butter, lemon juice, and ground cinnamon.
This is a perfect weekend breakfast to share with family or friends!
More Breakfast Recipes from Aberle Home
Tips
Avoid using a baking pan that is too large or your batter may set before it has the chance to puff up.
Don't open your oven during the first 17 minutes of baking.
Room temperature eggs and milk, along with preheating your pan, both help the German pancake to puff fully in the oven. You can quickly bring your eggs to room temperature in a bowl of warm water and microwave your milk for about 30 seconds.
Top and serve the German apple pancake right out of the oven. It will begin to deflate as it cools.
Equipment
How to Make a German Apple Pancake
Step 1 – Make the Apple Topping and Preheat the Oven and Baking Pan
I like to start with the apple topping to make sure it's done by the time the German puff pancake comes out of the oven.
Any variety of apple will work just fine. I peel my apple first, quarter it, and cut out the core. Then I cut thin slices from each quarter.
Add the apple slices to a small pan with butter, lemon juice, maple syrup, ground cinnamon, and a pinch of salt, and allow the mixture to cook down until the apples are tender (I like mine to have a bit of a bite to them) and the syrup has reduced.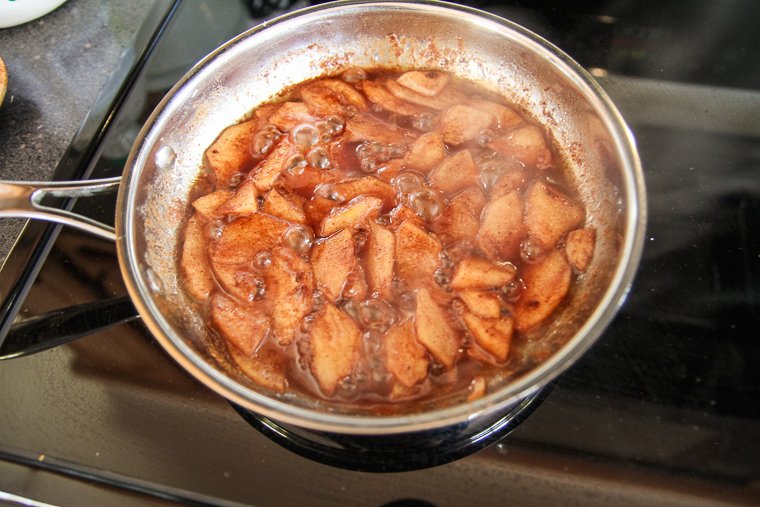 If your apples need more time to cook once the syrup reduces, you can cover the pan, or stir in a couple more tablespoons of water to keep your syrup from becoming too thick.
While you're working on your topping, preheat your oven to 425°F. When it has preheated, place a 10″ cast iron skillet in to preheat for 10 minutes. You can also use a similar-size stoneware pan, like I have used here.
Step 2 – Whisk the German Apple Pancake Batter and Bake
When the pan is almost preheated, you can whisk your eggs, flour, maple syrup, milk, vanilla, nutmeg, and salt until you don't see any lumps. You could also blend the batter, if you would like.
You'll just want to wait to whisk it until right before you're ready to bake it.
Melt the butter in a little dish to get it ready.
When your pan is hot, carefully pull it out of the oven with potholders. Pour your melted butter in first, and tilt the pan to coat the bottom evenly with the butter.
Pour your batter in the pan, right in the center. Use potholders to return the pan to the oven to bake for 17 minutes. Then turn off your oven, and let the German pancake sit in there for 5 more minutes to finish.
Step 3 – Top the German Apple Pancake and Serve
The German pancake should come out of the oven golden brown and quite lofty, but it will settle as it cools. There's always a little melted butter resting on the top of the pancake. I tilt the pan to distribute this evenly over the pancake.
I then proceed to top it with the warm apples and give the whole thing a good dusting of powdered sugar with a fine-mesh strainer.
The German apple pancake recipe will serve 2-4 people depending on the serving size. I find it serves 4 people just fine if I serve bacon or sausage alongside it.
The puff apple pancake is best served hot and fresh out of the oven. I wouldn't recommend that you make it ahead of time. Enjoy!
If you make this recipe and love it, I would be so grateful if you would come back to leave a star rating and a comment. Your feedback is very appreciated!

Follow me on Instagram @aberlehome and tag me on your photo to show me what you made!