This post may contain affiliate links. See my full disclosure. As an Amazon Associate, I earn from qualifying purchases.
Make a lovely spelt banana bread bundt cake with sourdough discard. This recipe is listed by weight for consistency whether you buy the flour or mill it fresh. You'll love the flavor, tenderness, and simplicity of this wholegrain cake.
Call it spelt banana bread or spelt banana cake… it's both at the same time! I love baking banana bread as a cake in a bundt pan and decorating it with powdered sugar.
The cake looks lovely on the table under a dessert dome or sliced. Brunch anyone?
This recipe is loosely adapted from The Clever Carrot's Ultimate Sourdough Banana Bread.
With an ever-so-slight tang from the sourdough discard and sweet nuttiness from the spelt flour, this banana bread has amazing flavor.
This spelt banana bread recipe also works at high altitude!
You may also enjoy making my Strawberry Whole Wheat and Millet Muffins or my Cranberry Banana Bread.
Spelt Flour Vs Regular Flour
Spelt is an ancient wheat that contains more protein and fiber than modern wheat does.
It has a higher proportion of gliadin to glutenin (gluten is made of these two proteins) which means the gluten in spelt flour is weaker/easier to digest.
(Not to mention any wholegrain flour is much more nutritious and satisfying than white all-purpose flour to keep you full longer!)
Spelt flour produces a tender crumb in baked goods while lending a sweet, nutty flavor. It's perfect for healthy banana bread, cookies, muffins, and even spelt waffles.
I mill my own flour from my stash of organic spelt berries.
You can also purchase whole spelt flour to use for this recipe if you don't mill your own.
(Whole wheat pastry flour would be a good substitute if you just can't find spelt.)
Using Sourdough Discard
Sourdough discard adds flavor to the spelt flour banana bread. It doesn't function as leavening in this case.
It's best if the discard isn't too old and acidic.
I personally don't have much discard given the way I maintain my starter. So I'll just feed my starter ahead of time to have enough for the recipe.
Recommended Equipment
Tips for Making Spelt Banana Bread
To prevent the spelt banana cake from sticking to the bundt pan, you'll want to carefully grease and flour the pan before you pour your batter inside. When the banana bread comes out of the oven, allow it to cool in the pan for 15 minutes on a cooling rack. Invert it while holding a plate over the top and give the cake a little shake to see if it will release. If not, allow it to cool for 5 more minutes and try again. (If you wait too long, the cake can stick.)
Use very-ripe bananas for the right sweetness. Oil is used in the recipe instead of butter for the best texture.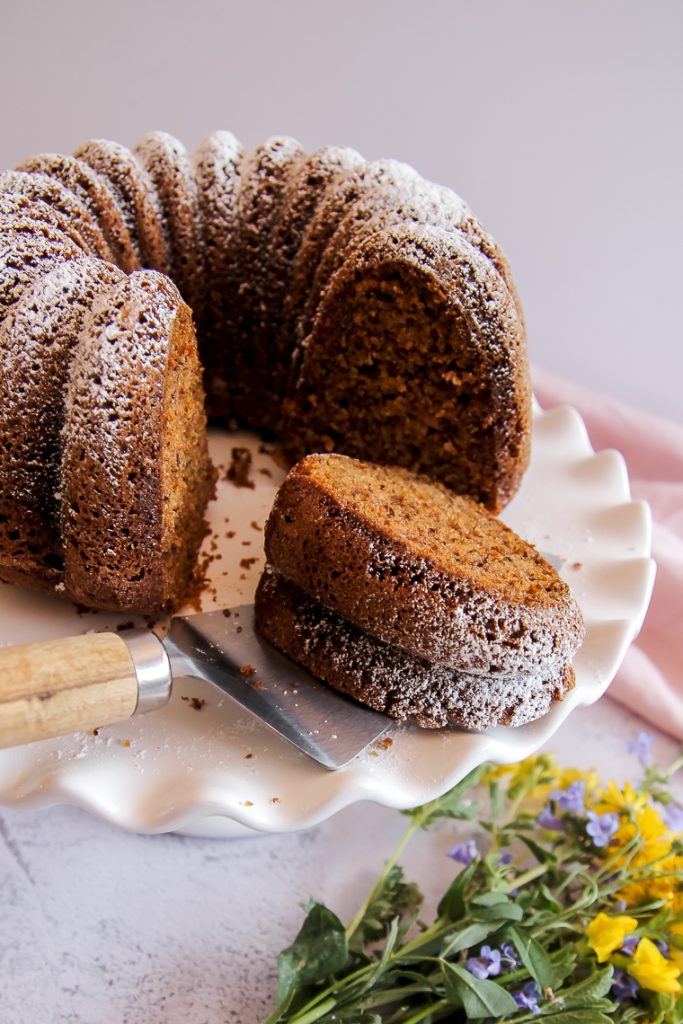 How to Make a Spelt Banana Bread Bundt Cake with Sourdough Discard
Step 1 – Preheat Oven, Butter and Flour Bundt Pan
Preheat your oven to 360°F with a rack set in the center.
Before you mix the batter together, you'll use a pastry brush to coat the inside of your bundt pan with melted butter.
Make sure you grease every indentation.
Then pour in some flour and turn the pan so the flour coats the entire surface.
I knock my pan upside-down over the sink or trash can to remove any excess flour when I'm finished.
The greasing and flouring is very important even if your bundt pan has a nonstick surface.
Step 2 – Mix Batter
For the batter, mix the dry ingredients (spelt flour, baking soda, and salt) in a medium-size bowl and set aside.
In a larger bowl, add bananas, brown sugar, vanilla extract, eggs, and oil. Use a hand mixer and beat on low speed until combined. It's okay if a few lumps remain.
(If you have to whisk by hand, I would suggest you first stir the starter into the milk and oil until it begins to dissolve. Then mix with remaining wet ingredients and finally the dry ingredients.)
Then add the dry ingredients, starter, and milk. Start mixing directly where the starter is sitting in the bowl, and stay in that spot until the starter begins to incorporate.
Then continue mixing around the bowl just until everything comes together.
I like to scrape down the sides and do the final mixing with my rubber spatula to keep from over-mixing the batter.
Pour the spelt banana bread batter into the prepared bundt pan.
Step 3 – Bake the Spelt Banana Cake & Decorate with Powdered Sugar
The spelt banana cake takes about 55-60 minutes to bake. Insert a toothpick or skewer in the center to test for doneness. If it comes out clean, you know the cake is done.
As with any quick bread, over-baking would result in a dry cake.
Remove the bundt pan to a cooling rack and allow the cake to cool in the pan for 15-20 minutes, or just until the cake will release from the pan (see tips section for more about removing the cake from the pan).
Invert a plate, rack, or dessert stand over the cake, then flip everything so the bundt will be right-side-up. A little shake will help the cake release.
Allow the spelt banana bread to cool completely. Then use a small sifter to dust the top with powdered sugar.
This cake will store well in an airtight container at room temperature for 3 days. The cake can also be frozen whole or in slices for up to three months, as long as it's wrapped well.
If you make this recipe and love it, I would be so grateful if you would come back to leave a star rating and a comment. Your feedback is very appreciated!

Follow me on Instagram @aberlehome and tag me on your photo to show me what you made!