This post may contain affiliate links. See my full disclosure. As an Amazon Associate, I earn from qualifying purchases.
These pressed flower bookmarks are a simple nature craft to make, and they are absolutely lovely! We are always looking for ways to use the flowers we collect and press in the spring and summertime.
These bookmarks are finished with Mod Podge, and I love how the Mod Podge preserves the flowers while bringing out their vibrant colors!
If you love this craft, you'll want to check out our Hammered Flower Greeting Cards!
You might also like to try another version of these bookmarks with autumn leaves: Pressed Leaf Bookmarks for Fall
I've included a printable how-to card at the end of this post for your convenience!
Supplies Needed
Flowers and leaves for pressing
Flower press or heavy book with parchment paper
140 lb watercolor paper cut to a 2″ x 6″ rectangle (this weight is important so your finished bookmark doesn't wrinkle)
White school glue, if needed
Flat paint brush
Toothpick
Tweezers, if needed
How to Make Pressed Flower Bookmarks
Step 1 – Press Flowers
Choose flowers for your project that will be able to press flat. Lavender, pansies, violets, daisies, fern leaves, rose petals, and baby's breath blooms all work really well.
Make sure the flowers are in good condition and not moist. Remove stamens if needed so pollen doesn't stain the petals or your project.
Press your flowers in a single layer, face down, between sheets of parchment paper in a heavy book or in a flower press.
Flower Presses to Purchase:
Allow them to press for 7-10 days until they are completely dry and preserved.
Step 2 – Arrange Flowers as Desired
Arrange your pressed flowers and leaves on your watercolor paper rectangle until you are pleased with the arrangement.
The flowers are delicate, so handle them carefully! Try using a pair of tweezers if you are having trouble.
Step 3 – Mod Podge
Now use your Mod Podge to glue your flowers in place on your bookmark.
I like to apply the Mod Podge to the backs of the flowers gently with my paintbrush and stick the flowers in place.
I then use my toothpick to sneak Mod Podge under any flower corners left unglued so they aren't sticking up. Feel free to employ some dots of white school glue if the Mod Podge isn't quite doing the job.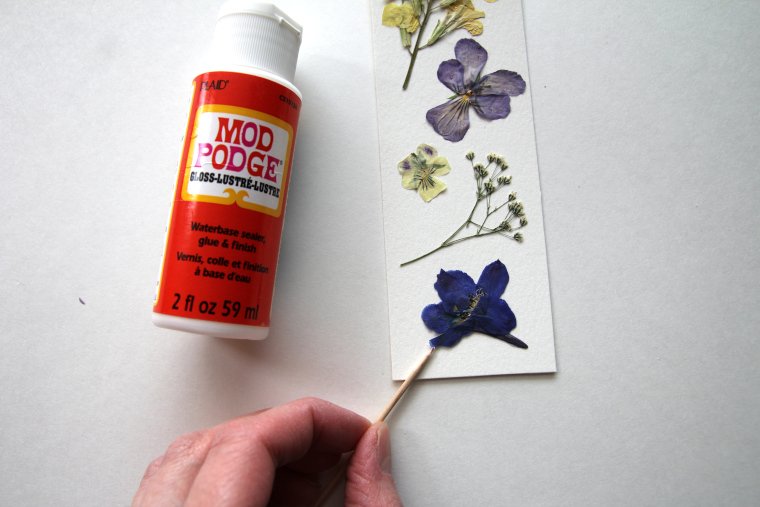 Now use your paintbrush to apply Mod Podge gently over the top of each flower to seal it in place on the bookmark.
Go from the center of your flower outward to avoid bending/crushing the petals.
Wait until the Mod Podge is tacky, and then repeat with one more coat over each flower.
After your second coat is tacky, apply a third coat of Mod Podge, this time over the entire face of your bookmark.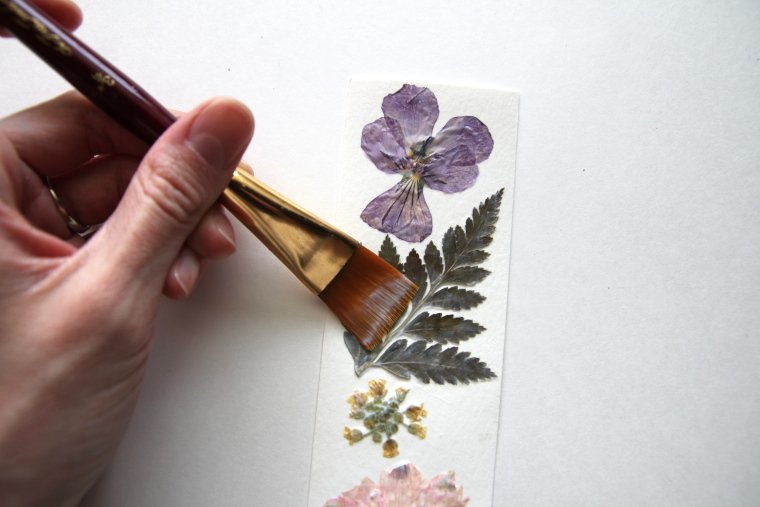 Allow your bookmark to dry completely, and it's done!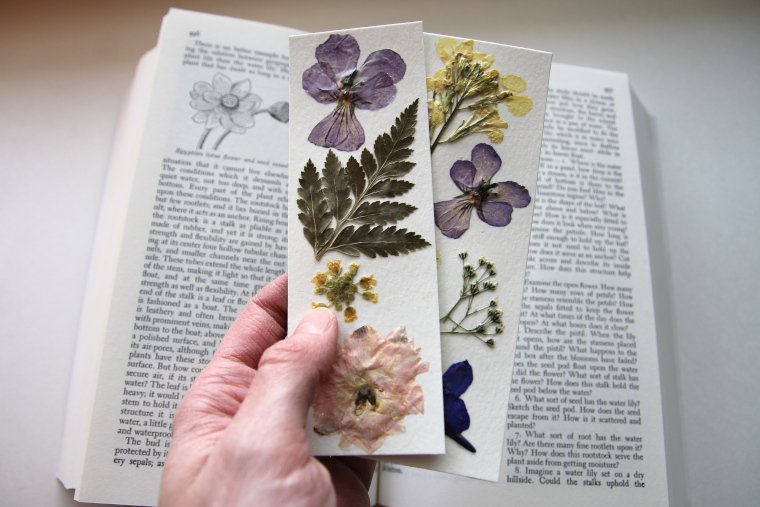 If you make this project and love it, I would greatly appreciate a star rating and review!

Tag your photo on Instagram @aberlehome to show me what you made!