I will show you how easy it is to dehydrate apples in the oven at home! These dried apples turn out soft and chewy with a sprinkling of ground cinnamon and no added sugar or preservatives. They are the perfect healthy snack when apples are in season!
This post may contain affiliate links. See my full disclosure. As an Amazon Associate I earn from qualifying purchases.
Pin for later!
Every time fall rolls around, I'm all about the pumpkins and APPLES!
This past week, I enjoyed making my German Apple Pancake Recipe for breakfast, and also making my own dehydrated apple rings.
You can make dried apples without a dehydrator, it just takes some time in the oven set to a very low heat to make them soft and chewy.
If you have an abundance of apples this autumn, this might be the perfect way to preserve the ones that you can't eat up right away.
Since you'll need the oven on for much of the day, I would recommend you save the project for a chilly day when you could use the extra heat anyway. It will be most economical if you make a lot of dehydrated apples at once!
Tips
Cut all your apples the same thickness so they dry evenly. Cutting the apples in rings works great for this reason. Use a mandolin or an apple peeler, corer, slicer to get the job done quickly if you have a lot of apples to dehydrate.
Any variety of apple will work. I used Fuji apples for sweeter dried apples.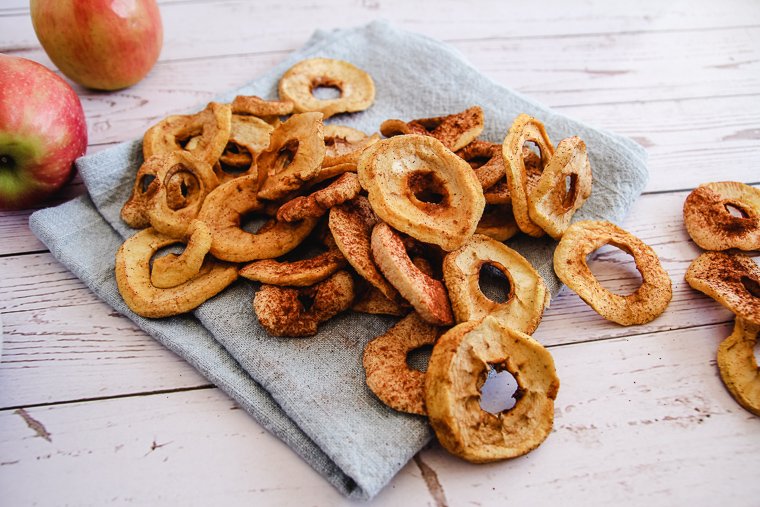 Equipment and Ingredients
How to Dehydrate Apples in the Oven
I chose to peel and slice my apples by hand this time. (You could leave the peel on, if you wanted to.)
If you're peeling by hand, try starting at the top of the apple and working your way down in a circular motion. I found this to be the fastest way.
I sliced my apples in rings and then punched out the cores with the round base of a piping tip. You could also use a small round cookie cutter or something similar to cut out the core.
After you slice your apples, simply arrange them in a single layer on parchment paper-lined half sheet pans. Leave them as they are, or sprinkle the slices with ground cinnamon (or other spices!).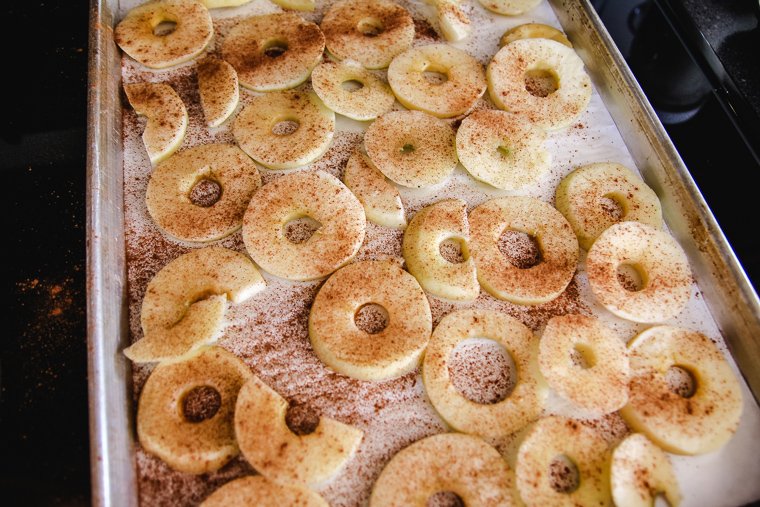 Set your oven to 135°F. My oven only goes as low as 170°F, so I leave the door cracked open to keep the apple slices at the right temperature. If your oven will go as low as 135°F, you can leave your oven door closed.
Bake the apples with the trays staggered on the racks. Flip the apple slices over after 3-4 hours and continues to dry them until they are shriveled to your liking.
They will make your house smell amazing!
How long does it take to dehydrate apples in the oven?
This will depend on how thinly you slice your apples. I sliced mine a bit thicker than 1/4-inch. They took about 8 hours to dehydrate, but they were nice and soft this way.
If your apple slices are thinner than mine, check them after 4 hours to see if they are close to being done.
What to Do with Dried Apples
Our favorite is to eat them as a snack! They don't last long around here.
You can also use them in certain baking recipes or chopped up over oatmeal, cereal, or a green salad.
Remember that since they don't contain preservatives, they won't last as long as store-bought dried apples. If you don't eat them within a few days, you'll want to store them in the refrigerator.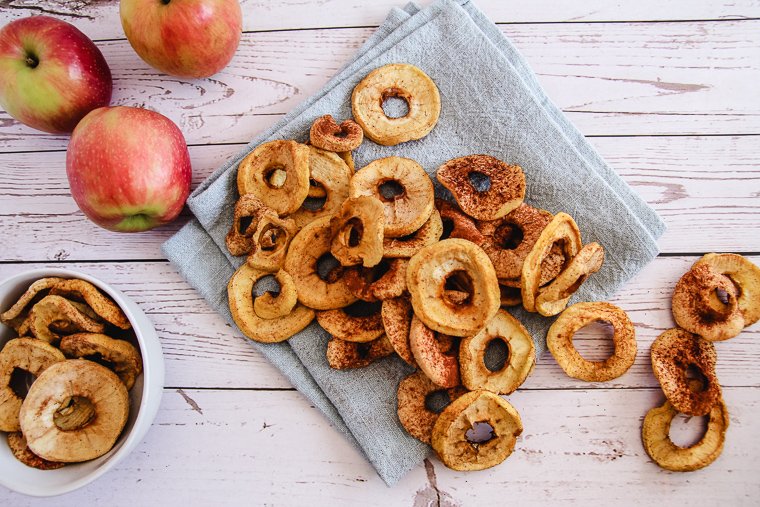 If you make this recipe and love it, I would be so grateful if you would come back to leave 5 stars and a comment. Your feedback is very appreciated!

Tag your photo on Instagram @aberlehome to show me what you made!