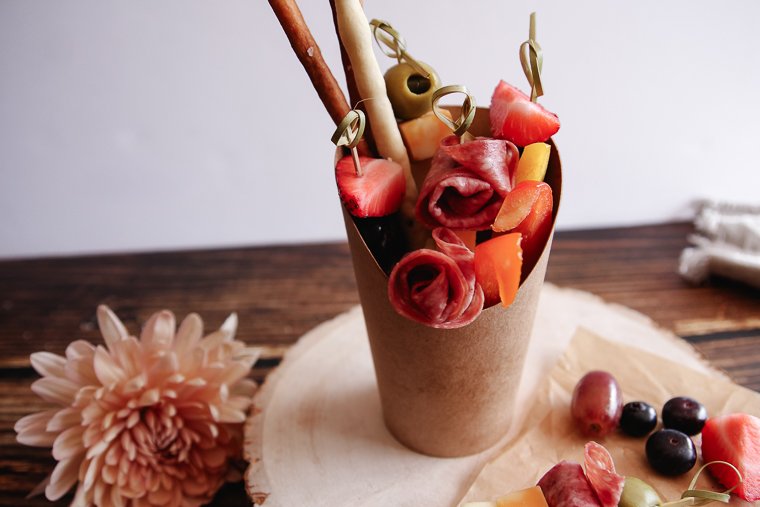 This post may contain affiliate links. See my full disclosure. As an Amazon Associate, I earn from qualifying purchases.
Make easy charcuterie appetizers in a cup! These grab-and-go party snacks can be customized for any holiday or occasion and are a perfect option for charcuterie on a budget.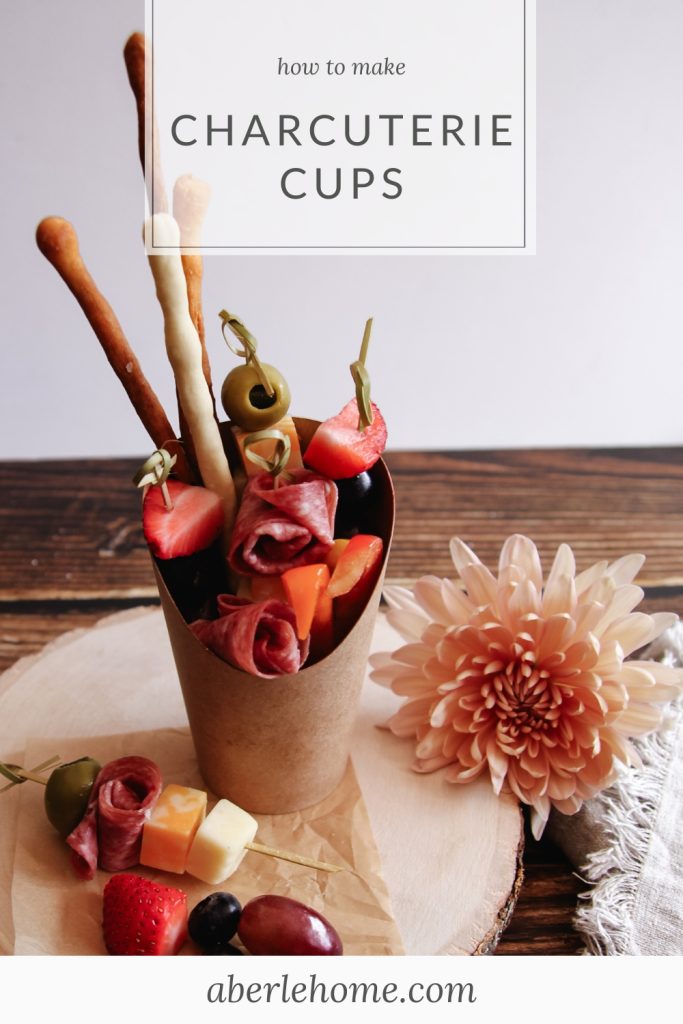 There's just something charming about these colorful appetizers in paper cups!
Charcuterie cups are like personal charcuterie boards with tiny skewers of cured meats, cheeses, crunchy grissini breadsticks (or crackers), fruits, fresh veggies, and more.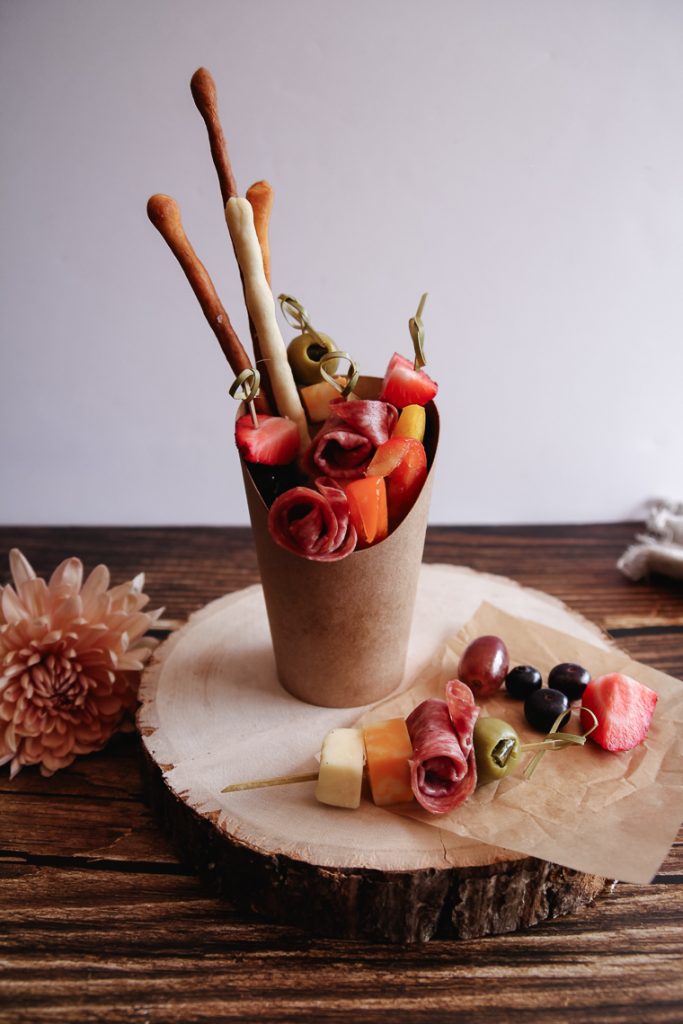 The appetizers take a little time to assemble, but the foods can be prepped ahead of time to make for easy arranging in the cups right before a party.
We made charcuterie cups for my girls' birthday party, and even my girls had the best time skewering the food on the picks with me!
And the best part? Appetizers in a cup are so easy to serve! People will not need to keep returning to a charcuterie board to grab food.
If you're looking for more appetizer ideas, I think these cups would be delicious served alongside some wedges of homemade sourdough naan or sourdough whole wheat pita and hummus.
I also have an easy, crowd-pleasing jalapeño popcorn recipe that makes a perfect appetizer.
Where to Find Kraft Paper Charcuterie Cups
You could certainly use regular plastic cups or even glass jars as charcuterie cups.
I found these cute 12oz kraft paper charcuterie cups on Amazon. They came with plenty of bamboo picks to do the job.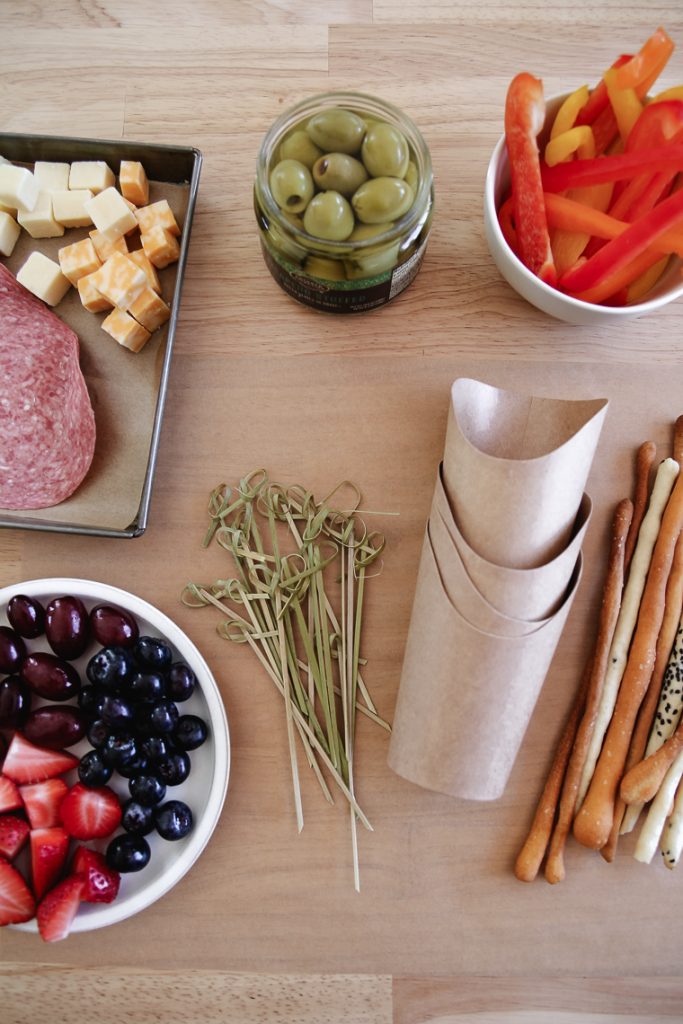 Choosing Cheese for Charcuterie Cups
Choose any cheeses you like for your appetizer cups! It will help if you keep your budget in mind when making selections. I like to include at least two types of cheese for variety.
Pre-cut cheese cubes are the easiest option, but I just purchased blocks of cheese and cubed them myself to save money.
I think mozzarella balls would be really cute and tasty (I would pat them dry first).
Aged cheeses can be difficult to cube and skewer because they tend to crack apart.
I got away with an aged cheddar on my picks, but I had a much easier time with the colby-jack cheese cubes.
If you would like to include aged cheeses, you could always slice them with a cheese knife to tuck them in beside the skewered items.
I would avoid very soft and crumbly cheeses like blue cheese for the appetizers in a cup.
Choosing Meat for Charcuterie Cups
Just like with the cheeses, keep your budget in mind, and select whichever cured or cold cut meats you want to serve!
Salami that is thin is easy to fold or shape into rosettes to skewer. You can use just one kind of meat on your picks, or serve multiple kinds.
Here is a helpful article from Giadzy: Get To Know The Different Types Of Italian Salami!
My genoa salami was thin, but it was in large circles. I had to fold it in half before rolling it into rosette shapes.
Other Foods to Include for Appetizers in a Cup
You can use a variety of foods in the cups with the meats and cheeses depending on your budget, your tastes, and the occasion:
Tall crackers or crunchy grissini breadsticks
Fresh fruits (berries add color and won't oxidize like apples would)
Fresh veggies (thin, tall carrot sticks and long bell pepper slices can be tucked in the cups; cucumber slices or cherry tomatoes can be added to the picks)
Dried fruits (apricots or figs would be delicious)
Nuts
Pitted olives
Pickled foods (patted dry first)
A sprig of fresh herbs or a flower as a garnish (basil leaves could be skewered between tomatoes and cheese)
I kept my appetizers in a cup fairly simple for my kids' birthday party!
I used grissini breadsticks, pitted jalapeño-stuffed green olives, strawberries, blueberries, grapes, and some slices of tri-colored bell peppers.
Prep and Make Ahead Notes
I personally like to add the food to the picks the morning of the party and not any sooner.
Skewering the food the day before can be risky…
The salt in the salami can pull moisture from the cheese if they are skewered together ahead of time; the juice/color from the berries tends to soak into the bamboo picks; the strawberries release juice and soften once they are sliced; etc.
With that being said, the individual ingredients can be washed and prepped the day before!
I like to chill my salami ahead of time even if I bought it in shelf-stable packaging. I found that it releases less of its oils if it's cold while I'm handling it later.
You'll also want to wash and dry any produce you'll be using ahead of time.
To wash berries, I soak them first in a bowl of cold baking soda-water. Then I give them a good rinse and set them on a dinner plate lined with paper towels.
After they dry completely, I place them in containers with paper towels to absorb any condensation and refrigerate them until the next day.
You can also wash and slice veggies ahead of time. Cucumbers can be sliced and then cut in flower shapes with a tiny cookie cutter, if you like.
Since I used homemade grissini breadsticks in my appetizer cups, I baked those the day before as well.
How to Make Easy Charcuterie Appetizers in a Cup
Step 1 – Skewer Your Foods on the Picks (Morning of the Party)
Plan on 3 or 4 picks with skewered foods for one 12-ounce cup (depending on how many loose foods you'll be tucking in the appetizer cups with the picks).
We skewered all of the picks we would need and then placed like-skewers in containers in the fridge for our evening party.
Pat dry any olives or pickles (or other moist foods) before you skewer them. Try to skewer the foods in a visually appealing way (like in a pattern to mix up the colors).
Cheese or other firm fruits/veggies are great to use at the bottom of a pick to hold other foods in place.
Step 2 – Arrange the food in the Charcuterie Appetizer Cups (Right Before Guests Arrive)
Just prior to the arrival of your guests, arrange the food in the cups and set the cups out for serving!
Wash your hands and pull out your prepped foods from the fridge.
Start with some tall crackers or grissini breadsticks in the back of the cups off to one side, then place the prepared picks in the cups.
Leave one or two picks sticking up a bit higher than the others for some visual interest.
One consideration is to clean your hands after handling cheese and salami to avoid leaving grease prints on the outsides of the paper cups. A washcloth placed near the work station is handy!
Finally, tuck in any last foods between the picks or on the edges of the cups until you're happy with the arrangement.
Step 3 – Serve the Easy Charcuterie Appetizers in a Cup
I arranged my finished charcuterie cups together on aluminum baking trays that I had lined with natural-colored parchment paper to match the cups.
I think any large tray (even a woven basket tray) would be perfect to hold the cups as well.
You could also use a large wooden or slate cheese board to display the cups or multiple large natural wood slices set together. A cake stand could be nice to add height to your display.
You could optionally place a few fresh flowers or confetti on the tray between the cups for added decoration.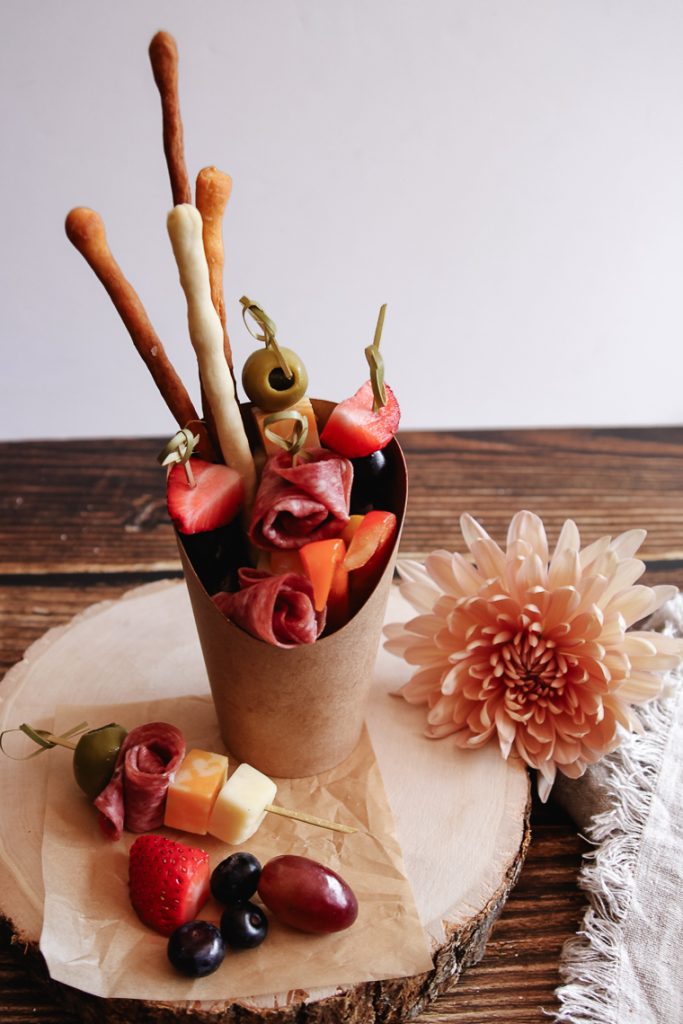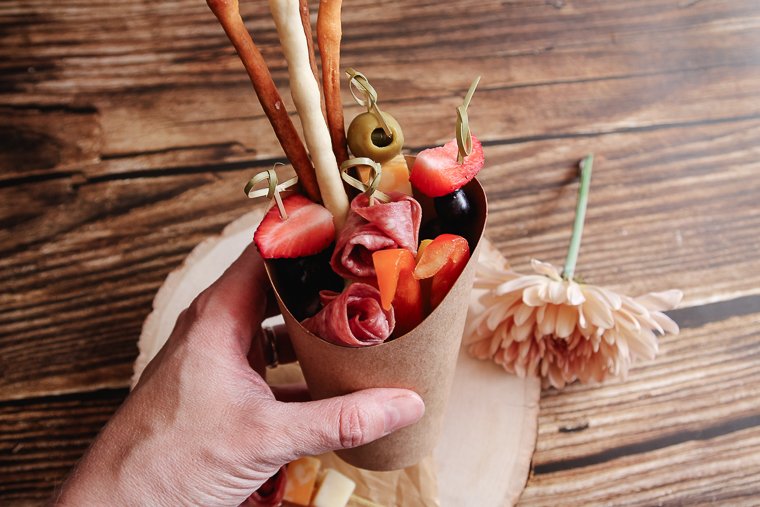 If you make this recipe and love it, I would be so grateful if you would come back to leave a star rating and a comment. Your feedback is very appreciated!

Follow me on Instagram @aberlehome and tag me on your photo to show me what you made!