This post may contain affiliate links. See my full disclosure. As an Amazon Associate, I earn from qualifying purchases.
Wholegrain maple oat sourdough bread is softened with an easy oatmeal porridge. A one-day baking schedule makes this healthy recipe even better! Freshly milled flour can be used for optimal flavor and nutrition.
This oat porridge bread recipe marries the health and flavor benefits of both sourdough and wholegrain flour!
With all the fiber and nutrition this sourdough bread contains, I love offering it as breakfast for my girls before the start of our homeschool day.
We also enjoy it as a sandwich bread or to serve alongside dinner.
This recipe is vegan with no eggs or dairy.
It comes out with the perfect soft and chewy texture thanks to the oatmeal porridge, extra virgin olive oil, and real maple syrup.
And of course, there is no yeast since it is naturally leavened with sourdough starter.
This recipe yields two pan loaves since the bread freezes beautifully, but you could always cut the recipe in half if you only want one loaf.
Starter Notes
If you use a properly maintained starter right at its peak, your bread should be only mildly sour.
You can use a white flour starter or a whole wheat starter. You can also refresh a portion of your white flour starter with whole wheat flour in preparation for this recipe.
No Stretch-and-Folds
No stretch-and-folds are required during bulk fermentation. The hands-off rise time can be so helpful on busy days.
The dough comes together best in a mixer with a dough hook. I use my Bosch Universal Plus mixer. It handles large batches of dough well.
The kneading properly develops the gluten in the wheat for the perfect soft, yet slightly chewy, texture.
Oat and Flour Notes
I use quick oats because I like the texture best for this maple oat sourdough bread.
It only takes a minute of cook time to prepare them for the recipe. I roll the loaves in more oats after shaping.
As I've already mentioned, I mill my own flour with my countertop stone mill.
I've tried both hard red spring wheat and hard white wheat berries for this recipe, and both are delicious! (Pictured is this post is hard white.)
Hard white wheat is still a whole grain, however it has a lighter color and more mild flavor than traditional red wheat.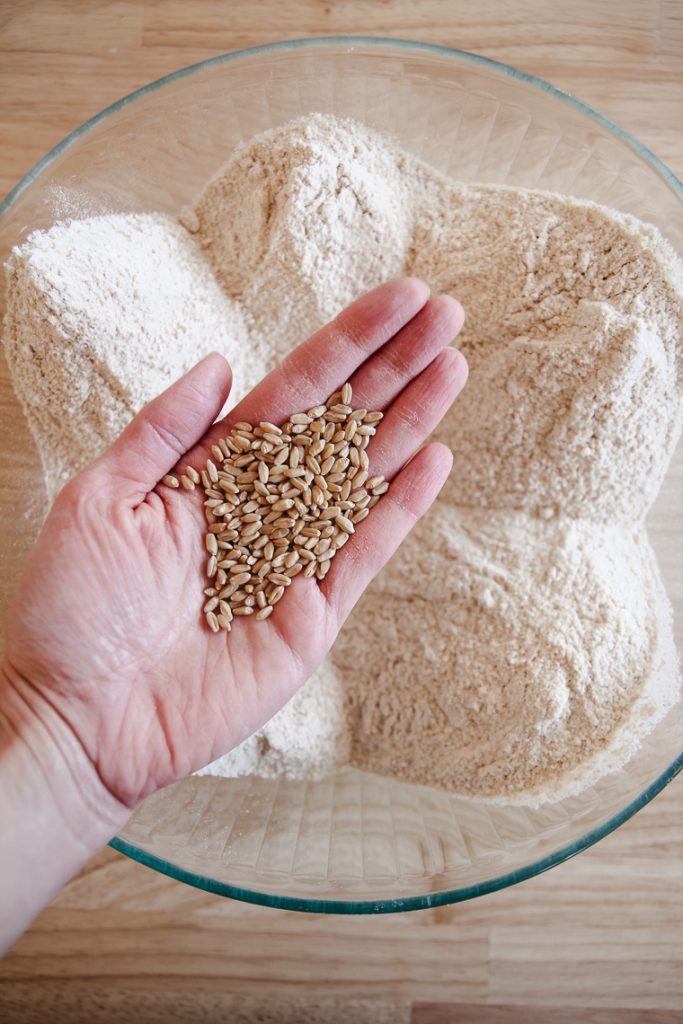 Of course, you can purchase whole wheat flour or white whole wheat flour if you don't mill your own.
Maple Oat Sourdough Bread Baking Schedule
Although you can retard the dough in the fridge overnight after bulk fermentation (cutting bulk a little shy of doubling), I prefer to keep to a one-day schedule for the most mild sourdough flavor.
*The temperature of your dough and kitchen will affect how long each step will take.
I bulk fermented and proofed between 69 and 77°F with a final dough temp of 74°F after kneading. If your dough/kitchen is cooler, expect the dough to rise slower.
Approximate timing:
Autolyse flour (oat porridge is prepared at this point): 1 hour, 5 minutes
Mix remaining ingredients and knead: 20 minutes
Warm bulk rise: 5 hours, 15 minutes
Divide and shape: 10 minutes
Proof (77°F): 2 hours
Bake: 45 minutes
I fed my starter right before bed with a higher ratio of flour and water to starter so it was ready to go the next morning after the autolyse.
I started the dough early in the morning and baked almost 9 hours later.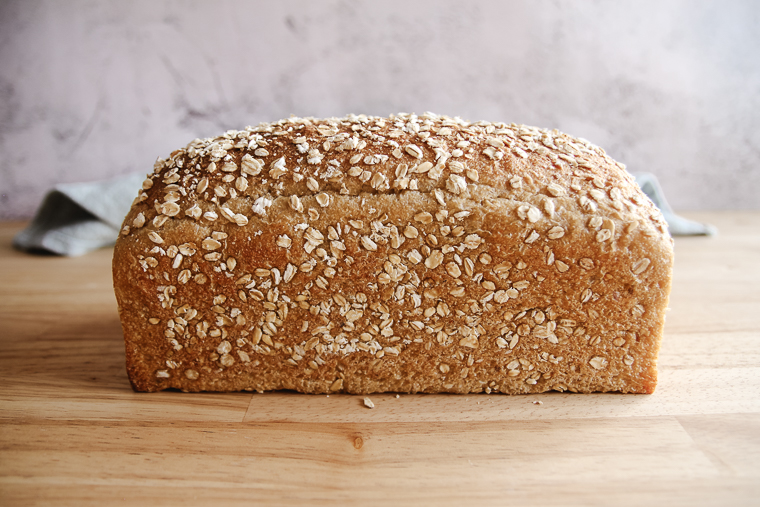 Tips for Making Maple Oat Sourdough Bread
Use a hard wheat flour for this recipe (I imagine you could replace a portion of the flour for a different kind of wheat or other grain, but I haven't tested this yet). If you are milling your own wheat, mill on the finest setting.
Watch the hydration and knead to a dramatic windowpane for the best texture! Without proper gluten development, your bread will achieve less rise and have a more dense, crumbly texture. I share details in the step-by-step instructions below.
Make sure your starter is healthy and at its peak when you add it to the recipe.
If your home is chilly, it might be worth placing your dough in the microwave with the door ajar so the light can keep your dough warmer.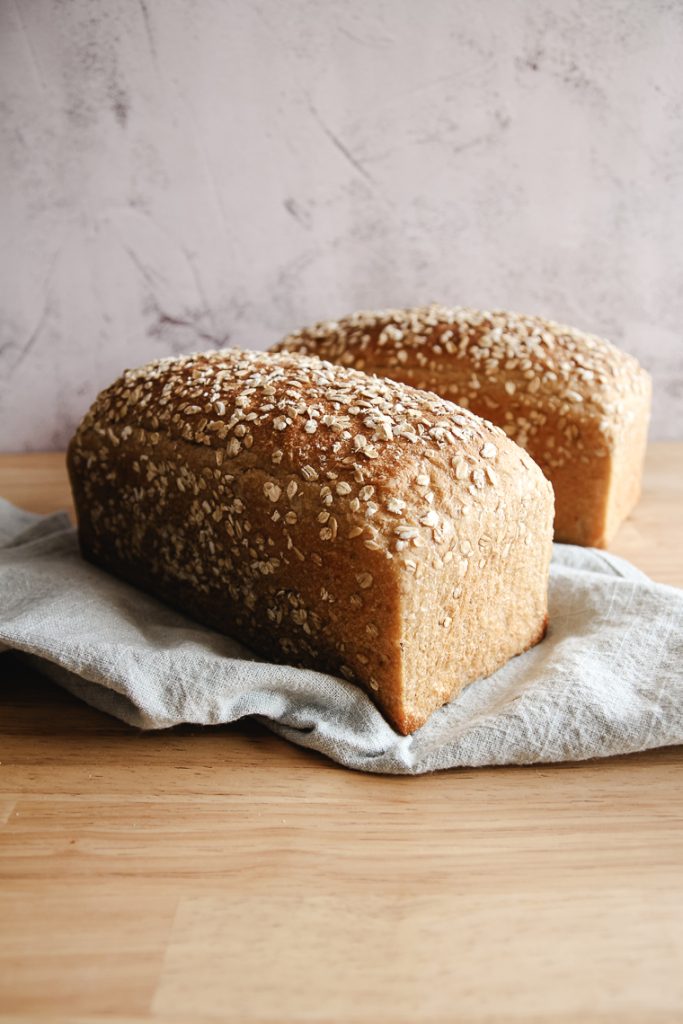 Recommended Equipment
Digital kitchen scale (this one is my favorite)
Mixer fitted with a dough hook (I love my Bosch Universal Plus for bread; sometimes KitchenAid motors give out with larger batches of wholegrain dough)
4-quart Cambro container and lid for bulk fermentation (or a large bowl)
USA small pullman pans (can be used with or without the lids; a standard-size loaf pan can also be used if that's what you have)
Instant-read thermometer to test dough temp and doneness (this one is my favorite)
Cooling rack
How to Make Maple Oat Sourdough Bread – Step by Step
Step 1 – Mill Flour, Autolyse, and Make the Oat Porridge
Since my flour is so warm after milling, I add cold water to keep it from fermenting too fast. If you are using store-bought flour, you can use lukewarm water.
Add the real maple syrup and 550g of water and mix until all the dry flour is absorbed. Cover and let the mixture rest for 1 hour (autolyse).
This rest helps the flour to fully absorb the water and begin to develop gluten for easier kneading. The dough will be quite stiff at this point.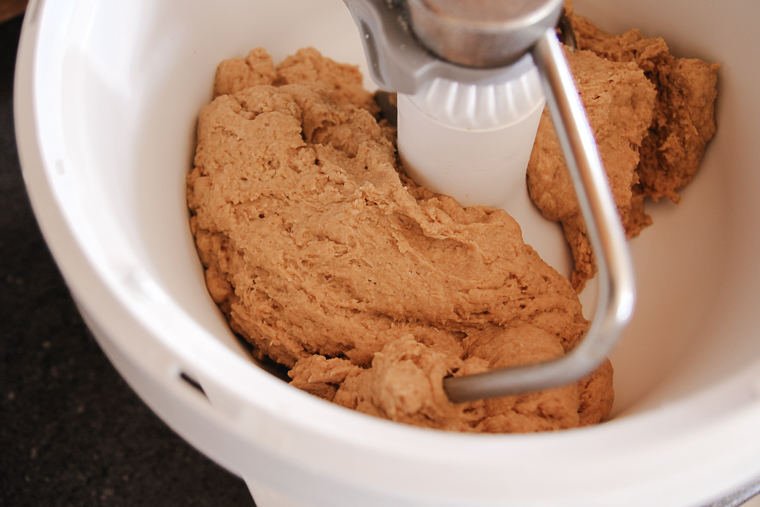 Meanwhile, you want to prepare your oat porridge so it has time to cool down before you add it to the dough.
Just add quick oats and water to a cereal bowl and microwave for 1 minute on high. (You can do this on the stove, if you like).
The cooking process softens the oats so they won't pull moisture from the dough.
Cover the bowl with plastic wrap and set it aside.
Step 2 – Mix in Remaining Ingredients and Knead
After the dough has rested, mix in the oat porridge, starter, olive oil, and salt.
Once the dough has come back together, it's time to knead the dough.
I want to point out that flour can be fickle as far as how much water it is willing to absorb.
There can be protein differences between aged flour, freshly milled flour, batches of flour, and so forth. So we're going to hold back some of the water at first and see if our dough can handle more.
We want the dough to be as hydrated here as we can get it without it being so loose that we have to do an extraneous amount of kneading.
Another benefit of adding less water at the beginning of mixing is that the dough ultimately develops its gluten structure faster and easier.
My method for achieving proper hydration/gluten development:
Knead on low speed, and increase the speed only if your mixer is lagging. After the first 5 minutes of kneading, observe how the dough is behaving in relation to the bowl.
If it's cleaning itself off the sides of the bowl at this point and is tightening up (pictured below), it can likely handle more liquid (if it's still sticking at all to the bowl after 5 minutes of kneading, however, do not add additional water!).
Add in 10 grams of water and knead. (Any time you add more liquid, it will take the dough a minute come back together.)
Check the dough again. If it's still cleaning itself off the bowl, add 10 grams more water. If it's at all sticking to the bowl, do not add additional water.
I like to stop at 570 grams of water.
At this point (for my flour) the dough is still cleaning itself off the sides of the bowl and hasn't become unworkably sticky, but it has loosened considerably as if it could almost begin sticking any moment. It's extensible, meaning if I were to pull on it, it would not feel "tight" like it's resisting me.
Once you feel your dough has reached the proper consistency, continue kneading for a few minutes until the dough can be pulled to a thin windowpane with damp fingers (especially after it rests for a minute or two).
I kneaded for a total of 10 minutes, which is not bad for freshly milled flour!
Step 3 – Bulk Ferment (Double in Volume)
After your oat sourdough bread dough is done, dampen your hands.
Pull the dough carefully from the mixing bowl and form it into a rough ball. Place it in a container for bulk fermentation (the first rise).
I've been using this 4-qt Cambro container for my doughs lately. It's so much easier to judge how much the dough has grown. I mark the starting point with a dry-erase marker.
You can definitely use a large covered bowl if that's what you have!
Step 4 – Grease Pans, Divide & Shape
I use USA small pullman pans without the lids for this recipe (I like the shape it gives my slices). You can use the lids if you like.
Standard-size loaf pans are fine too! The bread will just show taller above the rims.
Grease your baking pans of choice with olive oil or softened butter. I just use a folded piece of paper towel to apply.
Next, turn out your dough onto a lightly floured surface–do not degas it.
Use a bench scraper to divide it in half (you can weigh each half if you want your loaves to be exactly the same.)
Make sure there's still a little flour under the first half of the dough.
Fold the two sides over each other like a sideways letter. Then gently roll the dough down from the top (starting with an open edge) into a cylinder-shaped loaf.
Repeat with the second half of the dough.
To top with oats: pat the loaves with a little water.
Sprinkle your counter with some quick oats, then roll the loaves through the oats so they adhere to the tops and sides of the loaves.
Gently set your loaves top-side-up into the prepared baking pans. Do not press the loaves down into the pans.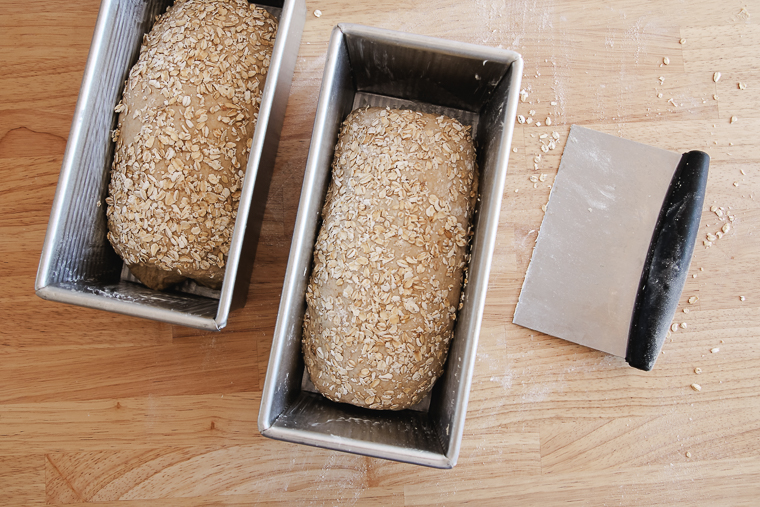 Step 5 – Proof
Cover the pans with plastic wrap, and allow the loaves to proof in a warm place until the dough is just below the top rims of the pans.
If you're using standard-size 1-lb loaf pans, the loaves will need to rise (possibly an inch) above the level of the pans. Do the poke test to determine when the loaves are fully proofed.
Don't forget to preheat your oven to 425°F before the bread is done proofing.
Step 6 – Bake the Maple Oat Sourdough Bread
Bake for 15 minutes at 425°F, and then without opening your oven door, lower the temperature to 375°F for the last 30 minutes.
The bread should reach an internal temperature of at least 200°F when it's done. You can test the centers with an instant-read thermometer.
Allow it to cool completely before slicing or storing. You can turn the loaves out of the pans after they cool for 10 minutes or so.
How to Store Maple Oat Sourdough Bread
This bread will stay fresh wrapped on the counter for about three days. Toasting will revive it if it has started to dry out.
It freezes very well whole or sliced. Leave a frozen loaf at room temperature for several hours to thaw (you can first microwave it until mostly thawed if you're in a hurry to use it.)
If you make this recipe and love it, I would be so grateful if you would come back to leave a star rating and a comment. Your feedback is very appreciated!

Follow me on Instagram @aberlehome and tag me on your photo to show me what you made!