This post may contain affiliate links. See my full disclosure. As an Amazon Associate, I earn from qualifying purchases.
Cranberry walnut sourdough bread? Yes, please. This lightly enriched artisan bread is bursting with flavor from sweetened dried cranberries, toasted walnuts, and a little whole grain wheat and rye flours. You'll love adding this showy bread to your table.
Sourdough Guides for Beginners:
One day a few months back, our neighbor gifted us a loaf of seasonal cranberry walnut bread from Costco. The bread was such a treat!
So of course, I was inspired to develop my own sourdough version.
I included a little olive oil and sugar for a tender crumb and a little sweetness. Whole wheat and rye flours add another dimension of color and flavor to an otherwise white loaf.
I like to toast my roughly chopped walnuts in a skillet ahead of time and allow them to cool. This gives them extra crunch and nuttiness.
The dried cranberries and walnuts are added during the first set of stretch-and-folds. This way they go in after the autolyse and mixing so they won't impede the gluten developing–but not so late in the process that the dough deflates.
This cranberry walnut sourdough bread recipe is a perfect choice for the holidays, but it's just as special any time of the year.
This past week we enjoyed it on a chilly evening alongside a cheesy potato soup with ham and kale.
Recommended Equipment
Cranberry Walnut Sourdough Bread Baking Schedule
Feed your starter several hours prior to baking the recipe and allow it to peak.
I fed my starter early in the morning and started my dough in the early afternoon on day 1.
You'll bake on day 2.
Approximate timing:
Autolyse: 1.5 hours
Mix dough: 10 minutes
Bulk rise: 4 hours
Shape: 35 minutes
Cold Proof: overnight (12 hours+)
Bake: 30 minutes
*The strength of your starter and the temperature at which you keep the dough will affect how long each step will take. For your reference, my ambient temperature was 77°F and my dough temperature was 74°F at the start of bulk fermentation.
Tips for Making Sourdough Cranberry Walnut Bread
If you don't have rye flour, feel free to substitute with more whole wheat flour.
Dampen your hands before handling the dough to prevent sticking.
How to Make Sourdough Cranberry Walnut Bread
Step 1 – Autolyse and Prepare Walnuts
Since I mill my own whole grain flours, I do that first and add them to my all-purpose flour. I use an organic all-purpose flour that's 11.5% protein (another great Costco find).
After you weigh out your flour and water, mix them together until no dry flour remains. Then cover and allow the mix to sit for 1.5 hours.
Meanwhile, go ahead and toast your walnuts in a small skillet set over medium heat, stirring often, until they are fragrant and lightly golden.
This will give them time to cool off before they are added to the dough.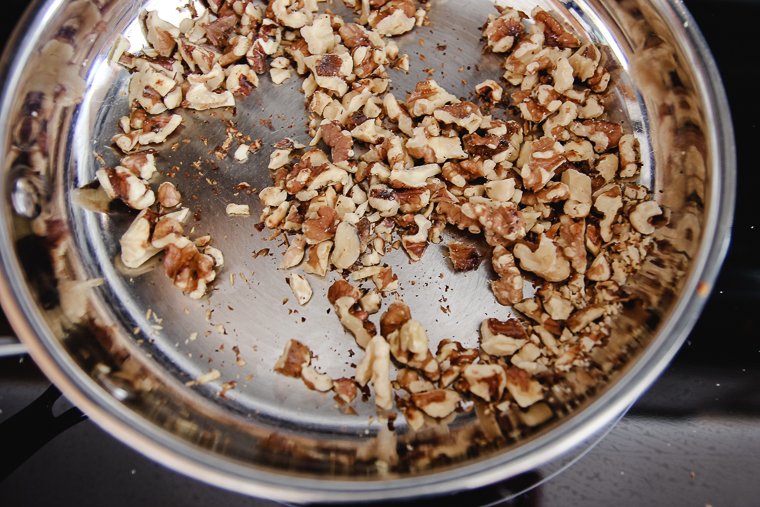 After the autolyse, the dough will have relaxed in the bowl as you can see below.
Step 2 – Mix and Bulk Ferment (Add Inclusions)
At this point, the ripe starter, salt, sugar and olive oil can be mixed in by hand. Continue stretching the dough in the bowl for a few minutes after mixing to develop strength.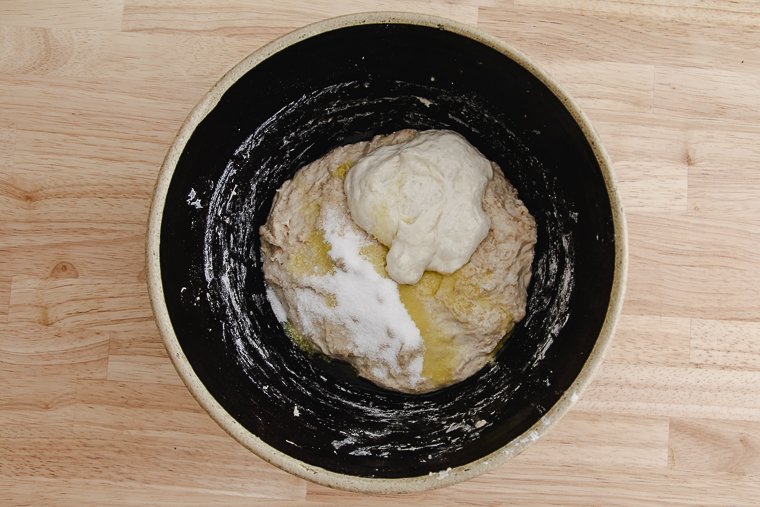 Now marks the beginning of bulk fermentation. Cover the dough and allow it to rest for 30 minutes in a warm place.
After 30 minutes, the dough will have relaxed again in time to add the inclusions.
Sprinkle in a portion of the cranberries and nuts with each stretch-and-fold as you work your way around the bowl.
After the cranberries and nuts are incorporated, cover the dough again.
Perform two more sets of stretch-and-folds at 30-minute internals, then allow the dough to rest undisturbed for the remaining 2.5 hours of bulk fermentation.
You'll know that bulk is done when the dough has increased in volume, wobbles when the bowl is bumped, and has a few large bubbles on the surface.
For the temperature of my kitchen, the total time was about 4 hours.
Step 3 – Preshape, Shape and Cold Proof
Without deflating the dough, turn it out onto a clean surface using a flexible dough scraper.
Use a bench scraper to preshape the dough into a round. Here is a helpful video, but note that you won't need to divide your dough since you're only making one loaf.
Allow the round to rest uncovered for 30 minutes. This time will allow the surface of the dough to form a skin for easier handling when it's time for the final shaping.
I shaped mine into a round loaf (boule). Here's another video if you are new to shaping bread.
Dust your proofing basket liberally with flour before inverting your loaf inside. A fine mesh strainer makes dusting easy. I use a mix of rice and wheat flour.
I like to sprinkle some semolina flour on the bottom of the loaf for texture.
Cover your loaf before sticking it in the refrigerator to proof overnight. I like to place my basket right into one of these plastic bread bags to keep it from drying out. (I'll store the finished loaf in the same bag the next day after baking.)
Step 4 – Bake
The next morning, preheat your oven to 475°F with a Dutch oven right inside.
When the oven is hot, remove your dough from the fridge and invert it onto a sheet of parchment paper.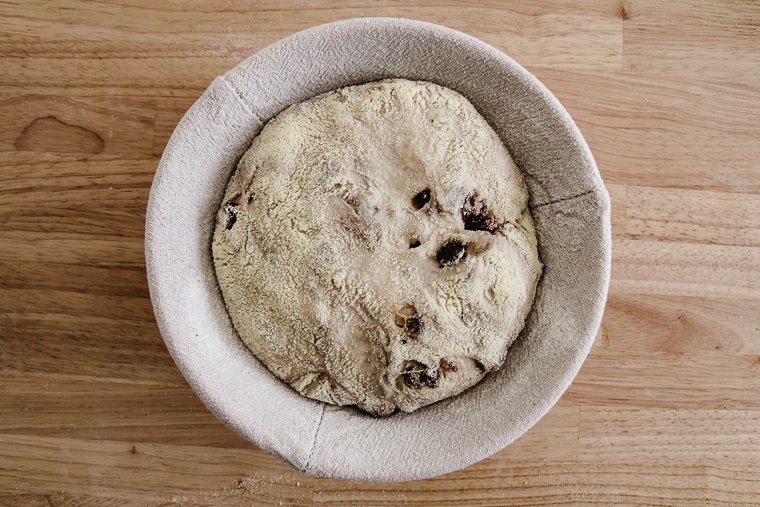 You can score your dough any way you like. I chose to score the dough in the shape of two parentheses following the curve of the loaf.
It can be difficult to score little details in this case because the lame can get stuck on the fruit/nuts.
Transfer your loaf into the hot Dutch oven. Bake covered for the first 20 minutes for steam. Then uncover the loaf, reduce the oven temperature to 450°F, and continue to bake until it's deeply golden.
(Since I'm baking at high altitude, I actually don't decrease my oven temperature or it will take forever to brown.)
Transfer the finished loaf to a cooling rack. Ideally, you'll want to let it cool completely before you slice into it.
This bread freezes well if you want to save some for another time!
If you make this recipe and love it, I would be so grateful if you would come back to leave a star rating and a comment. Your feedback is very appreciated!

Follow me on Instagram @aberlehome and tag me on your photo to show me what you made!