This post may contain affiliate links. See my full disclosure. As an Amazon Associate, I earn from qualifying purchases.
We love autumn in our home and everything the change in seasons brings! I am having so much fun planning out some fall crafts for our homeschool this year, and I'm excited to share this awesome list of handicrafts with you!
No matter the ages of your kids, I'm sure you'll find something in this roundup of fall crafts for your homeschool.
Many of these would make beautiful decorations this season, or are practical fall handicrafts to use and enjoy–some for years to come!
Related Post: The Perfect Thanksgiving Craft to Teach Gratitude to Your Kids
What's fall without a good turkey craft? I love the look of these with their painted feathers! I can imagine these on our Thanksgiving table.
These bookmarks are from yours truly. We have made these bookmarks multiple times, and we love how simple and beautiful this craft is to make!
This craft is perfect for little ones! There is a free download for the tree trunk. I'm sure the template would also work well with daubers, dot markers, or fingerprints too.
Aren't these pumpkins the cutest?! She has templates to easily cut the felt pieces, and she even has a trick to be able to use the pumpkins year after year.
These beautiful polymer clay leaves can be used as gift tags, for wreaths or garlands, or for ornaments to hang on bare branches (she even has an idea to stamp words on them to hang on a thankful tree).
For another versatile leaf project, learn how to preserve autumn leaves in beeswax. You can make a whimsical garland or use them to decorate your autumn table. The leaves will keep for years to come!
These fleece blankets are simple to make and washable. Perfect to keep in the car for chilly fall outings. Her tutorial makes the process very straightforward.
Learn how to make these pumpkins out of strips of construction paper! She explains how you could use her same instructions with scrapbook paper and twine!
I can't tell you how much I love these leaf animal collages! Your kids could get so creative with these and craft any animals they want.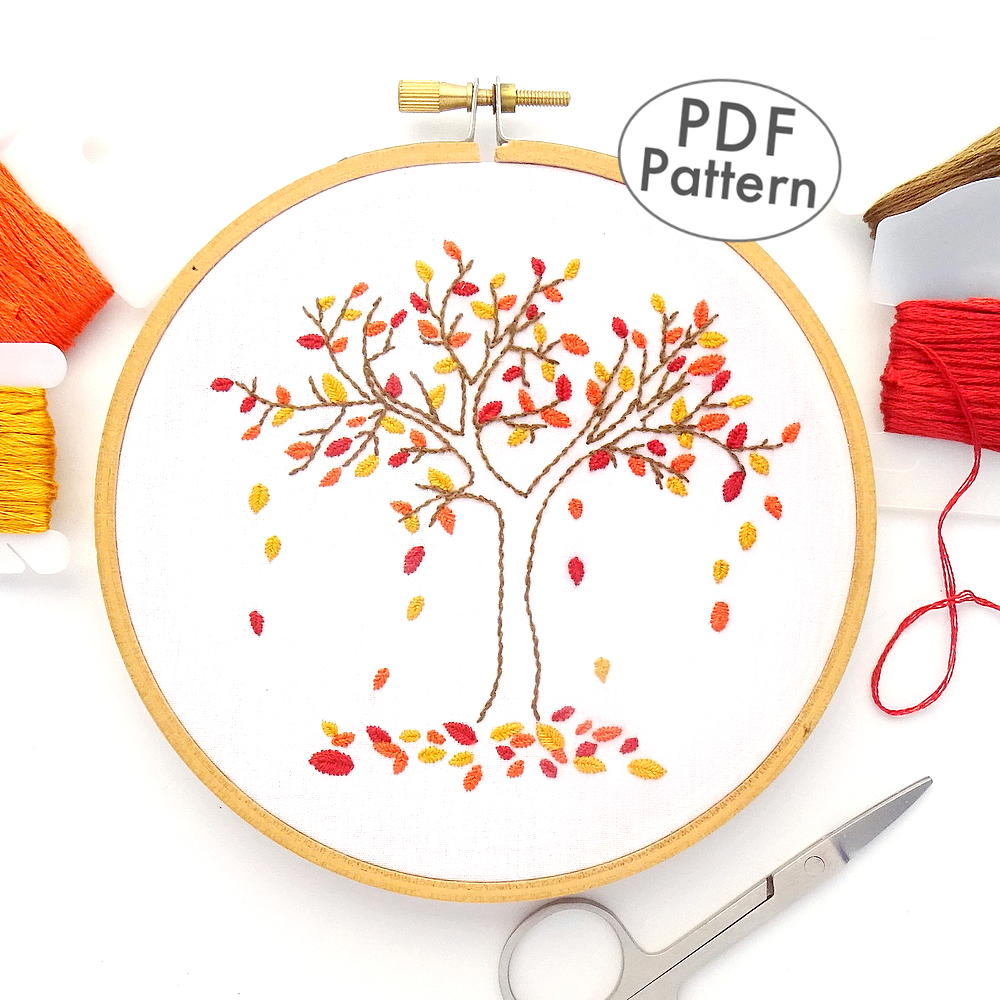 If you're looking for an autumn-inspired handicraft, you'll love this embroidery pattern. It's beautiful, but not overly complicated with only two stitches. It comes with guidance on how to complete the project.
Your kids can create a wreath out of their own construction paper hand prints! This wreath would also look so cute with big and little hand prints mixed together.
Consider making this scented autumn spice play dough with your younger kids. Collect some natural items from outside to go with it, and then watch your children stay busy playing and learning for a long while!
13. Bark Owls by Fireflies and Mud Pies
I love a good fall nature craft. What fun to be able to gather the materials together on a nature hunt first and then create these little owls! She shares how you could even paint them, if you wish.
These placemats would look so inviting on the kids table at Thanksgiving, or they could be used while doing schoolwork in the fall.
These ears of Indian corn are so adorable and simple enough for kids to make! You might already have the needed supplies on hand.
Here's a practical sewing project for those crisp fall outings, and simple enough for beginner sewers! They are made out of second-hand flannel shirts (but you could also purchase flannel). Simply microwave a pair to warm them up.
Make these beautiful beeswax candles together as a family to enjoy throughout the season! She shows you how to make them step-by-step.
Here is another option to make your own candles that's even a little bit easier than the dipped ones. They are also very beautiful.
These are the cutest pumpkin mug cozies! This pattern is beginner friendly and can be purchased on Etsy. It is a detailed pattern with step-by-step instructions and photos.
Create these beautiful jars to use with a battery powered tea light candle, for a silk flower arrangement, or for candy!
If your family bakes with a sourdough starter, your children would love making these pumpkin-shaped dinner rolls! They can also be brushed with melted butter and dipped in cinnamon-sugar for a special fall treat.
---
I hope these craft projects inspire you to enjoy the season creatively with fall crafts for your homeschool!