This post may contain affiliate links. See my full disclosure. As an Amazon Associate, I earn from qualifying purchases.
Are you looking for homeschool Christmas ideas? The Christmas season is the perfect opportunity to include some beautiful crafts in your homeschool. Here is a roundup of some favorite Christmas craft ideas for kids of all ages! Many of these handicrafts you'll want to pull out for decoration year after year.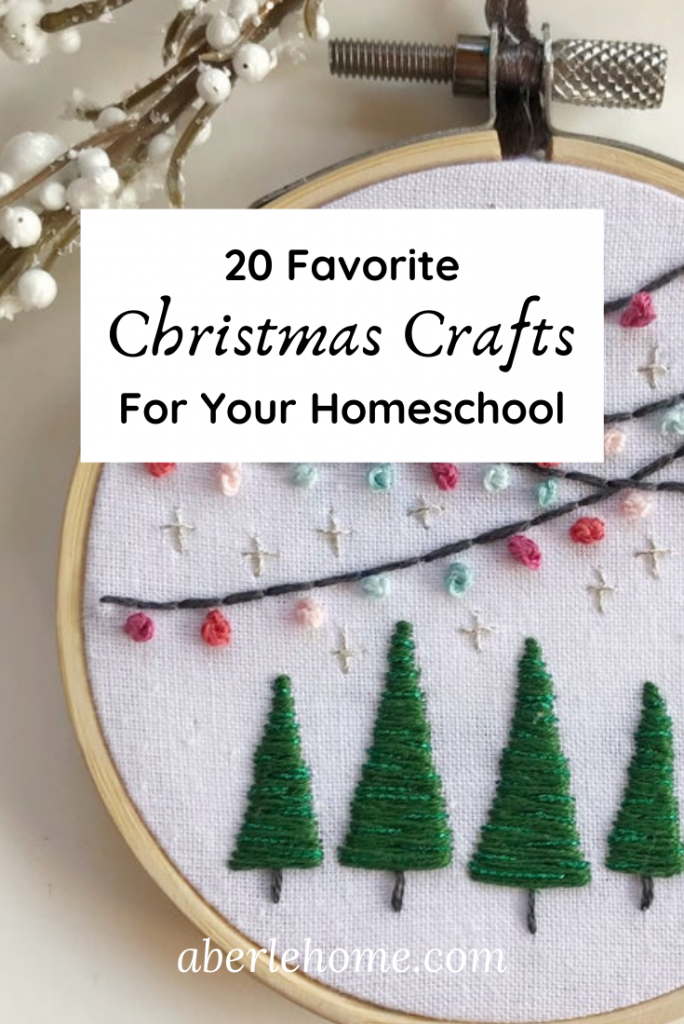 You may have seen my post, 20 Favorite Fall Crafts for Your Homeschool, and now I'm excited that it's the time of year to share Christmas crafts! They really make the season so festive and fun.
You'll find Christmas craft ideas for kids ranging from handmade ornaments to decorations and cards. Many of these projects would be perfect for your children to gift to others.
Simply click the Pinterest graphics to pin the ideas for later, or follow the links in the headings to find instructions for each project.
You can find Christmas crafts for preschoolers near the end of the post!
Christmas Craft Ideas for Kids
Christmas Ornaments for Kids to Make
1. Snow Person Ornaments by Make it Your Own
Here's a simple ornament project that will develop fine motor skills. Your child could get creative to make their snowman design unique.
2. Pom Poms and Pinecones Christmas Ornaments by One Little Project
These eye-catching ornaments are easy to create for big kids or little ones!
3. DIY Bird Feeder Ornaments by Inspire the Mom
Use these creative ornaments outside to observe the squirrels and birds. They take less than an hour to make and are also great to gift.
4. Scrap Ribbon Christmas Tree Ornament by Fireflies and Mudpies
This craft is perfect for kids of all ages. Melissa also shares some variations to this project using different materials.
5. No Bake Cinnamon Applesauce Ornament Recipe by On Sutton Place
These ornaments look adorable and smell wonderful too! You need only four ingredients to make the dough.
6. Bright Lights Ornament Embroidery Pattern by flossandhoopshop on Etsy
This festive embroidery pattern comes with simple, easy-to-follow instructions. It is optimized for a 3-inch hoop, which works great for an ornament.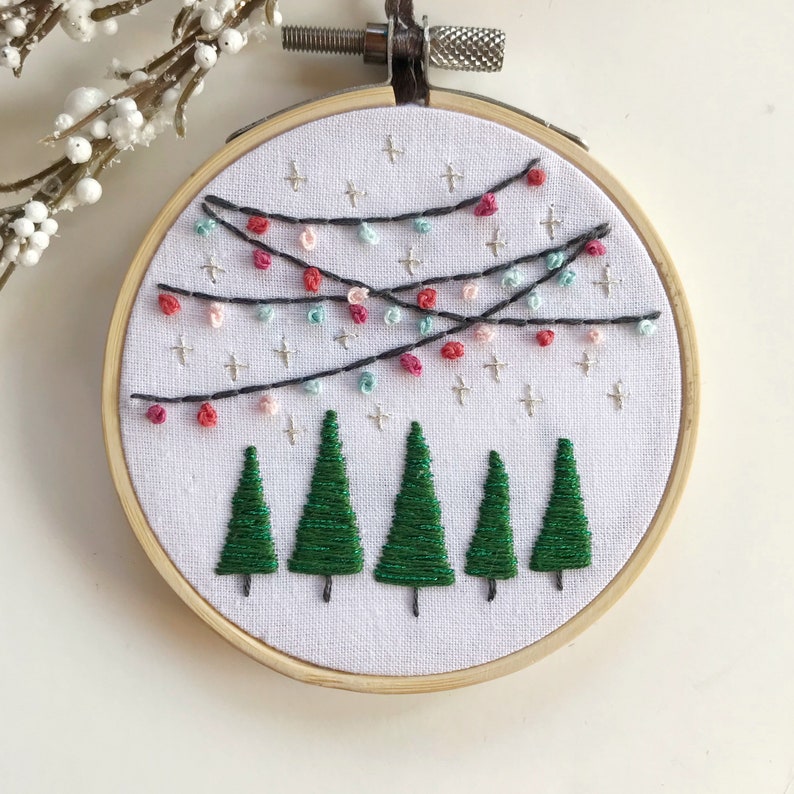 Christmas Decorations for Kids to Make
7. Wooden Peg Doll Nativity Set by Laura Radniecki
Laura has free printable patterns and detailed instructions so your kids can make a beautiful set like this!
8. Origami Christmas Trees by Martha Stewart
Your child can practice following directions as he learns how to fold one of these festive origami Christmas trees.
9. Sponge Painted Reindeer Wrapping Paper by Artsy Craftsy Mom
For a practical project, your child may enjoy decorating their own homemade wrapping paper.
10. Paper Snowflake Tutorial and Templates by The Printables Fairy
Start cutting paper snowflakes with Mishell's free printable templates, and I'm sure your kids will start coming up with their own designs before long!
11. DIY Felt Garland by Tell Love and Party
This garland crafts is so simple that it makes a great project for children. They'll get practice with fine motor skills as they tie on the colorful felt pieces.
12. Dried Orange Ornaments and Garland by I Spy DIY
Your kids can help create ornaments or a garland with these beautiful dried oranges.
Christmas Cards for Kids to Make
13. Gingerbread House Card by I Heart Crafty Things
Caroline includes a free printable template to make this craft simple for kids of all ages.
14. Beautiful Quilled Christmas Cards by Hip Homeschool Moms
Your kids can follow this tutorial strictly or use it as a guide to come up with their own quilled designs for Christmas cards.
15. DIY Pop Up Christmas Cards by Sweet Teal
Jenny shares detailed instructions for these pop up cards! Make them with supplies you probably already have on hand.
Christmas Crafts for Preschoolers
16. Pine Cone Christmas Trees by The Imagination Tree
Let your preschooler work on her fine motor skills as she stretches, pokes, and twists materials around her pine cone. It's an easy craft to set up.
17. Candy Cane Playdough by Natural Beach Living
This is a no-cook scented dough that your little ones can help create! Then they will have a blast playing with it.
18. Jingle Bell Noise Makers by Meri Cherry
Here's another simple craft that will excite your preschooler! These noisemakers are perfect for sensory play.
19. Handprint Christmas Tree Kitchen Towel by It's Always Autumn
These towels make the perfect sentimental gift for grandparents!
20. Popsicle Stick Christmas Trees by One Little Project
Your preschooler will love to get creative decorating their own little popsicle stick tree. They will probably want to hang it on the real Christmas tree.
Do you have any other favorite Christmas crafts? I'd love to hear your best homeschool Christmas ideas in the comments. Merry Christmas to you and your family!
-Leanna