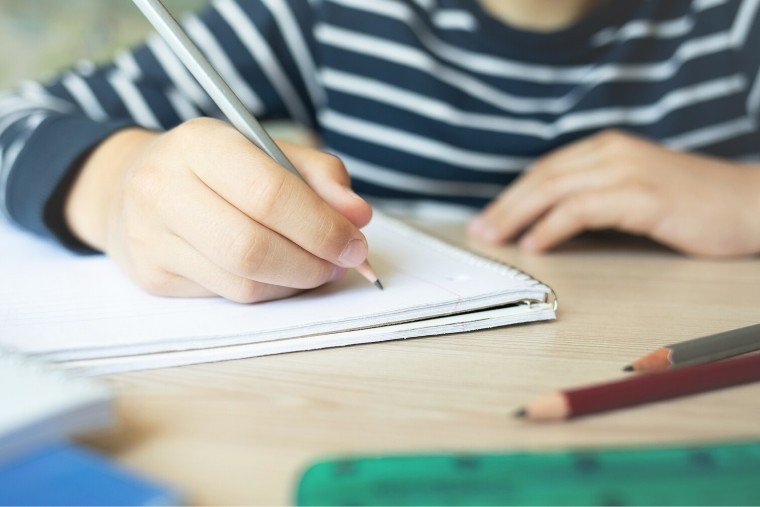 This post may contain affiliate links. See my full disclosure. As an Amazon Associate, I earn from qualifying purchases.
Maybe you've heard about homeschool copywork, but are you wondering what copywork is and how to implement it into your child's studies?
Copywork can be a truly powerful tool for your homeschool no matter the method you homeschool by.
I'm going to explain what copywork is, its benefits, how to implement copywork practically, and what your child should copy.
I also have some great resources for you if you want to make your own copywork pages or purchase copywork books.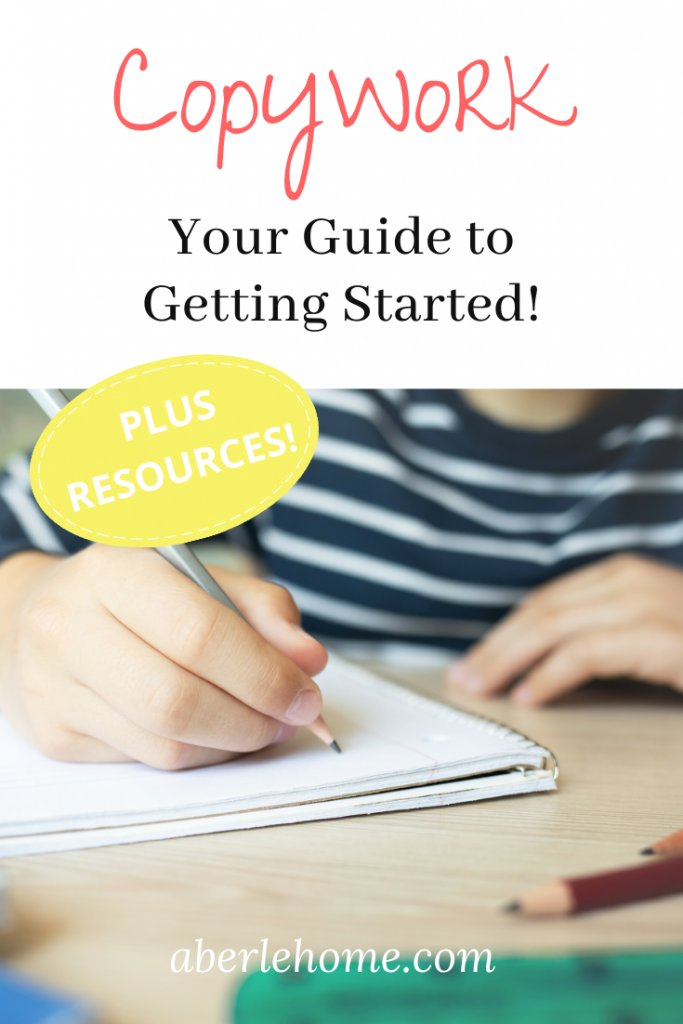 Related Post: How to Start Homeschooling Your Child – In 5 Steps
What is Copywork?
Simply put, copywork is the process by which a student hand writes an exact copy of a selection from a well-written work.
Copywork has become a popular homeschooling practice (especially within the Classical and Charlotte Mason methods), but it is not a new idea.
Copywork has long been used by writers who have wished to hone their craft by imitating other strong writers.
It can benefit your child from the time he is learning to form his letters and even through his high school years!
Benefits of Copywork
Copywork is a natural way for a child to internalize methods of quality writing. As a child is copying down the writing of others, he is essentially practicing the art of writing and filling his own well of writing skills to draw from later on. This is true especially as a child becomes old enough to copy from selections where complex literary devices and word usage are present.
Copywork can improve a child's penmanship and facilitate his practice of cursive or even calligraphy.
Copywork can be used to introduce or reinforce new concepts. Material for copying could contain a certain grammar rule, vocabulary or spelling word, syntax, diction, writing technique or style, or literary element that the parent and child could discuss beforehand.
Copywork can simplify homeschooling since a child can work on multiple skills during one simple exercise and may not even use an additional curriculum for early instruction in writing. Furthermore, a child could copy from material that he is already studying in his coursework, reading, or Bible study.
Copywork can expose a child to high-quality written works. This exposure could increase a child's appreciation and love for literature, poetry, and the like. As a bonus, a child may better retain what he has read as he takes the extra time and focus to copy it down for himself.
A copywork exercise can be simplified or expanded to suit the needs of a child. I will share some ways to expand a copywork exercise later in this post.
How to Do Copywork
A young student who has just learned to write can copy a single, short sentence (that you have handwritten for him on primary paper ahead of time) with proper handwriting and spacing, or even trace a sentence that has been handwritten for him.
You could write on every-other line of the paper so your child can copy directly below each word. Copywork could be slow-going at first for a young student, so keep your child's abilities and attention span in mind when deciding how much time to devote to copywork.
Start with less than you think and lengthen the exercises only as your child is ready.
An older student can copy from more challenging selections. He can copy straight from the source into a notebook, or he might still benefit from copying a hand-written passage if he is working on his penmanship, alignment, and spacing.
Your child could copy a different selection each school day, or repeat one passage for multiple days. Or your family may choose to do copywork only a couple of times in a school week.
If you have multiple children, it might be most efficient to bring everyone together to do copywork at the same time, maybe during your morning time or after lunch.
You could involve a preschooler by letting her practice pre-writing skills or tracing and forming letters during copywork time.
Think of ways to make copywork fun for your child! You could let him use a special journal or a notebook that he has decorated.
Try using gel pens or a fountain pen. Try putting on quality music while he copies, sip some tea, sit outside on the patio, or light a candle.
What to Copy
Have I convinced you to jump in a give copywork space in your homeschool routine? To get started, you could pull from a variety of well-written works to find material suitable for your child to copy:
Bible Verses
Poetry
Hymns
Fables
Meaningful Quotes
The Pledge of Allegiance
Definitions
A selection from literature (or a favorite well-written story for a younger student)
A selection from a play
A selection from a history or science book
A passage from a reader
A famous speech or a segment from a historical document
An excerpt from a well-written article or essay
A selection from a biography
A well-written recipe
A selection from some other well-written book that your child is interested in or something that would be meaningful to them.
Resources & Copywork Books
Create Your Own Copywork Worksheets
If you would like to easily create your own copywork worksheets for your young child instead of writing out passages by hand, I would highly recommend Memoria Press StartWright Software for Windows.
The software is sold as either a digital download or a physical CD and would serve as a copywork generator.
The software allows you to choose from cursive or manuscript, adjust the letter size, add or delete guidelines, make the letters traceable, or even add directional arrows or starting dots.
If you do not have Windows, I would suggest visiting The Amazing Handwriting Worksheet Maker where you can also create your own worksheets with different variables as well–and it's free!
Copywork Books
To cut down on your planning time, though, you could use a book with selections specifically intended for copywork.
You might look into the copywork books by Sandi Queen with 180 daily copywork lessons:
Copywork for Young Ones, Grades 1-3:
Lessons in Manners for Copywork
Memorization Verses for Copywork
Thematic Copywork, Grades 4-12:
You could also try searching for free copywork resources online. There are a lot of options out there to choose from!
Ways to Expand
As I mentioned above, you could definitely expand a copywork exercise to include some of the ideas below:
Progress to transcription in grades 2-3 (writing from memory looking back and forth between the passage and the paper) and then dictation in grades 4-12 (writing from parent's dictation) to progress in spelling (as would be done in the Charlotte Mason method).
Create a spelling list to practice unfamiliar words found within copywork exercises.
Have your student read the copywork selection out loud.
Have your student memorize the selection or try to copy from memory after reading the selection only twice.
Discuss unfamiliar vocabulary words and see how they are used in the writing. Make a list of these new vocabulary words with their definitions to study.
Have your child paraphrase or summarize the selection in a journal entry.
Have your child give a recitation of the passage.
Have your child provide his opinion about the selection.
Allow your child to create artwork that coincides with the selection.
Have your student type the passage for practice instead of writing it by hand.
Choose a passage to copy that focuses on a character quality or virtue that you want to highlight for your child or one that contains a topic for discussion.
Hopefully you now have a thorough understanding of how to do homeschool copywork, it's benefits, and resources you can pull from.
If you've already been integrating copywork into your homeschool routine, I'd like to hear about the resources you love! What tips and tricks have you found along the way?