Are you on the lookout for educational toys and ideas to begin homeschooling your toddler? Do you need to busy your toddler while you homeschool your older children?
Look no further, because today I'm sharing a list of some our family's favorites—and these are ideas that my children truly love.
This post may contain affiliate links. See my full disclosure. As an Amazon Associate I earn from qualifying purchases.
My toddlers are ages two and three. We have yet to dive into a formal homeschool preschool routine, but even so, in many ways our homeschooling journey has already begun.
Their foundation for learning is well underway!
I've realized my main job for now, when it comes to their education, is to capitalize on their natural curiosity and ability to learn with consistency and gentleness.
At the same time, I want to keep from overwhelming them or burning them out while they are still so young. I will stop and change directions if they become tired or lose interest.
I know they will learn at their own pace, and I know that a crucial first step toward success in homeschooling will be to instill in them a lasting love for learning. I want to give them a joyful start!
I love to watch my girls' sweet faces light up when I tell them we're going to play together or work on a project or activity!
I hope these learning toys and ideas will benefit your family as they have mine. Let's jump right in.
Related Post: How to Start Homeschooling Your Child – In 5 Steps
Pin for Later!
Favorite Educational Toys & Ideas for Toddlers
Favorite Books
Each day, we try to snuggle up and read books together. At times I will ask my girls to find things in the illustrations.
I might strike up a conversation with them based on what we are seeing or reading in the story or relate the story to their life somehow.
The more I can make their little minds think, the better.
Board Books:
First 100 Words (the most well-loved board book we've owned!)
Melissa & Doug Poke-A-Dot Board Book This keeps my two-year-old busy for quite a while.
Picture Books:
If You Give a Mouse a Cookie Series (our most-loved picture books!)
Richard Scarry's What Do People Do all Day (so many fun illustrations to look through!)
Flashcards
I like to do some activities with my girls during breakfast (or lunchtime works too) while they are buckled in their seats at the table, watching me and ready to learn. They love to do flashcards.
We have cards for colors and shapes, animals, numbers, and the alphabet. The girls love to repeat what I say is on the card or call out what they can remember already.
I found some of our flashcards at the dollar store and some from the dollar bins at Target, but I've linked some similar ones from Amazon below.
Toddler Educational Flashcards
For the color cards, we will look for items around the room that are the same colors as the cards; for the animals, we also say the animal sounds; for the numbers, we count the items on each card together; and with the alphabet cards, we practice saying the letter sounds.
Bible
Some mornings during breakfast I'll turn on the Bible app I have on my smart phone and we'll listen to a passage.
My girls obviously can't comprehend Scripture all that well yet, and they like to interject their own blarts and blurbs, but I love the atmosphere the Scriptures set in our home as the day is starting.
I want to give them every opportunity to soak in God's Word from an early age. We have a couple other great Bible books we enjoy together as well:
The Jesus Storybook Bible: Every Story Whispers His Name We love how this book ties every Bible story back to Jesus.
Let There Be Light: An Opposites Primer and Psalms of Praise: A Movement Primer These board books are beautifully illustrated with Bible verses and each focuses on an early learning concept.
Music
Some days my girls and I will sit together at the piano and sing children's Bible songs from a couple of music books I have. Other days we will turn on music and dance together, or get out our musical instruments and play along.
Here is a set of instruments that is similar to ours:
I love to play classical or instrumental music in the background while they are coloring or painting at the kitchen table.
Puzzles, Stacking Toys, and Shape Sorters
Puzzles, stacking toys, and shape sorters are great for hand-eye coordination and problem solving. I prefer high-quality wooden toys that we can pass down from child to child.
Wooden Peg Puzzles (the pegs make them easier for little ones)
Melissa & Doug Geometric Stacker
Melissa & Doug Match & Roll Shape Sorter
Other Favorite Educational Toys
Jumbo Counting Bears with Stacking Cups The girls play with these constantly! They will sort the colors into the coordinating cups, count them, or drop them in a lidded bucket with a small opening in the top that I've prepared.
I'll ask my 3-year-old to hand me a certain number of bears of a certain color, or the girls will figure out their own ways to play with the set. These can even be used in the bath.
I like how these bears are slightly larger than regular counting bears so my kids are less likely to choke on them.
Retro Wooden Play Kitchen This is the play kitchen and Stainless Steel Pots and Pans that we have. They get a lot of use around here!
Play Shopping Cart My girls fill this cart with play food and toys to push around almost every single day.
Play Dough & Dyed Rice
My kids love staying busy with play dough or a sensory bin with dyed rice. We find lots of fun uses for both of these on Pinterest.
Here is our favorite play dough recipe. It's super soft and not sticky.
Arts & Crafts
Some days I'll set out paper, stickers, crayons, or paints for the girls, and they enjoy cutting and gluing pieces of paper with my help.
We also love these Dot Paint Markers!
I'll let the girls color and decorate their own greeting cards for family members and friends.
Life Skills
I'll admit, with three kids three-and-under, it feels difficult to involve them in my day-to-day tasks when it's so much faster for me to do things myself.
The more I involve them in what I'm doing, though, the happier they are.
They love to feel useful and viable to the household and grown up like Mama—and they learn a lot!
We work on cleaning, straightening up, cooking, and baking together. They love to "scrub" with rags, vacuum with the brush attachment, and dust with the feather duster.
They can help me fold washcloths and find the matching socks when we do laundry. They love to help set the table, empty the dishwasher, and put their plastic dishes away in their low cabinet.
They help Daddy fix things around the house, and he teaches them the names of the tools and explains what they are for.
Related Post: Ten Important Life Skills to Add to Your Homeschool
YouTube
Some days we'll watch YouTube videos together to learn about a certain topic, like how people keep bees for honey, tap their own maple trees to make their syrup, grow and can their own vegetables, or make bread and pastries at a bakery.
My three-year-old loves to ask questions as the video plays, and the girls can understand so much more when they get to watch these new things instead of only hearing about them.
Sometimes we'll also watch Spanish learning videos for children. Lately we've been enjoying Homeschool Pop.
Outings
Even better than watching on YouTube are the times when we get to go on an outing to experience things for ourselves!
We can go grocery shopping and they can help me load the cart with the food we need, or they can pick out an item at the dollar store and hand the money to the cashier when it's time to pay.
Sometimes we'll pack a lunch and go on a nature walk to observe the plant and animal life.
We are on a budget and can't afford to spend a lot on activities, but we use the Culture Pass program at our local library to reserve free tickets to nearby cultural centers like the museum or our local railroad or invertebrate museums.
Sometimes we tag along with our good friends when they have passes to the zoo or museum too.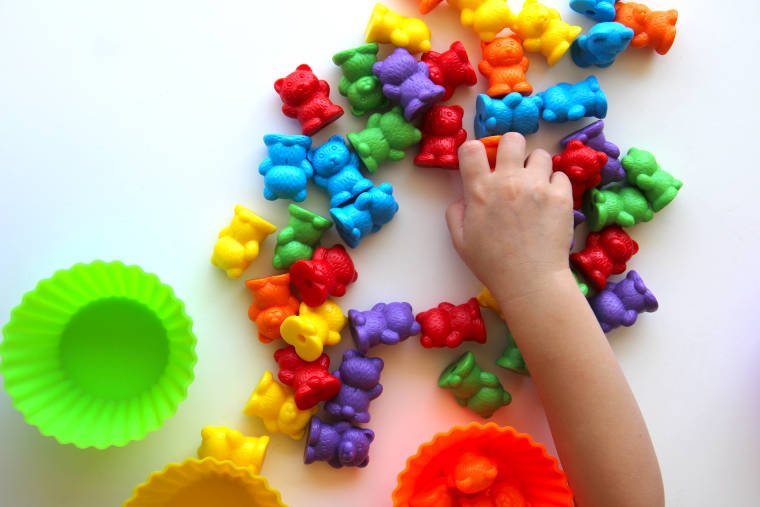 What other fun learning activities do you do with your little ones or what must-have educational toys do your toddlers enjoy?
How do you keep your little ones occupied if you have older children you are homeschooling? Let me know in the comments below!