I want to encourage you homeschooling parents: no matter what your reasons for homeschooling were in the first place or how you feel homeschooling has been going for your family this year, you are doing an important work.
This post may contain affiliate links. See my full disclosure. As an Amazon Associate I earn from qualifying purchases.
Pin for later!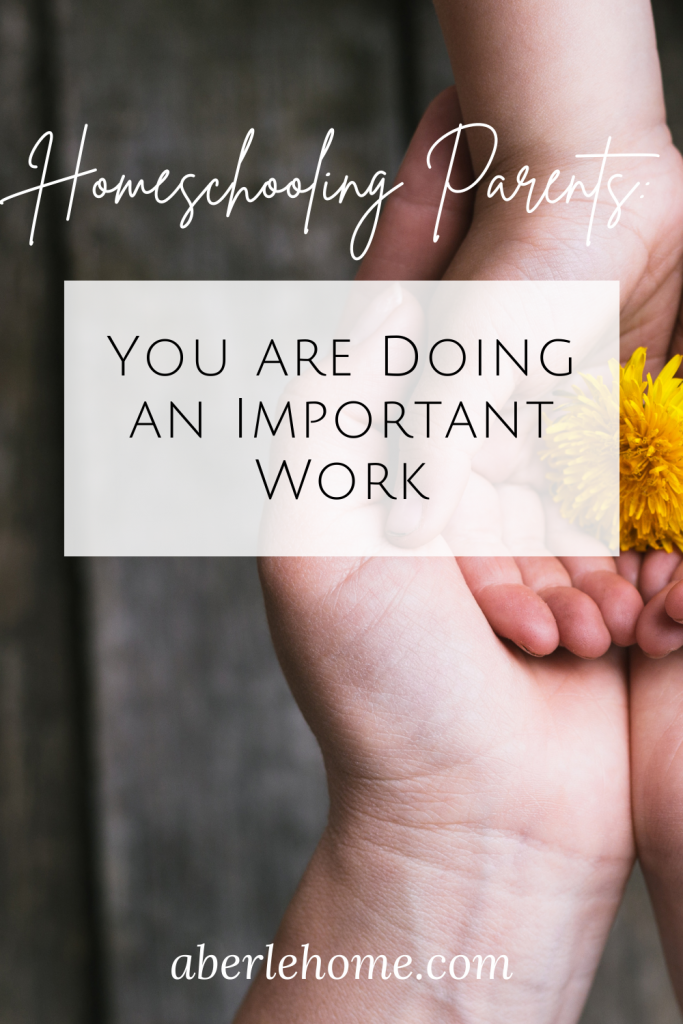 Are you new to homeschooling and adjusting to the lifestyle changes? Or are you seasoned at this? Maybe you've seen bountiful fruit coming from your efforts, or maybe you haven't seen much of a return recently and are wondering how effective homeschooling has been.
Either way, remember that the sacrifices you have made are worthwhile.
The time you have invested teaching and shaping your children as they have been home with you won't go to waste—that time is making a difference in their lives. Your choice to be with your children day after day and serve them in this profound way is surely affecting and molding them.
The courage you've displayed to forge your own path in their education is setting an example for them. They are witnessing a display of independence, determination, and conviction firsthand.
Your willingness to learn alongside your children is teaching them what it looks like to be a lifelong learner—to not shy away from the new and unfamiliar, but to keep pressing forward toward important goals, overcoming challenges, one step at a time.
Each day that you have homeschooled has multiplied the short time you have with your children before they are grown and gone. Your children will not quickly forget the extra educational moments and milestones you have experienced together.
I can imagine that your family is learning more and more to work on relationships and to work as a team as you share even more of the ups and downs of life together.
You've probably grown as a parent.
These cords that you are tying each day will no doubt affect the generations after you for the better.
So no matter how you feel you're doing as a homeschooling parent, or how the reading, writing, and arithmetic have been going lately, I can bet that some of the most important things have been going right.
You are doing an important work.